Charlotte Tilbury's name is synonymous with innovative, intensive moisturising and age-defying skincare. The best Charlotte Tilbury products for dry skin are renowned for their ground-breaking high-performance formulas.
With over 300 global beauty awards, this legendary makeup artist and founder of the brand has created dazzling looks for some of the most iconic actors and fashion models.
Embracing inclusivity, Charlotte Tilbury beauty offers exceptional skincare and makeup products to enhance and uplift the complexion of a broad range of skin tones.

Best Charlotte Tilbury Products For Dry Skin Reviewed
The best Charlotte Tilbury products for dry skin are packed with high-performing active ingredients that hydrate, firm and lift. Here are 7 to choose from.
1. Charlotte Tilbury – Charlotte's Magic Cream
Review
This 24h moisturiser Charlotte's Magic Cream is a miraculous age-defying and skin-plumping formula infused with supercharged ingredients.
This secret blend was initially created backstage, worn and tested by models, who used the product to prepare their skin for fashion shows. Charlotte later "bottled" this secret concoction, which became one of the industry's bestselling skincare moisturisers.
Powered by science, this innovative moisturising cream is packed with vitamins, botanical oils, and herbal extracts to boost the skin's youthful appearance.
Potent hydrant Hyaluronic Acid floods the epidermis with moisture, the cell regenerating agent collagen locks in the water, ensuring gradual moisture injections into multiple layers of the skin.
The anti-ageing ingredient BioNymph Peptide Complex works tirelessly plumping the complexion. Along with aloe vera, vitamins C & E and rosehip oil it smoothes and evens the skin's texture, revitalising and improving its flexibility.
Frangipani flower extract and camellia oil calm the skin gently moisturising it, with the shea butter softening and nourishing it.
Charlotte's Magic Cream will transform your tired, thirsty skin in no time. Boosted with moisture and floral extracts, it will visibly reduce the appearance of lines and wrinkles, visibly brightening and firming the skin.
How To Apply
Apply Charlotte's Magic Cream to cleansed face and neck by tapping the cream across the cheeks, starting from the lower cheeks and under the cheekbones, smoothing cream outwards and upwards.
Next apply the cream to your forehead area, beginning in the middle of the forehead and massaging it in circular motions out to temples. Avoid contact with the eye area.
Benefits
Nourishing
Intensively hydrating
Brightening
Firming
Anti-ageing
Revitalising
Evens skin tone
Calming
Softening
Protects from free radicals
Main Active Ingredients
BioNymph Peptide Complex, Vitamins C & E, Hyaluronic Acid, Rosehip Oil, Camellia Oil, Shea Butter, Aloe Vera, Frangipani Flower Extract
Summary
Adored by models and celebrities, Charlotte's Magic Cream is absolutely gorgeous. It does wonders to tired, dull-looking, dehydrated skin. 
Its revolutionary formula will give a perfect base for the makeup, creating a flawless look. Instantly, the skin will feel softer, more even and revitalised.
Price & Reviews
You can check the latest pricing, see customer reviews and shop online:
2. Charlotte Tilbury – Magic Eye Rescue
Review
Magic Eye Rescue hydrating eye cream delivers an innovative and clinically proven formula created to target problematic eye areas.
Due to a number of factors affecting our skin day to day, such as air pollution, lack of sleep or prolonged exposure to the sun, the delicate area around our eyes begins to lose its firmness and form wrinkles, revealing a tired, lustreless looking complexity.
Here is where the Magic Eye Rescue comes to our aid!
This supercharged eye cream delivers a fortifying formula packed with botanicals and active moisturising agents, reducing the appearance of wrinkles and lines and visibly improving skin elasticity.
The 24h hydrating agent Saccharide Isomerate, Retinol and Winter Daphne Stem Cell Extract boost the fragile eye area with moisture, locking it in and strengthening the barriers of the epidermis.
Vitamins A, C and E, on the other hand, paired with soy peptides and hydrolysed rice brain proteins (Botanical Eye Contour Complex) brightens the complexity. They help to balance discolouration, dark circles and puffiness, giving skin a more even tone. 
These free-radical-fighting agents create a lifting effect, improving the density and elasticity and distinguishing the signs of dull, tired-looking eyes.
Mineral-rich red algae Marigel plant and shea butter, nourishes the skin, balancing and replenishing its natural health, for a plumper and softer looking complexion.
How To Apply
Apply Magic Eye Rescue cream by tapping it under your eye area and across the brow bone and let it sink into your skin.
Benefits
Hydrating
Minimises dark circles and puffiness
Reduces appearance of wrinkles, fine lines and crows feet
Smoothing
Nourishing
Evens skin tone
Firming
Brightening
Balancing
Main Active Ingredients
Winter Daphne Stem Cell Extract, Vitamin A, C & E, Saccharide Isomerate, Time-released retinol, Red Algae Matrigel, Botanical Eye Contour Complex
Summary
After only a few applications of Magic Eye Rescue, your skin is boosted with moisture, restoring its natural barriers. This potent formula immediately smoothes and softens the surface, leaving your eyes to shine with health and youth.
Price & Reviews
You can check the latest pricing, see customer reviews and shop online:
3. Charlotte Tilbury – Magic Night Cream
Review
The Charlotte Tilbury Magic Night Cream is an innovative, rejuvenating skincare treatment working its magic while your skin is asleep. Skin-nourishing extracts will deliver a welcome boost of moisture for a more youthful-looking complexion by the morning.
Age-defying retinol stimulates the production of collagen as well as encouraging the rejuvenation of fine blood vessels. Along with vitamins C, it will brighten your skins overall tone.
Magic Night Cream minimises the appearance of fine lines and wrinkles whilst reducing the build-up of age spots. Paired with BioNymph peptide and red algae Marigel extract, it softens rough patches of the epidermis, leaving your skin plumper and soft to touch.
Cell-binding winter daphne stem and frangipani flower extract join forces to deeply hydrate the multiple layers of your skin. Enriched with essential oils, they seal in moisture and gently smooth.
How To Apply
Apply a pea-size amount of cream to your face and neck, working in circular motions, starting from the centre of the face outwards.
Benefits
Firming
Nourishing
Hydrating
Anti-ageing
Reduces appearance of wrinkles and lines
Smoothing
Brightening
Reduces discolouration and formation of ageing spots
Restorative
Protects from free-radicals
Main Active Ingredients
Winter Daphne Stem Cell Extract, Vitamin C, Time-released retinol, Red Algae Matrigel, Frangipani Flower Extract, BioNymph Peptide Complex
Summary
Magic Night Cream is an incredibly hard-working night treatment that will give your skin a welcome complexion boost by the morning.
Price & Reviews
You can check the latest pricing, see customer reviews and shop online:
4. Charlotte Tilbury – Charlotte's Magic Serum Crystal Elixir
Review
Charlotte's Magic Serum Crystal Elixir is a revolutionary combination of high-performance ingredients using advanced, clinically proven skincare technology.
The supercharged ingredient polyglutamic acid is an absolute hydration powerhouse. Producing 4x the amount of moisture than hyaluronic acid helps combat dehydration, gradually boosting the skin with long-lasting moisture.
The REPLEXIUM® technology, along with holistic five crystal complex and peptides, as well as active mineral complex Semitonic M3, delivers a smoother and healthier-looking skin, focusing on wrinkles and fine lines.
This patented formula is enriched with vitamin C to even skin tone, diminish discolouration and boosts complexion for a brighter younger look.
Niacinamide nutrient works towards clearing and minimising the pores, when antioxidant agent Sqisandryl focuses on the overall vitality, fixing and re-building the natural barriers, and protecting the skin against environmental damage.
Studies show that Charlotte's Magic Serum Crystal Elixir significantly increases the skin's hydration within only 1 hour, keeping the moisture locked in for up to 24 hours. In 8 weeks, the complexion appears firmer by nearly 50% with the visibility of the wrinkles reduced by just over 30%.
How To Apply
Apply 4-6 drops of the serum in the palm of your hand and massage into a cleansed skin morning and evening prior to your daily moisturiser.
Benefits
Anti-ageing
Diminishes and tightens pores
Reduces appearance of wrinkles and lines
Intensively hydrating
Boosts skin's radiance
Smoothing
Refining
Firming
Evens skin tone and texture
Balanced, water-based formula
Suitable for all skin types
Main Active Ingredients
Polyglutamic Acid, Semitonic M3, Replexium, Crystal Complex, Sqisandryl, Golden Vitamin C, Niacinamide, Plant Adaptogen Extracts
Summary
Charlotte Tilbury Magic Serum Crystal Elixir is a powerful formula blended with potent, scientifically proven ingredients that deliver advanced skincare technology.
This serum not only creates a clear, tighter and more uplifted complexion. It significantly enhances the skin's appearance, providing the best possible foundation for your makeup application.
Price & Reviews
You can check the latest pricing, see customer reviews and shop online:
5. Charlotte Tilbury – Wonderglow Face Primer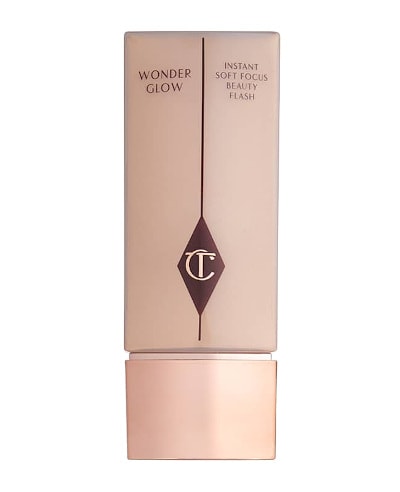 Review
Give yourself a glamorous look with Charlotte Tilbury's Wonderglow Face Primer. This age-defying, skin-illuminating primer creates a filter-like effect, blurring imperfections.
Hyaluronic acid, stimulates collagen's natural production, boosting the skin with moisture around the clock. It locks in water, distributing it throughout the multiple layers of the epidermis.
Rich in oligosaccharides, wild pansy extract, along with the bionymph peptides and essential oils, smoothes the surface of the skin, reducing the appearance of wrinkles, gradually increasing the density and elasticity.
Rosehip oil bolsters the complexity with a wave of energy whilst camellia's soothing properties boost it with moisture. Seemly blending with the natural skin tone, after regular use the texture and colour are improved.
How To Apply
Begin with Wonderglow Face Primer by massaging it into your cleansed skin.
Next, apply Wonderglow face primer using your fingers, focusing on the top of your cheekbones.
Use this primer under your foundation or on its own, to diminish the tired look, turning your dull-looking skin into a beauty flash!
Benefits
Illuminating, soft-focused effect
Translucent formula
Firming
Enhances elasticity
Reduces appearance of wrinkles and imperfections
Smoothing
Evens skin tone
Hydrating
Revitalising
Ideal base for makeup
Paraben-free
Main Active Ingredients
Florescent Core Light Diffuser, Hyaluronic AcidBionymph Peptide, Reship Oil
Summary
Wonderglow Face Primer provides dull and tired-looking skin with a youthful golden glow. A perfect canvas for your makeup, consider this your "soft-focus" filter in a jar!
Price & Reviews
You can check the latest pricing, see customer reviews and shop online:
6. Charlotte Tilbury – Hollywood Flawless Filter
Review
A revolutionary Hollywood Flawless Filter is a customisable complexion booster. This 3-in-1 beauty concoction will benefit your skin with numerous outstanding properties.
It's packed with powerful ingredients and essential oils acts as a primer, highlighter and photographic filter for those perfectly flawless moments. 
The water-based airbrush polymer formula mixed with finely milled powder creates an invisible layer smoothing over the wrinkles and lines, gently reducing their appearance.
Porcelain flower extract obtained from a delicate Thai flower of Hoya Lacunosa works as an anti-inflammatory agent. This oily soluble soothes any irritation, hydrating and protecting the skin.
The powerhouse ingredients glycerin and iron oxide within this formula, add a boost of moisture, keeping the epidermis well hydrated and plump. It also helps to correct discolouration giving the skin a dewy glow. 
Available in a range of shades, the Hollywood Flawless Filter instantly "filters" out the imperfections, enhancing complexion with a luminous, soft-focus finish.
How To Apply
This primer comes with its own applicator which can be used to a dab on your cheeks, nose, forehead, and chin. You may want to blend it with a sponge, however.
It can also be used combined with your best base products and worn under, over or instead of foundation. Just dot a small amount onto the areas you want to glow the brightest.
Benefits
Light-reflecting
Smoothing
Creamy
Lightweight
Hydrating
Brightening
Enhances Microcirculation
Lifting
Illuminating
Reduces visibility of lines and pores
Main Active Ingredients
Airbrush Polymers, Finely Milled Powders, Porcelain Flower Extract, Thai Flower, Glycerin
Summary
Hollywood Flawless Filter is definitely a product like no other. It is like adding a digital, high-glow celebrity photo-filter to your beauty regime to ensure a youthful Hollywood glow.
Price & Reviews
You can check the latest pricing, see customer reviews and shop online:
7. Charlotte Tilbury – Airbrush Flawless Foundation
Review
The Airbrush Flawless Foundation is yet another innovative concoction created by legendary makeup artists. With over 20 years of experience in the beauty industry, she continues to 'wow' the world with her exceptional formulas.
This feather-light formula offers full coverage and comes in a wide range of shades, crafted to easily match every possible skin tone. It can effortlessly blend into the skin, disguising imperfections and creating a smooth, natural matte finish, staying on throughout the day.
The supercharged C.T. DEFENCE™ formula, containing peptide extract Microalgae and amino acid Arginine, shields the skin from environmental exposure, protecting against harmful pollution and premature ageing.
The magic Replexium® peptide serum and deeply moisturising Moss Cell Tech™ complex instantly boost skin's long-lasting hydration and significantly diminishes the appearance of lines and wrinkles.
The added benefit of AirCool™ technology ensures comfortable wear, providing a sensation of cooling freshness.
This anti-ageing makeup product not only helps to achieve a smooth, flawless look. Its lightweight formula is infused with powerful ingredients.
How To Apply
Apply Airbrush Flawless Foundation to a cleansed and well-moisturised skin to create a perfect base for makeup. Using a brush, sweep the foundation over your skin, starting from the centre of the face outwards, to give a flawless-looking complexion.
Benefits
Full-coverage
Matte finish
Diminishes appearance of wrinkles and lines
Intense hydration
Anti-ageing
Firming
Poore-minimising
Sweat-proof
Waterproof
Transfer resistant
Protects skin from pollution and free radicals
Works without a primer
Long-wear coverage
Available in a range of shades
Main Active Ingredients
C.T. Defence™, Magic Replexium® Serum, MossCellTec™, AirCool™ technology
Summary
The Charlotte Tilbury's Airbrush Flawless Foundation is a true powerhouse of skin-comforting, active ingredients. Available in 44 different shades, this foundation is effortless to match your skin tone. 
Price & Reviews
You can check the latest pricing, see customer reviews and shop online:

Why Is Hydrating Your Skin Essential?
It is essential to hydrate your skin because lack of moisture encourages your skin to produce excess oil to compensate. This excess oil can cause outbreaks of spots, enlarged pores, uneven skin tone or blemishes.
Furthermore, dehydrated skin is much less resilient to environmental irritants such as pollution and toxins. Even the change of seasons contributes towards dry skin.
How Can Hydrating Products Help?
Hydrating skincare and beauty products are formulated in a way that helps to increase water levels in our skin. The rich, active ingredients stimulating cells, encourage ceramide production, locking the moisture inside multiple layers of the epidermis.
Conclusion
As we age, our maturing skin weakens, becoming more prone to environmental damages. An ordinary moisturiser is no longer enough as your skin demands more advanced care.
The best Charlotte Tilbury products for dry skin not only hydrate and lift but also prevent acne, discolouration, dryness or excessive oiliness. Also, consider Elizabeth Arden Capsules as they really help boost the health of your skin.
These innovative formulas help transform your skin's texture and look, delivering Hollywood goddess' worthy finish, gleaming with youth and glamour.
Please take a moment to browse through my hand-picked collection of beauty products that I recommend.

Further Reading
Below are some additional articles from Viora London's blog. We write articles on a number of interesting lifestyle topics such as fragrance, beauty, luxury accessories and more.
Ingrid is an avid perfume collector, fragrance writer & reviewer, fragrance Youtuber and Friend member of the British Society of Perfumers who has worked in the fashion industry for over 30 years.