As the saying goes, 'time waits for no man', or woman for that matter. As of writing this article, Andrew has just hit 50, and I am an uncomfortable close distance behind. Rather than growing old gracefully, I have decided to cheat the ageing process and begin to age backwards instead.
In the name of research, I embarked on a trial of the 10 best facial oils for dry mature skin to see which ones offer the most benefits. I have been using facial oils for several years as due to hormonal changes, my skin often feels and looks tired and prone to spots. Let's start from the beginning.
Why Does Your Skin Wrinkle With Age?
There are several reasons why your skin wrinkles with age. The main culprit is that your skin loses its elasticity (elastin). You may notice that your skin does not snap back into place as quickly as it used to.
Also, your skins oil glands tend to produce less of its natural oils that help to keep your skin moist and plump looking. Combine both of these with 50+ years of sun damage, and you can see why our skin does not appear as youthful as it used to.
What Are Face Oils?
Face oils work in tandem with the natural oils in your skin to help your skin keep hydrated and better maintain its elasticity. Quality face oils usually contain several natural essential oils such as almond and rosehip that are known to aid hydration, prevent water loss, and reduce sun damage.
Benefits of Face Oils
Incorporating the use of facial oils into your daily beauty regime has several benefits that should not be overlooked. It makes total sense (to me) that keeping your skin well-hydrated will have a positive knock-on effect. Below are just a few of the benefits that facial oils can offer:
Anti-ageing
Anti-inflammatory
Toning, Firming
Rejuvenating
Hydrating
Nourishing
Acne banishing
Skin repairing
Cleanse Before Using Facial Oils?
The key is to cleanse your skin before using facial oils. This will remove unwanted grease and dirt that can impede the skin-soothing properties of your facial oil. A quality skin cleanser is recommended.

10 Best Facial Oils For Dry Mature Skin
Here are 10 of the best facial oils for dry mature skin that I discovered during my research. I wanted to keep a balance regarding cost, so have included a range of high-quality oils at different price points.
1. Wild As The Wind Facial Oil No. 2
Overview
Made with 100% natural oils, Facial Oil No. 2 is more than 99% organic and Wild As The Wind's most popular and best-selling product.
It is a distinctive blend that contains revitalising and deeply healing Essential Oils such as Bulgarian Rose Otto, Frankincense and Geranium.
These ingredients can aid the renewal and recovery of the skin, restoring its natural balance.
Consistent use has resulted in a reduction of dermal inflammation, acne reduction/elimination and the smoothing of scars according to a good number of users.
Facial Oil No. 2 is highly hydrating, stabilising and detoxicating. It can protect against everyday stress and reduce the appearance of fine lines and wrinkles.
How To Apply
Place 2-4 drops of facial oil on the tips of your fingers on one hand.
Replace the pipette firmly in the bottle.
Warm the oil between your fingertips gently rubbing in.
Quickly tap in the oil on forehead, cheeks and chin.
Using your palms, gently rub the oil into the face inhaling as you do.
Benefits
Anti-ageing
Anti-inflammatory
Toning, Firming
Rejuvenating
Hydrating
Nourishing
Detoxicating
Calming
Hormone balancing
Acne banishing
Skin repairing
Scar smoothing
Glow inducing
Non-greasy
Aromatic
Main Active Ingredients
Sweet Almond Oil
Jojoba Oil
Rosehip Oil
Argan Oil
Pomegranate Oil
Sea Buckthorn Oil
Lavender Essential Oil
Geranium Essential Oil
Sweet Orange Essential Oil
Frankincense Essential Oil
Myrrh Essential Oil
Patchouli Essential Oil
Sandalwood Essential Oil
Rose Essential Oil
Summary
I have recently come across this product which I have been using for a couple of weeks now. I must say I am completely blown away by the quality of it.
The oil melts into your skin almost instantly, leaving it nourished, soft to touch and beautifully fragrant. I can smell this oil for hours; the aroma is divine.
I use this oil on its own, tapping into my skin morning and evening. My face glows in the morning, and the skin feels comfortable and moist all day long. No tightness, no itchiness or any kind of irritation.
I have tried several different facial oils before, reviews of which you will find in this post, but this particular oil is a revelation, in my opinion:
2. Wild As The Wind Facial Oil No. 8
Overview
Just like Facial Oil no. 2, Facial Oil no. 8 is a remarkably well-balanced and rejuvenating oil with many healing properties.
Packed with a bunch of high quality, organic essential oils such as Carrot Seed Essential Oil, this age-defying lightweight serum is both an antioxidant and anti-inflammatory. It also helps with acne and scarring.
Citronella and Clary Sage Essential Oils within this blend help to reduce skin oiliness, perspiration and have hormone-balancing properties. The oil is highly moisturising and nurturing with a heavenly, uplifting aroma of fragrant citruses.
Non-sticky and easily absorbed this refreshingly cooling facial oil is just what you want during the hot summer months.
How To Apply
Place 2-4 drops of facial oil on the tips of your fingers on one hand.
Replace the pipette firmly in the bottle.
Warm the oil between the tips of your fingers gently rubbing in.
Quickly tap in the oil on forehead, cheeks and chin.
Using your palms, gently rub the oil into the face inhaling as you do.
Benefits
Toning, Firming
Rejuvenating
Anti-Ageing
Healing
Soothing
Balances
Hydrating
Anti-inflammatory
Detoxicating
Calming
Reduces skin irritation
Protects against free-radicals
Nourishing
Non-greasy
Aromatic
Main Active Ingredients
Carrot Seed Essential Oil
Bergamot FCF Essential Oil
Clary Sage Essential Oil
Frankincense Essential Oil
Citronella Essential Oil
Geranium Essential Oil
Helichrysum Essential Oil
German Chamomile Essential Oil
Summary
I have only just started using Facial Oil no. 8, now the weather got sunnier and warmer, applying it in the morning and using it as a base for my make-up. I love its light consistency which allows oil to glide nicely over my skin.
The fragrance of this serum is lovely. It's not overwhelming, but rather subtle and calming. It contains Helichrysum Essential Oil, which is anti-inflammatory, rejuvenating and soothing.
I don't even use facial cream anymore! All I need is a couple of drops of this oil, and I am set for a day.
3. Clarins Blue Orchid Treatment Oil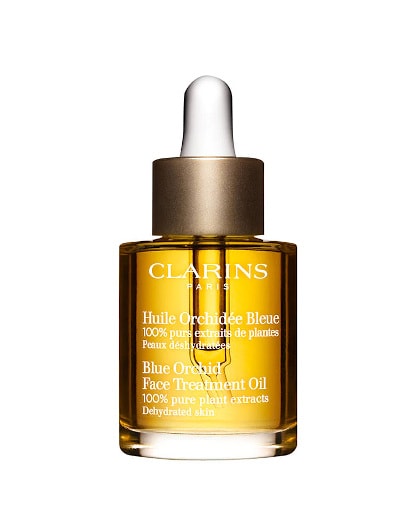 Overview
The best-selling Blue Orchid Treatment Oil from Clarins is a nourishing, revitalising oil that helps to restore and balance the moisture of your skin.
Designed for dehydrated skin, Blue Orchid Treatment Oil follows the concept of botanical medicine and aromatherapy where essential oils and plant extracts are used to heal and restore the moisture and radiance of the skin.
Made from 100% pure plant extracts such as Blue Orchid, Rosewood and Patchouli, the Blue Orchid Treatment Oil also contains Hazelnut Oil. This not only prevents skin from losing the moisture, but also from protects against free radicals as well as the appearance of fine wrinkles.
How To Apply
Apply morning or evening to a clean, makeup-free and toned skin.
Warm a small amount of oil (3-4 drops) between the palms and gently tap into your face and neck while the skin is still damp.
Avoid the eye contour.
Benefits
Easily Absorbed, Non-Greasy
Revitalises and tones
Protects against dehydration
Softens & Smooths the skin
Smells nice
Main Active Ingredients
Summary
I am a massive fan of Clarins Blue Orchid Facial Oil, having been using it for many years. It does wonders to my skin, nurturing and smoothing it. It feels incredible on, smells divine, and moisturises my skin really well.
It is absorbed well and does not leave any greasiness on my skin. I usually use it before bed, applying directly to my skin or blending in a couple of drops with my night cream. My skin always looks and feels soft and refreshed in the morning.
4. La Prairie Cellular Swiss Ice Crystal Dry Oil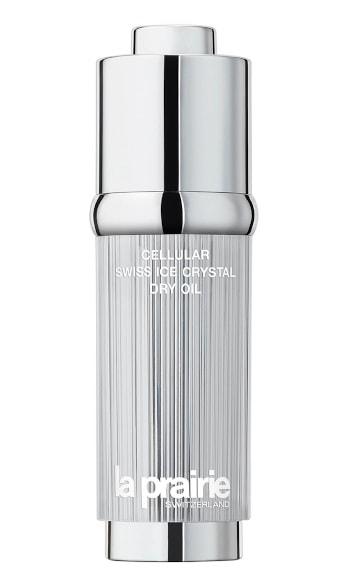 Overview
Cellular Swiss Ice Crystal Dry Oil from La Prairie is a revolutionary oil treatment that contains a mixture of rare pure oils and plant extracts. Helps to hydrate your skin, restoring, smoothing, and protecting it from the early signs of ageing.
La Prairie's innovative, patent-pending Cellular Complex is a unique oil treatment created using Biotechnology. Produced from the most powerful, highest quality plant extracts, qualities of which can improve the renewal and recovery of the skin.
Only found in La Prairie products, this distinctive anti-ageing combination provides vital nourishment to the skin, improving firming and smoothing down the appearance of early wrinkles.
The translucent and lightweight Swiss Ice Crystal dry oil will instantly melt into your skin, creating a protective barrier locking in the moisture, and leaving it looking glowing and protected.
How To Apply
Apply morning or evening after cleansing and toning your skin, apply to the face neck and neck area.
Or blend 1-2 drops with moisturising cream, warming it gently in the palm of your hand before applying.
Can also be used over serum, if combined with moisturiser first.
Avoid the eye area.
Benefits
Anti-ageing
Protects against stress
Restores skin radiance and youth
Rich moisturiser
Calms and soothes
Lightweight
Well absorbed
Main Active Ingredients
Swiss Ice Crystal complex
Lightweight oils
Plant extracts
Summary
Truly amazing! I used a sample of this precious oil back in the summer, applying it before bed as a part of my nighttime routine. Was expecting great results and it did not disappoint!
Extremely lightweight, the oil literally melts into the skin, leaving it incredibly soft to touch. Non-Greasy and well balanced it felt like my skin was drinking throughout the night as it looked all plump, refreshed and radiant the next morning. It moisturised my skin nicely, and I could really see the difference a few days later. Incredible product, well worth trying.
5. Decleor Aromessence Magnolia Youthful Oil Serum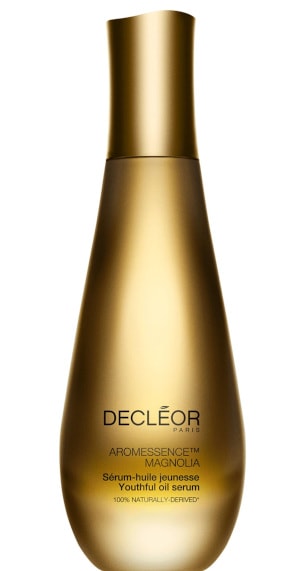 Overview
DECLÉOR White Magnolia Anti-Ageing Aromessence Serum is an organic product made of 99% natural ingredients.
A non-sticky texture allows this oil to be absorbed into the skin more rapidly, swiftly working its way through and reigniting the radiance of the skin.
Deeply moisturising and nourishing Magnolia, Geranium and Ginger essential oils give a toning effect. Jojoba and Hazelnut botanical oils further boost the health of your skin.
Rose oil works as an antioxidant protecting skin against free radicals or any other environmental aggressors, restoring skin firmness, refreshing and brightening up the complexion.
This youthful concentrate is like a cocktail of powerful energy for the skin, delivering comfort, soothing and stabilising the skin throughout the day.
How To Apply
Warm 2-3 drops of Aromessence oil in your palms.
Apply it by gently tapping over your face and neck.
Follow with your regular moisturiser. Or add a couple of drops to your cream and apply it this way.
Or add a drop of Aromessence oil to your foundation product to give your skin a natural, glowing look.
Benefits
Firmer Skin
Reduced Wrinkles
Reduced redness
Skin Radiance
Skin Tightness
Beautiful Scent
Fast-absorbed
Non-greasy
Main Active Ingredients
Magnolia Essential Oil
Geranium Oils
Rose Oils
Ginger Oil
Jojoba Oil
Hazelnut Oil
Summary
The White Magnolia Anti-Ageing Aromessence Serum is a fabulous non-greasy Oil-absorbing easily into the skin.
As with many other facial oils, it can be used either in the morning or evening. You can use it under moisturiser or applied to the skin on its own, to give that extra boost and penetrate the layers of the skin.
My skin felt very comfortable and hydrated all day long only after only one application. The oil smells divine, feeling soft on my skin. A luxurious blend of essential oils.
6. Sisley Black Rose Precious Face Oil
Overview
Sisley Black Rose Precious Face Oil is their first skincare oil for dry or mature skin and the winner of two InStyle Magazine Best Beauty Buys Awards in 2016 and 2017.
Sisley's first skincare oil for dry or mature skin has a high concentration of active ingredients and is rich in Omega 3 and 6 acids. These prepare the skin helping it to better absorb the skincare product.
Thanks to the active ingredients, this silky concentration oil has a nourishing and revitalising effect, providing crucial elements for preserving the elasticity and youth of the skin.
Camellia and Plum oils balance lipids of the epidermis with the Black Rose extract are blended in with Bulgarian Rose and Magnolia essential oils. These soothe and tone the skin to provide a smooth, radiant look.
How To Apply
Apply 3 to 7 drops in the morning or evening on cleansed skin (face and neck).
Always warm the oil between the palms and apply by tapping into the skin, gently pressing it down.
Avoid the area around the eyes.
Can be used on its own or together with your daily moisturiser.
Benefits
Wrinkles visibly reduced
Intensively Nourishing
Intensively Hydrating
Skin looks more radiant, fuller and toned
Non-greasy
Main Active Ingredients
Plum oil
Camelina oil
Black Rose extract
Bulgarian Rose Oil
Magnolia Oil
Geranium Oil
Summary
Sisley's First Skin Care Oil is absolutely beautiful. It smells divine and feels weightless and soft on the skin, sinking in nicely.
I have used it for a couple of weeks applying few drops in the morning mixed in with my moisturiser, and then in the evening. I used it on its own by gently pressing down into my skin and letting it to be absorbed.
The feeling is absolutely marvellous, I can definitely use this product every day. It did wonders to my skin, in only a couple of weeks, I could see my wrinkles smoothing down and becoming less visible. I am seriously considering getting myself a full-size bottle (update: I did and hightly recommend it).
Also, don't forget to check out my article on the Most Popular Sisley Perfumes.
7. Aesop Fabulous Face Oil
Overview
Aesop was born in Melbourne in 1987 and is one of the most sought-after skincare brands in the world. Specialising in botanical blends for skin, hair and body, the brand delivers an exceptional and high-quality product.
Aesop Fabulous Face Oil is packed with precious essential oils and is designed for tired, dehydrated skin, the skin that is affected by everyday stress or other ageing life extremes.
Its creamy, detoxicating, lightweight formula of purifying botanicals deeply hydrates and softens the skin, balancing and restoring it, giving it an incredible boost and glow.
A delightful herbal aroma coming from a precious blend of jasmine, ylang-ylang and juniper berry oils makes this facial oil utterly irresistible.
How To Apply
Morning and/or evening massage 3-5 drops of Fabulous Face Oil into cleansed and toned skin.
Or blend with your preferred daily moisturiser (cream or serum) for more intense hydration.
For better absorption exfoliate your skin twice a week to remove any dead skin cells and give it a deeper clean.
Benefits
Balancing and replenishing
Smoothing
Hydrating
Lightweight
Detoxifying
Non-greasy
Aromatic
Main Active Ingredients
Juniper Berry Oil
Ylang Ylang Oil
Jasmine Petal Oil
Macadamia Seed Oil
Sweet Almond Oil
Camellia Seed Oil
Evening Primrose Oil
Wheat Oil
Hazel Seed Oil
Sunflower Seed Oil
Jasmine Oil
Summary
This luxurious facial oil has a delightful, lightweight consistency and a pleasant scent. The oil is easy to apply; however, it takes a while for the skin to absorb it. If you have no patience or time to wait, use the tissue to tap away any excess.
Beautifully moisturising, nourishing and smoothing the oil feels incredibly lightweight and soft, it made my skin sing in the morning. The only negative is the time it takes to absorb when compared to the other oils listed here.
8. La Mer The Renewal Oil
Overview
The multi-phased, La Mers vitamin-infused The Renewal Oil is blended with the brand's signature Miracle Broth™ and Miracle active renewal oils as well as other active ingredients and minerals to create this unique formula.
The Renewal oil helps to repair and restore skin's natural processes, including the rebuild of the collagen, a significant component to your skin. It provides both structure and strength, and visibly reducing the appearance of lines and wrinkles.
The sweet, aromatic oil boosts your skin with youthful energy, injecting with floods of moisture, giving it a refreshed radiant complexion.
How To Apply
Gently shake the bottle to blend the formula.
Tap in 3-5 drops to your face and neck morning and evening.
Massage this nourishing formula into hair, cuticles and dry areas of the body as needed.
Benefits
Replenishes and nourishes
Highly Hydrating
Firming
Anti-ageing
Enriched with vitamins and minerals
Aromatic
Soothing
Improves skin's radiance and resilience
Main Active Ingredients
Miracle Broth™ & Miracle Broth Oils
Lime Tree Concentrate / Extract
Summary
Using a sample of La Mers The Renewal Oil was the most pleasurable experience. I have combination skin and find that facial oils work really well for me. The oil does not block the pores but gently sinks into the skin, leaving a soft, feather-light feel.
Beautifully hydrating throughout the day, the renewal oil made my skin glow with health. It visibly improved it after only a few days of use.
Besides, this oil is so versatile, it can be used on hair and nails too.
9. Dior Capture Youth Intense Rescue Age-delay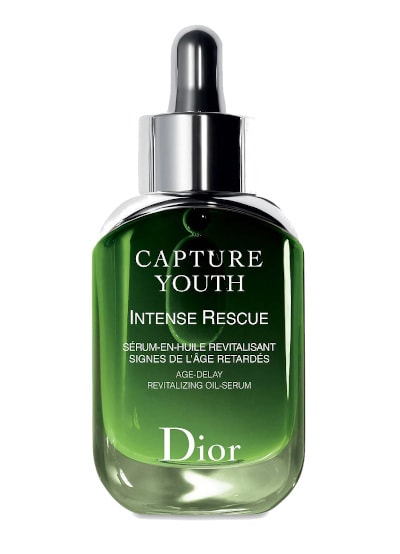 Overview
The Intense Rescue Age-delaying serum is the first intense oil-serum designed to replenish and maintain skin's hydration, restoring and strengthening its natural processes.
Targeting dry, stressed, and tired skin, Intense Rescue serum helps to correct the dryness by intensely moisturising and nourishing it. The combination of restorative ingredients such as essential oils and fatty acids reinstate deficiency of the natural fats, so the skin feels instantly refreshed.
This incredible revitalising oil-serum enriched with antioxidant qualities of Iris Florentina and lipid-replenishing formula slows down the ageing process, restoring the healthy balance of the skin, leaving it feeling nurtured and comfortable.
How To Apply
Use 2 to 3 drops of the serum applying it directly to cleansed and toned skin, gently massaging it in.
You can just apply to your targeted/problematic areas only.
You can add a couple of drops of this oil to your daily moisturiser giving it an extra richness.
Or, for more nourishing effect, apply a thicker layer to your skin, leaving it overnight, and let the serum work its magic.
Benefits
Minimises the appearance of fine lines/wrinkles
Deeply moisturising
Hydrating
Soothes/comforts skin
Smoothing
Nourishing
Skin-plumping
Creates glow
Aids stressed skin
Aids sensitive skin
Main Active Ingredients
Argan Oil
Fatty acids
Iris
Summary
I first tried this Intense Rescue oil-serum in-store and took home a sample which I trialled for about 2 weeks (a little goes a long way!). The serum has a creamy texture and feels absolutely beautiful.
My skin looked better almost instantly. After a couple of applications it felt and looked healthier and more radiant. It visibly minimised fine lines around my eyes. My skin felt well hydrated, smoother and more resilient.
10. Elemis Superfood Facial Oil
Overview
Winner of the Vogue Beauty Award 2018, Elemis Superfood Facial Oil is a natural blend of concentrated plant-based superfoods designed to both nourish and hydrate your skin.
Broccoli, Flax Seed and Daikon Radish, Rosehip and Cucumber are just a few of the active ingredients that are rich in antioxidants, and omega's that will feed your skin to ensure that healthy glow. Only a few drops are needed each morning to give your skin an extra boost of hydration and nutrition.
How To Apply
Massage 3-4 drops over the face and neck every morning.
Use before your daily moisturiser.
Avoiding the eye area.
Benefits
Non-Sticky
Easily Absorbed
Hydrates
Softer & Smoother skin
Smells Nice
Main Active Ingredients
Broccoli
Flax Seed
Daikon Radish
Rosehip
Cucumber
Summary
Absorbs incredibly well as my skin drew it in like a sponge and I felt hydrated from the first day of use. I could apply my make-up after about 20 minutes with no issues of stickiness.
After 2 – 3 days, I noticed my skin is noticeably softer, plus the area around my eyes was less dry looking. Just to add, it smells lovely, like having a fancy spa day.

Conclusion
This concludes my review of the 10 best facial oils for dry mature skin that I could find. As you have probably noticed, there are a staggeringly huge number of facial oils on the market. All seem to offer anti-ageing properties and a whole host of other benefits.
My initial online research allowed me to reduce the number of oils down to a manageable 10. I have tried each one personally over the last few months, either by buying it or obtaining a sample, then using each one for at least a week each.
My two favourites that I will keep using are Clarins Blue Orchid and Wild As The Wind FACIAL OIL No.2
I hope you found this article useful. If you ever happen to bump into me, please be kind and tell me that I look far younger than you expected!
Before you go, I have put together a small number of beauty products that I use myself in a collection that you may find useful.

Further Reading
Below are some additional articles from Viora London's blog. We write articles on a number of interesting lifestyle topics such as fragrance, beauty, designer handbags, luxury accessories and more.