Italian designer Salvatore Ferragamo is famed for his vibrant designs and unusual material choices for dazzling shoes, bags and leather accessories. The best Salvatore Ferragamo handbags combine classic Italian chic with eye-catching colours and materials.
Salvatore Ferragamo bags come in several shapes and sizes to suit every style, mood or occasion. From functional totes, cute minibags, and the versatile studio bag, surely every girl needs a Salvatore Ferragamo!

10 Popular Salvatore Ferragamo Bags
Bursting with Italian flair, the best Salvatore Ferragamo bags come in a range of eye-catching colours, designs and styles. Here are 10 of the most popular.
1. Trifolio Shoulder Bag
Review
Looking for a touch of classic elegance in your day-to-day life? If so, the Trifolio shoulder bag perfectly represents Ferragamo sophistication with a casual edge.
The simple silhouette of this shoulder bag, with a slightly dipped upper edge and soft bottom corners, makes it feel slouchy yet professional. This simplicity is what makes the jacquard material elegant rather than overwhelming.
I feel that the fine details of the textured, opulent material make a showpiece out of what is an otherwise plain bag. The painted Gancini buckle is the final, delicate touch that makes this piece pop.
A spacious and functional double compartment interior means this great everyday statement bag can hold all of your necessities. There is even a small, zipped pocket to keep your valuables safe.
Dimensions:
38 x 30 x 7 cm
Pricing & Info
You can check the latest pricing, product information, and order online.
2. Viva Bow Bag
Review
Bold, bright, and feminine with a soft and casual silhouette, the Viva Bow bag is an ideal choice for bright summer weekends and casual evening events throughout the year.
Made from the highest quality calf leather, this slightly added bag comes in a range of neutral and bright colours. Whichever you choose, however, the uniformity of the colour (covering the body, strap, fastening Vara Bow, and even the strap chain) gives this bag a unique appearance.
This dainty bag is more about texture than tone, making it either a subtle addition to an outfit or a statement piece. It all depends on whether you choose khaki, caramel, or my fave….hot pink!
This bag's soft, tapered body is split into two compartments, making the already compact interior a little smaller. Also, consider the DeMellier Mini Alexandria bag if you want something sturdier in a similar colour.
Dimensions:
19 x 27 x 5 cm
Pricing & Info
You can check the latest pricing, product information, and order online.
3. Ferragamo Studio Bag
Review
This Ferragamo Studio bag with its Foulard print has been created with signature Salvatore Ferragamo flair; this bag has a delicate beauty that is mature and subtle.
Thick calf leather makes up the structured body of this bag, allowing for clean lines that create a smooth, elegant and slightly tapered silhouette.
I like the way the sturdy top handles complete the classic look of this bag, and there is a removable shoulder strap to allow for crossbody carrying. A Gancini slider clasp and matching metal foot studs add the final touches of luxury that genuinely elevate the piece.
A bright pop of colour makes the interior feel like a part of the bag's overall design. Though it is not compartmented, it has a zipped side pocket to ensure that your valuables are safe.
Dimensions:
25 x 29 x 14 cm
Pricing & Info
You can check the latest pricing, product information, and order online.
4. Vara Bow Top Handle
Review
Those seeking classic Italian sophistication with a splash of colour will find the Vara Bow top handle bag an absolute delight. This balance of simplicity and intricate design patterns is typical of Ferragamo pieces, creating a uniquely eye-catching piece.
Grained calf leather, carrying a heritage Foulard print in varied shades of pink, makes this bag's simple, clean-cut lines undeniably beautiful. Thick, robust, and pleasing to touch, this leather exudes quality and ensures that this bag can stand up to daily use.
A strip of leather carrying the signature Vara bow at the top of this bag is elevated by the metal fastening mechanism and sturdy top handles.
The simple, black interior is spacious enough to carry all your day-to-day necessities and even a few little extras. In short, this is a dynamic, everyday statement piece, and I love it!
Dimensions:
20 x 25 x 14 cm
Pricing & Info
You can check the latest pricing, product information, and order online.
5. Quilted Gancini Flap Bag
Review
Cream and gold, quilted, with a long chain strap, this bag brings a little touch of 2000s fashion, but it doesn't feel dated. A discreet statement piece, I think this piece is subtle and easy on the eye.
The sophisticated front flap design and all-over stitching that echoes the Gancini motif give an attractive matelassé effect. Compact and beautiful with a stunning twist-lock closure in gold-tone metal, this bag is perfect for day and evening events.
Perhaps the only drawback to this bag is its relatively small size. You can fit your phone, wallet, and keys into this bag, but probably not much more. So, plan accordingly if you want to take this to an event.
Dimensions:
17 x 25 x 9.5 cm
Pricing & Info
You can check the latest pricing, product information, and order online.
6. Gancini Minibag
Review
Another dainty bag from Salvatore Ferragamo, the Gancini mini bag, is bang on trend and a delight to the eyes (and fingers!). The laminated finish on the smooth, geometric-patterned suede makes the bag feel opulent and glamorous.
A simple, slouchy silhouette with tapering edges makes this clutch-style mini bag look elegant yet casual. You can imagine proudly carrying this down the streets of Milan quite easily, or at a fancy cocktail party.
The simple logo at the top of the bag breaks up the otherwise simple design of the bag. There is a thin chain strap inside the bag that can be used to carry this bag over the shoulder, but I think it really functions best as a clutch bag.
As you might imagine, one drawback is that the interior is minimal, so consider planning ahead if you have lots to carry.
Dimensions:
14 x 21 x 8 cm
Pricing & Info
You can check the latest pricing, product information, and order online.
7. Creations Top Handle Small
Review
Looking for a touch of glamour that seems to come directly from the Golden Age of Hollywood? If so, this small, hard-bodied top handle bag in classic gold and black will give you the look you have been craving.
As a re-release of one of Salvatore Ferragamo's most iconic designs, this is a highly sought-after item. Some components have been updated to ensure that this bag can keep up with the demands of modern life.
Smooth, brushed-off calfskin leather and a gold-toned metal Gancini clasp give it an air of timeless glamour. The sturdy top handles are a benefit, making it easy to carry over the elbow.
The interior is split into two separate compartments with a zipped side pocket, making this bag perfect as a day-to-day work bag for those who like to look good on the go. Similar to the Furla 1927 Top Handle bag.
Dimensions:
30 x 20.5 x 10 cm
Pricing & Info
You can check the latest pricing, product information, and order online.
8. GanciniI Tote Bag
Review
A classic tote bag should be a part of every girl's collection. This simply beautiful tote from Salvatore Ferragamo is definitely a stunning choice.
Choosing classic elegance over busy patterns, Salvatore Ferragamo has created a staple item that can stand in good stead in any wardrobe throughout the seasons.
I think what makes this bag stand out is the outstanding quality of the calfskin leather used to make the body of the bag and its long top handles. The gold-toned clasp-fastening mechanism gives the piece a sophisticated aura.
As you might imagine, this is one of the larger bags on this list. The non-compartmented interior is positively massive. If you need to carry a lot in your daily life, this bag will help you do it with style.
For more classic style bags, check out my article on 8 incredibly popular Russell & Bromley handbags.
Dimensions:
27 x 30 x 17 cm
Pricing & Info
You can check the latest pricing, product information, and order online.
9. Trifolio Shoulder Bucket Bag
Review
Quirky, bold, and whimsical with an edge of youthful vibrancy, this bucket bag is a statement piece like no other. Though it is generally simple in design, I feel that the small details really bring its overall look together.
Made of smooth calf leather with gold-tone metal hardware, this bag has a sturdy, high-quality feel that is pleasing. It feels secure and rugged (and it is). The adjustable shoulder strap and palladium-finish Gancini buckle add the perfect final touches.
Uncomplicated and non-compartmented, the interior of this bucket bag is perfect for carrying a range of everyday items on the go. If you want a bold and punchy bag for daily use, this bag will give you precisely what you need.
Dimensions:
19 x 13 x 10 cm
Pricing & Info
You can check the latest pricing, product information, and order online.
10. Ferragamo Studio Box Bag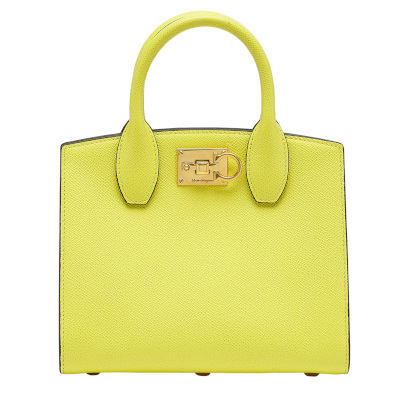 Review
Modern, bold, and chic – this Studio Box Bag will always be on-trend and makes a statement no matter what it is paired with. I am in love!
Hammered calf leather gives this bag a rough texture that is wonderful under the fingers. The range of bright, bold colours all work well against the Gancini slider clasp in antique gold, especially the carry yellow.
Pops of neon green, pink, and teal mean this can be a real stand-out (but there is a professional black option too). The slightly curved upper edge disrupts the otherwise simple and traditional silhouette.
This bag has enough space to hold most everyday essentials as a mid-sized option but may struggle with large phones or wallets. Thankfully, it's more suited to being an event bag than a daily work bag.
Dimensions:
19 x 22 x 11.5 cm
Pricing & Info
You can check the latest pricing, product information, and order online.

Ingrid's Top Pick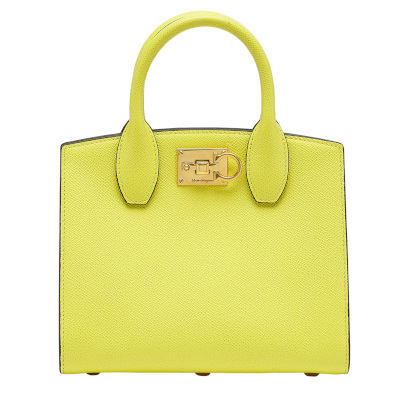 Ferragamo Studio Box Bag
My top pick is the Ferragamo Studio Box Bag as I love the clean lines, vibrant colour choices, plus the Gancini slider clasp in antique gold is an excellent addition.
Conclusion
Attention to detail has always been a feature of Salvatore Ferragamo pieces. Ferragamo has always been about the little things, from shoes to ready-to-wear clothing and fancy bags. These 10 bags are perfect examples of the flair and careful design that has made the brand perennially popular.

Further Reading
Below are some additional articles from Viora London's blog. We write articles on a number of interesting lifestyle topics such as fragrance, beauty, luxury accessories and more.