I have spent an enjoyable weekend in London browsing through the most elegant designer handbags available in both Harrods and Harvey Nichols.
Each of these elegant designer handbags has been chosen by me for their ability to lavish you with that warm and tingly feeling of opulence and sophistication.

Givenchy
GIVENCHY Sequin Charm Shoulder Bag
Review
The GV3 bag takes its name from Givenchy's maison on 3 Avenue George V in Paris.

Designed by Clare Waight Keller, a first ever female creative director of Givenchy's, this glossed crocodile effect leather shoulder bag is already a hit.
Minimal, accordion-like silhouette handbag inspired by the 1950-60s style brings up a most elegant and classic look.
Featuring Givenchy-Paris engraved antique gold plaque to the front, a foldover top and matching colour chain shoulder strap this lovely little bag will compliment any style.
Roomy interior designed with couple of inner pockets gives enough storage for all your beauty essentials and makes this cool little bag fit for any occasion.
GIVENCHY Sequin Charm Shoulder Bag
Review
A lovely snakeskin effect charm shoulder bag from Givenchy is a perfect illustration of Parisian style.
Crafted from a soft Italian leather, embellished with sparkly black sequins, this miniature handbag is definitely one of your 'must haves'.
Adorable silhouette cross-body bag, detailing magnetic front flap, suede-lined interior with a small slip pocket and chain shoulder strap, features a diamante embellished signature GV3 logo plaque.
Remove detachable shoulder strap to transform this shoulder bag into a chic evening clutch, spacious enough to hold all of your evening essentials, such as lipstick or miniature perfume and pack of mints.
Givenchy's leather Charm bag will make your day to night easy and will become your sparkling choice for all evening events!
GIVENCHY GV3 small red quilted leather cross-body bag
Review
Another gorgeous shoulder bag from GV3 collection is designed to make you stand out from the crowd.
Made from a soft quilted leather this striking red cross-body bag gives a classic feel and its brushed gold chain strap.
The logo plaque and added leather shoulder strap allows you to style in different ways and adds a lovely modern touch.
Spacious accordion style compartment interior, layed in soft suede leather gives this bag a unique finish.
Composed in Italy Givenchy shoulder bag justifies an exquisite craftsmanship and scrupulous attention to detail.
Perfect for your evening wear this lovely little bag will add an elegance and style.

Gucci
GUCCI GG Marmont Small Leather Shoulder Bag
Review
Have a taste of the romantic cocktail of colours from the latest Gucci's Autumn 2019 collection!
GG Marmont striped style shoulder bag is expertly crafted and ornamented in black and beige highest quality quilted leather.

Inspired by nature, this lovely range of Gucci handbags comes decorated in snake and bee embellishments and is completed with an intertwined iconic GG logo finished in antique gold.
Beautifully shaped small shoulder bag features a lovely little heart at the back and a sliding chain strap allowing you to wear it in multiple ways.
Perfect for any season this gorgeous little bag will compliment any style and any taste, and will become your favourite everyday bag.
GUCCI Ophidia Black Leather Shoulder Bag
Review
Meet an iconic shoulder bag from Gucci!
Featuring in their latest Autumn 2019 collection this lovely little bag carries a delicate 'mini version'of a double G logo that comes from Gucci's archives of 1970, incorporating all of the iconic codes these bags are known so well for.

Crafted from a soft black leather with green and red leather stripes to the front Ophidia shoulder bag represents the most classic design.
The inside is lined with a soft suede effect fabric and includes two inner pockets, and is spacious enough to fit all of your essentials.
Italian made shoulder handbag, decorated with a chunky intertwined gold effect shoulder strap and is a modern everyday bag with a touch of vintage nostalgia.
GUCCI Dionysus Small Black Velvet Shoulder Bag
Review
One of the most desirable at the moment 'Dyonysus' shoulder bag form the latest Gucci's collection features a striking signature tiger head clasp, which makes this handbag to stand out.

It is named after the Greek God, who according to an old legend, was believed to ride an animal across the river Tigris.
Crafted from the panels of lavish black velvet and glossy grainy leather, Dyonysus chain bag is ornamented with an iconic GG logo from the outside and features a soft suede interior.
Detachable, two-way metal chain strap allows you to wear this bag in multiple ways and zipped inner pockets and inner compartments makes it a versatile, any occasion handbag.

Burberry
BURBERRY Lola Small Quilted Shoulder Bag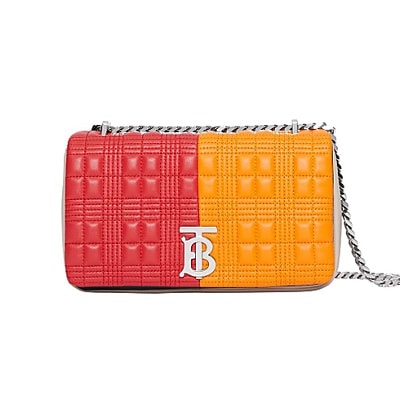 Review
Named after the iconic song 'Lola'by British band The Kinks, this softly shaped, colour-block Burberry bag is an eye pleasing piece of craftsmanship.
Made from opulent Italian leather originally enhanced in a lovely check pattern, this small shoulder bag is embellished with a signature Thomas Burberry Monogram gives it a more sophisticated look.
Shoulder strap featuring intertwined chain and leather combination is easily adjustable to preferred length, allowing you to wear it over your shoulder or as a crossbody.
As stated by Burberry's creative director Riccardo Tisci: "this bag is a symbol that not only embraces heritage, but at the same time feels very contemporary".
Pick this cute little crossbody bag as your everyday carry-around bag and add a touch of style to your wardrobe!
BURBERRY TB Medium Leather Shoulder Bag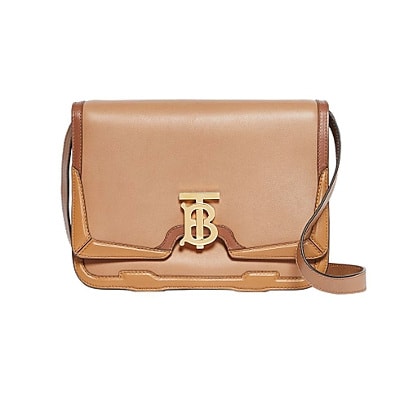 Review
Finished with a Thomas Burberry Monogram this structured leather shoulder bag in a classic beige colour, features a detachable leather strap and the brand's iconic TB logo finished in polished gold tone metal.
Designed with a lovely exterior slip pocket and a zip pocket this bag also contains two spacious interior compartments, useful for your everyday essentials.
Accordion-like shape bag, finished in a sleek, hand-painted edges, gives this bag a minimalist appeal.
Detachable strap allows you to transform this shoulder bag into a lovely evening clutch and makes it a functional piece that would see you through years becoming your everyday classic
BURBERRY Lola Sequinned bag
Review
Another Burberry shoulder bag from their latest Lola collection, decorated in a sparkly silver sequins, is a perfect example of pure perfection.
As small as it is, this charming little bag would play a perfect role as your 'everywhere evening' bag and is big enough to carry all of your beauty essentials such as lipstick, compact powder or even a purse size perfume bottle!
Crafted from a smooth, high quality tan leather with inserted panels covered in sparkly sequins, the bag features fold over decorated in Burberry's signature Monogram.
With a number of designs being reviewed lately, Burberry has found new ways how to make their bags stand out and brought to life many of the bellowed ones.
Lola crossbody bag is one of them and marries both – the new and the old.

Valentino
VALENTINO VLock Small Green Leather Shoulder Bag
Review
Beautifully crafted from a lavish dark green Italian leather, embellished in gold-toned logo to the front, this gorgeous Valentino Garavani's VLock shoulder bag is a representation of the house's elegance and sophistication.
Contemporary design presented in the brand's latest collection, execute a perfect blend of modern and classic.
Rectangular shaped compact handbag, featuring fold over top closing, gold-toned chain leather strap and soft silky inside lining with a handy slip pocket, gives it the most elegant and stylish look.
Have a feel of Italian taste and glamour, and surround yourself with a touch of luxury.
VALENTINO Rockstud Spike Medium Leather Shoulder Bag
Review
Valentino Garavani's soft powder coloured leather shoulder bag is a reflection of vintage with a twist of a rocker style.
Quilted chain bag, made of beautifully soft Italian leather, beautifully embellished in a brand's signature Rockstud Spikes, gives this bag a real luxurious feel.
This sublime Valentino shoulder bag, finished with a delicate chain strap and fold over top with a flip-lock soft gold colour closure, will quickly find a place in your closet and end up on the list of your favourites.
Detachable shoulder chain will transform this bag into a lovely clutch, complimenting every evening outfit.
VALENTINO VRing red leather cross-body bag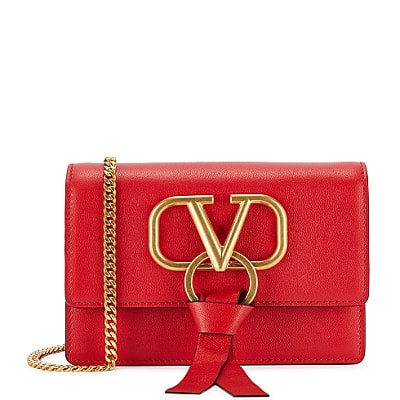 Review
When it comes to choosing your evening accessory check out this Valentino Garavani's VRing bag in rich red!
First featured in their Spring 2019 collection as a larger version, this bag now comes in upgraded mini size.
Designed to be carried as a clutch or over the shoulder, this attractive, compact, two inner pocket handbag gives the most satisfying look and will pop of colour to your look.
Expertly constructed from the finest Italian leather, VRing bag is a true marriage of boldness and elegance.
Finished with an adjustable shoulder strap, clasp closure top over a main internal compartment this bag will ensure its wearer to an everyday stylish look.