Handbags are one part of fashion in which you can truly indulge your wackiest impulses and authentic tastes. Unlike dresses, trousers, blouses, or skirts, bags are by their nature statement pieces.
Even the most quirky designer handbags can easily be paired with daytime and evening outfits with relative ease. Distinctive designer handbags are not just perfect for self-expression. However, they can also be incredibly valuable because of their eccentric or unique design.
In this article, we guide you through the 11 most quirky designer handbags we adore, plus answer the all-important question of why you should get one!

11 Beautiful and Quirky Designer Handbags
Each of these quirky designer handbags is cute, fun, and represents a sound investment for a fashion lover. This means that all you have to do is pick the one that you like best!
1. Tory Burch – Lee Radziwill Small Leather Bag
Review
A relatively new fashion house, the American brand Tory Burch was founded in 2004. They have built a reputation for taking the global point of view and producing bold, modern designs. The 'double T' logo that is emblazoned on their clothing and accessories has quickly become iconic.
This small, top handle, leather and straw bag is both unusual and yet very representative of the Tory Burch 'look'. With its leather trim and straw panel, this bag perfectly balances the professional with the casual. The detachable clear rain cover adds another little quirk to it (as well as protection from rain).
The leather top handle and gold-toned turn-lock fastening bring the whole look together. The gold charm which hangs from the bag is a nice finishing touch. However, this bag is more than just striking; it's practical. The spacious interior with slip pockets makes keeping important documents and small items safe and separate. While quirky, this bag is practical and perfect for daily use.
Dimensions:
29.5 x 19 x 9.5cm
Price & Reviews
You can check the latest pricing, see customer reviews and shop online at Harvey Nichols:

2. Issey Miyake – Bao Bao Metallic Lucent Tote Bag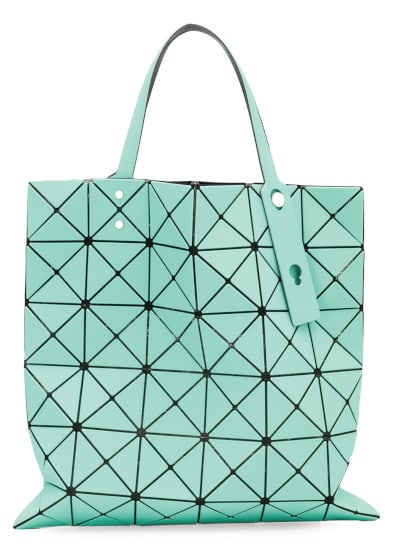 Review
The Issey Miyake brand was named after its founder and has become synonymous with unique and fresh designs that challenge the perceptions of the fashion world.
Born in Hiroshima in 1938, Issey Miyake graduated from Tama Art University in Tokyo and later went to Paris where he worked for Guy Laroche and Givenchy.
The Miyake Design Studio opened its doors in 1970. Widely regarded as the founding father of Japanese Avant-Garde, Issey Miyake was the first to redefine sartorial conventions. So, it's no surprise that his approach to handbag design is somewhat eccentric.
An Issey Miyake signature style, the Bao Bao bag is a breath of fresh air; the geometric pattern, futuristic lines, and slouchy silhouette give it a really quirky look. This PVC and vinyl bag is durable, versatile, and beautiful. As a tote bag, this is perfect for daily use, though not suitable for formal events.
It is surprisingly spacious, despite being quite compact, and the inner, zipped mesh pockets make it easy to organise your belongings and keep valuables safe.
Dimensions:
13 x 34 x 34cm
Price & Reviews
You can check the latest pricing, see customer reviews and shop online at Harrods:

3. Aspinal of London – The Trunk Bag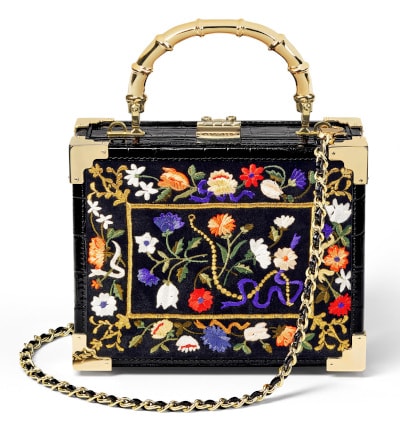 Review
Dubbing themselves 'quintessentially English', Aspinal of London was founded in 2001 with their goal to offer the most beautiful and refined products to their customers.
Each piece they produce is designed by creative director Mariya Dykalo and handmade by English craftsmen and women. Known for their attention to detail and traditional methods they nonetheless produce some stunning and unusual bags which are perfect for events and evening functions.
The Trunk is an iconic Aspinal of London design which has seen many iterations. With its hard leather shell, top handle, and detachable shoulder strap this is a beautiful, snake-effect bag. It's the embroidered panel that makes it genuinely striking.
Faithfully, modelled on an extraordinary Florentine cabinet made in the Grand Ducal workshops. Handmade and finished to an exceptional standard, this bag is versatile and can be paired with daytime and evening outfits easily.
The bright orange interior is beautiful and well organised (if not spacious). This is a small bag, but it is capable of carrying essentials, and what it lacks in size, it makes up for in beauty.
Dimensions:
14.5 x 18.5 x 7.5cm
Price & Reviews
You can check the latest pricing, see customer reviews and shop online at Aspinal of London:

4. Gucci – Ophidia GG Flora Bag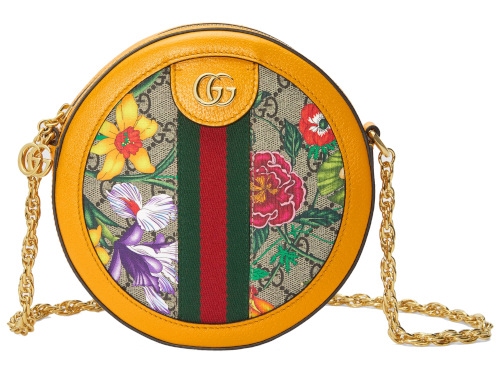 Review
Founded in 1921, Florentine brand Gucci is now one of the most well-known and highly regarded fashion houses in the world today. Considered to be a venerable fashion house, they found themselves with an ageing consumer base until a clever rebranding.
The Instagram trend (the #guccidrip) saw them skyrocket to the heart of youthful luxury fashion once more. Their vibrant (sometimes gaudy) designs are always exciting and unique; this bag is no different.
The Ophidia shoulder bag is dainty, to say the least, but it's diminutive size only serves to accentuate the clashing colours and patterns that make it so unique. Bright yellow leather encircles floral panels which are broken up by the iconic 'GG' logo and red and green stripes which are so synonymous with Gucci apparel.
The simple, gold-tone chain handle with its leather segment finishes the overall look of the bag perfectly and makes it easy to carry. Though it is small, the bag has interior pockets which are perfect for carrying cash, cards, and most smartphones. This quirky bag is an ideal statement piece for daytime wear.
Dimensions:
18 x 18 x 4.5cm
Price & Reviews
You can check the latest pricing, see customer reviews and shop online at Farfetch:

5. Versace – V-Jacquard Virtus Bag
Review
Milanese fashion house Versace was founded in 1978 by Gianni Versace, and today is one of the most iconic and popular luxury fashion brands in the world. Synonymous with luxury and opulence, Versace stands out; when the trends for minimalism, understated elegance, and relaxed daywear were in full swing, they unabashedly stuck to their Art Nouveau richness.
Donatella Versace took over as the artistic director in 1997 and deftly steered the brand into the new Millenium. While Donatella has made many changes, the identifiable Versace 'style' has remained the same.
This top handle bag is pure Versace, but the lines and structure of the bag are very clean-cut. The smooth, high-quality leather, silk, and nylon that has been used to make this bag stand in stark contrast to the vibrant, almost textured design which seems to jump from the fabric.
The pink and green pattern on the body of the bag serves to emphasise the plain brown and blue covering flap with its bold 'V' logo. The back of the handbag, by contrast, has a bold, tapering panel of blue leather. The overall result, however mismatched, is a bold and undeniably attractive bag which cannot help but be a quirky statement piece.
The interior is tidy and unsegmented but has pockets which can be used to separate valuables and small items. As a result, this is a stunning and useful daytime bag which can transfer to nighttime functions with ease.
Composition:
32 x 12 x 24cm
Price & Reviews
You can check the latest pricing, see customer reviews and shop online at Versace:

6. Dolce & Gabbana – Medium Devotion Bag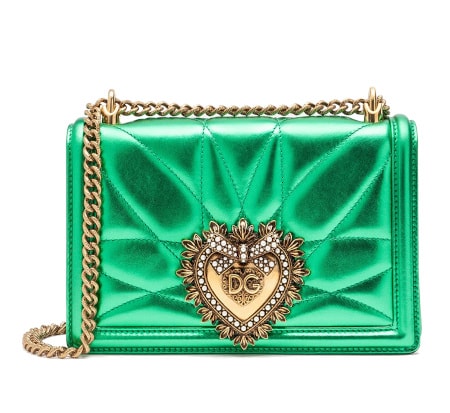 Review
Italian fashion house Dolce & Gabbana was founded in 1985 by Domenico Dolce and Stefano Gabbana. They first opened their doors in Milan and quickly began designing ready-to-wear clothing and compiling an exquisite fragrance collection.
Today they have a line of clothes, shoes, bags, accessories, and beauty products. They are one of the largest and most influential fashion houses in the world. Their focus on rich fabrics, colours, and embellishments make their products striking and utterly beautiful.
This small, rectangular bag with its gold-tone handle is the same size as the average clutch bag, which makes it less practical for day to day use. Nonetheless, if you are able to travel light, this unique and pretty bag would make a striking addition to any daytime outfit.
The vibrant, metallic quilted leather with its oversized, ornate 'DG' logo set in a heart-shaped embellishment is quirky and beautiful, making this bag stand out easily. As this is a small bag, there is, of course, very little interior space, but this bag is big enough to carry small necessities such a phone, wallet, cash, lipstick, etc.
The handle can also serve as a shoulder strap to make this bag easier to carry. Despite its glamourous appearance, this bag works stunningly with casual outfits such as a skater dress and flat shoes.
Dimensions:
21 x 13.5 x 3cm
Price & Reviews
You can check the latest pricing, see customer reviews and shop online at Fartech:

7. Bottega Veneta – Pyramid Bag
Review
Italian fashioned house Bottega Veneta was founded in 1966 and bought by the Gucci Group in 2001. They found their first wave of celebrity in the 1980s with clients like Farah Pahlavi and Jackie Kennedy. Is often understated, but always interesting and unusual. As a result, they have produced many iconic pieces which offer a flash of quirky and eccentric beauty.
The Pyramid Bag perfectly encapsulates the Bottega Veneta style. Small, angular, and made up of plastic and lambskin with a mirror finish it has an almost space-age look that is unforgettable.
The black, wrist loop which functions as its handle ensures that the bag hangs at an unusual angle, allowing it to catch the light and truly shine. The interior of the bag is, of course, limited by its size, rigidity, and unusual shape, but it is capable of carrying the essentials. This is a striking and quirky evening bag which will make any outfit stand out!
Dimensions:
14.5 x 20 x 17cm
Price & Reviews
You can check the latest pricing, see customer reviews and shop online at Bottega Veneta:


8. Simone Rocha – Bean Handheld Leather Bag
Review
Simone Rocha is an international fashion designer born in Ireland. Daughter of designer John Rocha, she trained at the National College of Art and Design in Dublin. Rocha showed her first collection in 2010 and stocked her designs in stores such as Dover Street Market in London.
More recently, however, she has opened independent stores in both London and New York. Eclectic, but always inspired, Simone Rocha designs are unusual and generally quite edgy but manage to maintain an undeniable beauty.
The Bean bag is a perfect example of her style; soft, smooth leather and flowing lines contrast metal spikes and the matte black of the body of the bag. The result is striking, strong, and undeniably feminine.
Perfect for those whose fashion tastes run towards the alternative, this bag has a cute handle and retro clasp mechanism and an adjustable shoulder strap. It's s compact bag, but it's big enough to carry all of your daily essentials. Don't be fooled by the traditional black leather; this is a unique bag that can jazz up any outfit.
Dimensions:
21 x 23 x 9cm
Price & Reviews
You can check the latest pricing, see customer reviews and shop online at Liberty:

9. Chanel – Resin, Diamanté & Silver-Tone Metal Evening Bag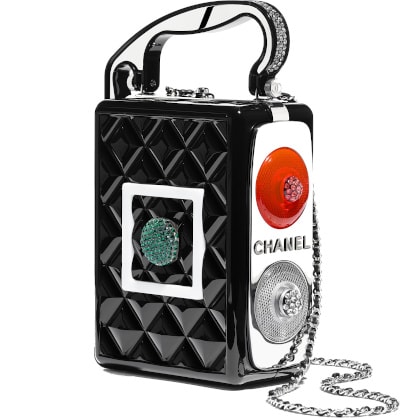 Review
There is no brand quite as famous as Chanel. Founded by the infamous (and inimitable) Coco Chanel in the 1920s, this is a brand which produces perfumes, beauty products, clothing, and accessories to a stunningly high-standard, and as a result, are one of the most popular brands in the world. With a name for chic elegance and feminine style. However, when they do produce unusual items, they are truly striking and one of a kind.
This bag is a perfect example of Chanel's ability to create truly eccentric designs. Made of resin, silver-tone metal, and embellished with diamanté, this hard-shelled, rectangular bag is stunning.
The solid, top-handle and silver-tone shoulder strap make this bag versatile, too. The quilted-effect pattern of the front and oversized Chanel logo give it a distinctive look, but its the side panel with its traffic-light-Esque circular embellishments. This is a bag no-one will forget!
Dimensions:
24 × 16.5 × 8 cm
Price & Reviews
You can check the latest pricing, see customer reviews and shop online at Chanel:

10. Alexander McQueen – Small Butterfly Jewelled Satchel
Review
English fashion designer Alexander McQueen started his career with Givenchy but was always meant for bigger things. His iconic style was already forming, and working to the standards of another institution was stifling his creativity.
The unique style that formed once he began to work for himself entirely was bright, bold, and vampy. Vibrant colours, chunky embellishments, and plenty of 'bling', McQueen designs are quirky by nature.
This jewelled satchel is McQueen style solidified. A bright pink clutch with a gold-tone, chunky chain handle and the iconic knuckle-duster handle above the fastening mechanism it encompasses the most popular innovations which McQueen brought to bear. Dainty, but broad, it can hold most essentials, but it's far from a practical everyday bag. As a result, this is best for evenings and special events.
Dimensions:
18 x 9 x 12.5cm
Price & Reviews
You can check the latest pricing, see customer reviews and shop online at Alexander McQueen:

11. Valentino – Garavani Rockstud Mini Bag
Review
Italian brand Valentino was founded by Valentino Garavani in 1960 and gained fame after designing a wedding dress for Elizabeth Taylor. Since then Valentino wedding dresses have been worn by Anne Hathaway, Jennifer Lopez, Courtney Cox, Sophie Hunter, and Princess Madeleine of Sweden. Valentino is a brand which produces a broad range of products in many styles.
The Sockstud bag is undoubtedly one of the most unusual bags in their collection right now. The neon, yellow-green body of the bag is peppered with gold-tone studs and has a gold-tone twist-lock fastening mechanism. The result is a small but punchy shoulder bag that will stand out in even the densest of crowds. The size makes it impractical for day to day use, but it is perfect for any special occasion.
Dimensions:
17.5 x 10 x 7cm
Price & Reviews
You can check the latest pricing, see customer reviews and shop online at Harvey Nichols:

Why You Should Consider a Quirky Designer Handbag
If your fashion sense does not usually run towards clashing patterns, colours, fabrics, and textures, a quirky handbag might be little out of your usual tastes. Still, there are a few reasons to consider buying one.
First of all, luxury handbags, in general, are a fantastic investment (so much so that some people feel they rival stocks and shares). Secondly, unique or unusual bags, in particular, can be highly desirable, which means that they actually appreciate in value over time.
In fact, some can even double in value. About and beyond financial concerns, however, unique and quirky bags allow us to express our tastes and more vibrant side openly. This free expression of who we are and what we enjoy is priceless.
Of course, that doesn't mean that an unusual bag is appropriate for every occasion. If you work in very formal surroundings (for example in a court), then a quirky handbag may not be the best choice. Likewise, formal or sombre events such as funerals will require a more traditional type of bag. Nonetheless, quirky designer bags are valuable, beautiful, and fun investments for all fashion lovers.
Conclusion
The beauty of a quirky bag is that it doesn't have to please anyone but you. All you have to do is follow your heart and pick the one that pleases you the most!
Before you go, I have put together a review of the most elegant perfumes ranging from timeless classics to modern day sophistication that I think you will enjoy.
Discover Your Perfect Fragrance
Please take a moment to browse through my hand-picked collection of exquisite perfumes.

There may just be the perfect fragrance waiting there for you!



Further Reading
Below are some additional articles from Viora London's blog. We write articles on a number of interesting lifestyle topics such as fragrance, beauty, designer handbags, luxury accessories and more.
Ingrid is an avid perfume collector, fragrance writer & reviewer, fragrance Youtuber and Friend member of the British Society of Perfumers who has worked in the fashion industry for over 30 years.