Luxury high-end Spanish brand, Loewe, has been making quality leather goods, fashion accessories, and perfumes since 1846. As one of the oldest luxury houses in the world, we've selected the 10 best Loewe bags that have much to teach both consumers and up-and-coming designers about striking bag design.
While maybe not quite as 'hot' as young designer brands, that doesn't mean lack of vibrancy and style. Loewe is a heritage luxury brand whose handbags hold their value really well and remain on-trend. Our top 10 best Loewe bags reviewed represent undeniable timeless elegance and beauty.

10 Best Loewe Bags
The best Loewe bags combine style and design excellence with hand-made craftsmanship for truly stunning results. No wonder that Loewe is one of the longest-lived fashion houses in the world.
1. Rouge and Tan Balloon Bag (Small)
Review
Small but perfectly proportioned, this Balloon bag has the casual, slouchy feel of a bucket backpack and the effortless elegance of an over the shoulder bag.
The contrasting panels of red and tan Nappa calfskin invite the touch and create clean, strong lines. The unlined interior has no compartments, but it does have a slip pocket to keep cards or small valuables safe and separate from the rest of the contents.
This bag can be worn crossbody or over the shoulder, which makes it a perfect day bag when you don't have much to carry. The embossed Loewe icon on the base of the bag and gold-tone metal details is a perfect example of how little details make all the difference.
Dimensions:
25 x 18 x 13.5cm
Price & Reviews
You can check the latest pricing, see customer reviews and shop online at Loewe:
2. Smoke and Pecan Gate Bag (Small)
Review
The Gate bag design is a perfect example of how Loewe takes leatherwork to a whole new level. Well, a more traditional level, actually, but you get our meaning.
The half-circle body of the bad is made of blue-grey grained calfskin and wonderfully contrasted with the nutty brown leather which makes up the straps and embellishments. The result is understated yet eye-catching.
The knotted belt under which the front flap tucks is a particularly lovely touch. The interior compartments make organisation easy, although you shouldn't count on bringing more than the essentials with you as this is a relatively small bag.
Dimensions:
19 x 20 x 11.5cm
Price & Reviews
You can check the latest pricing, see customer reviews and shop online at Loewe:
3. Fuchsia Lizard Postal Bag (Small)
Review
This cheeky little retro-inspired number is classy yet quirky, making use of real lizard skin and Nappa calfskin. The rigid body of the Postal bag is given some flexibility by the soft, gusset sides. Still, it is a little more restrictive than many of the other bags on this list.
The top handles play into the vintage aesthetic, but there is a shoulder strap for convenience, too. This postal bag feels like a love letter to the power-suit and briefcase era when women were just starting to make war on the glass ceiling. As a result, it is a little dated, but the boldness of the fuchsia Loewe has opted for offsets this well.
Dimensions:
13.5 x 17 x 8.5cm
Price & Reviews
You can check the latest pricing, see customer reviews and shop online at Loewe:
4. Emerald Green Puzzle Bag (Mini)
Review
As the first completely new bag from Jonathan Anderson, the Puzzle bag has taken the world by storm, making it a somewhat of a Loewe icon.
Available in six colours and varying sizes, it is a staple piece for fans of the brand. This mini version in stunning emerald green is cute and versatile.
The calfskin leather used to make the bag is both soft and durable, and the seams between the panels are immaculate. The result is a bag that is small but mighty (and undeniably beautiful).
Dimensions:
12.5 x 18 x 8cm
Price & Reviews
You can check the latest pricing, see customer reviews and shop online at Loewe:
5. Soft White Horseshoe Bag
Review
Curvaceous and elegant, this Horseshoe bag is a perfect example of the elegance and fine craftsmanship that have made Loewe designs so timeless.
The curved band of leather which frames the body gives the otherwise slouchy main bag a structured feel that prevents it from becoming a run-of-the-mill bucket bag.
The unlined interior is surprisingly spacious, too, which makes this a perfectly stylish day-to-day bag. The long strap means that it can be carried over your shoulder or crossbody.
Dimensions:
26 x 27 x 11cm
Price & Reviews
You can check the latest pricing, see customer reviews and shop online at Loewe:
6. Stone Blue Barcelona Bag
Review
Meticulously handcrafted from boxcalf leather, exquisitely structured, and finished with a quirky hanging charm which also acts as the fastening mechanism, the Barcelona bag is a unique offering.
While it is available in 3 colours, the stone grey option is the only non-neutral. While it is a relatively simple and clean-cut bag, the chunky strap and unique fastening mechanism make this bag to stand out. It's not very big, however, so you should only plan on bringing the basics.
When you have the Barcelona bag on your arm, you can't help but feel a little more empowered and elegant. This is a stylish and striking option for casual events and day to day use.
Dimensions:
15 x 24 x 8cm
Price & Reviews
You can check the latest pricing, see customer reviews and shop online at Loewe:
7. Peacock Blue Heel Bag
Review
Many Loewe bags are simply designed to showcase the superior quality of the leather, but few do this quite as well as the Heel bag. This simple, horseshoe-shaped bag is made of durable calfskin and can be bought in stunning peacock blue or emerald green. These bright colours add a feel of '80s neon to the otherwise plain bag and prevent it from feeling boring.
The simple, box body is steeped in leather making history and embossed with the Loewe icon in the upper left corner. The result is a statement piece of stunning versatility; pair it with a casual outfit to add a touch of flair, or dress down an otherwise formal dress for a splash of irreverence.
Dimensions:
15 x 17.5 x 4.5cm
Price & Reviews
You can check the latest pricing, see customer reviews and shop online at Loewe:
8. Narcisus Yellow Flamenco Clutch
Review
Few bags make a total lack of structure look quite as artful as the Flamenco clutch bag does. First launched in the 1970s, the Flamenco clutch line cinches closed with a leather drawstring, finished with signature coiled knots.
This version is made of stunning Nappa calfskin leather, lined with gold suede and has a discreet magnetic closure mechanism to ensure that your valuable are safe. The embossed Loewe anagram is a subtle finishing touch which only adds to the feel of quality that this bag has.
While this is a clutch, the Flamenco bag is larger than you might expect, and it comes with a detachable shoulder strap which can convert it into a slouchy shoulder bag.
Dimensions:
24.4 x 30 x 10.5cm
Price & Reviews
You can check the latest pricing, see customer reviews and shop online at Loewe:
9. Vintage Khaki Hammock Tote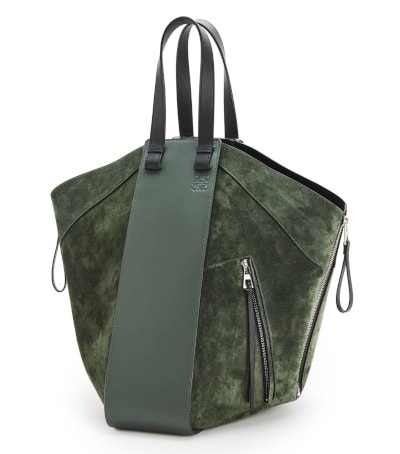 Review
Tote bags are somewhat of a seasonal staple; they come and go with fascinating regularity, and they very rarely stray from the classic design staples. As such, the Hammock tote is somewhat of a breath of fresh air.
The sloping upper edge arched up rather than drooping, and the calfskin centre stripe adds some rigidity and structure to the soft suede body. With two internal and external zip pockets, this bag somewhat of a packrats dream.
It's big, easy to organize, and incredibly beautiful. While it has prominent top handles, there is also a shoulder strap which makes wearing it crossbody a real possibility.
Not an event bag by any stretch of the imagination, this khaki tote is, instead, a stylish nod to the needs of working life. When you bring the Hammock tote, you can be sure that all of your essentials, and a lot more besides, will fit snugly into your bag.
Dimensions:
40.5 x 11.8 x 35
Price & Reviews
You can check the latest pricing, see customer reviews and shop online at Loewe:
10. Black Lantern Bag
Review
1920s fashion is roaring back into the limelight (pun intended). As a result, this hard-bodied, clasp-fastening evening Lantern bag is turning heads once more.
Of course, connoisseurs of vintage fashion will know that this style is far more akin to the styles of the 1950s; in fact, it was designed as somewhat of an ode to the 'Straeter Lite-On". Nonetheless, it goes well with the imitation '20s pieces which are beginning to creep back onto the market.
One thing that is sure to catch some eyes, however, is the iconic lantern (which was taken from the original 'Lite-On'). Behind this cute little embellishment is an internal flashlight which illuminates the contents of the bag and can shed light on the outside world through the small window in the lantern. This timeless elegance is a true statement piece that will make you to stand out.
Dimensions:
15 x 29 x 7.5cm
Price & Reviews
You can check the latest pricing, see customer reviews and shop online at Loewe:

Conclusion
Over their 175 years in the industry, Loewe has proven that quality craftsmanship and timeless, elegant designs are one formula for success. By the early 20th century, Loewe bags were being seen on the arms of some of the most famous women in the world.
Queen Ena of Spain was a regular customer during her life, and Alfonso XIII granted Loewe the Royal Warrant of Appointment in 1905. In Hollywood, Loewe bags were seen with figures such as Ernest Hemmingway, Ava Gardner, Rita Hayworth, and Sophia Loren.

Further Reading
Below are some additional articles from Viora London's blog. We write articles on a number of interesting lifestyle topics such as fragrance, beauty, designer handbags, luxury accessories and more.
Ingrid is an avid perfume collector, fragrance writer & reviewer, fragrance Youtuber and Friend member of the British Society of Perfumers who has worked in the fashion industry for over 30 years.