Summer is on its way, so it's time to swap out your winter wardrobe and adjust your daily perfume choices. Rose has been making a bit of a comeback recently, so we decided to review the 10 best rose perfumes for summer that deserve your consideration.
As you switch away from darker florals, deep musks and spicy notes that are so well-suited to cold weather towards fresher, selecting bright floral notes is an excellent path to both improve your overall mood and keep you bang on-trend.
How to Keep Your Summer Fragrance Fresh
The summer rose can have a powdery, delicate scent that perfectly complements the fresher white floral and citrusy notes which are in vogue this summer. In fact, rose is timeless; some of the first perfumes in the world included rose oil, attar, or water.
The best rose perfumes for summer are those that complement the fruity, woody, and light musky notes which are so abundant in summer scents. This summer citrus fruits, as well as sweeter notes like peach, are very much in demand. Rose perfectly complements such aromas so don't shy away from a rose-based perfume!

Top 10 Best Rose Perfumes For Summer
Here are the best rose perfumes for summer that are as far from your grandmothers rose water as you could hope to get, and yet they all feature, or even showcase, rose.
1. Chance Eau Tendre Eau de Parfum – Chanel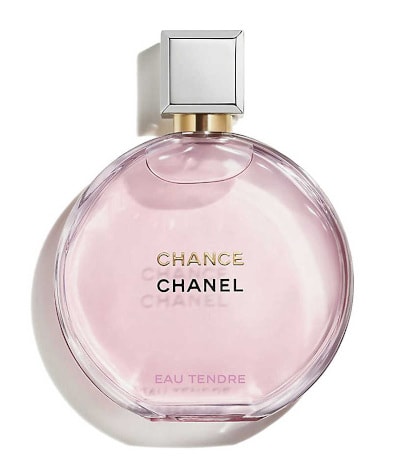 Review
If there is a more iconic name in fashion and beauty than Chanel, it would be hard to say which it is. Launched by the inimitable Miss Coco Chanel in 1910, Chanel caused a revolution in the fashion world, so it's no shock that their fragrances did just the same thing. Chanel No. 5, of course, is one of the most iconic perfumes in the world, but the brand has so much more to offer.
Chance Eau Tendre Eau de Parfum is a fun, bright, and sparkling fragrance that embodies modern, youthful femininity. The clean lines of the round bottle contrast the simple, square topper; this is typical of Chanel, of course.
Deceptively simple, this version of the iconic Chance perfume is durable with a moderate sillage, and the fruity top notes really elevate the generally floral mixture. Best for spring and summer mornings, this is the perfect rose-based scent for summer 2020.
Top Notes:
Grapefruit, Quince
Mid Notes:
Rose, Jasmine
Base Notes:
White Musk
Price & Reviews
You can check the latest pricing, see customer reviews and shop online at Selfridges:
2. Rose Prick – Tom Ford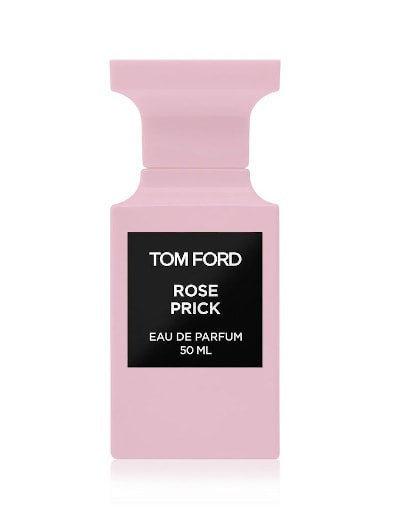 Review
Thomas Carlyle Ford is unique amongst designers; initially an architect, he worked for Gucci and even struck out as a director before launching the brand Tom Ford. A progressive, and bold brand which tends to be at the forefront of fashion, beauty, and fragrance, Tom Ford is for the modern woman.
As a unisex fragrance, Rose Prick represents the Tom Ford brand perfectly in both its appearance and its scent. Solid, pastel pink with a bold black label and a structured top, the bottle adheres to the same aesthetic as Tom Fords fashion line.
The fragrance, too, is bold and modern. Mixing rose with warming spices, and smoky patchouli has taken this otherwise intensely floral perfume and given it layers of complexity. This is not your mothers rose water; long-lasting with a moderate sillage, it evolves with time rather than wearing away.
Tradition might dictate that this be an evening winter fragrance, but it makes a much better perfume for summer afternoons. The hints of pepper and turmeric blossom balance the natural sweetness of rose, and the resulting blend blossoms in the summer heat. Trust us on this and step away from tradition.
Top Notes:
Sichuan pepper, Turmeric
Mid Notes:
May Rose, Turkish Rose, Bulgarian Rose
Base Notes:
Patchouli Tonka Bean
Price & Reviews
You can check the latest pricing, see customer reviews and shop online at John Lewis & Partners:

3. Rosa Absolute – Molton Brown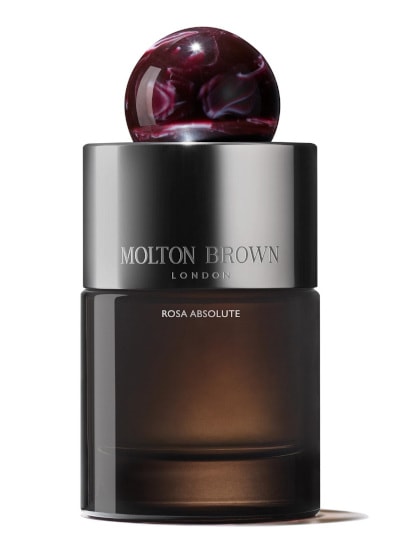 Review
London-based cosmetics house Molton Brown was founded in 1973 and since then have become one of the most well-regarded luxury brands in the country. Known in particular for their elegant and unusual blends, Molton Brown has a habit of turning everything they touch to gold.
In this case, however, the package is a deep chocolate brown with a gunmetal grey topper, decorated with a marbled red and white globe on top.
The scent it holds, however, is bright and fresh. With woody and aromatic notes, as well as a balsamic undertone, this perfume has an undeniably floral heart which is offset by juicy notes of fruit and berries. The result is a balanced, complicated perfume with a moderate sillage and a spicy, musky base that saves it from becoming too feminine.
Seductive and sensual, Rosa Absolute is best worn on summer evenings when the mild heat will allow it to unfurl.
Top Notes:
Bergamot, Elemi, Blackcurrant
Mid Notes:
Rose, Geranium, Violet leaf
Base Notes:
Labdanum, Coffee, Musk, Orris, Patchouli
Price & Reviews
You can check the latest pricing, see customer reviews and shop online at John Lewis & Partners:
4. Infusion de Rose – Prada
Review
Italian fashion house Prada first opened its doors in 1913 as a leather goods store and has since become a household name across Europe and much of America.
Beginning with backpacks and totes, they quickly moved on to shoes and ready to wear fashion. Fragrances came much later; in 2003 several artisan fragrances were offered through set department stores and boutiques. Since then, they have become overwhelmingly popular.
Infusion de Rose perfectly represents the classic 'Prada' image. Unashamedly feminine in its transparent bottle, the pink liquid perfectly matches the baby-pink lid, and the discreet, silvery plaque gives it an edge of art nouveau class that acts as the cherry on the cake, so to speak.
As a feminine fragrance, Infusion de Rose is not afraid to put its namesake note at the forefront of this blend. Of course, it's not just rosewater; floral greens, aromatic spices, and citrus fruits support the heart of rose and make it bloom rather than wilt.
Perfect for breezy summer mornings, this scent has considerable sillage but fades rather quickly. Expect to reapply if you're active.
Top Notes:
Mandarin orange, Turkish rose
Mid Notes:
Bulgarian rose
Base Notes:
Galbanum, Neroli
Price & Reviews
You can check the latest pricing, see customer reviews and shop online at John Lewis & Partners:
5. Rose Goldea Blossom Delight – Bvlgari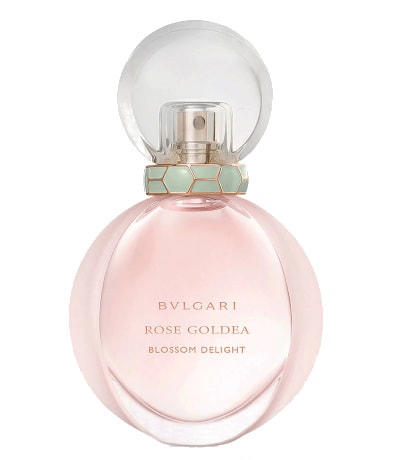 Review
Bvlgari is a brand synonymous with luxury. Founded in 1884, this Italian brand began with Sotirio Voulgaris, who was originally from Greece. Their flagship store was finally opened in 1905; they moved into perfumery in 1992 and have since produced some of the most delicate luxury female fragrances in the world.
The design of this bottle is pure Bvlgari. Opulent, curving, and feminine, the cloud-like shape of the bottle and topper give it an ethereal beauty, and the mosaic ring which surrounds the bottom of the spray mechanism punctuates it with a dash of colour.
Floral and fruity by turns, this scent has a musky, sweet base that keeps the essence of rose at its heart while presenting fresh and tropical notes at first. The result is delightful. Downright delicious. In fact, and it's perfect for summer days.
The scent will evolve as the day progresses; this makes it ideal for those who want a durable but delicate all-day perfume. The sillage on this is quite strong, however, so apply cautiously at first.
Top Notes:
Jasmine, Papaya, Violet Leaf
Mid Notes:
Lil-of-the-valley, Rose, Rose Leaf
Base Notes:
Musk, Bulgarian Rose, Amber
Price & Reviews
You can check the latest pricing, see customer reviews and shop online at John Lewis & Partners:
6. La Rose – Maison Francis Kurkdjian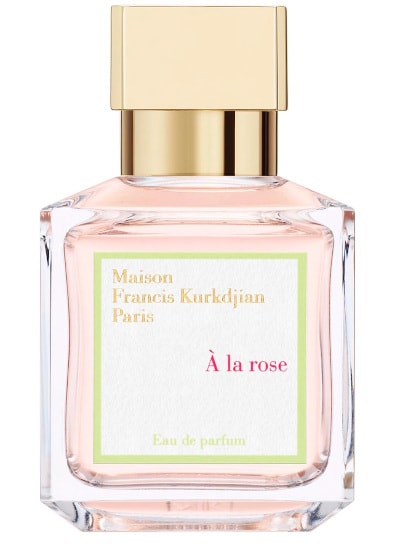 Review
Maison Francis Kirkdjian is a relatively new perfume house. Their first perfume was released in 2009, since then they have released 47 fragrances which have been met with generally positive regard. Focussing on classic notes and providing unexpected twists, Francis Kurkdjian is one of the most promising perfumers of the age.
La Rose is simply presented in a square glass bottle with a simple gold topper, but the green edged label adds a flash of colour that makes the otherwise plain bottle feel contemporary. A little on the powdery side, but fresh and bright this scent makes use of two types of rose and blends them with a robust musky base and a fruity top.
The floral heart of the fragrance is elegant and feminine, but the woody, musky base makes it rich while the fruity top notes give it some sparkle. As such, this is the perfect scent for summer afternoons and evenings. Durable but a little heavy, La Rose could irritate sensitive noses so be cautious.
Top Notes:
Calabrian Bergamot, Californian Orange
Mid Notes:
Grasse Rose, Bulgarian Rose, Magnolia, Violet
Base Notes:
Musk, Cedar
Price & Reviews
You can check the latest pricing, see customer reviews and shop online at Harvey Nichols:
7. Splendida Rose – Bvlgari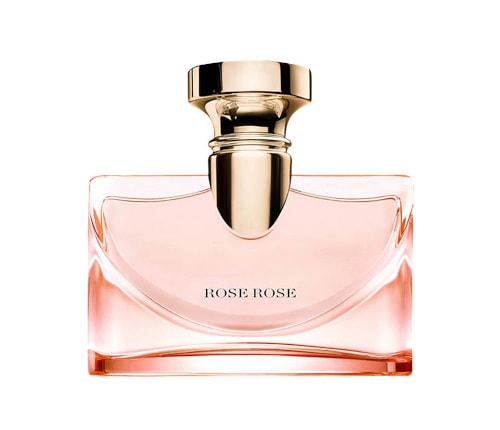 Review
Initially famed for their jewellery, Bvlgari's move into perfumery was surprising and successful. Known for using classic, timeless ingredients in unusual and exciting ways, Bvlgari often use rose in their feminine fragrances. Splendida Rose is an excellent example of how skillfully they use this timeless ingredient.
An uncharacteristically blocky bottle with a flat topper holds this fragrance. This is deceptive, however, as the scent inside is surprisingly complex.
Juicy, fruity top notes come with the first wave, then give way to a heart of pure rose before this blossoms to reveal a musky, spicy base with smoky undertones. This is the sophisticated, grown-up sister to Rose Goldea Blossom Delight.
Don't be fooled by the heavy sillage as this is a reasonably delicate scent which will require reapplication.
Top Notes:
Mandarin Orange, Blackcurrant
Mid Notes:
Rose
Base Notes:
Musk, Sandalwood, Patchouli, Vetiver
Price & Reviews
You can check the latest pricing, see customer reviews and shop online at Selfridges:
8. Rosa Nobile – Acqua di Parma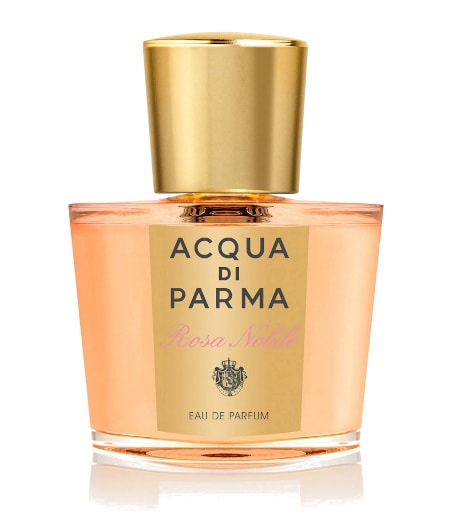 Review
Beginning life as a small factory in Parma, Acqua di Parma created its first fragrance in 1916. Colonia was designed to be applied to men's handkerchiefs and became a symbol of chic amongst European and American celebrities in the 1930s.
Their move into women fragrances came later. Classy and timeless are words that come to mind when the name Acqua di Parma is said; Rosa Nobile is a fine example of their feminine perfumes.
A part of the Nobile Collection, Rosa Nobile is luxurious, sophisticated, and feminine. Using the specialist Centifolia Rose, Acqua di Parma has made a rose-centred scent which upholds standards while subverting expectations.
The first wave has only a discreet amount of rose; it emerges slowly from the spicy and fruity blend of orange, bergamot and pepper, then blooms amidst a floral bouquet.
The rich, musky and woody base is the perfect foundation for this otherwise delicate array of notes. Despite its light nature, Rosa Nobile makes a seductive evening fragrance for those mellow summer nights.
Top Notes:
Mandarin Orange, Bergamot, Pepper
Mid Notes:
Violet, Peony, Lily-of-the-valley, Rose
Base Notes:
Musk, Ambergris, Cedar
Price & Reviews
You can check the latest pricing, see customer reviews and shop online at Selfridges:
9. Rose & White Musk Absolu – Jo Malone London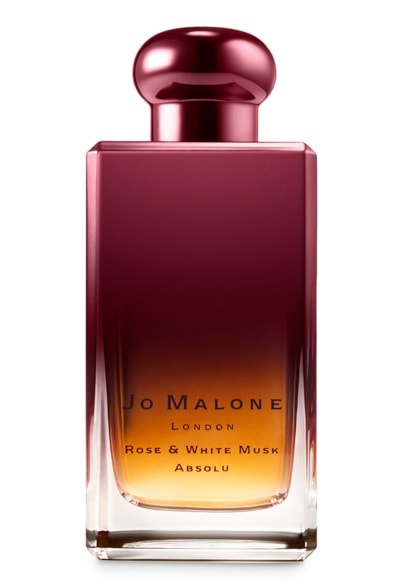 Review
Jo Malone London is a quintessentially British brand which specialises in bold, contemporary and vibrant scents. Considering she began her career as a florist, it's no surprise that Jo Malone perfumes so often showcase floral notes. In fact, her first scent was designed as a thank you for clients; in 1994, Jo opened her first London-based boutique. Since then, her unusual and fun blends have gained wide acclaim and popularity.
The tall, ombre bottle that Rose & White Musk Absolu comes in is striking; deep pink at the top, fading to an orange-hued bottom with a rounded, metallic topper this perfume will be the star of your dressing table.
With a deceptively short ingredient list, this is a potent and complex scent that is both warm and smoky. Despite this, it is perfect for summer because of how the musky base notes interact with the rose elements.
The mildness of the overall blend means that it has a very low sillage, but it is a heady and durable fragrance which will see you through the day.
Mid Notes:
Rose Absolute, Rose Essence, Rose Water
Base Notes:
Musk, Oud, Amber
Price & Reviews
You can check the latest pricing, see customer reviews and shop online at Selfridges:
10. Rose in Wonderland – Atkinsons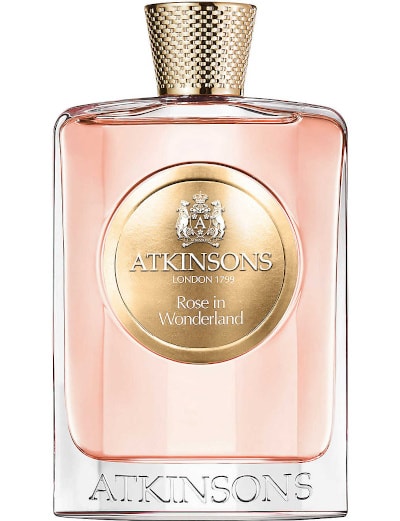 Review
Atkinsons is a classic English cosmetics brand which is now based in Italy. Formed in 1799 by James Atkinson, this brand went from strength to strength very quickly. In 1826 James Atkinson became perfumer to the Royal family. The revived brand takes classic English scents and twists them, but the traditional lavender cologne is still available separately.
As a unisex fragrance, Rose in Wonderland comes packaged in a clean-cut, translucent bottle with a gold-toned plaque and topper to finish the look. Rose is the dominant scent in this blend, but it is elevated by currant buds and geranium.
The base of amber and musk gives it a soft, seductive palette that saves it from becoming overwhelmingly feminine. A joyous and spicy daytime scent for summer Rose in Wonderland is a stunning offering from a brand that truly represents the 'best of British'.
Top Notes:
Rose, Currant Buds
Mid Notes:
Geranium Rose
Base Notes:
Vetiver, Crystal Amber
Price & Reviews
You can check the latest pricing, see customer reviews and shop online at John Lewis & Partners:

Conclusion
Let's face it, rose is here to stay. Given its massive popularity in the 1940s and '50s, it's understandable that many people feel that rose is outdated. However, rose scents are firmly back in fashion, and they're here to stay this summer, so don't be afraid to experiment with them!
The most fragrant rose in the world right now is probably the 'Mister Lincoln' breed, but others such as the 'de Resht' and 'Louise Odier' breed are equally potent. Breeding roses for superior scent is an old practice, especially for perfumers. This venerable history has led to the unfortunate idea that rose-based perfumes, or fragrances which feature rose heavily, are primarily for older women.
Before you go, I have put together a review of the most elegant perfumes ranging from timeless classics to modern-day sophistication that I think you will enjoy.

Further Reading
Below are some additional articles from Viora London's blog. We write articles on a number of interesting lifestyle topics such as fragrance, beauty, designer handbags, luxury accessories and more.