I recently stumbled across the Eight & Bob brand quite by chance in Harvey Nichols and thoroughly enjoyed experiencing their entire collection. Six beautiful feminine fragrances from their Annicke collection really stood out as the best Eight & Bob fragrances for women. Each is stylish and modern, yet with a vintage vibe.
Annicke – A Love Story
In winter of 1936, while attending dinner at his friend's château near the luxurious resort town of Megève, Albert Fouquet met a strikingly beautiful Austrian girl Annicke. They spent the night talking and dancing, and when the time came to part, Albert and Annicke promised each other to stay in touch and meet again soon.
Captivated by her beauty and grace, and their letters filled with love and desire, Albert created her a perfume, which she was absolutely amazed by. And he presented her with a new fragrance every time they met, all of which Annicke loved.
Each perfume in this remarkable collection was created in the memory of the places Albert Fouquet, and Annicke visited. With every one of them declaring his love for the woman of his life. The beautiful memories of Annicke are transformed into the extraordinary perfumes, and just like her, each is elegant, unique and incredibly feminine.

6 Best Eight & Bob Fragrances For Women
The best Eight & Bob fragrances for women offer delightfully enticing perfume notes such as blackcurrant blossom, plum, rose, and Sichuan pepper. We have reviewed all six captivating feminine fragrances from the Annicke collection for you to consider.
1. ANNICKE 1 Eau de Parfum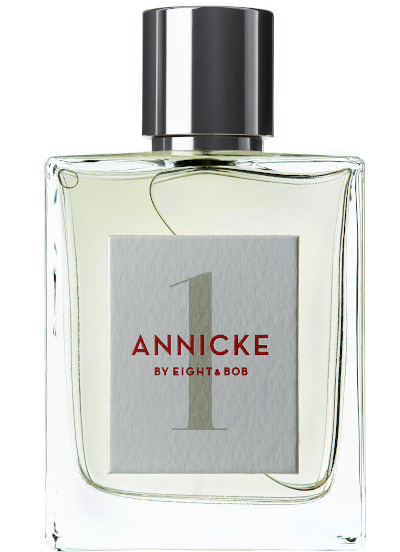 Review
The 2018 launch of Annicke 1 Eau de Parfum is an incredibly feminine and the most gentle blend of magnificent accords. The remarkable love story between Albert Fouquet and the love of his life, beautiful Austrian girl Annicke, inspired Eight & Bob to created a range of perfumes applauding the grace and beauty of this young woman.
This lovely scent opens with fragrant top notes of mandarin, peony and ivy blossom. The zesty citrus note, so strong after the initial spray, slowly fades away leaving with the potent, though remarkably refreshing florals in the mids. This powerful floral odour is dominated by cyclamen, jasmine and the heady aroma of sweet peony. Minutes later, the base notes enter the stage bringing in a soft, earthy woodiness to the blend, gently warming up this captivating concoction.
Incredibly delicate Annicke 1 Eau de Parfum feels almost fragile, with its gentle aroma softly lingering in the air. Beautifully sweet and refreshing, the fragrance has a moderate projection with the scent detectable on the skin for about 3-4 hours. Suitable for spring and summer, this perfume is perfect for everyday wear.
This dreamy essence nestles inside the most simple, clean-lined bottle, topped with the silver-colour cap and featuring fragrance name to the front.
In short, Annicke 1 Eau de Parfum is a delightful fragrance, beautifully captivating with its tempting aroma, inviting into the world of enchanting florals.
Top Notes:
Cyclamen, Jasmine, Lilly of the Valley
Mid Notes:
Drift Wood, White Musk
Base Notes:
Ivy Leaves, Mandarin, Peony
Price & Reviews
You can check the latest pricing, see customer reviews and shop online at Harvey Nichols:
2. ANNICKE 2 Eau de Parfum
Review
The Annicke 2 Eau de Parfum, is yet another magnificent fragrance from the Eight & Bob perfume house. This alluring scent, inspired by the inner grace and femininity, was first introduced in 2018 as part of their female perfume collection.
The oriental floral scent begins with delightful notes of fig, hazelnut and mandarin orange. The citruses and fig are very mild in this combination and fade almost instantly, where else the nutty odour is very notable and stays on the whole time. Hazelnut, mixed with the base notes of sandalwood and vanilla, creates the core of this perfume, making this unique, exotic scent pretty heavenly.
The intriguing bouquet of florals in the heart of the fragrance elevates all notes, adding a twist of the enticing, abundant accord. Warming cedar mixed with sandalwood give the perfume soft creamy aroma, adding a slight bitterness to the scent.
This gently spiced perfume is perfectly balanced for autumn and winter months and is suitable for any time of day. As the majority of oriental fragrances, Annicke 2 Eau de Parfum is pretty long-lasting, giving a good 5-6 hours on the skin, with the sillage being more on the moderate side.
This delicately sugared fragrance, nestling inside the clear glass bottle, produces an assortment of evoking aromas. Luxurious and seductive, it will embrace in its unique, gorgeous scent, creating an intense, sophisticated aura of undeniable allure.
Top Notes:
Immortelle, Tuberose, Ylang-ylang
Mid Notes:
Cedarwood, Sandalwood, Vanilla
Base Notes:
Fig, Hazelnut, Mandarin
Price & Reviews
You can check the latest pricing, see customer reviews and shop online at Harvey Nichols:
3. ANNICKE 3 Eau de Parfum
Review
Enter the world of refined chic and style with Annicke 3 Eau de Parfum! The chypre floral fragrance, rich in white florals and exotic woods, resembles the modernistic era of the 1920s. Extremely glamorous and extravagant the perfume evokes a sense of attraction and style.
Potent with zesty citruses on the first opening, Annicke 3 Eau de Parfum gently melts into the sumptuous bed of intoxicating flowers. The creaminess of gardenia, rose, and jasmine is absolutely glorious in this blend.
The potent heart aromas dance beautifully with red berries in the top notes, creating the most sophisticated fragrance. Surrounded by the sensual softness of cashmere wood and the warming earthiness of sandalwood in the base notes, the composition is sweetened by the intriguing note of meringue.
This well-balanced fragrance is absolutely incredible and dries-down to comforting glitz of white rose and a soothing accord of the cashmere wood. Captivating and incredibly feminine Annicke 3 Eau de Parfum is all year round scent, which is suitable for either day or evening time.
Exceptional longevity will give around 8 hours of enjoyable wear, leaving a gentle waft of the scent lingering in the air. Presented inside the most simple, classic shape bottle, the perfume gives itself a justice.
Luxurious and comforting, the characteristic chypre-floral scent is an outstanding piece of artisanship. Make this your signature scent and immerse into the sea of glamour and enchanting temptation.
Top Notes:
Rose, Jasmine, Ylang-Ylang
Mid Notes:
Blackcurrant Buds, Nectarine
Base Notes:
Patchouli, Cashmeran, Oakmoss
Price & Reviews
You can check the latest pricing, see customer reviews and shop online at Harvey Nichols:
4. ANNICKE 4 Eau de Parfum
Review
A dazzling mix of lush florals and velvety earthiness of precious woods is this fruity floral fragrance launched by the house in 2019. The beautifully blended scent, Annicke 4 Eau de Parfum, brings an exquisite, sparkling with vibrant accords fragrance.
Inspired by Roseraie de Bagatelle, the famous rose park in the Bois de Boulogne in Paris where Albert Fouquet and Annicke would occasionally meet, perfume depicts a romantic aura, entwined with the playfulness of fruity notes.
The delicate Annicke 4 Eau De Parfum unfolds its petals with the delicious aroma of blackcurrant buds and juicy nectarine. With the headnotes slowly fading away, the queen of flowers, a precious rose makes its graceful entrance, accompanied by the aromatic sweetness of jasmine and ylang-ylang.
This gorgeously stimulating, creamy scent of white florals is soon settled down by an intoxicating, musky earthiness of the base notes. Slightly balsamic cashmeran, mixed with oakmoss and patchouli, gently warm-up this enchanting combination, rounding it up to a soft and well-balanced scent.
Nestling inside the classic, clear glass perfume bottle, Annicke 4 Eau de Parfum has an incredible 7-8 hour longevity and a great sillage, thanks to deep, earthy base. Best suited for spring, autumn and winter months, the fragrance is perfect for any time of day.
One of my favourite fragrances, a charming Annicke 4 lovingly encapsulates the magic of Parisian gardens, enfolding its precious rosy heart with this spectacular aroma.
Top Notes:
Nectarine, Black Currant Blossom
Mid Notes:
Jasmine, Rose, Ylang-Ylang
Base Notes:
Oakmoss, Patchouli, Cashmeran
Price & Reviews
You can check the latest pricing, see customer reviews and shop online at Harvey Nichols:
5. ANNICKE 5 Eau de Parfum
Review
The Annicke 5 Eau de Parfum is a sophisticated, full-bodied oriental fragrance launched by Eight & Bob in 2019. Seductively alluring, enigmatic perfume is an inspiration of the romantic walks in autumnal gardens of Burggarten in Vienna, the home city of Annicke's. The park, picturing striking Art-Nouveau designs in a style of the English landscape, features a variety of exciting plants carefully selected from all over the world.
This mysterious scent begins with fresh, zesty notes of bergamot and sweetness of lily-of-the-valley, immersed into a mouth-watering aroma of syrupy rum. The headnotes, fading into a sweet, heart accords of honey nectar and plum, are warmed in this soft, luscious blend. On a dry-down, amber and spicy patchouli tie up all notes together, giving it a firm base. Enriched by sumptuous scents of caramel and vanilla, this heady fragrance settles down to a soft and gentle, with creamy sweetness aroma.
This lovely oriental scent infused with delicate florals is beautiful in a cold, fresh winter and autumn weather. More of a daytime fragrance it can no doubt be worn on a romantic night for two. It would also layer well with sweet, lighter scents from Annicke range, creating a unique, signature aroma.
The soft gold colour liquid, presented in a translucent, clean-lined bottle offers a good sillage as well as longevity, which gives a solid 6+ hours of wear.
The delicious warmth that comes from Annicke 5 Eau de Parfum is the most beautiful gourmand scent, making it an elegant and classy perfume, perfect for any occasion.
Top Notes:
Bergamot, Lily of the valley, Rum
Mid Notes:
Honey, Plum, Amber
Base Notes:
Vanilla, Caramel, Patchouli
Price & Reviews
You can check the latest pricing, see customer reviews and shop online at Harvey Nichols:
6. ANNICKE 6 Eau de Parfum
Review
The last in this remarkable range of captivating scents is Annicke 6 Eau de Parfum. Inspired by the heart-melting, most beautiful story between the two loving people, the fragrance unveils their amorous exploits at the Pavillon de la Guyana in Paris. The 19th-century gardens abundant with exotic plants and spices evoked the idea of this perfume.
The spicy opening to the fragrance fills the room with charming notes of Sichuan pepper, bergamot and carnation flower. The alluring sweetness of the headnotes is seduced by the cooling aroma of rose absolute in the mids, surrounded by the warming spice of cinnamon.
The amber accord within the mix injects the heart with a touch of exotic powdery woodiness, giving it a subtle warmth. Overtaken by the woody earthiness of sandalwood, labdanum and benzoin in the base, the perfume envelopes with a bouquet of a gourmand, balsamic aromas, creating the most delightful combination of beautiful scents.
Well-balanced perfume can be worn all-day-long and is at its best on colder, fresher seasons. The sophisticated mix of natural precious woods and spices makes it last long hours followed with an enormous projection.
Classy and refined, Annicke 6 Eau de Parfum is an incredibly feminine, luxurious scent, tempting with its addictive oriental aroma. Modern, with an added twist of middle eastern wonders, this precious perfume will attract attention, making you feel special and desired.
Leaving no short of the compliments, it will softly linger in the air with a cloud of an intimate aura, embracing in this luxurious powdery aroma, surprising with its delicious notes.
Top Notes:
Sichuan Pepper, Bergamot, Carnation
Mid Notes:
Rose Abs, Cinnamon Madagascar, Amber
Base Notes:
Sandalwood, Indian Labdanum, Benzoin
Price & Reviews
You can check the latest pricing, see customer reviews and shop online at Harvey Nichols:

Conclusion
RThe Eight & Bob brand have a fascinating past. A young French aristocrat and perfumer Albert Fouquet expressed his love for fragrances by experimenting with different essences and mixing scents for his personal use in the room of his family's château.
Despite the immense popularity, Albert refused to market his perfumes. But everything changed when in the summer of 1937 he met young John F Kennedy, who was thrilled by the fragrance Albert was wearing. And this was the beginning of Eight & Bob's perfume house.
The best Eight & Bob fragrances for women that we have reviewed offer style, class, and seem to possess an almost vintage feel with a modern twist. Each fragrance in the Annicke collection is perfect for an elegant evening out or a romantic date. You may be interested to know that there is an incredible value Eight & Bob discovery set available where you can try all 6 perfumes in the Annicke collection.
Before you go, I have put together a review of the most elegant perfumes ranging from timeless classics to modern day sophistication that I think you will enjoy.

Further Reading
Below are some additional articles from Viora London's blog. We write articles on a number of interesting lifestyle topics such as fragrance, beauty, luxury accessories and more.