Here at Viora London, we have been busying ourselves to bring you this fabulous review of what we feel are the Top 10 Best Beach Perfumes For Her.
Summer is just around the corner, and it's not just your wardrobe, skincare, and make-up routine that you should be thinking about switching out. Your perfume library should be rotating too. That's right, summer is the time to move to lighter, brighter, and fresher feminine fragrances.
Choosing the best beach perfume for your holiday adventures isn't always easy, however, but with our help, you can choose a summer scent that is both on-trend and can make your heart sing!

Top 10 Best Beach Perfumes For Her
The sunnier weather that summer brings calls to park those oud and musk based fragrances. Each of the Top 10 best beach perfumes reviewed here has just the right combination of feminine notes to give you that summer feeling.
Citrus top notes that sparkle and zing.
Summer florals and Sweeter fruity mid notes
Fresher woody/musky base notes
1. Acqua Fiorentina – Creed
Review
One of the oldest perfume houses in London, Creed was founded by James Henry Creed in 1760 and has remained a family-owned and operated brand for the past 260 years. Renowned for quality and classic elegance, Creed remains an influential perfume house today.
Light, feminine, and sensual, Acqua Fiorentina was designed with the stunning beauty of Florence and the Tuscan countryside in mind. With a floral heart and light, woody base it is lifted by fruity notes that add mystique and prevent it from becoming saccharine.
This is not your mothers summer perfume. This is bold, sexy, and perfect for warm summer afternoons and evenings and doesn't require constant re-application. A perfect beach perfume for women who like to stand out from the crowd for all the right reasons. Longevity 5+ Hours.
The sharp, curving lines of the bottle are perfectly juxtaposed with the light pink tone to the perfume; Acqua Fiorentina makes a striking addition to any dressing table.
Top Notes:
Plum, Apple
Mid Notes:
Rose, Pear, Bergamot, Lemon
Base Notes:
Virginia Cedar, Sandalwood, White grapefruit
Price & Reviews
You can check the latest pricing, see customer reviews and shop online at Harvey Nichols:
2. Beach Walk – Maison Martin Margiela
Review
A part of the 'Replica' line of fragrances, Beach Walk is a perfect representation of the unique approach that Maison Martin Margiela (now known as Maison Margiela) takes to perfumery.
Founded in 1980, this house is known for taking a creative and de-constructive approach to both fashion and fragrance. Beach walk is strongly representative of that.
The simple, apothecary-style bottle with its cotton label, explaining the provenance of the perfume, does not stand in the way of the nutty and floral fragrance.
Evoking the fresh, bracing sea breeze and the sweet smells of sun cream, fruit juices, and flowers in bloom this truly is a beach-worthy perfume. The citrus top notes quickly give way to the smell of coconut, ylang-ylang, and a base of woody and musky notes.
The overall staying power of this scent is moderate, so it may need reapplication if you intend to actually go on a beach walk. Longevity 4+ Hours
Top Notes:
Bergamot, Pink Pepper, Lemon
Mid Notes:
Coconut milk, Ylang-Ylang, Heliotrope
Base Notes:
Musk, Benzoin, Cedar
Price & Reviews
You can check the latest pricing, see customer reviews and shop online at John Lewis & Partners:
3. Acqua Di Gioia – Giorgio Armani
Review
One of the most beloved household names in fashion, Giorgio Armani is a brand known for providing luxury and opulence to women and men in the form of perfume, skincare, accessories, and clothing.
Acqua di Gioia is fresh and invigorating, opening with the scent of crushed mint and citrus. A stunningly unified and complete scent, this perfume truly evokes the mix of sea, sand, and sun in a delicate and crystalline mixture that is sure to lift the heat of the afternoon and sparkle in the mild summer evenings. Moderate staying power of 5+ hours.
The irregularly shaped blue and clear bottle and topper are the pièce de résistance; the bottle itself seems to be of the ocean, and while looks aren't everything you can't help but smile and feel the sun on your face when you look at this perfume.
Top Notes:
Mint, Citruses
Mid Notes:
Water jasmine, Lily-of-the-valley, Rose
Base Notes:
Musk, Sandalwood
Price & Reviews
You can check the latest pricing, see customer reviews and shop online at John Lewis & Partners:
4. Jo Malone Wood Sage & Sea Salt Cologne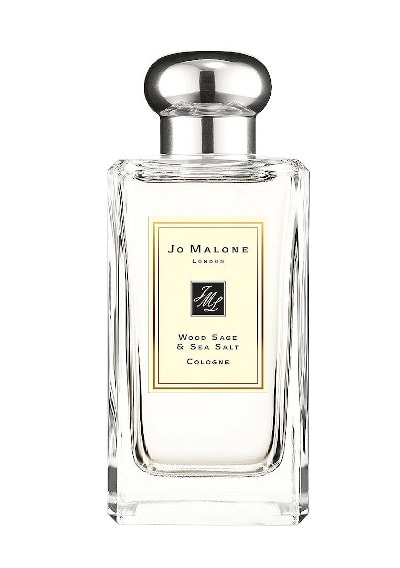 Review
Jo Malone London has been the fresh face of British luxury fragrance since its advent. Filled with the distinctly British elegance and whimsy that made Malone so popular in and of herself, this is a brand that embodies unconventional sophistication.
Perhaps the most grounded of the perfumes on this list, Wood Sage & Sea Salt provides exactly what it says on the clean-cut, understated bottle; the scent of the sea and earth as they crash together.
This is a complex and natural scent that is designed as much for the wearer as those who surround them. With this perfume, you have the ability to immerse yourself in an experience and truly revel in the beauty of nature. For those who like to tailor a bespoke experience, this perfume can also be layered with Lime Basil & Mandarin, or Nectarine Blossom & Honey.
With an incredibly soft sillage, this scent is subtle. Nonetheless, this is a durable perfume with longevity of 5+ hours.
Top Notes:
Grapefruit
Mid Notes:
Sage, Sea salt
Base Notes:
Ambrette
Price & Reviews
You can check the latest pricing, see customer reviews and shop online at John Lewis & Partners:
5. Sundazed – Byredo
Review
A complex and dazzling offering from European luxury fragrance house Byredo, Sundazed brings long, sun-drenched days and golden evenings to mind. This evocative experience is typical of Byredo, who pride themselves on using the best ingredients in unique and unusual ways to create an overall experience rather than a product.
The complex mix of notes brings to mind childhood summers on the beach and all the fairground, playpark exploits that surrounded such outings. It's quite a feat for a fragrance to remind you of ice-cream and hot asphalt without smelling of these things, but Sundazed manages just that, and it does it in style.
The iconic Byredo bottle, short and clean-cut, and in this case clear, is deceptively plain considering the citrusy powerhouse of a perfume that it holds.
A fairly durable perfume with a moderate level of sillage. Sundazed is a little quirky, but that's exactly what makes it such a perfect beachside perfume for the coming summer days. Longevity 5+ hours.
Top Notes:
Californian lemon, Mandarin orange
Mid Notes:
Jasmine, Neroli
Base Notes:
Musk, Cotton candy
Price & Reviews
You can check the latest pricing, see customer reviews and shop online at Harrods:
6. 51 Pour Femme – Roja Parfums
Review
Roja Parfums is proud of its label as the 'world's most luxurious fragrance house', and makes a point of using the finest ingredients available. Founded and driven by Roja Dove, who American GQ has referred to as 'the finest nose in the world' this is a brand that proudly uses ingredients more costly than pure gold.
51 Pour Femme may seem, at first scent, to be an unusual choice for a summer perfume, but, as with so many Roja Parfums fragrances, it's complex make-up lets it bloom over time.
A balanced oriental perfume, 51 Pour Femme quickly opens up and reveals a warm, invigorating, and scintillating heart that exudes sophisticated luxury and evokes the clear blue waters of Monaco.
The simple bottle, with its slightly glitzy topper and bold label, only adds to the feel of understated, self-confident elegance and sensuality that this perfume exudes.
With a surprisingly moderate sillage, considering the wealth of notes, this is a long-lasting perfume which evolves and grows over time. Apply in the morning, and you'll find that this perfume ages to suit the climb to afternoon and decent into the evening. Longevity 7+ hours.
Top Notes:
Bergamot
Mid Notes:
Rose, Ylang-Ylang, Raspberry, Orange blossom, Lily-of-the-valley, Gardenia, Tuberose
Base Notes:
Violet leaf, Anise, Cinnamon, Patchouli, Vanilla, Benzoin, Cloves, Cashmere wood, Sandalwood, Orris root
Price & Reviews
You can check the latest pricing, see customer reviews and shop online at Harvey Nichols:
7. Aerin Lauder Hibiscus Palm Eau de Parfum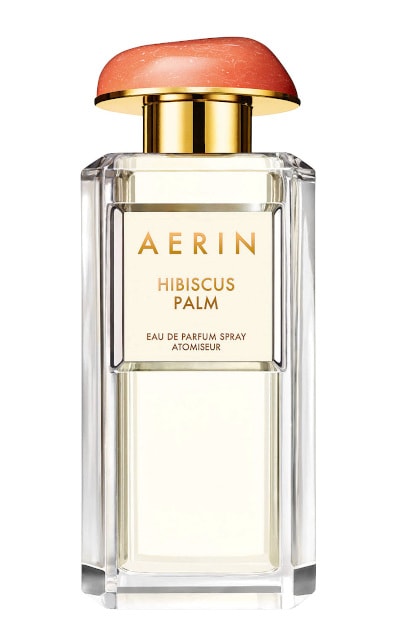 Review
A fashion. fragrance, and home decor brand based on the premise that life should be effortlessly beautiful (if only that were true), Aerin Lauder has built a reputation for producing fragrances which are as beautiful to the eye as they are to the nose. Hibiscus Palm is a perfect example of this.
The irregularly shaped orange and gold bottle topper invites touch and stands in contrast to the plain but angular glass bottle. Within, the perfume is lush and juicy, bursting with exotic scents which evoke the image of a tropical, beachside paradise where the smells of frangipani, coconut and ylang-ylang mix with the sea air, hot sand, and cool, earthy humidity of the jungle.
Overwhelmingly white floral perfumes such as this are generally better worn in the day, but the complex and often nutty fragrance of Hibiscus Palm makes it a seductive evening fragrance. Both durable and heavy in sillage, it requires careful application. Longevity 8+ hours.
Top Notes:
Ginger, Palm leaf, Ylang-Ylang, Lotus, Hibiscus
Mid Notes:
Frangipani, White flowers
Base Notes:
Coconut, Vanilla, Musk
Price & Reviews
You can check the latest pricing, see customer reviews and shop online at John Lewis & Partners:
8. Philosykos – Diptyque
Review
A pioneering perfume house founded by three lovers of art and ancient history, Diptyque Paris has a history of being unconventional, quirky, and creative in every aspect of their business. As such it should be no surprise that Philosykos is such an unusual fragrance.
Much like other entries in this list, it was mixed with the intent that it should give an experience rather than just a pleasant fragrance. Unlike every entry on this list, it evokes the memory of ancient Greece.
A love letter to the fig tree and all its complexities, Philosykos mixes the sweetness of the fruit with the fresh, bitter smell of the leaves and the woody musk of the tree bark for a unisex summer fragrance that is at once sexy and refined.
Held in the iconic Diptyque bottle with its smooth lines and simple black topper, this is a surprisingly simple fragrance that blooms over time. Longevity 6+ hours.
Top Notes:
Fig, Fig leaf
Mid Notes:
Fig tree
Base Notes:
Black pepper, Woody notes
Price & Reviews
You can check the latest pricing, see customer reviews and shop online at John Lewis & Partners:
9. Jones Beach – Bond No 9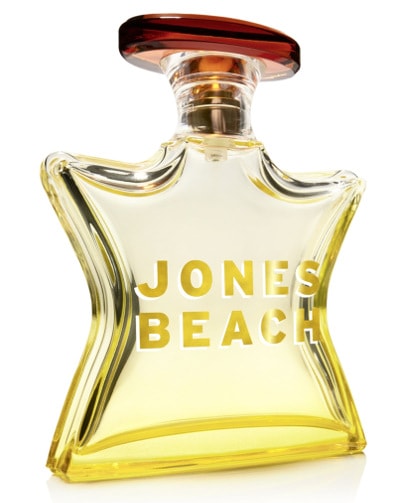 Review
In at Number 9 is Bond No9! Proudly waving their flag as the first female-led perfumery in New York, Bond No 9 has always turned expectations on their head. Each fragrance pays homage to some part of New York City or state and Jones Beach is no exception to this rule.
Mixed with a summer day at the iconic Jones Beach State Park in mind, this perfume is complex which makes its relatively short list of notes all the more surprising. With an undertone of musk throughout its progression, this perfume evolves and changes over time, mimicking the changes in the beach atmosphere as the sunsets.
The heart of orange flower absolute is mirrored in the clear, orange bottle which nonetheless retains the iconic Bond No 9 shape. A little on the feminine side, but decidedly unisex, this is a light fragrance which doesn't so much hang in the air as catch you off guard when the breeze picks up. Longevity 4+ hours on skin, longer on clothes.
Top Notes:
Calone
Mid Notes:
Orange blossom
Base Notes:
Musk, Ambroxan, Violet
Price & Reviews
You can check the latest pricing, see customer reviews and shop online at Harrods:
10. Vodka On The Rocks – Kilian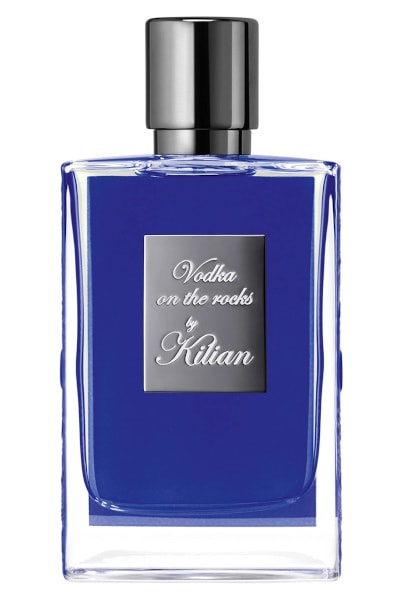 Review
An artisanal luxury perfume house, by Kilian, is devoted to the truly luxurious. Founded in 2017 by Kilian Hennessy this fragrance house is not ashamed to cater to those with expensive tastes. As a result, their scents are bold, distinctive, and complex and Vodka on the Rocks is no different.
Mixed by Sidonie Lancesseur, this is an overwhelmingly aromatic unisex fragrance which mixes earthy and spicy notes with bright florals to create a stimulating and green fragrance that is perfect for lifting the heat of the day.
A long-lasting fragrance which mellows beautifully, it nonetheless has an enormous sillage. The upside of this is that you need very little perfume to achieve an all-day fragrance, the downside is that can shock you at first. Longevity 8+ hours
This sophisticated and clean day time perfume comes in a refillable bottle which perfectly represents it; the clear glass and silver-toned label and top give it a feel of unisex elegance.
Top Notes:
Cardamom, Coriander, Aldehydes
Mid Notes:
Lily-of-the-valley, Rhubarb, Pink rose
Base Notes:
Ambroxan, Oakmoss, Sandalwood
Price & Reviews
You can check the latest pricing, see customer reviews and shop online at Harvey Nichols:

Conclusion
Each of these fragrances evokes an aspect of summer on the beach that is less considered by the mainstream beauty and fashion world. But that is what perfume is all about; reminding us of the beloved familiar and the beauty in hidden things.
Best For The Beach: Our favourite, and winner of the Top 10 Best Beach Perfumes For Her is 51 Pour Femme from Roja Parfums. It's complexity simply shines through.
No matter which of these scents you choose, you're sure to be transported to that sun-soaked beach of your memory whether you're stuck in the office or feeling the sand between your toes.
Before you go, I have put together a review of the most elegant perfumes ranging from timeless classics to modern-day sophistication that I think you will enjoy.

Further Reading
Below are some additional articles from Viora London's blog. We write articles on a number of interesting lifestyle topics such as fragrance, beauty, designer handbags, luxury accessories and more.