Founded in 2018 by Clara and John Molloy, Hermetica is a relative newcomer to the world of fragrance. The best Hermetica perfumes for women blend exquisite flowers with lush fruits and sensual musks to delight the senses.
More than just a perfume, Hermetica fragrances also nourish the skin, are vegan friendly, and contain no alcohol. The planet-loving brand also pledges to plant one tree for every single bottle of their perfume sold online.

Best Hermetica Perfumes For Women
After experiencing the fabulous Hermetica discovery set, here is my take on the 5 best Hermetica perfumes for women.
1. Hermetica Amberbee Eau de Parfum
Review
Amberbee Eau de Parfum is one of the first fragrances launched by the brand in 2018. Warm and delicate, the perfume was composed by the nose Aliénor Massenet. The alcohol-free formula is blended around the resinous amber molecule, delivering a warming, sweet scent.
The opening of bergamot juice paired with myrrh essence is beautifully aromatic. Jasmine blooms in the heart to provide exotic sweetness and fruitiness to the composition. Powdery woods give it a velvety touch.
A rich amber base, accompanied by pure vanilla and liquor, tie all notes together into a tropical cocktail with an almost honey/caramel-like tone.
The feel-good chemistry of this fragrance makes it great for cooler spring, autumn and winter months. Lasting 6+ hours, the perfume is suitable for day or evening wear.
This multifaceted, skin-friendly scent layers well with other fragrances within the range, nourishing and moisturising throughout the day.
Top Notes:
Bergamot Essence, Myrrh Essence
Mid Notes:
Jasmine Molecule, Powder Wood Molecule
Base Notes:
Amber Molecule, Vanilla Molecule, Liquor Molecule
Price & Reviews
You can check the latest pricing, see customer reviews and shop online:
2. Hermetica Peonypop Eau de Parfum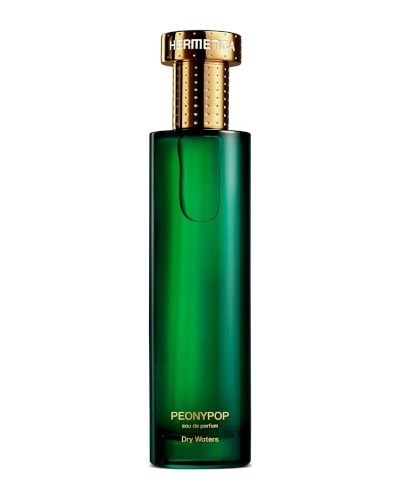 Review
Peonypop Eau de Parfum was released in 2021 and is a fruity floral blend of pink flowers, berries and fruits. As the name suggests, peony takes centre stage here, producing a stunning bouquet.
Opens with a powerful wave of fruity notes immersed in rose oil. Zesty bergamot and grapefruit are accompanied by blackcurrant and osmanthus flower. Raspberry essence gives a gourmand tone to the dazzling sweetness of the peony floral heart.
Finally, this charming bunch of flowers gets dipped into a warm woody/amber base, surrounded by the earthy spice of vetiver and moss. The dry down is a fresh, sweet rosy essence of peony. Surrounded by myrrh, amber and woods.
This rich, powerful scent is best worn during fresher spring, autumn and winter months. Its incredibly lasting power of 8+ hours will see you throughout the day, and the alcohol-free formula will care for your skin, gently moisturising it.
Similar to Montale Sweet Peony Eau de Parfum
Top Notes:
Osmanthus Absolute, Bergamot, Blackcurrant, Bulgarian Rose Oil, Grapefruit
Mid Notes:
Peony Molecule, Raspberry essence, Jasmine, Lily-of-the-Valley, Geranium, Violet Leaves
Base Notes:
Cedarwood, Musk, Amber Molecule, Vetiver Oil, Sandalwood, Plum, Myrrh, Moss
Price & Reviews
You can check the latest pricing, see customer reviews and shop online:
3. Hermetica Rosefire Eau de Parfum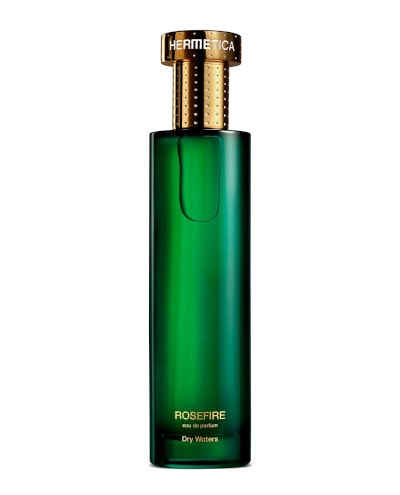 Review
Inspired by Turkish delight, Rosefire Eau de Parfum is yet another gorgeous mix of florals. Composed around rose and violet notes, mixed with myrrh, musk, bergamot and woody musk.
A refreshing opening of rose and powdery violet starts nicely, with bergamot and myrrh providing a subtle crispness. The green essence of davana, mixed with jasmine and clove notes in the mids, brings aromatic tropical fruit and woody spice.
In the base, the amber molecule brings warm sweetness to the blend, intensified by the buttery creaminess of vanilla and tonka bean.
A bottle full of roses, Rosefire Eau de Parfum, is definitely my favourite of the bunch. Perfect for any season or any time of day, the scent features decent longevity of 6+ hours.
Top Notes:
Rose Essence, Violet Molecule, Bergamot, Myrrh
Mid Notes:
Davana Essence, Jasmine Essence, Clove Essence
Base Notes:
Amber Molecule, Tonka bean, Vanilla Extract, Musk
Price & Reviews
You can check the latest pricing, see customer reviews and shop online:
4. Hermetica Patchoulilight Eau de Parfum
Review
Luxurious, spicy and sexy, Patchoulilight Eau de Parfum is a chypre floral scent that blends tropical patchouli and enticing florals.
The fragrance begins with a burst of citrusy lemon redcurrant and green patchouli. Pretty rose and violet in the perfume's heart blend with powdery iris.
Sandalwood and amber settle the composition to a deep, smooth, almost buttery-like fragrance. The dry down is well-balanced essence of patchouli and rose – a match made in heaven!
This stunning chypre floral is great for any season and any occasion. Its long-lasting fragrance will give a decent 6+ hour wear, brightening your day with this contemporary spicy green essence.
Similar to Frederic Malle Portrait Of A Lady Eau de Parfum.
Top Notes:
Lemon, Redcurrant Essence
Mid Notes:
Rose, Violet Absolute
Base Notes:
Patchouli Essence, Iris Molecule, Ambrox, Sandalwood Essence
Price & Reviews
You can check the latest pricing, see customer reviews and shop online:
5. Hermetica Sandalsun Eau de Parfum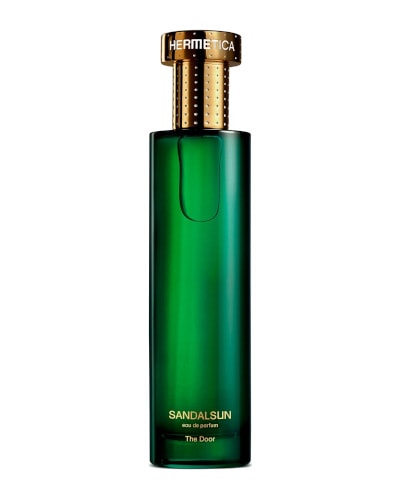 Review
The oriental woody Sandalsun Eau de Parfum was created in 2018 by head perfumer Aliénor Massenet. Creamy, smooth and comforting, the fragrance depicts the chilled summer vibes of the Orient.
Opening with the zesty accord of bergamot, sweet hedione, and the resinous sweetness of myrrh. A gourmand heart of hazelnuts and vanilla-like heliotrope is sprinkled with cocoa powder.
Sandalwood brings effortless sleekness, and cashmere delivers it a soft, powdery base. The dry down is velvety smooth "panna cotta" with roasted hazelnuts and vanilla essence.
So delicious and almost edible, this fragrance is more of a colder seasons scent lasting on the skin for 7+ hours. It is not overpowering with more of an intimate projection at arm's length.
Sandalsun Eau de Parfum is my second favourite within this range, delightful, enjoyable and comforting.
Top Notes:
Bergamot, Myrrh Essence, Hedione
Mid Notes:
Hazelnut Molecule, Heliotrope, Cocoa Aroma
Base Notes:
Sandalwood Essence, Vanilla Extract, Cashmere
Price & Reviews
You can check the latest pricing, see customer reviews and shop online:

Conclusion
As a niche perfume house, I feel that Hermetica is undoubtedly one to watch. The quality of their perfumes rivals many designer names, and they perform well. Plus, most importantly, they are planet friendly, cruelty-free and contain no parabens.
Are caring brands like Hermetica the future of fragrance? We all want to do our bit for the planet and expect more from the brands we love; Hermetica seems to be leading the charge and comes up smelling of roses… and jasmine, musk and amber.

Further Reading
Below are some additional articles from Viora London's blog. We write articles on a number of interesting lifestyle topics such as fragrance, beauty, luxury accessories and more.