I am a true lover of a stronger, spicier fragrances. Add to the mix some slightly sweet yet bitter notes then I am in heaven. Perfumes with such a combination have added character and are full of confidence. I have discovered that perfumes with sandalwood and amber are the perfect mix, and give me the feeling of warmth in a bottle.
I have unearthed the best perfumes with sandalwood and amber for women that are perfectly suited to wear in the autumn or winter months. The smooth creamy tones surround you like a soft cashmere shawl, covering your skin in a warm met of happiness.
We may long for freshness and zesty tones that we are used to wear during a summer months, but when it's cold it is the warmth we long for. Something inviting and welcoming to snuggle into. This is where sandalwood and amber aromas come into their own.
Best Perfumes With Sandalwood And Amber For Women
Here is a quick summary of the ten best perfumes with sandalwood and amber for women that we will be reviewing for you today. All will envelope you in their warm inviting glow.
Alexandria II by XERJOFF
Ormonde Woman by Ormonde Jayne
H.E.R. 86 By Herba London
Jicky Extrait by Guerlain
Interlude Woman by Amouage
Mirages Babylon By Prada
COCO by Chanel
Samsara by Guerlain
Eight & Bob Original
Sensuous by Estée Lauder
What Is Sandalwood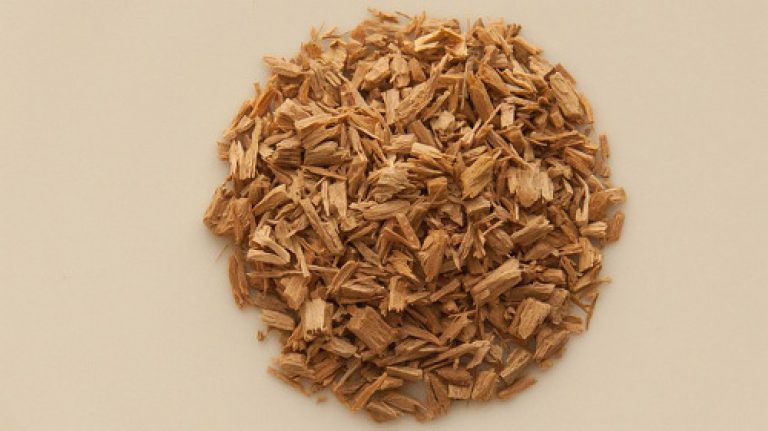 Sandalwood is a medium sized evergreen tree that comes from the same botanical family as European mistletoe. Originating from East and West India and widely grown in Western Australia, these heavy, yellow in colour, aromatic trees retain their fragrance for decades. Valued for centuries for their rich oils as well as wood, sandalwoods are extensively used in perfumery, medicine, food and even the technology.
For the tree to produce a valuable, good quality wood and a high level fragrant oils takes at least 15 years before it can be harvested. Hence sandalwood is classified as the most valuable tree in the world and a second most expensive wood after the African Blackwood.
What Does Sandalwood Smell Like?
Sandalwood trees grow up to the height of 9-10 meters and both tree and the roots are used to extract the aromatic oils, which is done via steam distillation process, producing an intense scented gold like looking liquid.
Sandalwood essential oil smells very woody (as one would expect wood to smell!), but the scent is not overpowering, but warm and powdery, sometimes even creamy, depending on the type of the tree.
This sweet, fresh sandalwood aroma is long-lasting and is perfect base note to woody, oriental perfumes as well as valuable fixative to floral and citrus fragrances.
What Other Notes Go Well With Sandalwood?
Sandalwood is a very versatile essential oil, which has been used, appreciated and loved for centuries. Its rich, sweet, woody scents blends perfectly with number of different notes. It is a perfect fixative for floral notes such as jasmine and geranium, and citrusy notes like bergamot or grapefruit. It also pairs exquisitely with spicy notes of black pepper, frankincense and amber.
Here are few more notes that will blend well with sandalwood:
Amber
Myrth
Rose
Yang Ylang
Bergamot
What Is Amber
Amber is fossilized tree resin, an essence discharged by the trees that is hardened, which mostly come from the pine trees. Since ancient times amber is valued for its colour and natural beauty and is widely used in jewellery, folk medicine, cosmetics and perfumery.
The Baltic region is commonly known as a largest source of amber, dating 44 million years ago and is regularly mined since 1945. Amber is also found off the costs of Sicily and England as well as Lebanon and Jordan.
What Does Amber Smell Like?
A natural amber scent is very warm, rich and earthy and gets more fragrant when ground or warmed. If heated under right conditions amber would produce an oil which if mixed with nitric acid would create a resin of an unusual musky odor. Burned, amber would create a more pinewood like scent. However, natural amber is rarely used in modern perfumery as it produces very little scent. Scents referred to as an amber are often synthetically created and are described to have a warm, musky and earthy fragrance.
The natural scent of amber used in perfumery, is often obtained from labdanum gum resin found in a twigs of European rock rose. Benzoin or copal resin is often mixed IN with labdanum to produce amber perfumes. Vanilla, cloves and other synthetic materials are sometimes used to help to intensify the aroma.
What Other Notes Go Well With Amber?
Amber blends in nicely with woody notes, resins and vanilla. And depending on the desired intensity of the scent amber, if combined with a larger proportion of frankincense, would create a lighter and fresher scent. Where else a combination of patchouli and vanilla would add more intense and sweet aroma to the amber fragrance.
Other notes amber blends in well with:
Sandalwood
Myth
Orange
Rose
Geranium

10 Best Perfumes With Sandalwood And Amber
Here it is our detailed review of the ten best perfumes with sandalwood and amber for women that we discovered during our research. All of these are worthy of your attention, with some perhaps finding their into your perfume collection.
1. Alexandria II by Xerjoff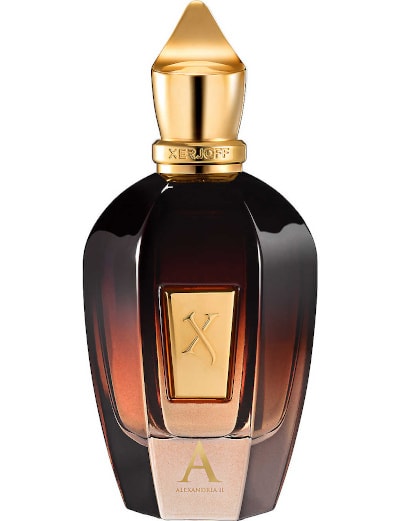 Review
Xerjoff Alexandria II is yet another very characteristic fragrance from prestigious high-niche perfume house in Italy. Founded by Sergio Momo in 2004 Xerjoff International is a brand celebrating magical harmony between the wonders of nature and the skilful Italian artisanry.
Smoky, aromatic, woody accords contrast beautifully with a delightful scents of rose, lavender and the freshness of a green apple. The comforting and warming scent of sandalwood, cedarwood and the rosewood adds additional depths to this fragrance, and dances beautifully together with those rare fruity accords. Mystical and dreamy amber, musk and vanilla scents spice it all up blending all notes together and creating a rich, sensual fragrance.
Aromatic, spicy and woody, this perfume is more winter/autumn fragrance and is definitely a perfect scent for your evening wear. Thanks to heavier base notes this extravagant perfume will last you for hours without needing to reapply.
Launched in 2012 Alexandria II Eau de Perfume is a unisex fragrance created by a Master perfumer Chris Maurice from Carbonnel SA, a leading scent designer's company specializing in perfume creation. Oriental and woody Alexandria II opens with sublime,rare fruity accords and a touch of rose, bringing a heavenly meaning to this aromatic aura of scents.
Described as the building of a dream, Alexandria II perfume bottle was inspired by incense rituals of an old Egyptian city called Alexandria.
Sergio Momo, a passionate perfume expert, created his luxury brand Xerjoff in 2004.His philosophy was to create a perfume collection that would represent the history and the craftsmanship of 18th-19th century Italy, using the highest quality ingredients and artisanship.
Beautifully blend using the highest quality ingredients to give this perfume a very exclusive and unique scent, Alexandria II represents true style and creativity. Part of Oud Stars collection, created using an old distillation method, this rich woody perfume is a true celebration of traditional Arab perfumery.
Top Notes:
Lavender, rosewood, cinnamon, apple
Mid Notes:
Lily, rose, cedarwood
Base Notes:
Amber, musk, oud, sandalwood, vanilla
Price & Reviews
You can check the latest pricing, see customer reviews and shop online at one of these well known stores:
UK readers can view this perfume at Selfridges
USA readers can view this perfume at Amazon

2. Ormonde Woman by Ormonde Jayne
Review
Ormonde Woman eau de parfum by Ormonde Jane is a creation of a British perfumers, and is the first perfume to be made using a unique scent of black Hemlock absolute as its main ingredient.
Dusky and seductive this signature scent is an extraordinary combination of woody essences and elegant aromas of flowers and precious oils. The grass oil, violet and jasmine combined with the cedar wood, amber and sandalwood is like a celebration of the beauty of green woods and dark British forests surrounded by hefty fog throughout the centuries.
Perfect for Autumn and Winter, Ormonde Woman is more of a daytime perfume, thanks to the freshness of the grass oil, violet and jasmine notes.
Due to its strong, intense base and mid notes, the fragrance will last 4-6 hours on the skin, although even after 10 hours of wear I could still get a hint of a soft powdery aroma.
The designer/brand (launched in 2002, designed by Geza Shohen)
Ormonde Jane founder Linda Pilkington developed her interest in perfumery from a very young age, making her own bathing oils and scented candles as a teenager.
Travelling the world, she combined her English craftsmanship skills with the art of French perfumery in order to create a complex aromas and sensuous notes in a search of luxurious approach of elegance and beauty in conventional perfumery.
Straight, clean line bottle beautifully displays this hypnotic, golden colour liquid, practically perfect in every way – simplicity at it's very best! And a true compliment to the house. And I hope to add a bottle of this adorable perfume to my fast growing collection this year too!
This unique, very unusual and hypnotically mysterious essence transforms me back to my childhood. Those long, peaceful walks in the woodland, immersed in my own thoughts, taking in surroundings and breathing in that warm, succulent, fresh aroma. Ormonde Jane Woman is the happiness in the bottle.
Top Notes:
Cardamon, Coriander and Grass Oil
Mid Notes:
Black Hemlock, Violet and Jasmine Absolute
Base Notes:
Vetiver, Cedar Wood, Amber and Sandalwood
Price & Reviews
You can check the latest pricing, see customer reviews and shop online at one of these well known stores:
UK readers can view this perfume at Selfridges
USA readers can view this perfume at Saks of 5th Avenue

3. H.E.R. 86 By Herba London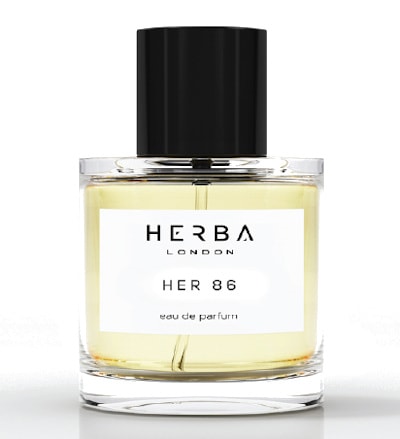 Review
H.E.R. 86 by Herba London is a unisex niche perfume released in 2018. Symbolizing freedom and independence this perfume was designed for a confident, artistic and passionate city men and women.
This sumptuous fragrance is a gentle blend of exotic musk, tonka essence and sweet vanilla, spiced up with a touch of gently warming notes of nutmeg, sandalwood and patchouli.
Magnificent aroma of Turkish and Bulgarian rose blend topped with notes of saffron and black pepper reveal the exotic intensity of this perfume.
Lasting up to 4 hours H.E.R. 86 is an all day round perfume, more for a day time in my opinion, but it can be worn as an evening perfume too. It is a cold season fragrance and I can see myself wearing it on a sunny Autumn afternoon, walking in the park surrounded by fallen leaves.
Born in London, one of the most vibrant cities in the world, the heart of fashion and creativity, Herba is a genda neutral perfume brand found by Peter de Bique, who's lifelong passion for fragrance is demonstrated in his natural, simple and utterly unique perfumes.
Over the years Peter, a former property consultant, has immersed himself in the world of fashion, minimalist design and art, and has developed his curiosity for craft and natural beauty products. Herba perfume bottles is a true reflection of this journey – a simple, clean and minimal lines.
Wonderfully deep, spicy and warm H.E.R. 86 is a perfume that will take you by surprise with its immense variety of notes and will soon become your signature fragrance, adding a drop of sunshine to those fresh a and crisp Autumn days.
Top Notes:
Turkish and Bulgarian Rose
Mid Notes:
Vanilla, Cinnamon
Base Notes:
Amber, Sandalwood and Patchouli
Price & Reviews
You can check the latest pricing, see customer reviews and shop online at one of these well known stores:
UK & USA readers can view this perfume at Herba London

4. Jicky Extrait by Guerlain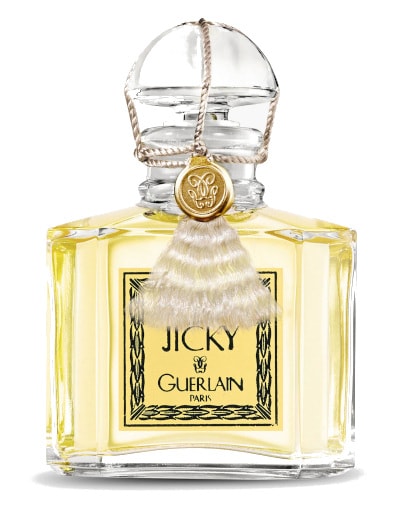 Review
Jicky Extrait by Guerlain is the fragrance that is a pure delight for both – men and women. Named after a woman, young Aime Guerlain was in love with at his youth, this fresh fragrance is a wonderful example of classic perfumery.
Jicky, is like a break through from the traditional and the beginning of more controversial, unique perfumery, based more on emotion and feeling that fragrance delivers, rather than just a blind copy of the flowery aromas.
Oriental, woody and fresh Jicky Extrait is an astonishing fragrance that delivers a contrasting notes and plays well on interpreting the sense of smell between both male and female.
It is a long lasting perfume, that would see you throughout the day or an evening, if you choose it as your going out fragrance. Also, Jicky Extrait is an all year rounder that is suitable for any season.
Founded by Pierre-François Pascal Guerlain in 1828, a legendary French perfume house Guerlain has an incredible 175 years of passion and tradition. Known for using the highest quality, luxurious and rare materials for its perfumes, they were pioneers in use of syntetic ingredients, and Jicky was the first perfume to which Guerlain added a syntetic component called coumarin.
Charming bottle design, inspired by 19th century medicine bottles, has almost a masculine shape to it, topped with a stopper somewhat resembling champagne cork. It is finished with a tassel dangling down the neck, with an added sparkle for more feminine look.
Jicky is a magical perfume combining freshness and spiciness, which at the time of invention in 1889 it may have been a bit confusing for women, but was absolutely loved by men. But today fresh, full-bodied masculine fragrance is a delight to both women and men alike.
Top Notes:
Rosemary, Mandarin orange, Bergamot, Lemon
Mid Notes:
Tonka bean, Lavender, Orris root, Basil, Jasmine
Base Notes:
Spices, Leather, Sandalwood, Amber, Benzoin, Vanilla, Brazilian rosewood
Price & Reviews
You can check the latest pricing, see customer reviews and shop online at one of these well known stores:
UK readers can view this perfume at John Lewis
USA readers can view this perfume at Saks 5th Avenue

5. Interlude Woman by Amouage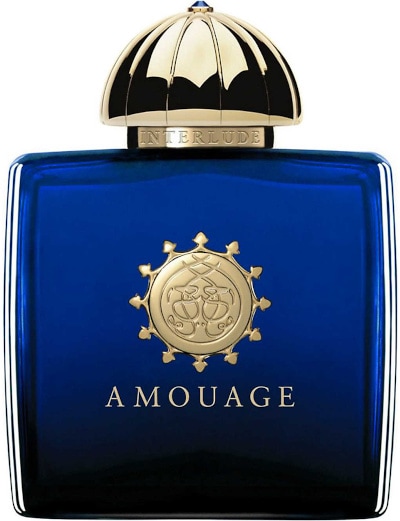 Review
Amouage Interlude Eau de parfum reflects life's adversity and confusion and invites us to unite, to stop in that moment of time and enjoy peace and calm, and a bit of tranquility. Interlude Woman is an exciting floral fragrance containing a contentious combination of notes.
Top notes of bittersweet grapefruit and bergamot create a bit of a conflict, where else the heart notes of rose, frankincense and sandalwood are more disguised in this combination with an unusual blend of nut, kiwi, coffee, honey and oud. Contradicting aromas are then embraced with a tones of amber and vanilla in the base, adding warmth and sweetness to the fragrance.
This intriguing fruity, middle eastern type of scent is best to be worn in evening. The aroma is very unique and quite intense, but not too heavy, and it could probably be fine to wear during a day, but to me it is a bit too intense to be a day time fragrance. Same applies to the seasons, I feel it is too heavy for the summer, but would be perfect in cold wintery weather.
The perfume is a very long lasting, as you can guess (thanks to spicy, woody notes) and it will last all day/night without needing to reapply.
Amouage is a luxury perfume house based in Oman, Saudi Arabia. It was established in 1983 by Sultan of Oman, Sayyid Hamad bin Hamoud al bu Said, who's dream was to bring the Arabian art of perfumery to the region.
Perfumers from well known perfume houses help to develop scents for Amouage, but they only use Middle East perfume ingredients such as agarwood, rose and spices. For example Guy Robert, well known French perfumer, who worked with Hermes, Dior, Rochas perfume houses, in 1983 created Amouage Gold.
Amouage Women perfumes come in beautifully designed bottles which are very traditional shape that replicates a shape of the Palace Ruwi Mosque in Oman.
This beautiful and interesting fruity fragrance is very specific and unusual, and may take some time to get used to and to adapt to it, and you may never like it. But if you get to love it, you will find it quite unique, cozy, elegant and delightful.
Top Notes:
Bergamot, Grapefruit
Mid Notes:
Rose, Frankincense, Sandalwood, Nut, Coffee, Kiwi, Honey, Agarwood
Base Notes:
Amber, Vanilla
Price & Reviews
You can check the latest pricing, see customer reviews and shop online at one of these well known stores:
UK readers can view this perfume at Selfridges
USA readers can view this perfume at FragranceX

6. Mirages Babylon By Prada
Review
Prada Mirages Babylon is an oriental/woody perfume made of only three main ingredients – labdanum, sandalwood and amber. Part of Olfactories collection, Babylon is an interpretation of an ancient city in a modern world.
Fresh and warming scent of Prada Mirages Babylon gives that cooling sensation and brings up a mirage of a magically created lucent sand palace in a middle of the desert.
The sandalwood blends in nicely with a heart note of oriental scent of labdanum, extracted from the rockrose shrub cistus, and the warming note of amber in the base.
This luxurious blend inspired by Oriental culture is an interpretation of the balance between warmth and spiciness, and the cleanliness and freshness.
Perfect to wear all year round, this lush spicy aroma is said to be more of a daytime fragrance, but due to its intensity and longevity I would personally choose it as my evening going out scent.
Prada Mirages Babylon Eau de Perfum is like everlasting! You will forget you need to reapply as it stays on forever, literally. Very long lasting and very intense, and if you are lover of spice and intensity, this fragrance is the way to go.
Mirages collection containing Moonlight Shadow, Babylon and Desert Serenade is a creation of the perfumer Daniela Andrier. Miuccia Prada who worked in collaboration with Daniela, started this collection with the idea of a blend made with raw elements, sensual essences that desired all across the world, a gourmet scent that would please even the most pretentious experts.
The sophisticated bottle design is an inspiration of a new feeling, a perception resulting from this charming, captivating blend revealing exotic temptations. Beautifully tailored, embellished with a golden label, this dark coloured bottle comes stylishly presented in a silk pouch inside the box decorated in a textured Prada saffiano leather.
Prada Mirages Babylon unisex fragrance extends the research of sense and smell. This luxurious blend is a true revolution in the world of perfumery, opening up new horizons for the exploration and experimentation to bring in new, modern sensations, the aromas that would transport us to unknown territories of the universe of fragrance.
Top Notes:
Sandalwood
Mid Notes:
Amber
Base Notes:
Labdanum
Price & Reviews
You can check the latest pricing, see customer reviews and shop online at one of these well known stores:
UK readers can view this perfume at Selfridges
USA readers can view this perfume at Saks of 5th Avenue

7. COCO by Chanel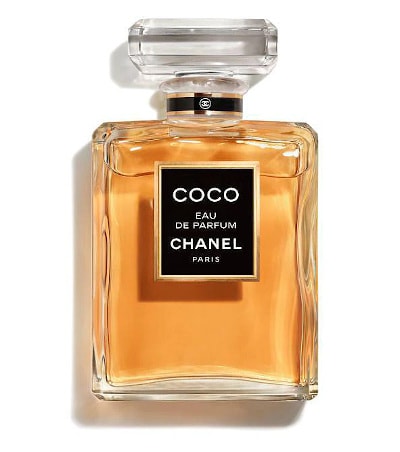 Review
Coco Eau de Parfum is a true declaration of Gabrielle Chanel's life. A reflection of her personality, her love for fashion, and representation of an extravagant baroque style that Gabrielle was very fond of.
An elegant, iconic perfume is a celebration of contrasting notes of oriental spices and powdery aromas of flowers and fruits. The opening notes of Sicilian mandarin unveils hearty notes of jasmine, ylang-ylang and Tunisian orange, with tonka, patchouli and benzoin embracing all aromas in unison.
Leading notes of rose and amber with a spicy, sweet and warm note from the cloves, makes this fragrance familiar and unique at the same time. Each of which is a delightful experience.
Coco Eau de Parfum is my signature Autumn/Winter scent and I find it more enjoyable during cold seasons rather than summer or spring time. Oriental spicy scent is strong and powerful and makes this perfume an ideal evening fragrance.
Bold but comforting, warm but moderately fresh, this complex perfume is very long lasting. Couple of sprays will be enough for it to last all day/night long.
In 1921 Ernest Beaux created perfume which, according to Gabrielle Chanel, was supposed to be "a woman's perfume with a woman's scent", rare and powerful.
It was then named N°5 simply because it was the fifth sample of the fragrance Gabrielle Chanel picked from the composition she was presented by her perfumer.Jacques Polge, the CHANEL perfumer since 1978, has re-worked the scent in 1986 and created a stronger, fuller version of N°5: the eau de parfum.
The revolutionary bottle was chosen by Gabrielle Chanel herself and represents a clean straight lines. Clear glass bottle decorated with a white label and topped with gem-cut shaped cap finishes this very minimalist design.
Chanel Coco Eau de parfum is a femininity in every drop. A floral bouquet in a bottle. Timeless and legendary, the perfume that I simply cannot lie without.
Top Notes:
Coriander, peach, mandarin orange, Bulgarian rose
Mid Notes:
Mimosa, pomegranate blossom cloves, rose
Base Notes:
Amber, sandalwood, Tonka bean, vanilla, labdanum
Price & Reviews
You can check the latest pricing, see customer reviews and shop online at one of these well known stores:
UK readers can view this perfume at John Lewis
USA readers can view this perfume at Saks 5th Avenue

8. Samsara by Guerlain
Review
Samsara Eau de Parfum by Guerlain is considered to be a pioneer woody fragrance for women crafted with such amount of sandalwood, blending ylang-ylang, tonka bean and vanilla. Created in 1989 Samsara is a delightful oriental aroma, wrapped in harmonious odour of flowers.
Fascinating, perfectly balanced and enticing Samsara will take you to the heights of aromatic jasmine intertwined with warmth of ylang-ylang flower and sweetness of iris.
Tonka bean and vanilla harmonize the combination, and the generous amount of sandalwood evokes the oriental intensity of this astonishingly elegant scent.
Rich, soft and comforting, sandalwood works well with vanilla, amber and patchouli tones, revealing a fresh, vivid side of the perfume.
This beautifully delightful, intense woody fragrance is definitely an evening aroma, which will stay on your skin for long hours. Best worn in cold season, Samsara Eau de Parfum is one of my favorite Autumn scents.
Jean-Paul Guerlain created Samsara Eau de Parfum for the woman of his life. To acquire the purest sandalwood and jasmine, the favourite aromas of "Lady Samsara", Jean-Paul Guerlain travelled to India numerous times. Such ingredients were not used in perfumery at the time and were religious contributions only.
Designed in 1853 by Pierre-François-Pascal Guerlain for the Empress Eugenie, wife of Napoleon III, this exquisite bottle represents a symbol of the Empire – the bee, which is now a signature symbol of Guerlain's perfume house.
Samsara Eau de Parfum is a fascinating potion of seduction, created for a woman who is confident with herself and who found a balance and the harmony in her life. This exciting, powerful, heady oudor, composed with raw, top quality ingredients, will open your eyes and will transport you to the radiant world of timeless aromas.
Top Notes:
Peach, Ylang-ylang, Bergamot, Lemon
Mid Notes:
Iris, violet, orris root, narcizus, rose
Base Notes:
Sandalwood, vanilla, amber, tonka bean, musk
Price & Reviews
You can check the latest pricing, see customer reviews and shop online at one of these well known stores:
UK readers can view this perfume at John Lewis
USA readers can view this perfume at Amazon

9. Eight & Bob Original
Review
Eight & Bob Original Eau de Parfum returns to the market after 60 years break and hits the ground with this extraordinary aromatic fragrance. With its composition being hidden for nearly a century, with the main note still being held secret, Eight & Bob Original Eau de Parfum re-enters the perfume world with a lot of curiosity and fasciation.
Based on the rare aromatic Andrea plant found in the mountains of Chile, the perfume is a hypnotizing blend of precious woods and spices.
It opens up with head notes of pink pepper, cardamom and a zing of lemon leading to the hearty notes of fresh aromas of violet, labdanum and precious woods.
Captivating sandalwood, vetiver and amber notes in the base distinct this unisex fragrance from all others, making it unique and stylish.
It is a warm weather fragrance, so would be perfect for Spring and Summer. And due to a fresher, softer notes this fragrance is more of a daytime wear than an evening aroma.
The perfume will last 4+ hours sprayed on the skin and its aroma will remain on clothes for up to 8 hours.
The son of a Parisian aristocrat and a perfume expert Albert Fouquet, created and perfected various essences for his own personal use which later grew into niche perfume brand called Eight & Bob.
Wide, clear, straight lined glass bottle has more of a masculine shape to it. This exclusive unisex perfume is being presented in a hardcover book, the packaging indicating on how desirable fragrances were shipped out of France during a World War II.
Eight & Bob brand is known for its unique scents since the early twentieth century. The Original Eau de Parfum is an exceptional fragrance that steeped in history and it stands out for it's exclusive aroma, a niche everyday scent designed for both men and women.
Top Notes:
Pink Pepper, Cardamom, Lemon
Mid Notes:
Violet leaves, Labdanum, Dry Woods
Base Notes:
Sandalwood, Amber, Vetiver
Price & Reviews
You can check the latest pricing, see customer reviews and shop online at one of these well known stores:
UK readers can view this perfume at Harvey Nichols
USA readers can view this perfume at Eight & Bob

10. Sensuous by Estée Lauder
Review
Sensuous Eau de Parfum from Estee Lauder is an elegant fragrance designed to express the essential features of feminine beauty and sensuality of any age. This delightful scent brings up an image of an elegant woman revealing the warmest, most feminine side of her, the grace, confidence and charm.
Warm and light, this fragrance is moving away from familiar Estee Lauder floral notes and approaches the world of rich and comforting oriental aroma.
Heart notes of precious woods, amber and ylang-ylang, embraced by fresh floral head notes of jasmine, magnolia and lily, create a beautifully delicate female accords. Intricate notes of sandalwood are intensified with added black pepper and tangerine aromas, and a touch of honey create a light and warming base.
This is a very long lasting, intense perfume which will reveal its aromas at their very best in fresh cold weather. Perfect for Autumn or Winter, Estee Lauder Sensous Eau de Parfum will complete your evening outfit, enfolding you in this fascinating aroma throughout the evening/night.
Estée Lauder is an old perfume house working with number of well known perfumers. Their first perfume was released back in 1953 with the newest edition created in 2019.
Sensous Eau de Parfum crated in collaboration with the nose Anne Buzantian, who invented this interesting exotic cocktail of flowers and warming woody notes.
Simple, yet very sophisticated, the perfume bottle is made of a heavy glass with rose-gold top, stylishly decorated in golden waves and engraved in purple letters.
Sensuous Eau de Parfum unfolds its fragrant notes different on each woman's skin mirroring a natural personality of the wearer – her grace, confidence and passion.
Top Notes:
Lily, Jasmine, Magnolia
Mid Notes:
Amber, Woody Notes, Ylang-Ylang
Base Notes:
Pepper, Tangerine, Honey, Sandalwood
Price & Reviews
You can check the latest pricing, see customer reviews and shop online at one of these well known stores:
UK readers can view this perfume at John Lewis
USA readers can view this perfume at Saks 5th Avenue

Conclusion
These are the best perfumes with sandalwood and amber for women, and offer an eclectic mix of spic and warmth. Sandalwood has been used in perfumery since the ancient times. Arab perfumers were seduced by its magic sweetness long ago and sandalwood has a long spiritual tradition in India as well, where it was mainly used for religious purposes.
Due to its versatile nature sandalwood is used in the base of nearly 50% of all woman's perfumes produced, and it blends in beautifully with many different notes such as lavender, geranium, jasmine, patchouli or black pepper. It is also a great fixative, used to tie up other notes in the composition.
Amber is one of the ingredients sandalwood is being paired with in perfumery. The two compliment each other beautifully producing a rich yet delicate woody notes. Sweet and powdery amber adds warm musky earthiness to the fragrance where else sandalwood's rich balsamic sweetness gives the perfume a subtle lingering aroma.
Before you go, I have put together a review of the most elegant perfumes ranging from timeless classics to modern day sophistication that I think you will enjoy.
Discover Your Perfect Fragrance
Please take a moment to browse through my hand-picked collection of exquisite perfumes.

There may just be the perfect fragrance waiting there for you!


Ingrid is an avid perfume collector, fragrance writer & reviewer, fragrance Youtuber and Friend member of the British Society of Perfumers who has worked in the fashion industry for over 30 years.