Jean Paul Gaultier female fragrances are both striking and incredibly stylish. The French couturier is, without a doubt, one of the most renowned and influential designers in the world today. He founded his iconic fashion house in 1982 as the fruition of a lifelong love of fashion and beauty.
Known for his unconventional and challenging designs, we have chosen 6 of the best Jean Paul Gaultier perfumes for women by this world-renowned designer.
Les Enfant Terrible – The History of Gaultier
Throughout his career, Jean Paul Gaultier has redefined fashion and beauty standards at the highest level over and over again. His championing of skirts on men, especially kilts, in 1985 is just one example of how he challenged existing notions of gender and style in the fashion industry.
Whether producing ready-to-wear clothes, runway fashion, or beauty products and perfumes, Gaultier's style has always been sensual, provocative, and unashamedly sexy.
The first Jean Paul Gaultier perfume, Classique, was launched in 1993 and since then his fragrances have been a mainstay of high-fashion perfumery. While much of his fashion blurs the lines between the masculine and feminine, his perfumes accentuate the extremes.

The 6 Best Jean Paul Gaultier Perfumes for Women
Coming up are 6 of the best Jean Paul Gaultier perfumes for women that are all beautifully presented and delightfully blended for an undeniably luxurious experience;
1. Classique Eau de Toilette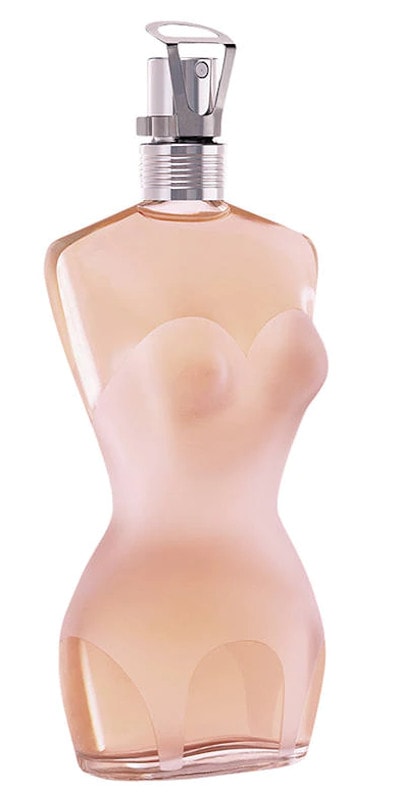 Review
Originally called JPGaultier Eau de Parfum when launched in 1993, Classique is an unashamedly sweet and feminine fragrance which is as popular today as it was in the mid-90s. The iconic bottle, in the form of a shapely female torso, is just part of the appeal of this perfume; indeed, it looks beautiful on a dressing table, but it's the scent inside that shines.
Sweet and warm by turns, it begins with a classically feminine note; rose. Once that note of rose fades, the perfume blooms with warm and stimulating notes of ginger, orange blossom, and vanilla. The base of amber is musky and slightly powdery, but the fruity and spicy notes keep it light, invigorating, and fresh.
The overall effect is a seductive and sensual evening fragrance. Classique Eau de Toilette is best for autumn and winter, although can realistically be worn at any time when you want a little extra luxury in your life.
With moderate sillage, it's relatively non-offensive to sensitive noses; however, despite this, it's a durable scent which can last most of the day without reapplication with longevity of 6+ hours.
Top Notes:
Bergamot, Rose, Pear, Orange blossom, Star anise, Mandarin
Mid Notes:
Ylang-ylang, Tuberose, Orchid, Iris, Blackcurrant, Ginger
Base Notes:
Sandalwood, Cinnamon, Vanilla, Musk, Amber
Price & Reviews
You can check the latest pricing, see customer reviews and shop online at Amazon:

2. Le Classique Eau de Parfum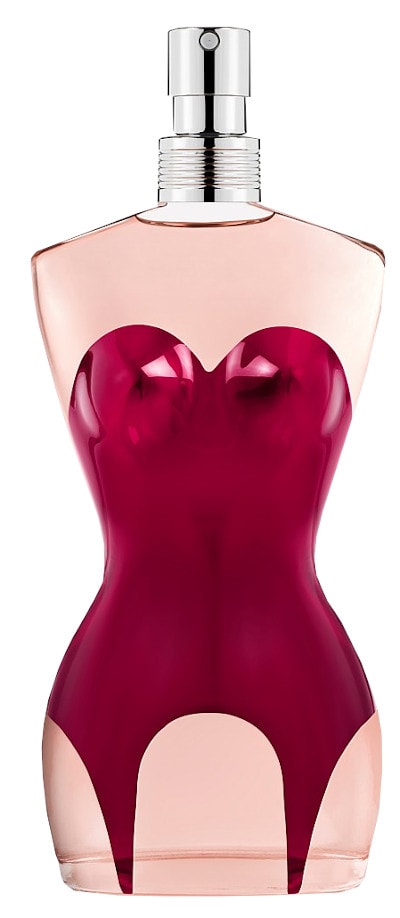 Review
Launched in 1995, just two years after the original, Classique Eau de Parfum is a little more bold and brassy than its sweeter and more sophisticated counterpart. While Classique was all about classic, feminine allure, Classique Eau de Parfum is a bit vampy, right down to the bottle.
A twist on the original, this version replaces the classic frosted glass bustier with a dark, lace-effect bustier design. As a result, this is a more eye-catching and sexy looking perfume.
While the original was powdery and warm, this iteration is balsamic and evokes the image of late-night seduction in warm and private surrounds. Like the original, it leads with rose, but quickly diverts and makes use of more unusual notes like daffodil and rum.
Rather like iconic Chanel No. 5, this is a perfume which does not smell like a perfume; it smells like a woman. In particular, it smells like a sophisticated, confident woman, and that's just how it makes you feel when you wear it.
Like its predecessor, this seems to be a cold-weather evening perfume. However, wearing it on spring days is the best choice for those who wish to make a statement. Despite having considerable sillage, it's slightly more fragile than the original and may require reapplication; longevity of 6+ hours.
Top Notes:
Rum, Rose
Mid Notes:
Vanilla, Orchid, Daffodil
Base Notes:
Sandalwood, Tonka bean, Amber, Vanilla
Price & Reviews
You can check the latest pricing, see customer reviews and shop online at Amazon:

3. La Belle Eau de Parfum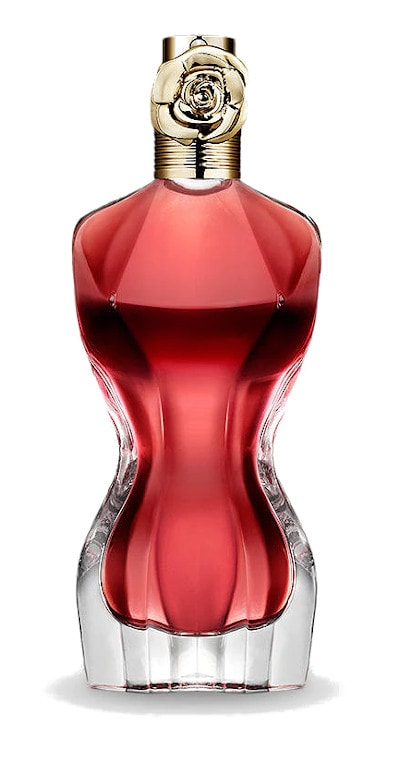 Review
La Belle is all about opulence and luxury in the classic, Jean Paul Gaultier style, and the bottle is a perfect representation of that. A stylised and somewhat abstract take on the 'Classique' bottle, its shape is suggestive of that female form, but its vibrant red colouring and intricate rose detailing are more eye-catching by far. This fragrance balances bold and demure looks with equal precision.
This oriental fragrance leads with sweet notes of vanilla, and a fruity heart of pear. La Belle is a deceptively simple fragrance in terms of the actual perfume notes, but they are expertly blended. The woody base gives it a slightly harder edge than is usual for a Jean Paul Gaultier perfume, but it is undeniably beautiful and feminine.
Perfect for autumnal days, this is both fresh and reserved, balancing sweetness and smokiness in a truly moreish way. Moderate in both sillage and longevity of 5+ hours, this is a bold but reserved perfume which is a little less racy than the average Jean Paul Gaultier offering, but it works for, rather than against, it.
Top Notes:
Pear
Mid Notes:
Vetiver
Base Notes:
Vanilla
Price & Reviews
You can check the latest pricing, see customer reviews and shop online at Amazon:

4. Scandal Eau De Parfum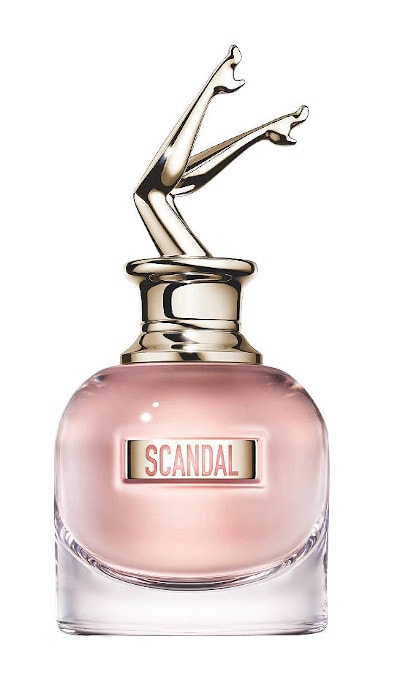 Review
The 'Scandal' range is one of the most iconic and famous, which has launched by Jean Paul Gaultier. The bottle is one of the most recognisable worldwide.
The simple square bottle with its soft, curving upper edges is incredibly discreet; the topper is the star of the show. Gaultier is known for celebrating the female form, and the stylised legs with their high-heeled shoes do just that; it is both whimsical and alluring.
The scent which hits the nose strongly at first application is honey. That natural, earthy sweetness sets the tone for Scandal. The slightly sour smell of blood orange and the smokiness of patchouli come through as the fragrance blossoms.
Scandal is a complex and warming perfume that evokes a dark and earthy sense of feminine sensuality, brightened by fruity and floral notes that give it an undertone of youthful vigour.
A balanced day to night scent, this perfume blooms best in cold weather and so fall to winter is the best season for wear. With a surprisingly low sillage, this is an incredibly long-lasting fragrance at 7+ hours which will keep up with all but the most strenuous of days.
Top Notes:
Blood orange, Mandarin orange
Mid Notes:
Peach, Honey, Jasmine, Gardenia, Orange blossom
Base Notes:
Beeswax, Liquorice, Caramel, Patchouli
Price & Reviews
You can check the latest pricing, see customer reviews and shop online at Amazon:

5. Scandal by Night Eau De Parfum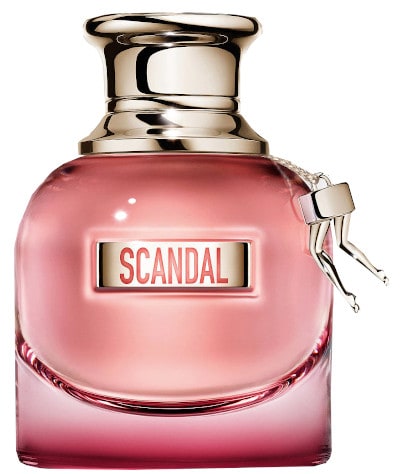 Review
With pretty much the same presentation as the original, albeit in a slightly darker shade of pink, Scandal by Night is a love letter to the original in almost every sense. Consistent in design and overall feel, it nonetheless has a more bold approach to the same theme.
Keeping the notes of honey and sweet-sour citrus as its opening note, Scandal by Night instead follows up with an overwhelmingly fruity and fresh palette.
With hints of cherry, pear, and a touch of rose to soften the sharp edges this is a modern fragrance for modern women. The woody and smoky base that seeps through when the top and middle notes have all but worn away carry an air of mystique.
More than this, they anchor the fragrance and make it incredibly durable with longevity of 7+ hours. This perfume will keep up with you no matter what you do. This fragrance has excellent sillage and best worn on fall and winter nights.
Top Notes:
Honey, Citrus notes, Bitter orange
Mid Notes:
Pear, Orange blossom, Cherry, Tuberose, Jatamansi
Base Notes:
Musk, Tonka bean, Patchouli, Vanilla, Sandalwood, Amberwood
Price & Reviews
You can check the latest pricing, see customer reviews and shop online at Amazon:

6. Scandal a Paris Eau de Parfum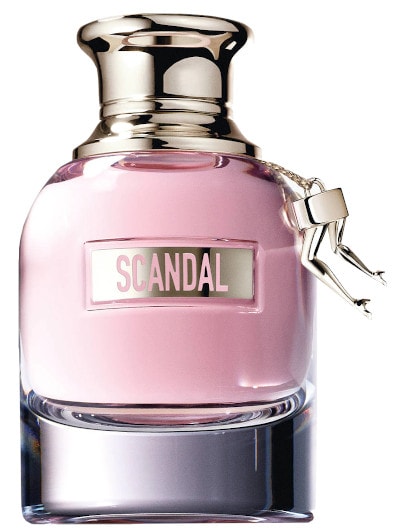 Review
True to the rest of the Scandal line, Scandal a Paris keeps the iconic bottle and topper but favours a light, dusty shade of pink which exudes gentle femininity. Simple in presentation and scent, this iteration of the iconic perfume exudes the delicate bold femininity that Parisian women are renowned.
As with both other scents, Scandal a Paris holds honey close to its heart and lightens it with fruity and floral notes. In this case, they are pear, which is most evident at first application, and Jasmine, which brings fresh, floral notes to bear.
Overwhelmingly suited to daytime wear, this is a versatile fragrance which works well in every season, though it's perhaps least suited to winter. The sillage is pleasant, and though it is relatively durable considering its delicate nature, this perfume does not last as well the other Scandal editions; longevity is 4+ hours.
Top Notes:
Pear
Mid Notes:
Jasmine
Base Notes:
Honey
Price & Reviews
You can check the latest pricing, see customer reviews and shop online at John Lewis:

Conclusion
Today, there is a multitude of exciting perfumes in the John Paul Gaultier portfolio, and there is a fragrance for everyone. All you have to do is experiment with your options and keep an open mind! After all, if you can't choose a perfume based solely on your personal preferences – what can you do?
Before you go, I have put together a review of the most elegant perfumes ranging from timeless classics to modern-day sophistication that I think you will enjoy.
Discover Your Perfect Fragrance
Please take a moment to browse through my hand-picked collection of exquisite perfumes.

There may just be the perfect fragrance waiting there for you!



Further Reading
Below are some additional articles from Viora London's blog. We write articles on a number of interesting lifestyle topics such as fragrance, beauty, designer handbags, luxury accessories and more.