Few perfumes are quite as sensual and opulent as those that draw from the oriental floral group of fragrances. The best oriental floral perfumes for women are musky, spicy, slightly sweet, and most importantly, floral.
Oriental floral fragrances (also known as floriental) are very much on-trend right now. We have put together this Best Oriental Floral Perfumes For Her collection to review ten scents to reveal your mysterious side.
What Makes a Perfume 'Oriental Floral'?
The general oriental fragrance category is sometimes referred to as 'amber' because of its unique blend of sensuality and warmth. Oriental fragrances tend to be darker, more mysterious, and use sensual notes such as musk, oud, woods, amber, and spices.
The 'oriental floral' subgroup builds on this sophisticated foundation with the addition of alluring powdery floral notes such as jasmine, rose, gardenia and tuberose. When combined with spicy notes such as cardamom, nutmeg, and saffron tends to create something unique.

10 Best Oriental Floral Perfumes for Her
With their complex mix of sweet, spicy, woody and floral notes, here are 10 perfect examples of the best oriental floral perfumes for women to add a little floriental mystery.
1. Cairo Eau de Parfum – Penhaligon's
Review
Established in 1870, Penhaligon's is an English perfume house which began life as a barbershop. Their first fragrance, Hammam Bouquet, was launched in 1872 and was inspired by the neighbouring Turkish bath which gave off sulfurous steam.
Penhaligon's Cario is in keeping with Penhaligon's love of themed perfumery and was designed to call to mind the ancient city of Cairo with its fragrant open-air markets.
An exquisite oriental perfume with woody and floral notes, this fragrance has a heart of Damascan rose, which is macerated by woods and spices of cedar and sandalwood. The smokey base of patchouli is lifted with delicate saffron and sweetened by vanilla.
In short, this is a complicated and opulent perfume which brings sensuality to cool autumn and winter nights. With strong sillage and incredible staying power or 7+ hours, this fragrance is capable of keeping up with the most demanding day.
Top Notes:
Damask Rose, Saffron
Mid Notes:
Cypriol Oil, Vanilla, Labdanum
Base Notes:
Cedar, Sandalwood, Patchouli
Price & Reviews
You can check the latest pricing, see customer reviews and shop online at Harrods:
2. Shalimar Souffle d'Oranger Eau de Parfum – Guerlain
Review
Legendary French perfume house Guerlain distil 175 years of experience and tradition into every single fragrance that they make. Eponymous with luxury, Guerlain has always used the very best ingredients to make their scents, and source many from their own lands in the Comoro Islands.
Shalimar Souffle d'Oranger has a citrusy first encounter, with an oriental heart of neroli, jasmine sambac. The sweet and spicy base notes of orange blossom, vanilla, sandalwood make this a warming perfume of stunning complexity.
Perfect for spring and summer days when the balance of chilly mornings and warm days will allow it to fully blossom. This is an enduring fragrance with 5+ hours of longevity, although the sillage is surprisingly light.
Shalimar Souffle d'Oranger Eau de Parfum is pure Guerlain. Presented in a stunningly beautiful bottle which is nonetheless outshone by the scent within.
Top Notes:
Petit Grain, Bergamot, Mandarin Orange
Mid Notes:
Neroli, Jasmine Sambac
Base Notes:
Orange Blossom, Vanilla, Sandalwood
Price & Reviews
You can check the latest pricing, see customer reviews and shop online at Guerlain:
3. Splendida Tubereuse Mystique Eau de Parfum – Bvlgari
Review
Founded by Greek/Italian Sotirio Voulgaris, Bvlgari is an Italian luxury fashion house which was founded in 1884. Since creating its first fragrance in 1992, Bvlgari has launched 106 fragrances. Each has its own distinct palette, and they all embody the opulent complexity that Bvlgari is known for.
Splendid Tubereus Mystique perfectly embodies this approach to perfumery and its name. Opens with strong balsamic notes with fruity berry undertones. Quickly blooms into a classic floral oriental fragrance with delightful tuberose. Upon dry-down, a sweet and smoky base of myrrh and vanilla envelops the wearer.
This is an indulgent and seductive fragrance which brings warmth to cold autumnal evenings and enlivens the senses.
There are few scents which are as enduring as Splendida Tubereuse Mystique, which has excellent longevity of 8+ hours and also offers good sillage. Simply presented in a blue, rectangular bottle.
Top Notes:
Black Currant, Davana
Mid Notes:
Tuberose
Base Notes:
Myrrh, Vanilla
Price & Reviews
You can check the latest pricing, see customer reviews and shop online at John Lewis & Partners:
4. Tresor En Or Eau de Parfum – Lancome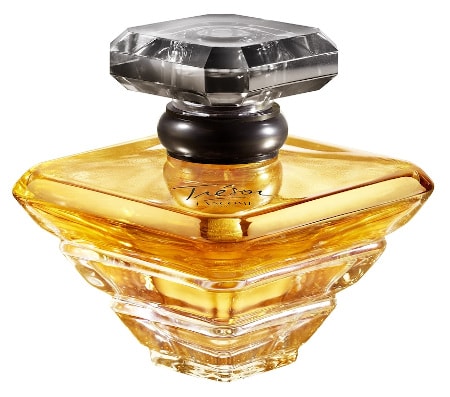 Review
Few names in perfumery balance renown with respect in quite the same way that Lancôme does. Founded by Armand Petitjean in 1935, this is a brand whose symbol, the rose, was inspired by the roses which surrounded the castle it was named for.
Limited edition Tresor en Or is a classic floral oriental perfume for women with undertones of leather ensuring that it stands apart from the crowd. Opens with soft peach before moving to a floral bouquet of jasmine, rose, and peony. This fragrance has a heady oriental musky base which makes it warm and enduring.
Despite conventional wisdom, it makes a beautiful perfume for spring days when the balance of heat, humidity, and cold winds allow it to breathe and bloom. A moderate sillage belies its incredible staying power of 8+ hours.
Delightfully presented in an angular bottle with a square, gunmetal grey topper. This certainly makes a striking addition to any dressing table.
Top Notes:
Peach
Mid Notes:
Jasmine, Peony, Turkish Rose
Base Notes:
Musk, Ambrette, Leather
Price & Reviews
You can check the latest pricing, see customer reviews and shop online at Nordstrom:
5. The One Eau de Parfum – Dolce & Gabbana
Review
Dolce & Gabbana are one of the most instantly recognisable designer names in the world today. Founded in 1985 by Domenico Dolce and Stefano Gabbana they made a name for themselves with their provocative style. This flash of seductive glamour has remained consistent throughout the life of the brand.
The One is an indulgent and fruity oriental scent that is fit for an elegant woman of substance. Someone who truly draws the eye and mind to her.
The initial burst is juicy and sweet. Plum, orange and peach all make an appearance to engage with the sharper citrus of bergamot. A floral heart of jasmine and Lily-of-the-valley unfurls slowly as the heat of the body activates the musky and sweet base notes. Perfect for springtime with reasonable longevity of 5+ hours and light sillage.
Presented in classic Dolce & Gabbana style. Classically presented in a short, clear glass bottle with a gold-toned topper which matches the golden liquid within.
Top Notes:
Lychee, Bergamot, Mandarin Orange, Peach
Mid Notes:
Jasmine, Lilly-of-the-valley, Plum
Base Notes:
Vetiver, Vanilla, Musk, Amber
Price & Reviews
You can check the latest pricing, see customer reviews and shop online at John Lewis & Partners:
6. Ange ou Demon Eau de Parfum – Givenchy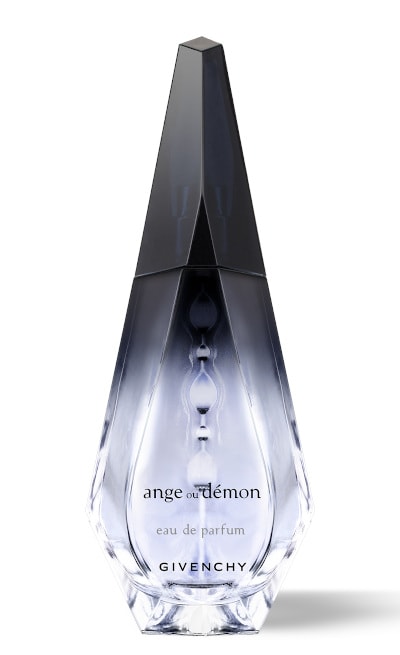 Review
Founded in 1952, Givenchy has a unique approach to perfumery. Blending French elegance and American glamour with expertise that is truly breathtaking. The style that the put forth was best modelled by Audrey Hepburn.
Ange ou Demon is one of the finest, in our eyes. Sweet and woody with a deceptively clean scent it mirrors the bottle that holds it. Balsamic at first, this aromatic oriental perfume blooms with orchid, lily and buttery ylang-ylang. A sweet vanilla undertone makes it almost girlish once it settles. The base of creamy rosewood and dense oak moss make it sophisticated and somewhat androgynous when the full force is in effect.
An ideal warming scent for winter days, it is not as long-lasting as some oriental scents with 5+ hours, although sillage is good.
Top Notes:
Thyme, Saffron, Mandarin Orange
Mid Notes:
Ylang-Ylang, Orchid, Lily
Base Notes:
Oakmoss, Brazilian Rosewood, Vanilla, Tonka Bean
Price & Reviews
You can check the latest pricing, see customer reviews and shop online at Givenchy:
7. Good Girl Légère Eau de Parfum – Carolina Herrera
Review
Venezuelan-born American designer Carolina Herrera launched her self-named brand in 1980, and her chic style quickly gained her acclaim across the world. Her first fragrance, the truly eponymous Carolina Herrera Eau de Parfum was launched in 1988. Since then she has released 133 perfumes in collaboration with some of the most talented perfumers of the age.
Opens with a trio of citrus notes (lemon, bergamot and orange). Floral notes of ylang-ylang, rose, jasmine and tuberose bloom nicely. These florals entwine with an eclectic mix of oriental spices that prevents it from becoming too saccharine. Tonka bean and ylang-ylang are the stars of the show.
A grown-up version of the original Good Girl perfume, this is an incredibly complex scent with a mind-boggling list of notes. Despite this, the final product is coherent and beautiful.
Good Girl Légère embodies Carolina Herrera's unadulterated chic from its presentation to its scent. The elongated bottle, shaped like a high-heeled shoe, is sophisticated and dynamically coloured in golds, blues, and blacks.
This is a versatile scent that can be worn at any time. It's long-lasting at 6+ hours with medium sillage. Certainly one for the collection.
Top Notes:
Lemon, Bergamot, Mandarin Orange, Ylang-Ylang
Mid Notes:
Orange Blossom, Rose, Jasmine, Tuberose
Base Notes:
Cashmirwood, Musk, Amber, Cedar, Cinnamon, Praline, Sandalwood, Tonka Bean
Price & Reviews
You can check the latest pricing, see customer reviews and shop online at John Lewis & Partners:
8. Viva La Juicy Bowdacious Eau de Parfum – Juicy Couture
Review
A wonder brand of the early 2000s, Juicy Couture, is best known for their tracksuits. Favouring a vibrant, fun, and very 00s style, they moved into perfumes in 2006 and since then have released 42. The majority are somewhat saccharine, but all are pleasant.
Viva La Juicy is both very typical of Juicy Couture and a little more grown-up, despite its Disney princess-esque bottle. The oversized bow that adorns its neck embodies the 'Juicy' style.
The scent itself opens sweetly with hints of pear, melon and coconut. Floral notes of Tiare flower, jasmine and lily bloom beautifully. They are balanced by the creamy/vanilla scent of tonka bean and sharp, almost bitter orange.
Upon dry-down, this fragrance becomes more focused on coconut, tonka bean and Tiare flower with hints of ginger. Far better than I was expecting.
Moderate longevity of 4+ hours and moderate sillage requires the perfume to be re-applied more often. Viva La Juicy is a sophisticated fragrance and a perfect introduction to oriental-floral scents.
Top Notes:
Melon, Pear, Italian Mandarin
Mid Notes:
Jasmine Sambac, White Ginger, Lily, Tiare Flower
Base Notes:
Drift Wood Tonka Bean, Coconut Milk
Price & Reviews
You can check the latest pricing, see customer reviews and shop online at Debenhams:
9. Casablanca Lily Eau de Parfum – Byredo
Review
Byredo, founded by Ben Gorham in 2006, has already made a name for itself. Influenced by his mixed Indian and French-Canadian heritage, Gorham has created some of the most exciting and unique perfumes on the market today. With 57 perfumes in their portfolio, Byredo continues to grow and consistently produces superior perfumes.
Casablanca Lily is striking; strong notes of gardenia, carnation and tuberose hit the nose first, followed by the dark sweetness of honey and plum. Upon dry-down, the freshly cut woody smell of rosewood is delightful.
Presented in the typical Byredo bottle, Casablanca Lily is enduring with a light sillage and a pleasantly warm scent which can be worn at any time of day or year with confidence. There are few perfumes which can boast the same.
Top Notes:
Gardenia, Plum
Mid Notes:
Indian Tuberose, Carnation
Base Notes:
Rosewood, Honey
Price & Reviews
You can check the latest pricing, see customer reviews and shop online at Selfridges:
10. 500 Years Eau de Parfum – Etat Libre d'Orange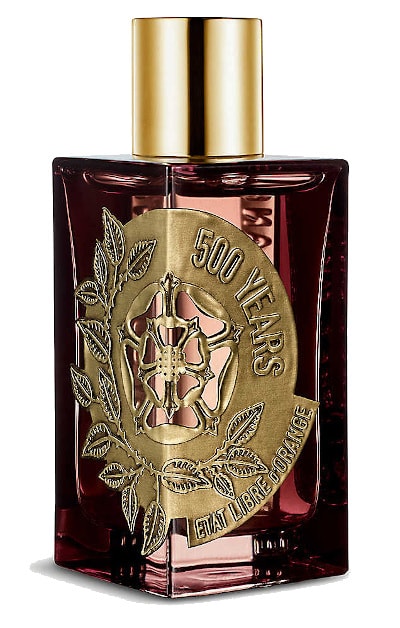 Review
A relatively fresh-faced perfume house, Etat Libre d'Orange was founded in 2006 by Etienne de Swardt with the motto "le parfum est mort, vive le parfum!" – perfume is dead, long live perfume!
His fragrances are a celebration of sensuality and desire. All of their scents are unisex in nature, though specific do tend to lean slightly towards one gender or the other.
500 Years is one of Etat Libre d'Orange's truly androgynous fragrances. Opens with zesty bergamot, but soon becomes a warm, spicy, and complex combination of rose, cacao and woody notes making this a true cold-weather fragrance. Incredible how a few select notes can create such a masterful oriental floral fragrance. Highly recommended.
Contained in a beautiful bottle that is emblazoned with their ornate logo, this bottle has a gold-toned topper that finished the look perfectly. Simple and effective, this scent relies on high-quality ingredients to create a layered and blooming fragrance. This is an incredibly durable fragrance with 8+ hours of longevity and enormous sillage.
Top Notes:
Bergamot
Mid Notes:
Cacao, Rose
Base Notes:
Woody Notes
Price & Reviews
You can check the latest pricing, see customer reviews and shop online at Selfridges:

Oriental Perfume Family Tree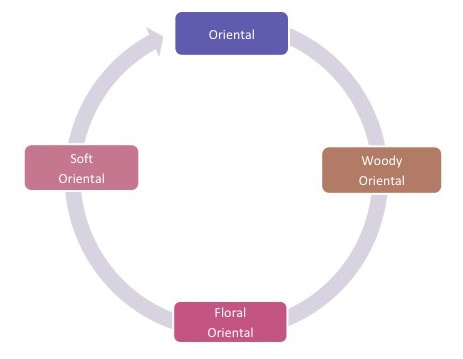 Broadly speaking, there are four types of oriental fragrance; oriental floral, oriental, soft oriental, and woody oriental. Each has the rich spices, herbs, and resin notes that oriental fragrances are known for.
Although, sometimes floral and woody notes are added to give complexity or lift the richness. So, there really is an oriental fragrance for every person!
– Oriental Floral
The oriental floral group of fragrances contain beautiful floral, powdery notes such as gardenia or tuberose that blend with the traditional oriental spicy, musky, and woody notes. Clove, cinnamon, myrrh, tonka bean, amber and musk are just a small selection of oriental notes that work amazingly well with florals.
– Soft Oriental
The soft-oriental group of fragrances are less intense than the standard oriental category. Soft oriental fragrances tend to use milder spices such as cinnamon and clove with warming tones of amber.
– Oriental
A classic oriental fragrance tends to be sweet and warm. Rich and sometimes overwhelming, this type of fragrance often made with the notes like cinnamon, myrrh, anise, vanilla, and, of course, musk. The results are opulent and heady. The most famous examples of this include Obsession by Calvin Klein and Joop by Joop!
– Oriental Woody
Oriental woody fragrances fuse the warm opulence of woody perfumes and the rich spiciness of the oriental palette. By using dry woods like cedar or incense-like notes such as sandalwood, and mixing them with the sweetness of cinnamon, vanilla, and anise. The results are stunning and often androgynous.

Conclusion – Be Bold!
Each of the best oriental floral perfumes for women that we have reviewed today is deeply intriguing, sensual and feminine. With exciting spicy notes that entwine with musk, woods and amber is just the start, as they all have a variety of floral notes that are waiting to bloom.
The best oriental floral perfumes will often feature a bouquet of floral notes which lean towards powdery. The powdery undertone of certain florals complements the musky, spicy notes which are common in oriental fragrances. Floral oriental perfumes entwine fresh floral notes with those heady spices and muskiness.
But hold on! You can also review some exciting oriental fragrances in our related article. Here we explore the 10 best oriental perfumes for women to delight the senses. Enjoy.

Further Reading
Below are some additional articles from Viora London's blog. We write articles on a number of interesting lifestyle topics such as fragrance, beauty, designer handbags, luxury accessories and more.