Founded in 1799 by James Atkinson, the best Atkinsons fragrances for men have long been associated with the quintessential English gentlemen.
This historic British perfume house even catered to the Duke of Wellington and other dignitaries, eventually becoming the official perfumer to the British Royal Court.
Over 220 years on, Atkinsons retains its innate Englishness and quirky nature and has several enticing colognes for modern men who want to make a statement. I popped to Harrods in London's Knightsbridge to experience their collection.

Best Atkinsons Fragrances For Men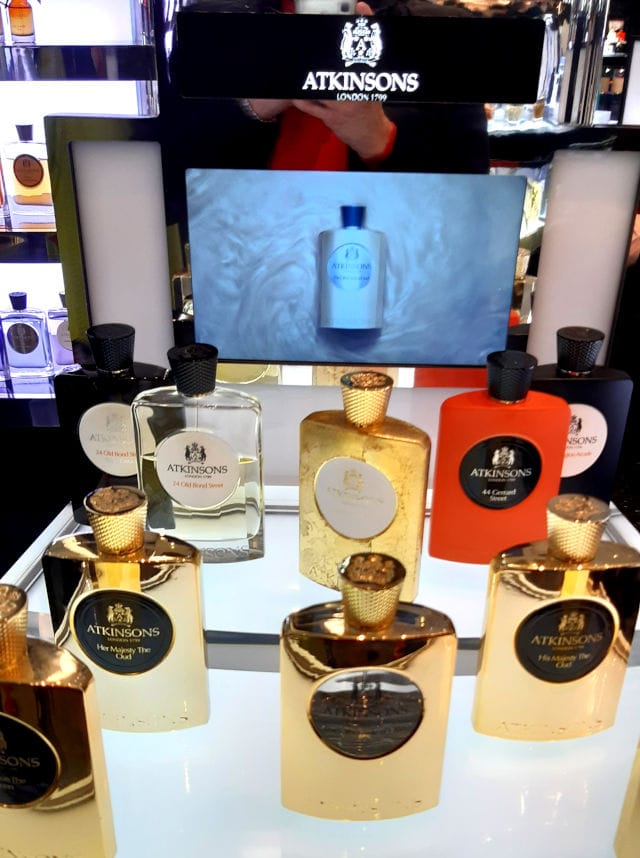 The best Atkinsons fragrances for men include classic colognes, spiced scents, and lighter, brighter zesty blends from this brand's extensive portfolio.
1. Pirates Grand Reserve Eau de Parfum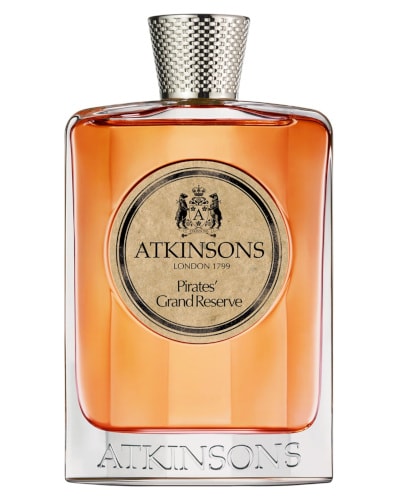 Review
Launched in 2017, the Pirates' Grand Reserve evokes the spirit of the Caribbean and the Golden Age of piracy. Sweet, dark, spiced, and rich, this is a unique blend. Parlay!
Opening with floral sweetness and a slightly boozy tinge, Pirates Grand Reserve is moreish from the start. The heart of this scent is rich, dark, and addictive; cocoa beans, geranium, and cedar.
In the base, vanilla becomes prominent, with ints or earthy patchouli. Settles to a warning woody/vanilla combo.
Top Notes:
Rum, Heliotrope, Jasmine
Mid Notes:
Cocoa Beans, Geranium, Cedar
Base Notes:
Madagascar Vanilla Essence, Patchouli
Seasons & Longevity
While versatile, Pirates Grand Reserve is undoubtedly better suited to colder weather. Wear this scent from autumn to spring, particularly at night, to get the full effect of its complex array of notes.
Thanks to the blend's potency, one benefit is longevity; you can expect at least 6+ hours of wear from one application.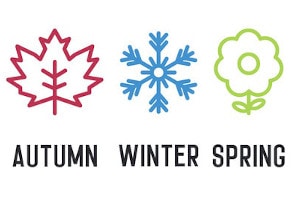 2. Robinson Bear Eau de Cologne
Review
Though unisex, Robinson Bear leans more heavily towards the traditionally masculine. Blended by Fabrice Pellegrin, this fragrance was launched in 2020 as a modern, crisp, and refreshing scent.
A sweet, slightly spiced opening of star anise and fresh, breezy calone. Juniper berries and floral Santolina form the heart of the scent and slowly bleed through to add balance.
Labdanum, patchouli, oakmoss, and cedar create a robust, sweet, and resinous base with smoky edges. Finishes as an aromatic woody scent.
Top Notes:
Star Anise, Calone
Mid Notes:
Juniper Berries, Santolina
Base Notes:
Cedarwood, Cistus Labdanum, Patchouli, Oakmoss
Seasons & Longevity
I recommend Robinson Bear is worn in hot weather; an ideal scent for warm spring and summer days to keep you smelling fresh and ready for anything.
Bright and sharp but not overpowering, the only downside is slightly lower longevity; you will get 4+ hours of noticeable scent from one application in most cases.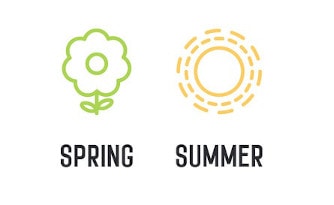 3. 24 Old Bond Street Eau de Cologne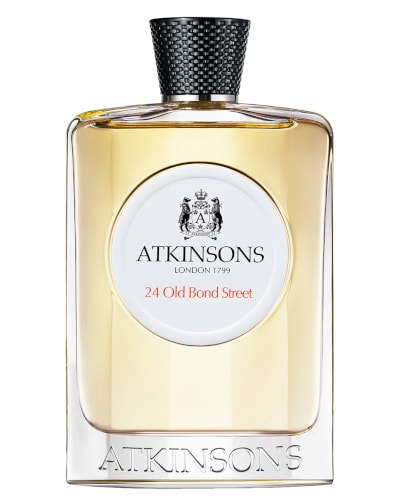 Review
An intense, woody aromatic scent with slight floral edges, 24 Old Bond Street is a classic cologne that evokes wood-panelled rooms, rich, soft leather, and mood lighting.
Soft cardamom and juniper berries create a juicy and spiced opening that mellows beautifully into a heart of rich black tea, cade, and Turkish rose.
At the base of this scent, peated cask whisky gives the blend a rich, smoky, boozy vibe. If you love rich tea notes, check out Thé Noir 29 by Le Labo.
Top Notes:
Cardamom, Juniper Berries
Mid Notes:
Turkish Rose, Black Tea, Cade
Base Notes:
Peated Cask Whisky Accord
Seasons & Longevity
Wear it from spring to autumn as a refined and dressy daytime cologne for the best effect. Lacks the depth for full-on evening wear, in my opinion.
Quite overpowering at first but settles after 20 minutes and will last up to 5 hours after one application.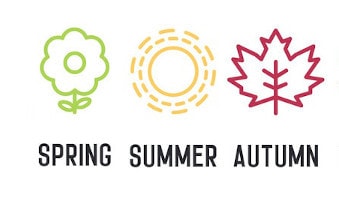 4. Oud Save The King Eau de Parfum
Review
My goodness, this is good. Oud Save the King is a standout scent that will turn heads and prompt compliments no matter where you go. Classic but not dated, this is a cologne for mature men.
A blend of Early Grey tea and zesty bergamot create an unusual opening with slightly fruity edges that mellow into a heart of powdery iris and leather suede.
This dry and gentle blend is supported by sandalwood and oud accord, which reminds me of Santal Boisé by Versace.
Top Notes:
Earl Grey Tea, Bergamot Accord
Mid Notes:
Iris, Leather Suede
Base Notes:
Sandalwood, Oud Accord
Seasons & Longevity
The complexity of the scent makes it ideal for any formal autumn/winter evening event, in my opinion, and its subtle yet potent scent bubble ensures a whole night's wear.
Expect 7+ hours of scent from one application; it's not beast-mode projection-wise, but it does hang on nicely.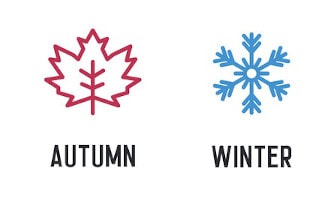 5. 44 Gerrard Street Eau de Cologne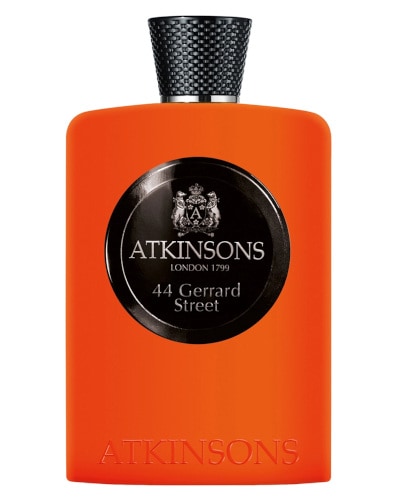 Review
44 Gerrard Street is a woody aromatic cologne that was launched in 2020. Warming, sweet, and rich, yet with a nice amount of citrus, this is an easy-reach scent for any occasion.
Eucalyptus, lots of ginger, and a splash of lemon ensure a juicy, fruity, and refreshing opening with warming edges that bleed wonderfully into the floral heart of jasmine, manly rose and orchid.
Base notes of amber, cashmere, and musk create a rich and resinous base that sticks to the skin and thrives when warmed.
Top Notes:
Eucalyptus, Ginger Lemon, Ginger
Mid Notes:
Jasmine Absolute, Rose, Orchid
Base Notes:
Amber, Cashmere Wood, Musk
Seasons & Longevity
Despite its woody and resinous base, this is the perfect spring and summer day scent (even early fall). In the warm air, the complexity and lightness of the floral and fruity notes can really shine.
I found that one application will give you 4+ hours of wear, making this a discreet workday scent or for when you are out and about running errands.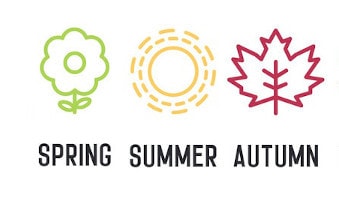 6. 41 Burlington Arcade Eau de Parfum
Review
Blended by Julie Pluchet and dedicated to the brand's new flagship store, 41 Burlington Arcade. Sensual, bittersweet, and spiced, this cologne is a part of the historically inspired "Emblematic Collection".
Sharp and spicy at first with white pepper, lemon, and grapefruit. This bright, almost effervescent opening mellows as the heart of liquorice, cardamom and nutmeg comes into its own, showing edges of pimento.
At its base, however, is a woody and smoky scent with notes of patchouli, vetiver, amber, and musk. Similar to Sedley by Parfums de Marly.
Top Notes:
White Pepper, Lemon, Grapefruit
Mid Notes:
Liquorice, Cardamom, Nutmeg, Pimento
Base Notes:
Vetiver, Indonesian Patchouli, Amber, Musk
Seasons & Longevity
I would wear 41 Burlington Arcade for any season (perhaps not during the heat of the day of summer). A nice balance of casual meets effortlessly dressy.
This cologne will give a discreet but noticeable performance from day to night for as long as 8 hours.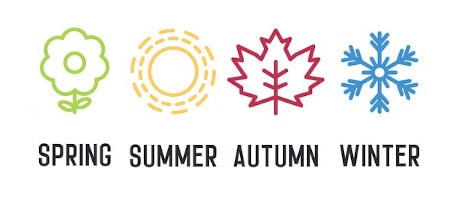 7. Scilly Neroli Eau de Parfum
Review
Like a fresh blast of sea air on a hot summer's day, Scilly Neroli is bright, refreshing, and natural, using contrasting florals and citrus to turn heads.
Lemon petitgrain and Atlantic spume accord give the initial wave of scent a breezy, salty, and coastal feel that is sure to transport you to a blustery coastal field where wheat waves in the wind.
A floral heart of orange flower absolute and neroli deepens the otherwise airy mix before the robust base of patchouli, and ambergris takes hold. Similar to Aqua di Parma Colonia, but more floral.
Top Notes:
Lemon Petitgrain, Atlantic Spume Accord
Mid Notes:
Néroli Essence, Orange Flower Absolute
Base Notes:
Ambergris Accord, Patchouli
Seasons & Longevity
Wear on bright spring and summer days to get the best from this blend; Scilly Neroli is definitely a warm-weather freshie.
The projection is light but persistent; one drawback is you will only get 4 hours of performance, but that's expected.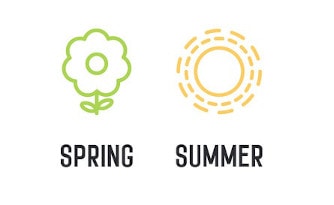 Andrew's Top Pick
Oud Save The King Eau de Parfum
My top pick is Oud Save The King Eau de Parfum because it is just so darned refined and classy.
I love the rich scent of tea combined with powdery iris and wood. Fantastic!
Conclusion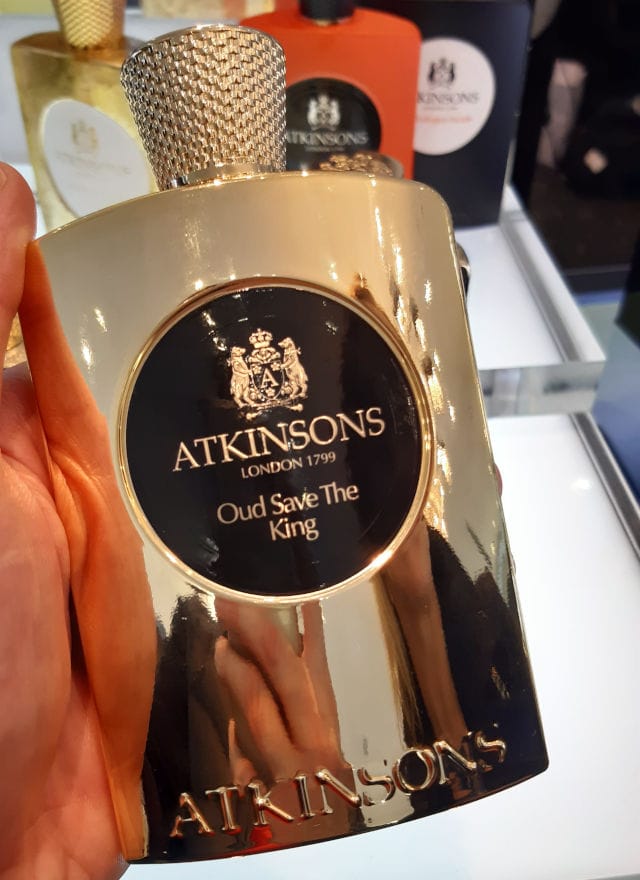 The best Atkinsons fragrances for men will keep you smelling confident, modern and refined whilst retaining a nod to vintage London. What I like about the Atkinsons collection is their colognes are traditional, yet not stuffy or old-man.
Price-wise, 100ml/3.3 fl oz of Atkinsons Eau de Parfum will set you back £160/$190, whilst 100ml/3.3 fl oz of Atkinsons Eau de Cologne will be more like £115/135.
Related Read: Best Atkinsons Perfumes For Women

Further Reading
Below are some additional articles from Viora London's blog. We write articles on a number of interesting lifestyle topics such as fragrance, beauty, luxury accessories and more.