When Les Exclusifs De Chanel collection was first launched in 2007, it caused quite a stir. The best Les Exclusifs de Chanel fragrances are unique compositions interpreted by the world's renowned perfumers – Ernest Beaux, Jacques Polge and Olivier Polge.
The current collection comprises of 15 perfumes and 8 extracts, each of which oozes simplicity and chic. From classics, such as Gardenia and Cuir de Russie, to modern-day scents like Misia and Jersey, Les Exclusifs depicts the timeless style of Chanel.

8 Best Les Exclusifs de Chanel Perfumes Reviewed
The best Les Exclusifs de Chanel fragrances will transport you to the roaring 20s filled with jazz music, elegant outfits and powdery scents. Here are 8 to consider.
1. Chanel Coromandel Eau de Parfum
Review
Coromandel Eau de Parfum is a contemporary yet classic take-up on the oriental fragrance. Rich in earthy and woody notes scent was put together by the ingenious perfumer Jaques Polge in 2016. Vigorous and fun, Coromandel captivates with its exotic aroma, luring into the intensity of its fragrant scent.
The inspiration comes from the beautiful Chinese lacquered screens covered in charming Asian flowers that used to cover the walls of Mademoiselle Chanel's apartment in Paris.
The fragrance opens with a bouquet of dazzling accords of neroli and citruses taking us straight into a powdery heart of rose and jasmine, gently spiced with the earthy pepperiness of patchouli and orris root.
In a short while, the gourmet creaminess of white chocolate makes its appearance, accompanied by the resins of benzoin and amber. Further warmed by the woody accords, musk and a whiff of the incense, the base brings all notes together creating an enchantingly intense aroma.
Coromandel Eau de Parfum is more of a cold season fragrance and is versatile enough to be worn during spring, autumn or winter months. Warming spicy notes make it a perfect evening scent, lasting on the skin for a good 7+ hours.
In short, Coromandel is classy and typically Chanel. Suitable for both men and women, it will entice you into its warming embrace, holding up tightly surrounded by this rich and forever classic scent of indulgence.
Top Notes:
Citrus, Neroli, Bitter Orange
Mid Notes:
Orris Root, Patchouli, Rose, Jasmine
Base Notes:
Amber, Musk, Woody Notes, Benzoin, Incense, Olibanum, White Chocolate
Price & Reviews
You can check the latest pricing, see customer reviews and shop online:
2. Chanel Gardenia Eau de Parfum
Review
The luxuriously floral Gardenia Eau de Parfum from the Les Exclusifs de Chanel collection is a sensual scent of beautiful blossoms. The perfume was first launched in 1925 and was composed by Ernest Beaux, creator of Chanel No.5.
The inspiration for this fragrance comes from the perfectly shaped camellia flower, an emblem used by Chanel on numerous occasions.
Gardenia Eau de Parfum opens with a fresh trail of orange blossom mixed with the hint of green notes. It soon steps into the blossoming garden of gardenia, tuberose and jasmine flowers, topped with the delightful sweetness of fruits.
The creamy woody base of vanilla, coconut and musk is warmed by the notes of sandalwood, paired with earthy accords of patchouli and vetiver.
This sensual elixir is absolutely beautiful for the spring and summer months, with its fragrant petals gleaming in the hazy sunshine. Classified as a daytime scent, it has a decent 5+ hours longevity, and it is punchy enough to be worn on warm nights out.
Sophisticated and timeless, this incredibly feminine fragrance represents an unmistakable Chanel's elegance and style, filling the room with an unforgettable trail of luxurious scent.
Top Notes:
Orange Blossom, Green Notes
Mid Notes:
Gardenia, Tuberose, Jasmine, Fruity Notes
Base Notes:
Coconut, Vanilla, Musk, Sandalwood, Vetiver, Patchouli
Price & Reviews
You can check the latest pricing, see customer reviews and shop online:
3. Chanel Misia Eau de Parfum
Review
Misia Eau de Parfum, another scent from Les Exclusifs de Chanel collection, is an oriental floral fragrance for women, launched in 2016.
Named after Misia Sert, an attractive Parisian muse, the fragrance captivates an aura of the theatre backstage filled with the powdery makeup scent gently lingering in the air. A good friend and companion of Coco Chanel's, Misia was also an inspiration to many artists and poets at the time.
This is the first perfume blended for Chanel by the nose Oliver Polge, which delivers a captivating, radiant, full of life, mystery fragrance. Just like the muse herself, Misia Eau de Parfum is an extremely feminine and mesmerising scent, representing the talent of its creator.
The sparkling blend of aldehydic notes and fruits is what opens this beautiful fragrance. Sweet and tangy aromas of lychee lead the way to a fruity floral heart composed of raspberry, peach and rose.
The scent is sweetened further with a powdery accord of violet, iris and mimosa in the base notes, buttered with the creamy vanilla and tonka bean.
The richness of orris and benzoin deepen the composition, which adds a nuance of the leathery accord. All notes are balanced to perfection, delivering a gorgeous vintage-like scent of powder entwined with a rich lipstick scent.
A stunning spring/autumn fragrance wears beautifully throughout the day, which makes it the perfect scent for either daytime or nighttime. Its long-lasting power and strong projection will give enjoyable, 5+ hours of wear.
Misia Eau de Parfum is an intimate fragrance full life and passion, designed for a mature, sophisticated woman.
Top Notes:
Aldehydes, Lychee
Mid Notes:
Rose, Raspberry, Peach
Base Notes:
Vanilla, Powdery Notes, Orris, Benzoin, Tonka Bean, Mimosa, Iris, Violet
Price & Reviews
You can check the latest pricing, see customer reviews and shop online:
4. Chanel 1957 Eau de Parfum
Review
1957 Eau de Parfum is a revolutionary scent, created in celebration of the memorable events in Chanel's history. In 1957 Gabrielle Chanel became a world-renowned designer awarded Neiman Marcus Fashion Award in Dallas acknowledging her talent and creativity. Number 57 also indicates the street number of the biggest Chanel store opened in the United States, with the number 19 marking Mademoiselle's birthday.
This unique unisex fragrance, containing a rare composition of carefully chosen ingredients, was put together by the talented perfumer Olivier Polge and launched in 2019.
On the first spray, 1957 Eau de Parfum fills the room with a wave of aromatic spices. The potent aroma of pink pepper, coriander and white musk in the headnotes are uplifted by the accords of bergamot and aldehydes.
The enchanting aromas of jasmine and orange blossom in the heart add a touch of subtle juiciness, opening the door to the warming bed of woods and musk. Enhanced by the gourmet accords of vanilla and honey, the base gives this cologne a remarkably sweet finish.
This versatile fragrance has a decent sillage with the staying power for up to 6+ hours and is perfect for warm spring and summer days.
A perfectly balanced composition that transforms this fragrance into a smooth, sophisticated aroma.
Top Notes:
Pink Pepper, Coriander, White Musk, Bergamot, Aldehydes
Mid Notes:
Orange Blossom, White Musk, Jasmine
Base Notes:
Vanilla, Honey, White Musk, Cedar, Cashmeran, Orris
Price & Reviews
You can check the latest pricing, see customer reviews and shop online:
5. Chanel Beige Eau de Parfum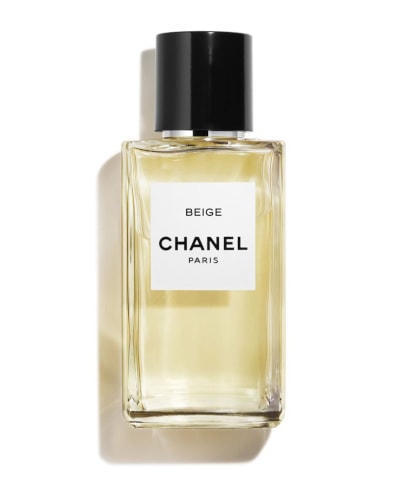 Review
Launched in 2016 Beige Eau de Parfum is an opulent fragrance, rich in florals and topped with a gourmet note of honey. The nose behind this fragrance is an in-house perfumer Jacques Polge, who found his inspiration of Gabrielle Chanel's favourite colour.
The calming shade of sand and earth representing the natural world is a refection of lightness and uniqueness, which is what the perfumer tried to depict with his creation.
The perfume begins with the succulent notes of frangipani and honey nectar. These are soon joined by the floral accord of freesia. The composition is grounded with the spicy, almond-like odour of hawthorn flower.
This charming daytime fragrance is suitable for spring, summer and autumn months, and it features strong projection as well as a decent staying power of 6+ hours.
Beige Eau de Parfum is a magical summertime floral fragrance that is simply adorable. Not overpowering or pretentious, yet a shining example of a timeless classic.
Top Notes:
Frangipani, Honey
Mid Notes:
Freesia
Base Notes:
Hawthorn
Price & Reviews
You can check the latest pricing, see customer reviews and shop online:
6. Chanel Jersey Eau de Parfum
Review
Soft and creamy, Jersey Eau de Parfum portrays an era of the roaring twenties, a time of natural elegance and grace. Inspired by the supple fabric of jersey, which Gabrielle Chanel cleverly transformed into stylish and flowing garments for women.
An aromatic floral fragrance is yet another expertly put together creation by the nose Jacques Polge. Released in 2016 the perfume delivers a most beautiful lavender and vanilla prominent aroma, calming and cosy, and reassuringly simplistic.
Beautifully feminine, Jersey opens into a purple field of luscious lavender. It is soon surrounded by the bloom of wildflowers and a touch of grass, adding a refreshing undertone.
The powdery rose mixed with jasmine uplifts the composition, giving the perfume a much-needed intensity. Eventually, the base notes of musk, vanilla and tonka bean complete the fragrance settling into a comforting, creamy and fresh lavender and vanilla scent.
Suitable for spring and summer months, Jersey Eau de Parfum is a bright and cheerful scent, perfect for those easy-going, carefree days. The perfume lasts on the skin for approximately 5 hours and is an excellent addition to your summer perfume collection.
If you enjoy the timeless fragrance, you really must experience Jersey – a sophisticated and classy perfume that is simply beautiful.
Top Notes:
Lavender
Mid Notes:
Wildflowers, Grass, Rose, Jasmine
Base Notes:
Musk, Vanilla, Tonka Bean
Price & Reviews
You can check the latest pricing, see customer reviews and shop online:
7. Chanel Cuir de Russie Eau de Parfum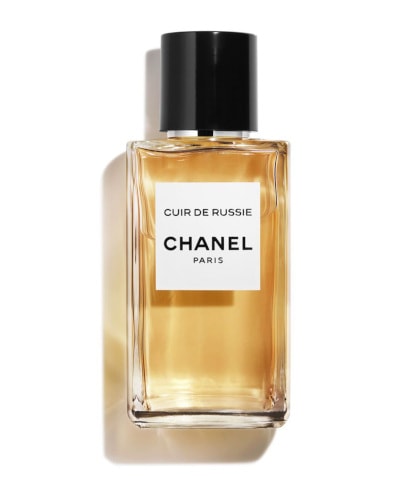 Review
Timeless in many ways, the imperial fragrance Cuir de Russie Eau de Parfum was originally composed in 1924 by the nose Ernest Beaux with its latest version being launched in 2016. Russian born French perfumer was introduced to Gabrielle Chanel by the Grand Duke Dimitri, whom she met in Paris after his exile from Russia in the 1920s.
This oriental "Russian Leather" fragrance was revolutionary and provocative at the time, as it was created to encourage and support women that smoked cigarettes, which in the early 20s was pretty scandalous.
Cuir de Russie Eau de Parfum is a very prominent and characteristic fragrance, depicting the charm and elegance of Slavic embroidery, which Gabrielle Chanel fell in love with.
The zesty opening of orange blossom, bergamot and mandarin orange fill the room with a dazzling freshness. It leads the way to the alluring heart of flowers, adding a beautifully fragrant sweetness of ylang-ylang and jasmine, and the powdery notes of rose.
Tobacco in this combination brings a warm richness, almost like a whiskey or caramel-like odour, which blends in nicely with a delicate aroma of leather, birch wood and resins in the base. In the end, the fragrance envelopes into a smooth, soft leathery scent sprinkled with a lush floral powder.
Cuir de Russie Eau de Parfum is a cold-weather scent, perfect for autumn and winter. It offers a good 4-5 hours longevity with a moderate projection, making this fragrance perfect for either day or evening wear.
This is a strong character perfume, yet surprisingly smooth with a splash of Chanel elegance.
Top Notes:
Orange Blossom, Bergamot, Mandarin Orange
Mid Notes:
Ylang-Ylang, Tobacco, Jasmine, Rose
Base Notes:
Leather, Birch, Resins
Price & Reviews
You can check the latest pricing, see customer reviews and shop online:
8. Chanel Bois Des Iles Parfum Extrait
Review
An evocative mix of spices, woods and tropical flowers, Bois Des Iles Parfum Extrait is a true masterpiece of Ernest Beaux's. Designed in 1926, the Extrait captivates the Parisian lifestyle at 'Bœuf sur le Toit' cabaret, which opened its doors in 1922.
Notes of bitter almond and gingerbread open the door to this mysterious perfume. Fragrantly exotic ylang-ylang is complemented by the intoxicating note of jasmine and uplifted by the powdery accord of rose.
Base notes of tonka bean and vanilla add a subtle buttery spiciness to the composition, which is then intensified by the earthy warmth of sandalwood and vetiver.
This voluptuous scent is incredibly intricate, with a hushed mix of spices create a truly teasing, alluring feel. Due to its complexity, the fragrance wears best in cold seasons, although I would not cross off warmer months of spring and summer. Perfect as an evening scent.
The staying power is incredibly long at 8+ hours, lasting all day/evening, and the protection is excellent too.
A warm, woody scent, vibrating with exotic energy is a real work of art. Bois Des Iles Parfum Extract is like a walk in the autumnal forest – a peaceful place of tranquillity.
Top Notes:
Gingerbread, Bitter Almond
Mid Notes:
Ylang-Ylang, Rose, Jasmine
Base Notes:
Sandalwood, Vetiver, Vanilla, Tonka Bean
Price & Reviews
You can check the latest pricing, see customer reviews and shop online:

So, Which Les Exclusifs de Chanel Fragrances Smells The Best?
The best smelling Les Exclusifs de Chanel fragrance, in our opinion, is Bois De Iles Parfum Extrait. This reminiscent blend of delightful spices, exotic florals and sultry woods is mysteriously captivating.
Conclusion
Created between 1922 and 2016 each scent is an outstanding work of art, featuring complex blends of rare, precious ingredients. Each scent is inexplicably influenced by the intriguing life journey of Gabrielle Chanel.
The iconic fashion label Chanel is renowned for its exquisite quality, timeless fragrances and elegant outfits. The French fashion and beauty House began its story a century ago, creating the most sophisticated and ever-classic luxury.
Les Exclusifs de Chanel collection is their beautiful interpretation of the journey so enjoyed by Mademoiselle. The places, the textures and the people she met all is put into the fragrant memorabilia of luxury scents.
Before you go, I have put together a review of the most elegant perfumes ranging from timeless classics to modern-day sophistication that I think you will enjoy.

Further Reading
Below are some additional articles from Viora London's blog. We write articles on a number of interesting lifestyle topics such as fragrance, beauty, designer handbags, luxury accessories and more.