Hedione was first engineered back in the 1950s to be a cheaper alternative to jasmine for the perfume industry. Testing confirmed it does its job perfectly, and indeed smells just like jasmine to us humans. Story over? Well, not exactly.
One interesting side-effect was later discovered; hedione seems to activate human pheromone receptors that relate to sexual response. With this in mind, could any of the following 10 best men's fragrances with hedione provide an invisible superpower?
What Is Hedione?
OK, it's time for a quick chemistry lesson. Don't worry, I did pay attention in class, was reasonably proficient with a Bunsen burner, and always wore safety goggles.
Hedione (also know as Methyl dihydrojasmonate) is a fragrance compound that was first synthesised in the late 1950s to be a replacement ingredient for natural jasmine, which is expensive to produce.
Hedione was deemed a success by the fragrance industry and used in several well-known fragrances. It has been observed for some time that we REALLY like this particular note, a bit like catnip for cats perhaps? Let's call it human-nip.
It seems some scientists could not let this irregularity pass them by, and testing of this compound in 2015 found it appears to activate the pheromone receptor (VN1R1) in humans that relate to emotion, in particular sexual response.
What Does Hedione Smell Like?
Hedione has the fresh, smooth, green, warming and slightly citrusy floral notes of jasmine. It also makes an excellent 'connecting' note that allows normally incompatible notes to sit well together.

10 Best Men's Fragrances With Hedione
Considering hedoine is thought to trigger our pheromone receptors, here are 10 of the best men's fragrances with hedione that may give you an invisible superpower.
1. Dior Eau Sauvage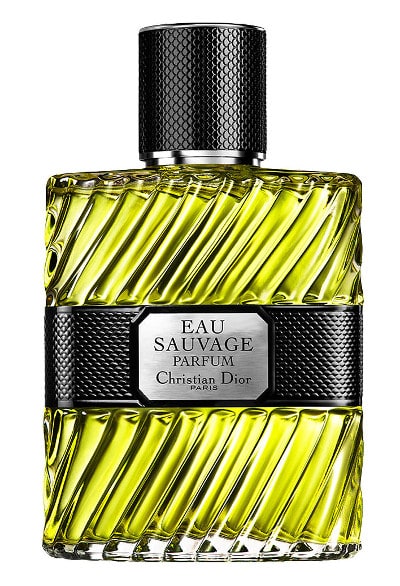 Review
Dior Eau Sauvage Eau de Parfum is the re-release of the stunning original Dior masculine fragrance from back in the 1960s.
Opens with the citrus zing of bergamot combined with smokey undertones. Mid notes of lavender and the jasmine-Esque hedione dance together to perform a floral duet and add complexity.
As dry-down commences, you are greeted with a welcoming warming wave of resinous myrrh and the woody, leathery, slightly smokey notes of vetiver. Once this fragrance gets into gear, it becomes dark, mysterious and complex.
The refreshing bergamot opening and inviting myrrh dry-down make wearing this an experience from start to finish. I save this one for special occasions. If you want to exude class, this is a good option.
Although more suited for cooler weather, it's ideal for any season. Suitable for both cold winters mornings and a summers evening as the temperature begins to decline.
The longevity of this fragrance is incredible at 8+ hours on the skin, longer on clothing.
Overall, an elegant classic male fragrance that is timeless and sophisticated. One of those fragrances to feel incredible with when dressed up, or super smart/casual.
Top Notes:
Bergamot, Citron, Petitgrain
Mid Notes:
Vetiver, Lavender, Hedione
Base Notes:
Myrrh, Patchouli, Oakmoss
Price & Reviews
You can check the latest pricing, see customer reviews and shop online at John Lewis:
2. HERMÈS Voyage d'Hermès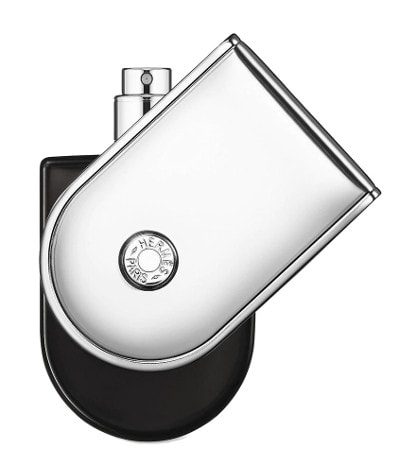 Review
HERMÈS Voyage d'Hermès Parfum is a sumptuously woody floral arrangement that demands your attention. One of those incredible fragrances that you will recall the day you first encountered its unmistakable aroma.
Opens with wonderfully fresh lemon and spicy/slightly nutty cardamom notes. After 5 minutes or so, these initial notes make way for the sweet/citrus/green jasmine notes of hedione combined with stunning rose.
Dry-down adds a woody/spicy base that lasts incredibly well. Although this is classed as unisex, this leans towards being more of a masculine fragrance, but not aggressive alpha-male overpowering.
For me, the combination of citrus and cardamom with subtle floral notes scream spring/summer, so definitely one to add to your summer fragrance collection.
Voyage is a very long-lasting fragrance at 7+ hours on the skin, and of course, longer on clothing. The citrus notes hold up really well, which was unexpected.
In summary, a rich and complex fragrance that will get you noticed for all the right reasons.
Top Notes:
Cardamom, Lemon, Spice
Mid Notes:
Rose, Green, Hedione
Base Notes:
Musk, Amber, Woody Notes
Price & Reviews
You can check the latest pricing, see customer reviews and shop online at John Lewis:
3. Boadicea The Victorious Ardent
Review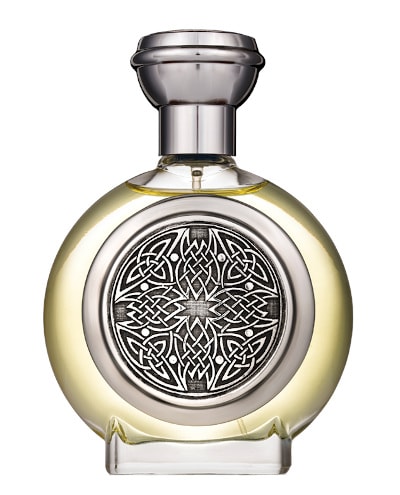 Ardent is an exotic, sensual, and pulse-raising oriental fragrance from Boadicea the Victorious. Unlike most rose-dominated perfumes, this is not an ultra-feminine fragrance at all. It is dark, mysterious and downright sexy.
Ardent opens with a complex and nicely balanced combination of spice from coriander and saffron. Mid notes begin with the sensual jasmine-like receptor-arousing hedione, rose, and sweet beeswax begins to appear.
Dry-down is relatively quick to release magnificent oud and amber. If you have yet to invest in a rose and hedione dominated unisex fragrance, then look no further.
Ardent is perfect for both day and nightwear, although perhaps more suited to the colder weather seasons of autumn/winter.
Ardent is a long-lasting fragrance of 7+ hours on the skin. The rose and hedione last very well indeed, providing fantastic florals amongst the sultry spices and wood.
Presented in an overwhelmingly cool clear glass bottle with sliver pewter features.
Overall, Boadicea the Victorious Ardent Eau de Parfum is a must for anyone seeking a dark and sexy scent that grabs attention.
Top Notes:
Saffron, Coriander, Rose
Mid Notes:
Rose absolute, Hedione, Beeswax
Base Notes:
Agarwood (oud), Benzoin, Amber
Price & Reviews
You can check the latest pricing, see customer reviews and shop online at Selfridges:
4. L'Eau Majeure d'Issey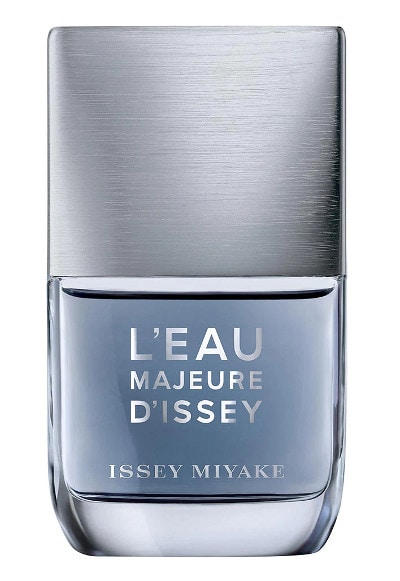 Review
L'Eau Majeure d'Issey by Issey Miyake is a strikingly fresh marine fragrance with a twist of creamy spices and woods.
L'Eau Majeure opens with energetic notes citrus of grapefruit and bergamot combined with fresh mint. After a couple of minutes, a mix of salty notes and the sweet/green/floral of jasmine scent-double hedione make their way to the surface with great effect. Upon dry-down, woody notes blend with velvety cashmeran and tonka.
Indeed a spring/summer daytime fragrance. One to wear on those casual days when you are hanging-loose.
Lasts incredibly well for a marine fragrance, 7+ hours is no problem. The salty mid and creamy tonka bean and cashmeran base make a fantastic combination.
Comes presented in a cleaned lined bottle with grey/brushed metal looking lid and the slightly blue fragrance proudly displayed
L'Eau Majeure d'Issey is a modern, fresh-smelling marine masculine fragrance that is both sophisticated and highly addictive. Think private yacht, not rubber dingy.
Top Notes:
Bergamot, Grapefruit, Mint
Mid Notes:
Sea Notes, Hedione, Tea
Base Notes:
Cashmeran, Cedar, Amberwood, Tonka
Price & Reviews
You can check the latest pricing, see customer reviews and shop online at John Lewis:
5. Lacoste L'Homme Intense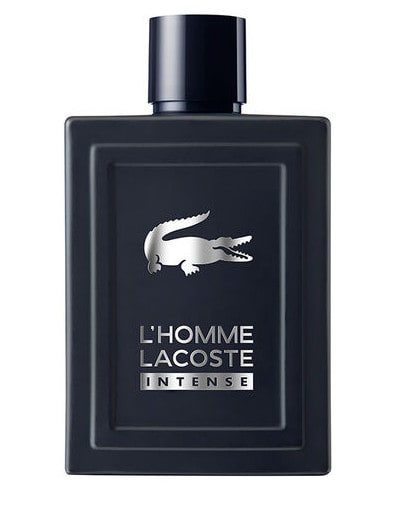 Review
My goodness, this is the undercover secret agent of the fragrance world. So easy to overlook with its discreet bottle and non-high end brand, but this is a crowd-pleaser.
The opening is impressive, with sweet quince, sour rhubarb and numerous citrus notes all rolled into one. Soon you are introduced to the clean/green/sweet/floral buzz of jasmine fused hedione, juicy pineapple, ginger and pepper. The incredible base notes do not disappoint, as the vanilla and warm amber hold things up nicely.
You need to take this fragrance out for a test-drive on a few occasions to truly appreciate its class and sophistication. If you don't get at least one compliment, then I will eat my hat.
As for when to wear, this fragrance is suitable for any season, day or night.
The sample I tried lasted a good 4+ hours before it turned into a skin-scent. At this price point, it's more than acceptable.
Comes presented in a discreet, almost unnoticeable bottle that is nothing to write home about. However, the fragrance inside is fantastic.
In summary, a terrific male fragrance for all year round. It's not even expensive, so just blind buy a bottle for heaven's sake.
Top Notes:
Rhubarb, Quince, Mandarin, Lemon, Grapefruit
Mid Notes:
Ginger, Black Pepper, Jasmine, Almond, Hedione, Pineapple
Base Notes:
Vetiver, Cedar, Musk, Amber, Vanilla, Woody
Price & Reviews
You can check the latest pricing, see customer reviews and shop online at Boots:
6. Emporio Armani Diamonds Club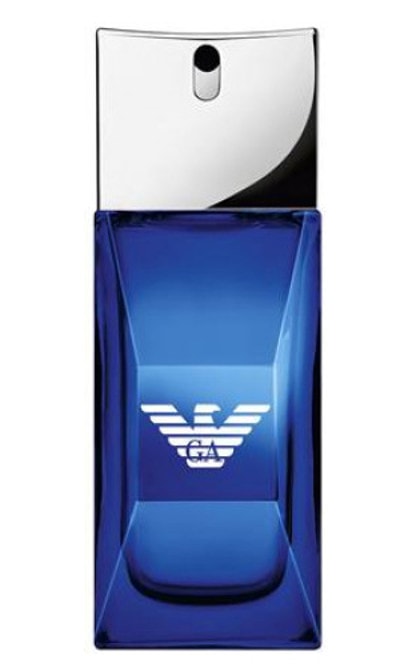 Review
Armani describes this fragrance as being for the seductive man of free-spirit. Well, I tend to agree as this is one heck of a sexy scent.
The opening is ultra fresh water notes with the spicy/sweet aromatics of cardamom. Heady lavender and the sweet (yet slightly green) scent of hedione adds something unique to the heart of this fragrance.
The dry down is bitter floral notes of geranium, which I feel is this fragrances masterstroke. It's incredible what Armani have pulled off with such few notes.
As for when to wear, the floral notes of lavender and hedione make this a spring/summer fragrance, perhaps creeping into autumn due to the spicy notes of cardamom. I feel this is more of a full-on night-time going out kind of scent rather than chilled Sunday brunch.
Lasts 5+ hours which considering the small number of notes and the fact that there are no real base notes to speak about is pretty impressive.
This fragrance comes presented in a quality looking tall, straight-lined pale blue bottle with a silver cap that easily releases the fragrance.
Overall, an attention-grabbing fresh, spicy and slightly floral masculine fragrance that is perfect for club nights or date nights.
Top Notes:
Cardamom
Mid Notes:
Lavender, Water Notes, Hedione
Base Notes:
Geranium
Price & Reviews
You can check the latest pricing, see customer reviews and shop online at Amazon:
7. Escentric 05 Escentric Molecules
Review
Geza Schoen wanted to create a fragrance to evoke the feeling of summer by the sea in the Mediterranean without using the standard marine notes. He has pulled this off with great effect with the compliment generating Escentric 05.
Escentric 05 begins with a bright citrus opening of bergamot, orange and juniper with the herbal vibe of rosemary and basil. However, it's the fantastic mid florals that create all the action. Hedione brings jasmine notes, together with iris and freesia. At dry-down, rich, woody, spicy and slightly fruity cashmeran makes a sophisticated base that holds up nicely. Also I could detect a pine tree smell.
This is a spring/summer only fragrance due to the florals and citrus. It's one of those fragrances where you cannot help but smell yourself. Always a good sign.
Longevity was a quite respectable 5+ hours on the skin.
Comes presented in a modern and stylish clear bottle with abstract art looking bottle decor.
In summary, a sexy masculine spring/summer fragrance that is perfect for beach days and chilled days.
Top Notes:
Bergamot, Orange, Fig, Juniper, Basil Rosemary
Mid Notes:
Cypress, Hedione, Freesia, iris, Jasmine
Base Notes:
Cashmeran, Labdanum, Musk, Ambroxan, Iso E Super
Price & Reviews
You can check the latest pricing, see customer reviews and shop online at Harvey Nichols:
8. Savoy Steam Penhaligon's
Review
If you are searching for a fragrance that is entirely different to anything else you have ever tried, cue Penhaligon's Savoy Steam.
It is the sort of exotic and elegant fragrance that I can imagine Hercule Poirot would wear while he sits on the Orient Express twiddling his moustache. I felt extremely suave wearing it, in a classy in a yesteryear kind of way.
Savoy Steam opens gently with citrus, plus rosemary and pink pepper are present. Mid notes of rose, hedione and geranium soon come into play and provide a wonderful sense of sophistication. Upon dry down, incense and a light musk grace you with their presence. This fragrance also has a slight twang of creamy vanilla.
A light spring/summer fragrance that's perfect for sedate things like picnics, a stroll in the park, plus not forgetting to lay your coat over a puddle so a lady can walk over it.
This is a light fragrance hence will only last you 3 – 4 hours, but it's worth the aggravation of having to re-apply.
I love the classic style of the bottle, it's so classy and exactly how a fragrance of this calibre needs to be presented.
Savoy Steam is an elegant, clean, and highly sophisticated male fragrance that grabs attention by using a reverse logic trick by being so classy and discreet you need to lean in for closer exposure.
Top Notes:
Pink Pepper, Rosemary, citrus
Mid Notes:
Rose, Geranium, Hedione, Cardamom
Base Notes:
Incense, Vanilla, Musk
Price & Reviews
You can check the latest pricing, see customer reviews and shop online at Penhaligons:
10. Montabaco Ormonde Jayne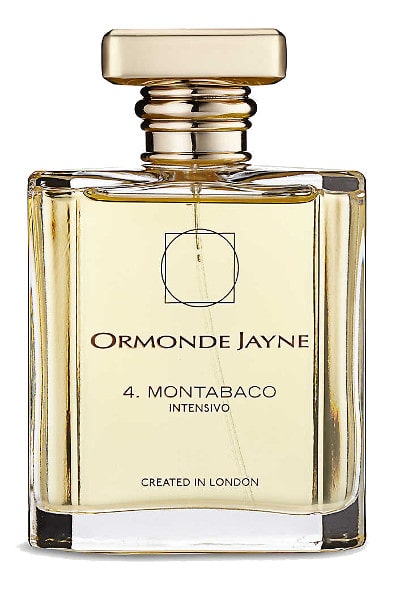 Review
Montabaco Ormonde Jayne is a seductively dark and mysterious fragrance that captures the spirit of Latin America. With notes like tobacco, hedione and cardamom, you know you are in for a wild ride.
Montabaco opens with fresh citrus notes of orange and bergamot, and soon introduces a more sultry scent of juniper, cardamom and sage.
The mid notes are floral heavy, with candy-like magnolia, sensual hedione, and summer rose being the major players here. Slightly green in the mid also. The dry-down is a delightfully sexy mix of fresh tobacco, suede, and woody notes.
As for when to wear, this is a terrific all-rounder so suitable for any month and any time of day. Perhaps one to dress up a bit for. Fantastic longevity at 8+ hours, really has some staying power and holds its notes together well.
Montabaco comes presented in a classic shaped bottle with clean, smooth edges and gold coloured cap. Very classy indeed.
This is a fantastic any-time fragrance and a terrific investment for your collection. Has so many exciting layers to it, especially the base makes this one incredible scent.
Top Notes:
Air note, Orange Absolute, Bergamot, Juniper, Clary Sage, Cardamom
Mid Notes:
Magnolia, Hedione, Rose, Violet, Tea Notes
Base Notes:
add notes Tobacco Leaf, Iso E, Suede, Sandalwood, Moss, Tonka
Price & Reviews
You can check the latest pricing, see customer reviews and shop online at selfridges:

Conclusion
Hedione is an interesting synthetic fragrance note that has a fascinating history. There are not many perfume notes thought to stimulate our pheromone receptors, so selecting your next fragrance from any of these that made it onto our 10 best men's fragrances with hedione article may have additional benefits other than just smelling fantastic!
Before you go, I have put together a review of the most elegant perfumes ranging from timeless classics to modern day sophistication that I think you will enjoy.

Further Reading
Below are some additional articles from Viora London's blog. We write articles on a number of interesting lifestyle topics such as fragrance, beauty, designer handbags, luxury accessories and more.