Famed for its impressive range of superior watches and elegant writing equipment, Montblanc has long been synonymous with style and class. The best Montblanc perfumes for women are no different, with a variety of scents that make wearers feel exquisitely refined with something special for every occasion.
With a history of creating elegant gifts that span over a hundred years, Montblanc is world-famous for its luxurious goods. Many of their creations capture the adventurous spirit of the mountains, adding an air of sophistication and daring to the Montblanc fragrance collection.

Best Montblanc Perfumes For Women
With an exciting mix of heady notes and a splash of daring, the best Montblanc perfumes for women are both extravagant and luxurious. Here are 7 enticing feminine fragrances to consider.
1. Lady Emblem Eau de Parfum
Review
Launched in 205, Lady Emblem is a feminine version of the richly sophisticated Emblem scent created for men a year earlier. Both fragrances are fresh and fruity with a deep undertone of warm chypre. The combination of woody aromas with floral hues and fruity zest makes this a unique and enticing perfume for any occasion.
Pink rose, and peach creates a sweet introduction. It is soon joined by red currant and marmalade for a delicately complex and moreish scent. These light and pretty top notes are followed by a cheerful woody heart of patchouli, palisander rosewood, and elegant sandalwood.
The base takes us back to a youthful fruitfulness, with bright raspberry combined with alluring musk. The rounder patchouli and musk scents come to the fore after dry-down, giving this fresh and zesty fragrance a deeper base.
Lady Emblem is a perfect daytime companion and adds a welcome dash of freshness, especially during lighter seasons. It goes particularly well with spring and fall when its mellow fruitfulness blends well with the bloom of new growth and the changing colours of the season.
A clean and invigorating scent, it is versatile enough to brighten up a day in the office and add a charming air to a summer lunch with friends. It lasts reasonably well with a longevity of at least 4 hours, and it has a sufficiently good sillage, leaving a trail of youthfulness and energy.
Overall, Lady Emblem gives off a classy youthfulness that is quaint and charming, combining sweet fruit and florals with deeper woody scents for a lingering grace.
Top Notes:
Pink Rose, Marmalade, Red Currant, Peach
Mid Notes:
Palisander Rosewood, Patchouli, Sandalwood
Base Notes:
Raspberry, Musk
Price & Reviews
You can check the latest pricing, see customer reviews and shop online at Montblanc:
2. Lady Emblem Elixir Eau de Parfum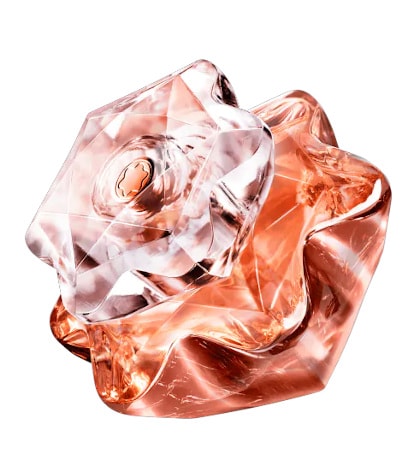 Review
Lady Emblem Elixir is a newer and bolder version of Lady Emblem and first came out in 2016. It plays once more with the scent of sweet rose, only this time it adds some more daring dashes of pepper and citrus that demands attention.
At the outset, top notes of zesty mandarin orange and sweet litchi are underpinned by gloriously dark pepper provide an arresting effect. An extra burst of citrus develops with the heart note of orange blossom, closely followed with sweet floral scents of damask rose, iris and jasmine.
The combination of floral and fruity aromas creates an intensely feminine effect, and this is augmented by base notes of gorgeous vanilla. In the dry down, Lady Emblem Elixir carries stronger woody fragrances of patchouli and sandalwood which take the sweet floral scent in a new direction, keeping us on our toes throughout.
As one might expect from a fragrance called an "elixir", the sillage is quite strong, leaving behind a soft but powerful array of floral, fruit and woody scents. The longevity of 5+ hours is also reasonable for a perfume with such a strong focus on top notes, and the fragrance of vanilla works can complement the other notes without overpowering.
Where Lady Emblem Elixir is a vibrant scent for spring and summer, Lady Emblem Elixir is the perfect partner to autumnal days when the air is crisp. It can be both a daytime perfume and one suited to evenings out as it is at once floaty and gentle with more powerful depth.
This perfume makes a perfect gift for a special occasion or an indulgent treat for oneself. Anyone who likes Lady Emblem will love the extra depth of sweet rose and zealous citrus in the Elixir.
Top Notes:
Litchi, Pepper, Mandarin Orange
Mid Notes:
Damask Rose, iris, Orange Blossom, Jasmine
Base Notes:
Vanilla, Patchouli, Sandalwood
Price & Reviews
You can check the latest pricing, see customer reviews and shop online at Montblanc:
3. Signature Eau de Parfum
Review
Signature by Montblanc is a brand new fragrance that only made its first appearance in 2020. Guillaume Flavigny and Nathalie Gracia-Cetto have created an exquisite combination of intoxicating florals with a sensual, oriental blast.
To begin with, Signature Eau de Parfum first delights our senses with a light and zesty flush of clementine. This is swiftly followed by heart notes of deep florals with sweet-smelling magnolia and airy wisps of delicate ylang-ylang and peony.
The floral scent is intensified by rich base notes of vanilla and benzoin with a powdery hint of white musk. The impact is refreshingly ethereal, and the happy floral fragrance continues strongly after dry-down.
The sillage of Signature Eau de Parfum is particularly impressive, with a playful trail of flowery youthfulness leaving behind an impression of enveloping elegance. Its longevity is excellent, easily lasting for 5 hours or more.
A perfume of many contrasts. It can be worn all year round and is particularly useful in the daytime where the combination of playful oriental flowers and warming vanilla creates an interesting contradiction.
Overall, this is a delicious, soft and blissful fragrance that makes a great addition to any collection.
Top Notes:
Clementine
Mid Notes:
Magnolia, Ylang-Ylang, Peony
Base Notes:
Vanilla, White Musk, Benzoin
Price & Reviews
You can check the latest pricing, see customer reviews and shop online at Montblanc:
4. Lady Emblem L'Eau Montblanc
Review
Since it arrived in 2017, Lady Emblem L'Eau Montblanc has delighted perfume lovers with its fruity and floral notes. Created by Sonia Constant, it is a light-hearted mixture of fruity top notes with a richly textured base.
Top notes include fresh litchi, white peach, and a refreshingly citrus blast of orange blossom and bergamot. The initial flush of fruit makes way for intense floral heart notes with peony, lily of the valley, magnolia, rose, jasmine and a crispy scent of pear.
This deeply romantic sweetness is underpinned by base notes of musk and cedar that add a sensuous hit to Iso E Super, cashmeran, and resins. The dry, woody fragrance of the base notes gives depth and a hint of spice that takes the overall fragrance to a new level.
In terms of longevity, Lady Emblem L'Eau is remarkably long-lasting with an impressive sillage that leaves behind a clean, fresh, and somewhat mysterious trail.
A perfect daytime perfume as it creates a clean and elegant impression, giving the wearer an air of solidity mixed with a curious romantic charm. It is an ideal perfume for warm sunny days and dreamy picnics.
Overall, Lady Emblem L'Eau is youthful and frivolous with a deeper air of classy elegance that suits both young and old.
Top Notes:
Litchi, White Peach, Green Mandarin, Orange, Bergamot
Mid Notes:
Rose, Magnolia, Pear, Peony, Lily-of-the-Valley, Jasmine
Base Notes:
Musk, Cedar, Benzoin
Price & Reviews
You can check the latest pricing, see customer reviews and shop online at Montblanc:
5. Femme Individuelle Eau de Toilette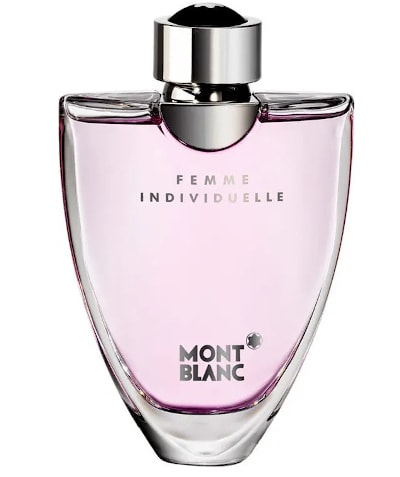 Review
This perfume takes Montblanc fragrances in a slightly new direction, with the emphasis on soft spices and oriental florals. It had stood the test of time well and is as popular today as when first launched in 2004. Designed by Michel Almairac, it is a heady combination of sweet fruit and gourmand spices that creates a unique and inviting scent.
Top notes include spicy bay leaf, red pepper, and delicious red currant for a fresh but slightly sensual edge. This profoundly evocative first impression gives way to floral heart notes of lotus and rose to add a layer of feminine charm and mystery.
After dry-down, the lingering combination of patchouli, amber, vanilla, and musk creates an enveloping warmth that is surprisingly long-lasting.
It has a moderate to good sillage with a combination of sophisticated fruits and a sense of chic elegance, and it lasts very well for at least five hours or longer.
Its slightly complex, contrasting notes make it a perfume just as suitable for evening wear as daytime and can be worn all year round. Its subtle warmth makes it ideal for chilly evening strolls or a romantic evening meal. In contrast, its whimsical fruitiness makes it light enough to wear in the office or an afternoon with friends.
It is easy to see why this perfume continues to excite, as few fragrances are as versatile. The delicate combination of warm amber and romantic florals makes for an exciting contrast that creates an air of powerful femininity shrouded in tender romance.
Top Notes:
Pink Pepper, Red Currant, Bay Leaf
Mid Notes:
Rose, Lotus
Base Notes:
Patchouli, Vanilla, Amber, Musk
Price & Reviews
You can check the latest pricing, see customer reviews and shop online at Fragrancex:
6. Presence D'une Femme Eau de Toilette
Review
Another successful fragrance from Michel Almairac, Presence d'une Femme has developed a loyal fanbase since it arrived in 2002.
Top notes are a simple combination of warm mandarin orange and pepper which is at once sensuous and fresh. This is complemented by deep floral heart notes of cyclamen and orchid that adds an air of gentle romance.
The base notes are a complex combination of woody fragrances including sandalwood, Brazilian rosewood, patchouli, mahogany and vanilla. After dry-down, the vanilla fragrance becomes warmer.
Opening with a blast of fruity romance that gives way to vanilla and sandalwood develop quite powerfully to leave an attractive scent that is warm without being overwhelmingly sweet. The sillage, too, is impressive as wispy trails of oriental vanilla leave behind an aura of sheer class.
Due to its warmth, this is an ideal perfume for colder months and has enough different layers to be just as appropriate for daytime professional wear or the most elegant evening soiree. It is slightly romantic with a hint of sensuality.
Overall, this is a delightful and timeless fragrance that suits all age groups. It possesses unique combinations, and lingering warmth makes it an ideal signature scent that can be worn all day and night.
Top Notes:
Pepper, Mandarin Orange
Mid Notes:
Orchid, Cyclamen
Base Notes:
Brazilian Rosewood, Sandalwood, Mahogany, Patchouli, Vanilla Flower
Price & Reviews
You can check the latest pricing, see customer reviews and shop online at Fragrancex:
7. Femme De Montblanc
Review
Launched in 2006, this gourmand fragrance has gained in popularity over recent years. It is an intense and modern perfume that exudes cool sophistication with layers of warmth and romance.
Top notes are a surprisingly strong harmony of lusty pineapple with delicious cinnamon, cardamom, and fresh bergamot. The combination is a heady mixture of citrus freshness and robust warmth that you can almost taste.
Middle notes develop sweet florals with Turkish rose, heliotrope and jasmine with orange blossom creating a feeling as though your senses of taste and smell are simultaneously caressed.
After dry-down, the base notes continue this double hit of flavour and fragrance with several strong contenders including dark chocolate, amber, musk, patchouli and vetiver. Above this powerful and intense base, gentle notes of peach and raspberry seem to maintain a fruity flourish.
If you are looking for a perfume that lasts well, this certainly fits the bill. The intoxicating combination of different notes means the fragrance almost does an about-turn. Different scents come to the fore as the perfume develops, almost as though you have added an extra spray of something different.
This change in aroma means the scent doesn't fade into the background, and wearers are continually rewarded with a fresh blast of fragrance as the day goes on. It also leaves a heady sillage of chocolate, ambery warmth and longevity of 6+ hours.
Due to the contrasting notes, this perfume is light and sweet enough to wear in the daytime but also makes an elegant evening fragrance due to its delicious combination of oriental notes and musk. It is an elegant and enigmatic scent with enough sweetness to be tantalisingly feminine and provocative at the same time.
It is easy to see why this perfume excites perfume lovers of all ages. A complex mixture of gourmand flavours and intense floral sweetness demands attention and oozes class.
Top Notes:
Cinnamon, Cardamom, Pineapple, Bergamot
Mid Notes:
Heliotrope, Turkish Rose, Orange Blossom, Jasmine
Base Notes:
Chocolate, Patchouli, Amber, Raspberry, Musk
Price & Reviews
You can check the latest pricing, see customer reviews and shop online at Fragrancex:

Conclusion
The best Montblanc perfumes for women have something for all tastes and ages. There is something for everything from fresh, youthful and vibrant fragrances to complex combinations of heady and evocative notes.
They are versatile enough to create an air of sophistication in the daytime or an aura of mystery and elegance for romantic evenings out. The Montblanc brand provides unwavering elegance, stylish refinement and a sense of casual finesse.
Before you go, I have put together a review of the most elegant perfumes ranging from timeless classics to modern-day sophistication that I think you will enjoy. I also recommend you check out my review of the 10 best Molton Brown fragrances.

Further Reading
Below are some additional articles from Viora London's blog. We write articles on a number of interesting lifestyle topics such as fragrance, beauty, designer handbags, luxury accessories and more.
Ingrid is an avid perfume collector, fragrance writer & reviewer, fragrance Youtuber and Friend member of the British Society of Perfumers who has worked in the fashion industry for over 30 years.