Inspired by strong, victorious, influential women, the best Olympéa perfumes accentuate feminine strength, self-confidence and seductiveness. From mythical Greek goddesses to the modern-day Cleopatras, the Olympéa collection evokes inner sensuality and desire.
The Paco Rabanne Olympéa perfume collection began its journey in 2015 with the release of the bold and intoxicating Olympéa Eau de Parfum. Several enticing flankers have followed that also command attention.

5 Paco Rabanne Olympea Perfumes Reviewed
Chic and contemporary in every way, these 5 best Olympéa perfumes reviewed provide an opulent twist on the traditional oriental influence.
1. Olympéa Eau de Parfum
Review
The Oriental Floral Olympéa Eau de Parfum is the first scent from the Olympéa perfume range. Crafted by noses Loc Dong, Anne Flipo and Dominique Ropion, the fragrance was launched in August 2015.
This beautifully feminine Olympéa Eau de Parfum, inspired by the Greek goddess, is designed for an energetic, charismatic and full of self-confidence modern-day Cleopatra.
This vibrant fragrance opens with dazzling, fresh aromas of green tangerine, water jasmine and ginger flower. The initial fruity florals soon melt into a buttery heart of salted vanilla.
On the dry-down, a subtle, warm, creamy base of cashmere and sandalwood is complemented by the earthy sweetness of ambergris.
Although intense at the beginning, Olympéa Eau de Parfum is not overpowering at all. Perfectly balanced it has a subtle, moderate sillage. Lasting good 5-6 hours, Olympéa Eau de Parfum is suitable for any time of year and is good for either day or evening wear.
This fresh oriental scent comes presented inside the stunning, soft rose gold coloured glass bottle decorated in laurel leave crown and transparent topper. Simple yet glorious, it represents a symbol of victory, mysterious and full of heavenly powers.
The harmonious blend of beautifully proportioned contrasting notes makes Olympéa Eau de Parfum stand out. A revelation in a bottle – irresistible, chic and unique in every way.
Top Notes:
Tangerine, Jasmine, Ginger Flower
Mid Notes:
Salted Vanilla
Base Notes:
Ambergris, Cashmere Wood, Sandalwood
Price & Reviews
You can check the latest pricing, see customer reviews and shop online at Selfridges:
2. Olympéa Legend Eau de Parfum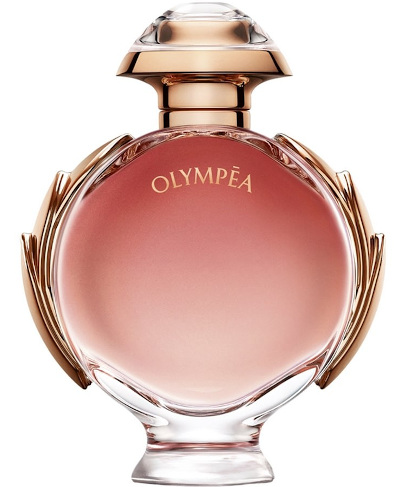 Review
Created by the perfumer Loc Dong, the 2019 release of Olympéa Legend Eau de Parfum is another incredible fragrance from Paco Rabanne. This sweet oriental scent revolves around the delicious note of plum and salted vanilla.
Inspired by heroic adventures of the Olympéa goddess, the fragrance is dedicated to the fearless and positive woman. Confident in her own skin goddess, who knows her strengths and is proud of who she is.
Head notes of juicy plum, sea salt and apricot open this fragrance with a touch of bittersweet apricot. Floral heart notes create lift and brightness.
Once this fragrance settles is when vanilla steps in, accompanied by the warming, earthy notes of tonka bean and amber. The result is a stunningly beautiful, harmonious, sweet vanilla-plum scent, that is glimmering with captivating notes.
Suitable for the fresher time of year this is more of a daytime fragrance. Lasting long 6-8 hours, Olympéa Legend Eau de Parfum also has an incredibly strong projection.
This flirtatious, addictive perfume nestles inside the radiant pink round bottle, embraced in a rose gold laurel leaf crown. Matching colour cap, proudly sat on top of the flacon, add a finishing touch, giving it a glamorous look.
Become a queen of the zenith and unleash the powers from within with this invigorating elixir of opulent seduction.
Top Notes:
Sea Salt, Plum, Apricot
Mid Notes:
Ginger Floral, Floral Notes
Base Notes:
Vanilla, Amber, Tonka Bean
Price & Reviews
You can check the latest pricing, see customer reviews and shop online at Harrods:
3. Olympéa Aqua Eau de Parfum
Review
Olympéa Aqua Eau de Parfum by Paco Rabanne is a seductive scent of radiant femininity. Blended by well-known noses Fanny Bal, Anne Flipo, Dominique Ropion and Loc Dong, the perfume first saw daylight in early 2016.
This magnificent aquatic fragrance is inspired by the competitive spirit of athletics and the taste of victory. It delivers a fresh, radiant aroma entwined with gourmet accords.
Olympéa Aqua opens with refreshingly zesty notes of bergamot, orange and grapefruit. A discreet heart of sweet jasmine and orange blossom are balanced by the potent accord of the ginger flower.
Once settled, gourmet notes of salty-vanilla rise to take centre-stage. Subtle woody, earthy notes adds an exotic twist.
Lasting on the skin for good 5-6 hours Olympéa Aqua Eau de Parfum delivers tremendous projection and sillage although way from overpowering. Perfect for spring, summer days, this radiant exotic concoction fills the air with an unforgettable scent.
This gorgeous and incredibly feminine perfume comes presented in the most simple, soft pale pink colour bottle. Almost translucent, airy flacon gives an impression of lightness.
It will evoke your inner water-goddess, surrounding you with a potent trail of seductive aromas. What's not to like!
Top Notes:
Calamondin, Bergamot, Petitgrain, Grapefruit, Orange
Mid Notes:
Lemon Blossom, Ginger Flower, Jasmine, Peach, Rose
Base Notes:
Salty Vanilla, Kashmir Wood, Ambergris, Benzoin, Sandalwood
Price & Reviews
You can check the latest pricing, see customer reviews and shop online at Harvey Nichols:
4. Olympéa Intense Eau de Parfum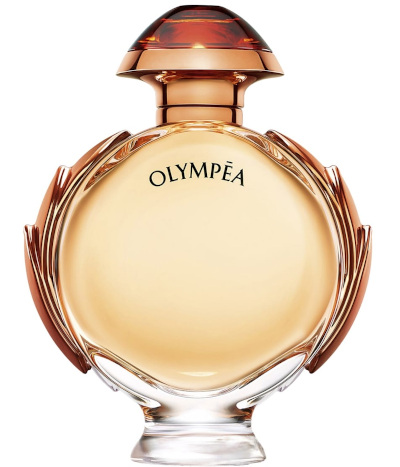 Review
Olympéa Intense Eau de Parfum is an oriental floral fragrance launched in 2016. This majestic scent is an ode to a modern days muse, the woman that has it all – the feminine confidence and seductive powers, making all eyes to turn towards her.
This incredibly captivating blend opens with the sparkly floral freshness of grapefruit flower mixed with a more sweet, floral note of orange blossom. A discreet nip of white pepper adds spice.
Salted-vanilla soon arrives to soften the initial harsh edges. A sensual base of the warming cedarwood, earthy ambergris and musky aroma of white amber unite the fragrance add a sense of intrigue.
Olympéa Intense Eau de Parfum is a very potent, long-lasting fragrance. Comforting and warming it makes an ideal scent for colder autumn-winter months. The potent blend of spices and fruits create a heavy sillage and 6-8 hours of wear.
The signature Paco Rabonee Olympéa flacon in soft bronze colour, decorated with laurel wreath features a gold printing to the front and is topped with a mahogany-coloured cap.
Utterly divine, this fragrance is a true elixir of gods. Bold and glorious, it will captivate with its magnificent aromas, full of desire and passion.
Top Notes:
Orange Blossom, White Pepper
Mid Notes:
Salty Vanilla
Base Notes:
Amber, Cedarwood
Price & Reviews
You can check the latest pricing, see customer reviews and shop online at Harvey Nichols:
5. Olympéa Blossom Eau de Parfum
Review
The latest addition to the Olympéa fragrance family is Olympéa Blossom Eau de Parfum, launched by Paco Rabanne in 2021. This attention-seeling fruity-floral scent blends rose with lush fruits and salty-vanilla.
This fragrance opens with the intoxicating scent of exotic rose liberally dusted with spicy pink pepper. A fruity heart of blackcurrant and pear sorbet add welcome sweetness.
The dry-down unleashes salted vanilla, bringing in a sensual salty yet sweet experience that melts into the velvety aroma of cashmere wood.
Olympéa Blossom has a strong sillage and is perfect for fresher seasons. Suitable more for daytime wear the perfume has a longevity of 4 hours, which can be prolonged by applying fragrance to your hair and clothes.
The signature Olympéa flacon is presented in pink and embraced in the arms of golden laurel leaves and finished with a deep black cap.
Utterly unique, the captivating fragrance is perfect in every way. A beautifully crafted feminine perfume that will not go unnoticed.
Top Notes:
Pink Pepper, Damask Rose
Mid Notes:
Pear Sorbet, Blackcurrant
Base Notes:
Vanilla, Cashmere wood, Salt
Price & Reviews
You can check the latest pricing, see customer reviews and shop online at Paco Rabanne:

Conclusion
From high-fashion to groundbreaking perfumes, the spontaneity of Paco Rabanne creations provoke intense emotion and leave a lasting impression. The best Olympéa perfumes offer striking bottles filled with opulent, full of character, aromatic fragrances.
The captivating Olympéa collection will no doubt continue to delight. You may want to check out my Olympéa Intense vs Legend head-to-head review.
An architect by speciality, Paco Rabanne was designing jewellery for other fashion houses before he laid his hand on clothing design. His eclectic, contemporary styles brought almost overnight success. In 1969 the house launched their first fragrance, the now legendary Paco Rabanne perfume, Calandre.
Before you go, I have put together a review of the most elegant perfumes ranging from timeless classics to modern-day sophistication that I think you will enjoy

Further Reading
Below are some additional articles from Viora London's blog. We write articles on a number of interesting lifestyle topics such as fragrance, beauty, luxury accessories and more.