Paco Rabanne was founded in Paris in 1966 by Spanish-born designer Francisco 'Paco' Rabaneda Cuervo. The brand is well-known for its unique fragrance, blending classic luxury with a modern twist.
The best Paco Rabanne perfumes are often bold, complex and attention-seeking, ideal for a night out, while others are far simpler for when a chilled vibe is called for.

Best Paco Rabanne Perfumes
The best Paco Rabanne perfumes for women range from the rich, sensual and complex to the incredibly simple and comforting. Here are 8 to enjoy.
1. Fame Eau De Parfum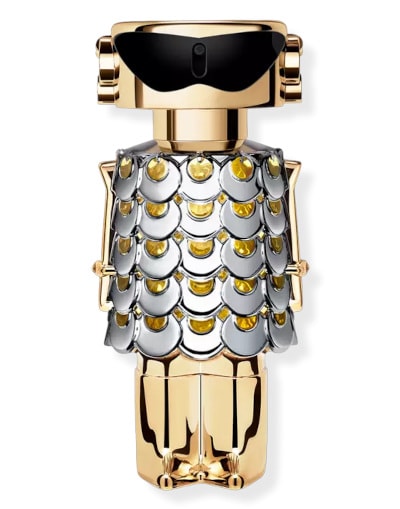 Review
Fame Eau de Parfum is a wonderfully complex and rich fragrance with tropical fruity overtones. Launched in 2022, it's evocative, delicious and presented in a fabulous bottle!
The top notes of Fame are mango and bergamot, which make the opening bright and juicy until a smoky heart of jasmine and incense evolves.
You will discover sandalwood and vanilla at the base, which lends the fragrance a complex, sweet foundation that's similar to Hugo Boss Alive.
Top Notes:
Mango, Bergamot
Mid Notes:
Jasmine Incense
Base Notes:
Sandalwood, Vanilla
Seasons & Longevity
As a predominantly fruity scent, Fame Eau de Parfum is perfect for daytime and early-evening wear from spring to autumn and works for any occasion.
I found the performance pretty good, with this fragrance lasting 5+ hours, creating an arms-length scent bubble.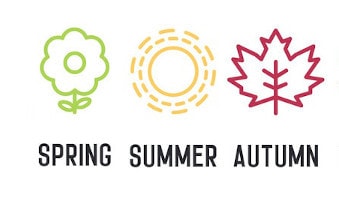 2. Lady Million Fabulous Intense Eau de Parfum
Review
Lady Million Fabulous was launched in 2021 and is a well-balanced vanilla/white floral scent that's for night owls and party girls.
An opening of creamy yet slightly zesty tuberose dazzles from this very start and is further lifted by an exotic feminine heart of buttery ylang-ylang and aldehydes.
At the base, you will discover rich, sweet vanilla with hints of almondy tonka bean. This fragrance settled to a head-turning vanilla/white floral combo.
Related Read: 6 Best Lady Million Perfumes
Top Notes:
Tuberose
Mid Notes:
Ylang-Ylang
Base Notes:
Vanilla
Seasons & Longevity
I recommend this as an evening fragrance for when you are dressed to impress. Wear it throughout autumn, winter and spring.
This fragrance will last you 6+ hours with excellent projection and a long sillage trail.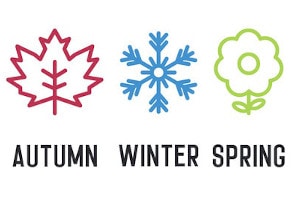 3. Blossom Me Eau de Parfum
Review
Blended by Marie Salamagne and launched in 2021, Blossom Me is a delicate blend of white florals and bright citrus.
Green mandarin is the first to delight with its bitter-sweet green zestiness that melts beautifully into a heart of orange blossom and assorted herbs.
At the base of Blossom Me, you will detect grassy vetiver and woody notes. The result is a complex, evolving scent that will get you noticed.
Top Notes:
Pink Pepper, Damask Rose
Mid Notes:
Pear, Blackcurrant, Sorbet
Base Notes:
Salt, Vanilla, Patchouli, Cashmeran
Seasons & Longevity
Though versatile, this is a summer scent at heart; wear it on hot days to feel its refreshing power. I recommend this is perfect for any casual daytime occasion, and it's office safe.
Not a super performer, although Blossom Me will last 4+ hours with moderate projection and reasonable sillage.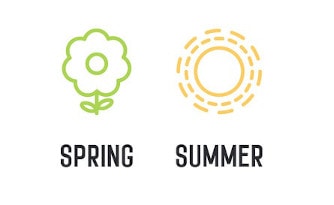 4. Calandre Eau de Toilette
Review
Now it's time to go old school with Calandre Eau de Toilette. Fresh and sharp with musky undertones, this mature and timeless fragrance was launched in 1969.
Opening with green notes, aldehydes, and bergamot, Calandre has a sharp, almost alcoholic start that mellows when a floral bouquet, supported by orris root, blooms.
Woody and robust base notes of musk, oakmoss, sandalwood, amber, and vetiver come to the fore. The result is seductive, reminding me of Rive Gauche by Yves Saint Laurent.
Top Notes:
Aldehydes, Bergamot, Green Notes
Mid Notes:
White Rose, Pelargonium, Hyacinth, Lily-of-the-valley, Jasmine, Orris Root
Base Notes:
Sandalwood, Vetiver, Amber, Musk, Oakmoss
Seasons & Longevity
Though Calandre is a truly versatile scent that can be worn year-round, it is at its best on bright spring and summer days when it can truly shine.
An added benefit is the 7+ hours of wear that Calandre will give you, making it a perfect day-to-night scent.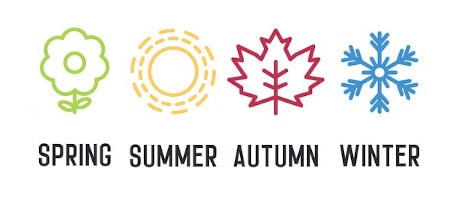 5. Olympea Solar Eau de Parfum Intense
Review
Launched in 2022, Olympéa Solar Eau de Parfum Intense captures the essence of the modern woman; empowered, bold, and unashamedly feminine.
Tangerine and orange blossom notes create a gently sweet and fruity start that is uplifting and delicate before heart notes of tiare flower and the solar note of oak moss seep through.
Stepping away from the typical woody base, I found the ylang-ylang and benzoin a pleasant change that ensures a bright, airy, captivating finish and an excellent addition to the Olympéa collection.
Top Notes:
Tangerine, Orange Blossom
Mid Notes:
Oak Moss, Tiare Flower
Base Notes:
Ylang Ylang, Benzoin
Seasons & Longevity
Olympéa Solar is best worn on warm spring and summer days (and even early fall) when its delicate blend can bloom and spread. More of a daytime scent, in my opinion, that's ideal for al fresco lunches and lying on the beach!
The overall fragrance will give you about 5+ hours of wear from one application. Try wearing this as a workday scent if you want to give off a sophisticated, understated aura.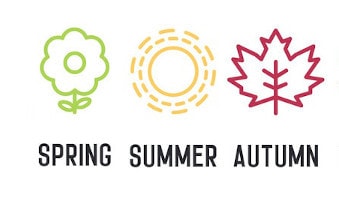 6. Major Me Eau de Parfum
Review
Major Me Eau de Parfum is a bold, fruity, and wonderfully cherry-focused scent that will turn heads no matter where you go. Launched in 2021.
Bold top notes of cherry and pepper give this fragrance a spicy and tart opening with fruity undertones that blend beautifully with seductive heart notes of frankincense, rose, and balsam.
At the base of this blend, you will discover earthy patchouli, precious oud, and oakmoss. The result is a smoky cherry perfume that's utterly divine.
Top Notes:
Cherry, Pepper
Mid Notes:
Frankincense, Rose, Styrax Balsam
Base Notes:
Patchouli, Oud, Oakmoss
Seasons & Longevity
Robust, warm, and woody, Major Me is ideal for winter and autumn nights when the cold air will prevent it from being too overpowering.
Be warned; the projection is powerful, so don't over-spray. Expect 6+ hours of wear from one application.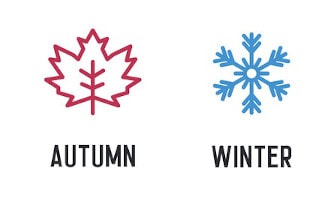 7. Black XS For Her Eau de Parfum
Review
Warm, spicy, and sweet, Black XS for Her is one of Paco Rabanne's most iconic female fragrances. The fruity notes, vanilla and cacao, are deliciously gourmand.
A unique blend of tamarind flower, cranberry, and pink pepper mellows as the heart of black violet, rose, and mouth-watering cacao bleeds through.
At the base of Back XS for Her, you will find vanilla, Massoia wood and patchouli, which lend a rich, smoky sweetness to the dry scent.
Top Notes:
Cranberry, Tamarind Flower, Pink Pepper
Mid Notes:
Rose, Black Violet, Cacao
Base Notes:
Vanilla, Massoia Wood, Patchouli
Seasons & Longevity
As a sweet and sensual scent with smoky edges, this is the perfect autumn and winter nighttime perfume. Wear to parties and date nights.
Expect 5+ of wear from one application with excellent projection casting a seductive sillage trail.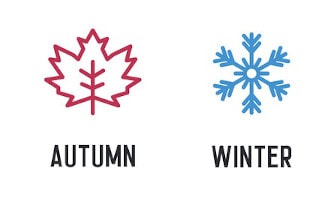 8. Ultraviolet Woman Eau de Parfum
Review
Ultraviolet Woman remains one of the most popular perfumes in the Paco Rabanne perfume collection. Balanced, fragrant, and just sweet enough to retain classic femininity.
Opening with the singular spice and sweetness of red pepper, Ultraviolet Woman has a unique opening that blends seamlessly into the heart of jasmine and soft osmanthus.
As the perfume dries down, vanilla, amber, and sandalwood will seep to the fore but never overpowers the powdery violet and warm pepper notes.
Top Notes:
Red Pepper
Mid Notes:
Jasmine, Osmanthus Flower
Base Notes:
Vanilla, Amber, Sandalwood
Seasons & Longevity
Versatile and complex, Ultraviolet Woman does best in autumn and winter but also fares well in early spring. As a potent, evolving blend, it can be worn day to night with ease.
You will get 6+ hours of wear from one generous application. If you really want to turn heads, try wearing it on a summer evening, so the sweetness can really shine.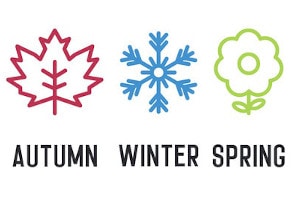 Ingrid's Top Pick
Olympéa Solar Eau de Parfum Intense
My top pick is Olympéa Solar Eau de Parfum Intense because it's so well-balanced between feminine florals and solar notes. The ylang-ylang and benzoin in the base is a genius choice; well done, Paco Rabanne.
Conclusion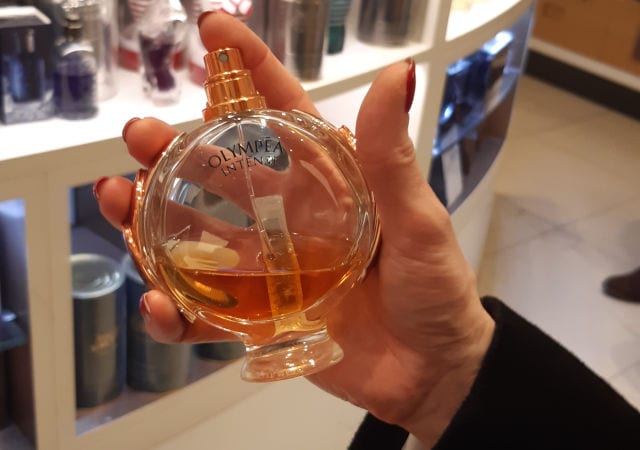 Paco Rabanne never fails to create enchanting fragrances that capture a unique essence; finding the best choice for you, therefore, is all about what makes you feel incredible.
I found that the price vs performance for most Paco Rabanne perfumes is pretty good. £65/$72 for 50ml/1.7 fl oz and £110/$130 for 80ml/2.7 fl oz (Fame is a bit more pricy), and most scents will last you at least 5 hours.

Further Reading
Below are some additional articles from Viora London's blog. We write articles on a number of interesting lifestyle topics such as fragrance, beauty, luxury accessories and more.