Italian perfumer Trussardi brings an avant-garde collection of women's fragrances, inspired life on the cosmopolitan streets of Milan. The best Trussardi perfumes for women are fresh, vibrant, and intoxicatingly alluring.
The exquisite Trussardi fragrance collection acts as an exciting extension of the brand itself. Their luxury clothing and accessories are ultra-modern, unwaveringly chic and filled with Italian flair.

7 Best Trussardi Perfumes Reviewed
A glamorous mix of jaw-dropping notes and a dash of Italian mystery ensures the best Trussardi perfumes for women are utterly provocative. Here are 7 feminine Trussardi fragrances to consider.
1. Trussardi Delicate Rose Eau de Toilette
Review
Delicate Rose is a complex, feminine combination of fruity florals with a playful character and a body of grace and romance. Launched in 2012 this floral fragrance was skillfully created by perfumer Nathalie Lorson.
A fresh and vibrant opening of yuzu, bamboo, and kumquat ensure a fruity introduction that is lively and invigorating. Romantic florals soon take to the stage, adding delicate scents of rose and jasmine set off unusually by fresh apple and airy lotus.
Upon dry-down, a gentle base of musk and sandalwood with a dash of cedar and woodsy add depth and sensuality.
Sillage and projection are both moderate, and the fragrance evolves as the hours' pass. Delicate Rose will last for at least 4 hours or more, longer on clothing.
As a refreshingly vibrant perfume, Trussardi Delicate Rose is the perfect perfume for daywear, especially when the season is bright and warm. It goes particularly well with the blossoms of spring.
It makes for a sophisticated and slightly mysterious perfume for work, where the subtle and fresh sillage conveys a sense of vitality and modest power. It is also ideal for romantic afternoon walks; think of a happy springtime park surrounded by blooming petals and the beauty of new life.
Overall, Delicate Rose is gentle and feminine with a touch of sensuality. Fresh enough for a day at the office but with a hint of flirtatious allure.
Top Notes:
Yuzu, Bamboo, Kumquat
Mid Notes:
Rose, Lotus, Apple, Jasmine
Base Notes:
Musk, Sandalwood, Cedar, Woodsy Notes
Price & Reviews
You can check the latest pricing, see customer reviews and shop online:
2. Trussardi Donna Eau de Parfum
Review
The citrus and white flowery oriental Donna Eau de Parfum is another complex fragrance that combines subtle, girlish charm with a deeper layer of passion and intensity.
Like a poem, the fragrance opens with fresh fruity notes, yuzu, and crisp Amalfi lemon that awakens the senses with a sense of gentleness and vigour. As the heart notes develop, romantic jasmine and lotus are entwined with the happy scent of African orange flower for an extra buzz.
It is after dry-down that Donna Eau de Parfum seems to twist into a new direction. An intoxicating combination of creamy vanilla, intense sandalwood and hints of patchouli and Virginia cedar add a seductive edge.
In terms of performance, the lasting power is 5+ hours with reasonable sillage and projection. Though to make the most of this fragrance, a small vial for the purse is a must.
As the fragrance is so complex and takes us on a journey from innocence to seduction, it is highly versatile in terms of when to wear. The light and vibrant top notes and the sophisticated floral heart make it ideal for day time, especially in springtime. The intense base means it would not be out of place in the evening.
One of two perfumes created to celebrate the 100th anniversary of the house of Trussardi, there is something majestic and grand in its complexity.
Intensely feminine, Donna Eau de Parfum possesses an almost effervescent vitality.
Top Notes:
Fruity Notes, Yuzu, Amalfi Lemon
Mid Notes:
Jasmine, African Orange flower, Lotus
Base Notes:
Vanille, Sandalwood, Patchouli
Price & Reviews
You can check the latest pricing, see customer reviews and shop online:
3. Trussardi Sound of Donna Eau de Parfum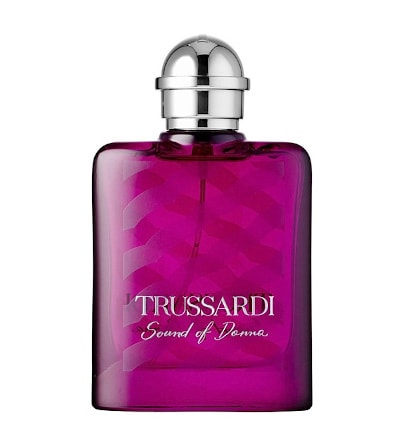 Review
Launched in 2018 and created by Emilie Coppermann, Sound of Donna encapsulates the relentless spirit of the modern woman. A real feast for all the senses, gourmand notes combine with warm spices for a sweet yet slightly powdery experience.
Sound of Donna opens with a sense of purity thanks to lemony magnolia and a buzz of crisp, green almond. Fruity hints of sunny mandarin orange also appear. A floral heart of sweet heliotrope, tuberose and soft rose bloom nicely in the heart.
After dry-down, the gourmand base returns with velvety whipped cream resting on a base of alluring patchouli and chestnut for a sweet, woody fragrance, with hints of sandalwood for extra allure.
An excellent performer, Sound of Donna will last up to 8 hours and even longer on fabric. Sillage and projection are also strong, and if you are looking for a perfume likely to herald plenty of compliments, this is one for you.
The rich combination of different flavours and scents makes this a very versatile perfume, equally at home both in the evening and in the day. A gorgeous scent for a cold afternoon, think endless strolls through autumn leaves or sipping hot chocolate at an evening market.
Sound of Donna is filled with surprises and seems to change just as soon as you think you've worked it out. Tantalisingly mysterious, it seems to dance just that little way ahead while maintaining a sweet warmth that is both innocent and tempting.
Top Notes:
Green Almond, Magnolia, Mandarin Orange
Mid Notes:
Heliotrope, Tuberose, Rose
Base Notes:
Whipped cream, Patchouli, Chestnut
Price & Reviews
You can check the latest pricing, see customer reviews and shop online:
4. Trussardi Donna Levriero Collection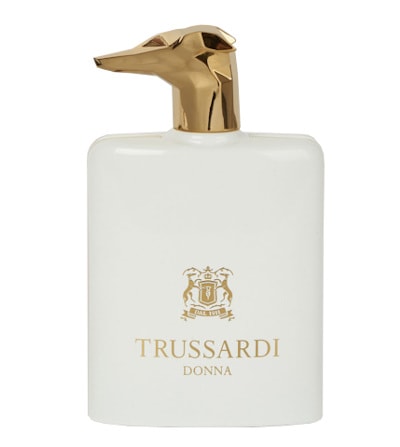 Review
Trussardi Donna Levriero Collection is an exquisite perfume for women is a feminine version of Trussardi's celebrated men's fragrances, easily recognised by the dashing bottle that sports the sculpted head of a fine Italian greyhound.
Floral scents make this captivating fragrance decided feminine while hints of woody and aquatic notes maintain the link to the original collection.
Top notes of refreshing water fruit and bright citron with hints of yuzu make for a delightful, cheerful and energetic opening with a fruity blast. These give way to a flourish of florals in the tender heart notes with lingering and soft jasmine tea floating on an airy scent of water lily lifted cheerfully with a hint of orange blossom.
The heart notes are incredibly romantic, with warm vanilla creating a sense of feminine sweetness. Lingering sandalwood and patchouli ensure a sense of sensuality and allure. Hints of cedar add to the powdery woodiness after dry-down.
Longevity and sillage are both moderate, with the fresh blast of citrus fruits giving way to a gentle trail of oriental florals. Longevity is 4+ hours.
A beautiful daytime fragrance, there is something clean and pure about this scent that makes it ideal for sunny afternoons in springtime. Think strolling along flowery paths with blossoming petals all around.
Overall, Trussardi Donna – Levriero Collection would make a wonderful signature scent, ideal for creating a strong impression in work or at leisure. It exudes class and sophistication.
Top Notes:
Water Fruit, Yuzu, Citron
Mid Notes:
Jasmine Tea, Water Lily, Orange Blossom
Base Notes:
Vanilla, Sandalwood, Patchouli
Price & Reviews
You can check the latest pricing, see customer reviews and shop online:
5. Trussardi Le Vie di Milano Via della Spiga Eau de Parfum
Review
Le Vie di Milano Via Della Spiga is an evocative unisex fragrance that includes gourmand notes that lean towards the feminine side. Lingering honey and sweet scents make it warm and enveloping.
Opening notes are a mouth-watering combination of crispy apple, sweet honeycomb and zesty bergamot. A heart reveals honey-coated jasmine, mahonial, and a hint of rose. Upon dry-down, base notes of tonka bean and fresh hawthorn finish things off nicely.
The sillage of this fragrance is astounding with a cheerfully happy trail of fresh fruits and gentle sweetness. It is sweet without becoming cloying or overly saccharine, creating a charming and slightly angelic impression. Staying power is 6+ hours.
The complexity of different types of fragrance makes this a versatile gourmand that can be worn both day or night. A wonderfully warming fragrance for autumn afternoons, the honey scents go well with the gold and auburn colours of autumn leaves.
Le Vie di Milano Via Della Spiga is the perfect fragrance to lift your mood. This tantalising scent is so sweetly charming, they envelop you in a hint of nostalgia that brings a smile to everyone.
Top Notes:
Apple, Honeycomb, Bergamot
Mid Notes:
Honey, Jasmine, Mahonial, Rose
Base Notes:
Tonka Bean, Hawthorn, Heliotrope
Price & Reviews
You can check the latest pricing, see customer reviews and shop online:
6. Trussardi Le Vie di Milano Musc Noire Enhancer Eau de Parfum
Review
Le Vie di Milano Musc Noire takes the collection in a new direction, incorporating musky scents that are alluring and a little seductive. Designed by Leslie Gauthier and launched in 2020, it is a striking and modern addition.
Musc Noire is a little more direct and simplistic than some of its peers. An opening of striking iris provides an enticing introduction which quickly gives way to floaty jasmine that is delicate but also richly decadent.
The main body of the perfume comes through in its wonderfully sensual base notes of dramatic musk with hints of cedar. It is strong and daring, but at the same time holds a decadent charm.
As you might expect with a perfume with so much emphasis on musk, the sillage is enormous and could be a perfect signature scent. It is also long-lasting at 7+.
Best for autumn/winter, this is an ideal perfume for a romantic date or snuggling close to a lover on a cold winter's day. It is flexible enough to wear in the office or to an evening party.
Overall, Le Vie di Milano Musc Noire has contrasting notes of musk and iris with gentle jasmine blending well together. It is both dramatic and sensitively demure, capturing the contrasts of life on the streets of Milan.
Top Notes:
Jasmine
Mid Notes:
Iris
Base Notes:
Cedar, Musk
Price & Reviews
You can check the latest pricing, see customer reviews and shop online:
7. Trussardi The Black Rose Eau de Parfum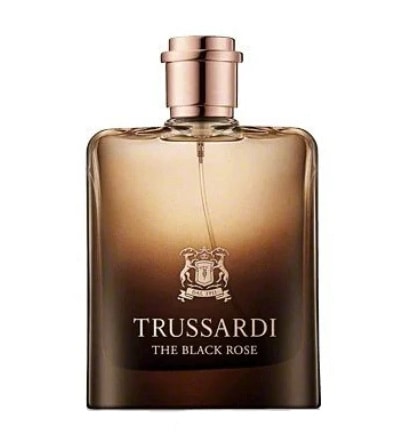 Review
The Black Rose is a complex oriental floral scent that is as exotic as the rare Taif rose to which it pays homage. A delicate and slightly gourmand fragrance, it was launched in 2017 and has gained a loyal fan base of both men and women.
The fragrance begins with the enticing scent of pink pepper that piques interest before the rich Taif rose takes centre stage in the heart. Upon dry-down, a slightly complex blend of patchouli and musk combine with velvety amber and vanilla for an intoxicating after-glow.
Sillage and projection are both excellent, with a charming trail that is fragrant and slightly balmy. Longevity of 6+ hours can be expected.
The gourmand flavours and scents make this an ideal fragrance for winter or spring when its lingering notes are warming and rousing. It is perfect for both daytime and evening—the ideal fragrance for an event like a wedding that stretches well into the night.
Overall, The Black Rose is an incredibly romantic rose fragrance that has hidden, abyss-like spicy depths.
Top Notes:
Pink Pepper
Mid Notes:
Taif Rose
Base Notes:
Patchouli, Musk, Amber, Vanilla
Price & Reviews
You can check the latest pricing, see customer reviews and shop online:

Conclusion
The best Trussardi perfumes for women ooze class and elegance. From the eye-catching bottles to the complex array of subtle yet individual fragrance notes, their collection has exciting fragrances waiting patiently to be discovered.
If you are looking for a fragrance that can be both charming and formidable, the exquisite Trussardi fragrance collection could be just for you. Also, consider looking at my Montblanc perfumes article.
Before you go, I have put together a review of the most elegant perfumes ranging from timeless classics to modern day sophistication that I think you will enjoy.

Further Reading
Below are some additional articles from Viora London's blog. We write articles on a number of interesting lifestyle topics such as fragrance, beauty, designer handbags, luxury accessories and more.