The perfume world incorporates tobacco in numerous intoxicating fragrances to add a sense of depth and mystery. The best tobacco perfumes for women have a sweet, smoky, slightly earthy scent while maintaining a sensual feminine edge.
In fragrance, tobacco blends nicely with a variety of different perfume notes, starting with florals, fruits or berries and finishing with musky, powdery, woody notes. The list is endless. It works incredibly well in oriental perfumes, alongside all the spicy notes and rich florals.
Main Perfume Tobacco Notes
There are three main tobacco notes commonly used in the perfumery, each of them producing a slightly different scent. These notes are tobacco, white tobacco and tobacco blossom.
– Tobacco
Cured leaves of the tobacco plant is what is classified as tobacco. Belonging to Nicotiana family plant tobacco produces a rich, characteristic, aromatic scent, with a note of whiskey, caramel, and hay.
– White Tobacco
The white tobacco plant is the most fragrant of the tobacco plants, smelling of sweet, opulent florals. Its delicate, creamy white flowers produce a lovely scent that is most fragrant in the evening.
– Tobacco Blossom
Known as Nicotiana alata, the blossom of the tobacco flower produces an inviting fragrance with a dry floral, hay and leather-like scent.
Fragrant nicotiana smells their sweetest after dusk.

10 Best Tobacco Perfumes For Women
Tobacco fragrances can be sensually feminine and ever-so-easy to fall in love with. Here are, in my opinion, the top 10 best tobacco perfumes for women to delight the senses.
1. Tobacco Vanille Eau de Parfum – TOM FORD
Review
Oriental spicy Tobacco Vanille Eau de Parfum from Tom Ford's private blend collection is an indulging gourmand scent that is opulent and warming.
The idea for this perfume came from the elegant, private English gentleman's clubs in London. From the inspiring atmosphere of a freshly rolled tobacco scent slowly spreading through the rooms, filling up with a fragrant, spicy aroma.
This contemporary scent, first introduced to the world in 2007, beautifully represents the paradigm of the classic fragrances, making it an undeniable masterpiece.
The first impression you get after applying the perfume is the opulent scent of tobacco leaves and spices. The triumphant entering of vanilla in the mids, create almost magical, aromatic blend mixed with creamy tonka bean, cacao and tobacco blossom. The slightly sweet, yet dry base of woods and dried fruits give this complex fragrance a smooth finishing touch.
This vanilla and tobacco entwined, woody and fruity based perfume is incredibly comforting during cold autumn and winter months. More suited for the evening, the fragrance has exceptional silage and longevity.
Finished in a glossy dark colour, the square design bottle storing this fantastic, warming liquid, represents clean and crisp lines.
Daring and bold, with a magical addition of vanilla, this is old heritage perfume breaks all boundaries, making this scent a perfection of both – feminine and masculine.
Top Notes:
Tobacco Leaf, Spicy Notes
Mid Notes:
Tonka Bean, Tobacco Blossom, Vanilla, Cacao
Base Notes:
Dried Fruits, Woody Notes
Price & Reviews
You can check the latest pricing, see customer reviews and shop online at Selfridges:
2. Nirvana Amethyst Eau de Parfum – ELISABETH & JAMES
Review
Elizabeth & James Nirvana Amethyst Eau de Parfum is an intriguing fragrance which is sophisticated and full of confidence.
The phenomenal blend produces an intense and delightfully seductive scent that oozes classy extravagance.
Opening notes of tobacco and citrus lead to an enticing heart of honeysuckle and rum-like spice. The balancing aroma of cedarwood, unite all ingredients into a sophisticating combination of the soothing depths of refined tobacco.
This contemporary fragrance, infused with old classic notes is perfect for autumn or winter evenings. With good longevity, it will sit comfortably on the skin for 5+ hours.
Nirvana Amethyst Eau de Parfum nestles inside this gorgeous, plum colour bottle. Finished in a lovely textured pattern.
So delightful and subtle, this unforgettable scent will fill you with the warmth of relaxed refinement, elegance and comfort.
Top Notes:
Tobacco, Citrus Accord
Mid Notes:
Honeysuckle
Base Notes:
Cedarwood
Price & Reviews
You can check the latest pricing, see customer reviews and shop online at Amazon:
3. Tabac Eau de Parfum – AARON TERENCE HUGHES
Review
'I developed this mix of tobacco, oud and vanilla for people with class and who understand what a well-crafted fragrance smells like' – Aaron Terence Hughes.
Created with immense love and passion, Tabac Eau de Parfum fuses tobacco, oud and vanilla Eau de Parfum into a lush, intense and feeling evoking scent. This unisex fragrance creates something very individual for everyone, something personal, a unique signature scent.
Earthy tobacco leaf opening the headnotes melts nicely into a creaminess of vanilla. Sweet aromas of tobacco flower entwined with a calming, velvety note of rose create a pleasant aromatic heart. Dry woody scents and a dash of ambergris in the base gently warm up this inviting combination.
Suitable for cold seasons, the perfume can be worn at any time of day, any occasion, be it work or an enjoyable night out with friends.
Incredibly long-lasting at 7+ hours, Tabac Eau de Parfum is a most unique and elegant fragrance.
Also Read: 5 Best Aaron Terence Hughes Perfumes For Her
Top Notes:
Tobacco Leaf
Mid Notes:
Madagascan Vanilla, Tobacco, Turkish Rose
Base Notes:
Burmese Oud, Cedarwood, Ethical Ambergris
Price & Reviews
You can check the latest pricing, see customer reviews and shop online at Aaron Terence Hughes:
4. Jasmin au Soleil Eau de Parfum – VERSACE
Review
One of the first female perfumers, Natalie Lorson, is behind the creation of this incredible fragrance from Versace Fashion House. The aromatic Jasmin au Soleil is one of six perfumes from Versace's Atelier collection released in autumn 2019.
Crafted by hand using the latest techniques, the fragrance contains the highest quality ingredients sourced from all over the world.
Underpinned by the headiness of French beeswax, Jasmin au Soleil opens with irresistibly fresh notes of lemon and Indian jasmine flower. The indulgent heart of tobacco and hay compliment the sweet honey potion, cheering up the pallet and creating light, silky aroma. Powdery notes of cedarwood highlight this fragrant bouquet, give it a sensation of luxury.
The sculptural, handmade glass bottle, featuring a beautiful pattern, is inspired by Versace's fashion collection. Topped with a weighty, gorgeous design golden cap, it represents the brand's unique style and their dedication to excellence.
Suitable for any time of day, this charming fragrance is best to wear during spring, early autumn months. With the longevity of 3-5 hours, this sophisticating scent will linger nicely in the air, surrounding with an essence of glorious warmth and brightness.
Top Notes:
Lemon
Mid Notes:
Beeswax, Indian Jasmin
Base Notes:
Hay, Tobacco, Cedarwood
Price & Reviews
You can check the latest pricing, see customer reviews and shop online at Harrods:
5. Chergui Eau de Parfum – SERGE LUTENS
Review
Serge Lutens Chergui Eau de Parfum is an absolutely unique, exquisite oriental fragrance, exploding with earthy aromas.
The iconic scent, launched in 2005 (and still going strong!), was inspired by the hot winds of dry Sahara desert, swirling around the dusty trails of nature.
Created by Christopher Sheldrake, the incredibly long-lasting, heady perfume opens with a breathtaking aroma of the smoky, sweetness of sandalwood and tobacco leaves. An indulging, sweet note of frankincense in the headnotes is entwined by delightful honey nectar and a bouquet of magnificent flowers. The glorious sweetness of hay mixed with strong hints of leather and balsamic notes of amber and musk, elevate the whole pallet to alluring heights of the sensuality.
Full-bodied, intriguing and absolutely incredible Chergui Eau de Parfum can be worn day or night and is suitable for any season.
This attractive, tall perfume bottle displays clean, straight lines with the intense glow of the fragrance proudly nestling inside.
Sweet and spicy, yet dark and magical, this complex fragrance will surround with its aromatic embrace full of chic and elegance. Loved by women and men, it is the most captivating scent. A wind of the desert.
Also read: 8 Best Serge Lutens Perfumes: From Paris With Love
Fragrance Notes:
Tobacco, Russian Leather, Hay, Honey, Sandalwood, Iris, Amber, Musk, Frankincense, Rose
Price & Reviews
You can check the latest pricing, see customer reviews and shop online at Selfridges:
6. Changing Constance Eau de Parfum – PENHALIGON'S
Review
British perfumery brand Penhaligon's released their first-ever fragrance in 1872. Called Hammam Bouquet, it was inspired by the hot, strong scented steam coming from the nearby Turkish Baths.
In 1902, by the request of the Duke of Marlborough, the brand created a triumphant floral scent Blenheim Bouquet, which became their best-selling fragrance.
Changing Constance Eau de Parfum, launched in 2018, is yet another fascinating creation by the house. Devoted to one of the characters from Penhaligon's Portrait collection, the fragrance represents a woman of the modern world – free-spirited, independent and full of confidence.
The warm, powdery fragrance starts with a heady, spicy opening of pimento and cardamom. Soon, the heat of the headnotes is clearly distinguished by salted caramel, before the sweet earthiness of tobacco and vanilla scents arrive. Powdery cashmeran adds balance, adding a calming harmony to the blend.
Changing Constance Eau de Parfum works well for evenings in all seasons. This delightfully remarkable, exotic fragrance will attract a tone of compliments.
Very long-lasting with incredibly good projection, the fragrance comes presented nestling inside a beautifully shaped bottle of a deer.
Intriguing and breaking every rule, this contemporary perfume will be your lover forever!
Top Notes:
Pimento, Cardamom
Mid Notes:
Salted Caramel
Base Notes:
Cashmeran, Tobacco, Vanilla
Price & Reviews
You can check the latest pricing, see customer reviews and shop online at Harrods:
7. Le Gemme Noorah Eau De Parfum – BVLGARI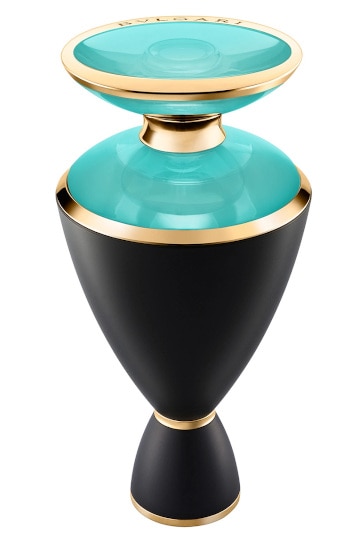 Review
Sotirios Voulgaries, a Greek immigrant to Italy, founded Bvlgari in 1884. Recognised by its elegant, affectionate style, one of the oldest Italian jewellery houses get their inspirations from the works of the Italian renaissance.
The mystical scent of Le Gemme Noorah Eau De Parfum, launched in 2014, is an interpretation of the precious stone of turquoise, brought in to Europe by the Turkish traders via an exotic route of the Middle East. This intoxicating fragrance is fascinating with its lush, abundant aromas, is a true ode to femininity, the enigmatic and provocative side of womanity.
The astonishing composition, embodying excitement of infinity, dazzles with its rich, sensuous scent. A spicy bed of cardamom, vanilla and gingerbread entwined with the sweet aromas of tobacco leaves, iris and honey create a seductive aroma. Woody notes of oak add a bit of dryness to the blend, and galbanum boosts it with a dose of freshness. Balsamic notes of benzoin combined with musky patchouli give the fragrance a desired richness, deepening its unique pallet.
Alluringly sweet and powdery comforting, the fragrance is suitable for cold weather and is absolutely perfect for evening wear. It has a good 6+ hours longevity and decent projection, thanks to a rich, intense composition.
Pretty, smoothly shaped bottle, tempting with its striking gold and sky blue turquoise colours, is a true example of the magnificent craftsmanship.
The 'exuberance of heavens', full of intriguing notes Le Gemme Noorah Eau De Parfum will fill your evenings with the most inviting, warming and sensual scent.
Fragrance Notes:
Cardamom, Galbanum, Tobacco, Iris, Benzoin, Oak, Vanilla, Patchouli, Honey, Gingerbread
Price & Reviews
You can check the latest pricing, see customer reviews and shop online at Harvey Nichols:
8. Sleek Suede Eau de Parfum – YSL
Review
Le Vestiaire Des Parfums Collection Orientale, released in 2017, was born from the inspirational Moroccan escapes of Yves Saint Laurent's. Depicting Middle Eastern aura of exciting oriental motives and patterns, this Sleek Suede Eau de Parfum is a devotion to the couturier's collections and the sleek lines of the garments.
Composed by perfumer Matilde Bijaoui, this delightful, Moroccan themed fragrance portrays exciting scents of the Orient. It is a reinvention of the evoking softness of the finest suede, infused by a robust leathery odour.
The bittersweetness coming from the cocoa beans mixes with exciting spicy notes of cardamom, clove, nutmeg and pepper. Overtaken by the warmth of cedar and agarwood in the heart notes, it creates an uplifting, optimistic scent. The composition is then wrapped into a succulent base of tobacco vanilla, uniting intoxicating notes of labdanum and patchouli, and pulling it together into an alluring bouquet of luxurious aromas.
A luminous oriental scent, gently projecting its fragrant aromas will last the entire day. An ideal fragrance for autumn and winter it will make you fall in love with its enchanting perfume.
This adorable, opaque liquid, nestling inside a sleek design, the gold colour bottle is absolutely to die for! Encase yourself in this plush luxury of the Arabic lifestyle and make this unique scent a signature scent of yours.
Top Notes:
Cacao Pod, Incense, Clove, Pepper, Nutmeg, Cardamom
Mid Notes:
Agarwood, Cedar
Base Notes:
Tobacco, Vanilla, Woody Note, Labdanum, Patchouli
Price & Reviews
You can check the latest pricing, see customer reviews and shop online at John Lewis & Partners:
9. Miracle Of The Rose Eau de Parfum – PRADA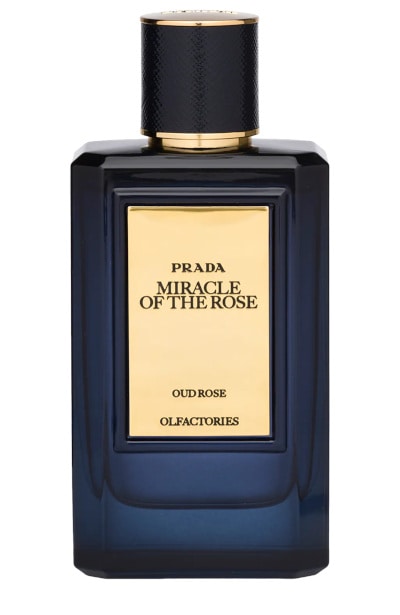 Review
Part of Mirages sub-collection, Miracle Of The Rose Eau de Parfum is one of Prada's latest releases launched in 2017. It is an opulent combination of the unforgettable wonders of the Orient.
The sophisticated oriental-floral fragrance begins to unfold its luxuriously scented petals with delicate notes of rose absolute. The elegant rose takes centre stage in this marvellous creation, elevated by the richness of earthy patchouli. Voluptuous bouquet of intense, heady notes of leather, agarwood and tobacco enhance this sensational mix, softly layering its fragrances around the gentle flower of rose.
Intricately graceful, deep dark colour bottle, decorated in a golden label is stored inside this beautifully crafted Saffriano leather-trimmed box.
This is a fascinating fragrance with its intriguing, exotic, and charming scent offers outstanding longevity. With powerful projection, Miracle Of The Rose Eau de Parfum is best suited for cold, crisp winter months.
Top class, niche perfume, enriched with a potent rose fragrance appears slightly feminine, turning into more unisex when the day unfolds. Expensive smelling and absolutely beautiful it transforms to the unknown depths of the universe of scents.
Fragrance Notes:
Tobacco, Leather, Agar Wood, Patchouli, Rose
Price & Reviews
You can check the latest pricing, see customer reviews and shop online at Selfridges:
10. Oud Immortel Eau de Parfum – BYREDO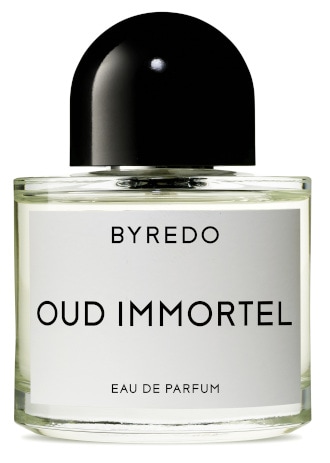 Review
Founded in 2006 by Ben Gorham, Byredo is a young, contemporary perfume brand based in Stockholm, Sweden. The brand was launched and started its first production soon after Ben met perfumer Pierre Wulff, whom he accidentally bumped into after he graduated from School of Arts.
This fast-growing, luxury perfume house focuses mainly on the quality of the ingredients used to create fine fragrances, most of which are being sourced in Sweden.
The lightly sweet, woody fragrance Oud Immortel Eau de Parfum is built around an exciting note of oud, used in perfumery for hundreds of years. This complex ingredient, normally musky and woody with a touch of fruity/floral tones, is surprisingly fresh in this perfume.
The fragrance opens with a crisp spiciness of cardamom and limoncello. It is soon taken over by the dry, earthy notes of agarwood and papyrus. The elegant sweetness of Brazilian rosewood mixed with tobacco leaves creates a sophisticated deep base for musky notes of patchouli and oakmoss to step in.
The delightfully elegant scent is ideal for either daytime or evening occasions and can be enjoyed all year round. Very long-lasting with enormous projection, this beautifully balanced, sophisticated fragrance is housed inside the brand's signature bottle, topped with a black lid.
The most versatile and adaptive Oud Immortel Eau de Parfum is the most delightful oud fragrance in the perfumery world. An outstanding masterpiece, supremely enjoyable that keeps on surprising.
Top Notes:
Cardamom, Incense, Limoncello
Mid Notes:
Brazilian Rosewood, Papyrus, Patchouli, Agarwood
Base Notes:
Oak Moss, Tobacco Leaves
Price & Reviews
You can check the latest pricing, see customer reviews and shop online at Harrods:

Conclusion
The best tobacco perfumes for women are warming, woody, spicy, yet maintain their femininity. Gourmand smelling dried fruits and classic floral notes blend really well with tobacco. Even slightly dirtier and bitter tones can be achieved if mixed with drier and muskier aromas.
Its extract diluted in large proportion brings up a typical tobacco-cigar aroma – woody, moist and slightly sweet. It smells of honey and tea, with hints of chocolaty notes and even leather. Small amounts of this type of essence blended in the tobacco-composed fragrances add a depth and richness to the perfume, elevating and creating sophisticated, sexy aroma.
Before you go, I have put together a review of the most elegant perfumes ranging from timeless classics to modern-day sophistication that I think you will enjoy.

Further Reading
Below are some additional articles from Viora London's blog. We write articles on a number of interesting lifestyle topics such as fragrance, beauty, designer handbags, luxury accessories and more.