Creating your own bespoke scent is something most of us consider to be the art of perfumers alone. Blending a variety of base, mid and top notes is how creators of perfumes develop their unique scents. With the knowledge of how to layer perfumes correctly, anyone can apply the same principles to come up with their own totally unique fragrance.
What is Perfume Layering?
Perfume layering in its simplest sense means applying one perfume on top of another, so the two fragrances blend together to create a brand new scent. Scent layering has been practiced widely in the Middle East for centuries as they fully understood the incredible invisible benefits of wearing perfume.
By combining two perfumes together to create a new scent, anyone can apply the art of the perfumer. You don't even have to spray on two different colognes to layer perfume, although this is one way of achieving a layering effect. You could also select a body cream in one fragrance and add an eau de parfum of something else.
You can mix types of fragrance as well as different brands and experiment to your heart's content. I feel the best thing about perfume layering is that no one else will share your fragrance. It is completely yours and yours alone.
Why Should I Layer Fragrances?
While it's perfectly acceptable to fall in love with a perfume and want to wear it all the time, using the brand's matching body lotion, shower gel, and eau de toilette, there may be times when you want to reflect a change in mood or even want to convey your own personality through your fragrance.
We all strive to achieve an individual look and creating a bespoke scent is the same principle, only applied to our sense of smell. Everyone knows that perfumes mix with our own body chemicals to alter slightly. Therefore every scent smells slightly differently on different people. Perfume layering is taking this idiosyncrasy to another level.
Finding your own signature fragrance can be very expensive and time-consuming, so creating your own through mixing different perfumes can be a great way to achieve that personal effect. And I find it's also great fun!
Benefits of Perfume Layering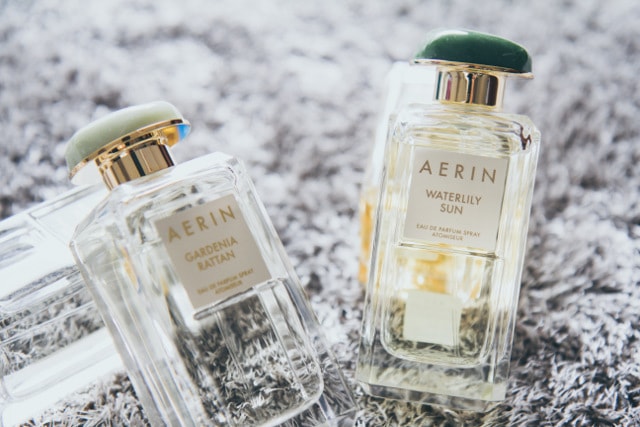 Of course, the main advantage of perfume layering is the confidence of knowing no one smells exactly like you. It's a wonderful feeling of having your own "signature scent" that you personally created.
Wearing a fragrance that is only yours seems somehow more luxurious and indulgent. Radiating an alluring trail of individual perfume makes you appear unique, feminine, and distinctly memorable. Another benefit of perfume layering is that it can increase the longevity of the fragrance.
Also Read: Perfume & Personal Identity: Can Scent Define You?
We know that wearing an eau de parfum over scented body lotion, shower gel, or moisturizer helps the scent last longer; this is true whether the different products radiate the same or different fragrances. They each enhance the durability of one another.

How To Layer Perfumes: 7 Top Tips
Unless you know how to layer perfumes correctly you may find yourself smelling like a walking perfume store. You want to have an overall unique complimenting scent rather than a mismatch of multiple scents. Below are my 7 top tips to ensure you get it right first time:
1. Know Your Scent Families
Perfumes are divided into notes and families. The top, middle, and bottom notes evaporate at different speeds so that the perfume develops gradually, taking you on a kind of olfactory journey.
As well as notes, scents are divided into families that can be considered a little like a color wheel. Wearing scents from neighboring families can create a harmonious scent while mixing opposites can be more daring, although potentially less likely to succeed.
The scent families include citrus, floral, oriental, woody, and fresh. When you begin layering perfume, stick to similar families. Vanilla and citrus tend to work well with other scents. As you gain in confidence, finding opposites that complement one another can create a striking result.
2. Stick to Light Scents
Strong, heady perfumes can be perfect for a night out but can be overpowering when combined together and could even give you a headache.
Fragrances compiled with single or few notes can be perfect for layering. For example, some vanilla essential oil in your bath forms a great base on which to add any variety of different scents.
You can add more stronger fragrances to lighter scents, but I have found that mixing two heavy fragrances together can be a tad overwhelming.
3. Wear Your Scents in Different Places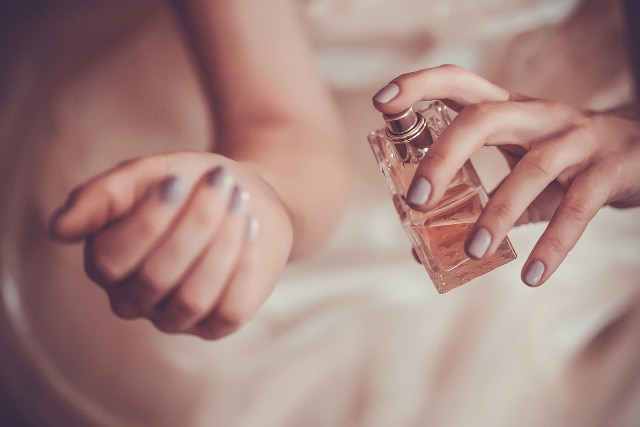 Rather than simply spraying one perfume over another, mix and match where you wear your fragrances. For example, you could wear a fragrance with lighter top notes in your hair or on your accessories to emit a cheerful, floaty introduction while you dab something heavier on your pulse points to offer a stronger body.
This way, the fragrances work together in different ways rather than directly competing. Don't limit perfume to your wrist and neck either. Remember you can also spray the insides of your arms, the back of your legs, or your torso as well as your clothing to achieve a combined effect.
4. Find Perfumes that Use the Same Notes
If you have a favorite scent, you could try to layer two different perfumes that both use the same note. For example, if you love the scent of bergamot, combining two fragrances that contain this top note can intensify its overall impact. You can then add some opposite scents to create a different underlay.
5. Vary Your Products
If you use a range of scented products in your beauty regime, remember they will all combine with one another. Use this to your advantage. Add an essential oil to your bath or choose the notes in your shower gel with your other perfumes in mind.
The next layer includes your body lotion or moisturizer before you spray on perfume. Hair products such as mists and dry oil sprays for the body are also great additions to the layering range. Mixing your products is one way to create a perfume layering effect.
6. Give It Time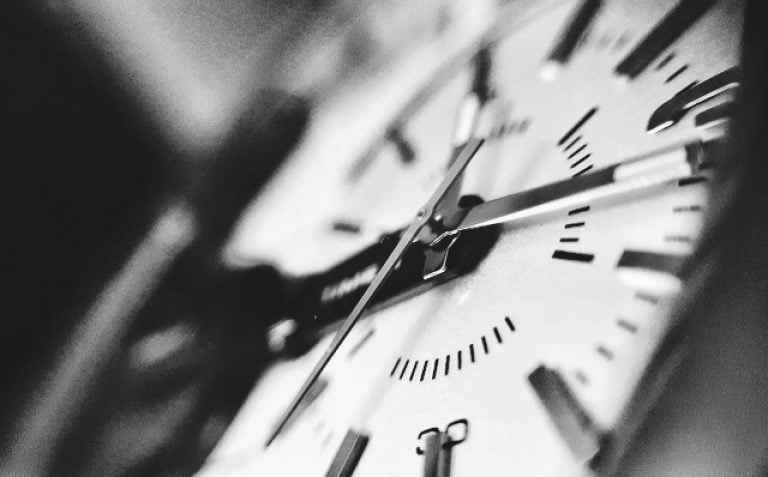 As each scent reacts with your body chemistry, wait a five to ten minutes before deciding whether the overall scent is what you desire as your signature scent. You might need to enlist the help of others here as you will get used to the fragrances so won't immediately notice as they begin to change.
7. Don't Overdo It
Layering is not about using the equivalent of half a bottle of perfume each time you dress. The total number of sprays or dabs should not really exceed what you might use if you were sticking to one perfume.
You could also vary the number of applications of each perfume to increase or lower its overall effect. For example, you could mix one dab of a complicated, stronger perfume on your wrists combined with two or more sprays of a lighter top note elsewhere.

Your Perfume Layering Questions Answered
In case you have any outstanding questions regarding how to layer perfumes correctly I have put together the following most popular questions and answers. If you find anything unanswered then please pop me a comment at the end of this post or an email.
What Fragrance Types Work Best Together?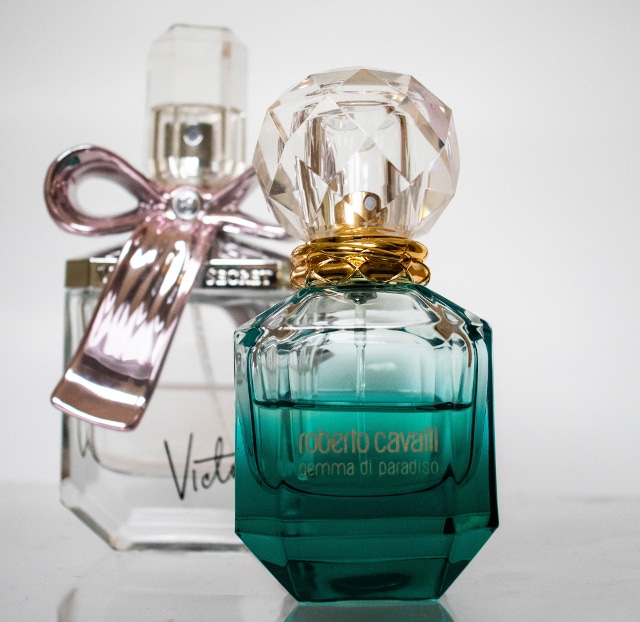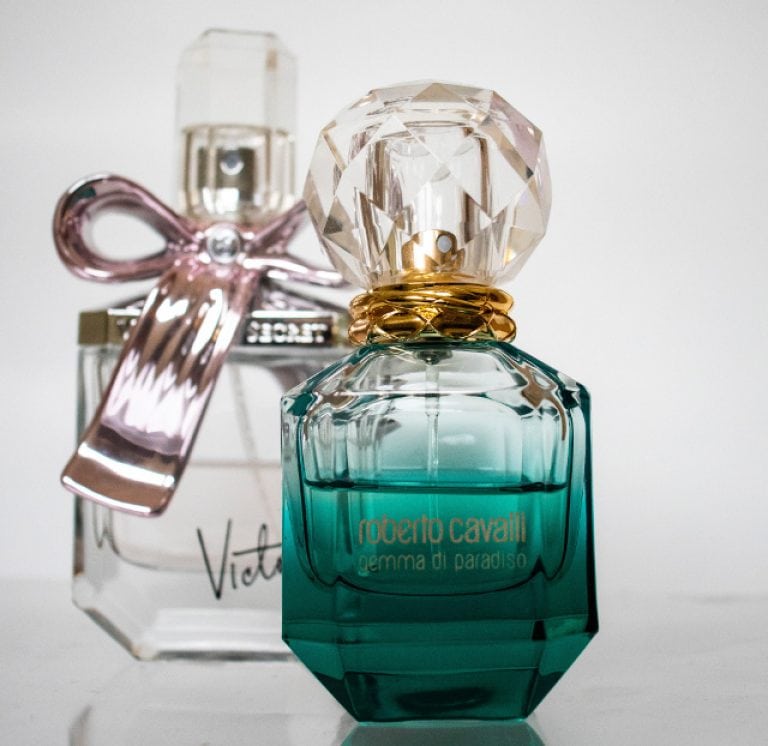 You need to think about the fragrance families like a color wheel. Mixing families that sit next to each other on the wheel will create a sense of balance and harmony while combining opposites will produce a striking contrast.
There are no rules here and most of this is down to personal taste as well as trial and error. Fragrances from the wood family, such as sandalwood and cedar, tend to work well with all the other families.
Fruity and floral scents combined also complement each other well, belonging to neighboring families. Musk scents can intensify other fragrances, making floral scents even sweeter and softening some stronger influences. Floral scents are also suitable for mixing with a range of different families of fragrances.
How Best to Apply Perfume Layering
When you are dual perfume layering, it is best to apply the strongest scent first otherwise it will overpower the lighter perfume. For example, a spicy or woody scent applied to the pulse points creates a rich background for you to add lighter floral or citrus top notes to your hair and clothing.
The lighter notes will travel first, creating an enticing introduction to the deeper warmth of the underlying fragrance. Avoid mixing two complex smells as they may compete: adding a minimalist scent with one or two notes can really enhance the more intriguing scent of your complicated, heavier perfume.
It is possible to layer fragrances on the same parts of your body, by applying a second fragrance over the first before it has dried or by pressing your wrists together. Or you could apply different scents to different parts of your body. You could also spray the lighter scents on your arms. Start with a scented body lotion that will create a base scent as well as moisturise your skin to ensure all your fragrances last longer.
Is it OK to Mix Perfumes?
When you begin layering perfumes, you may find the experiment doesn't always work out as you had planned. Some scents really don't go well together and mixing too many pungent fragrances from different families could give you a headache.
Perfume layering does not mean mixing perfumes together in a bottle, although some people have tried this approach. The problem with mixing is that both perfumes begin to evaporate as soon as you open the bottle and the beautiful top notes of each can disappear very quickly, leaving you with a limited range of notes to create your new scent.
Another thing to remember if you want to mix perfumes is that you are dealing with chemicals and essential oils which might react unpredictably with each other. Layering perfume is different from mixing, as you wear both perfumes exactly as the manufacturer intended only on different parts of the body.
In fact, two perfumes that smell vile when combined together in the same bottle can smell very appealing when worn alongside one another.
Which Particular Brands Are Good For Perfume Layering?
Some of the best perfumes for layering include less complicated fragrances that are centered around one or two main notes, and they will often name these notes in their titles. For example, Jo Malone has created a range ideal for layering such as Wood Sage and Sea Salt Cologne which combines well with other products like English Pear and Fresia Cologne.
British perfumer Clive Christian has developed a range called Addictive Arts based on eight different fragrances that come in pairs, designed to be worn together to create a more complicated signature scent.
He describes his process as using "unique headspace technology" which is a means of scientifically capturing molecules around a scent and he combines traditional perfume scents with mood-altering fragrances such as opium poppy and coca leaf.
The range includes four pairings, called Jump Up and Kiss Me, Chasing the Dragon, Vision in a Dream, and the recently added Separate Reality. For example, Jump and Kiss Me includes two perfumes, the white floral Ecstatic and the amber, oriental Hedonistic.
Wearing them together creates an experience as well as a fragrance that takes perfumerie to another level.
What Are Some of the Best Layering Combinations?
You will need to experiment to find your favorite layering combination but here are some tried and tested examples:
Jo Malone's Wood Sage & Sea Salt Cologne combined with Jo Malone's Dark Amber & Ginger Lily Dry Body Oil: the deep scent of amber combined with sage creates a sensual fragrance perfect for evening wear. You don't have to stick to the same brand when layering but this duo is particularly beautiful.
Balenciaga Paris combined with Juicy Couture's Viva la Juicy Noire: this combination mixes sweet floral top notes with the deeper scent of Juicy Noire
Chanel No 5 and the beautiful Byredo Black Saffron: both scents are stunning on their own, but combined you find the inimitable floral tones of Chanel no 5 with the more voluptuous saffron for a deep, sensual yet feminine flavor.
What Occasions are Fragrance Layering Perfect For?
You can layer perfume every day if you want to. At work, wafts of lighter top notes can exude calm confidence while a deeper warmth conveyed as you work more closely with colleagues adds a stronger dimension.
Layering is best of all if you are going to a special occasion such as an evening out or a wedding. An event that lasts from day to night is also a great time to layer perfumes as your lighter choice will be perfect for day-wear but the stronger notes will last long into the evening as the celebrations continue.

Conclusion
Understanding precisely how to layer perfumes is one of the most essential approaches for creating your unique scent. Whether you want to stick to the same brand to enhance your favorite scent by combining eau de cologne with body lotion and hair mist or if you want to experiment to find something completely unique, perfume layering is an exciting world that everyone must try.
Before you go, I have put together a review of the most elegant perfumes ranging from timeless classics to modern day sophistication that I think you will enjoy.

Discover Your Perfect Fragrance
Please take a moment to browse through my hand-picked collection of exquisite perfumes.

There may just be the perfect fragrance waiting there for you!