Finding the perfect scent for winter is not as straightforward as you might think. It can be tempting to seek out more musky scents, but these can easily become all a bit the same. A more eclectic yet classic combination of notes is called for.
When it comes to classic fragrances there's one fashion house which comes immediately to mind, Chanel. By delving into the more warming fragrances in the range, here are what we feel are 6 of the best Chanel perfumes for winter.
Background Of Chanel
Founded by Gabrielle 'Coco' Chanel in 1909, Chanel, as a brand, turned women's fashion on its head by reinventing the constrictive, over-embellished, and often impractical female fashions of the 19th century.
By positioning her fashion house as the first word in elegance and style, Coco Chanel did something revolutionary, and today the fashion house bearing her name is synonymous with opulence and quality. Chanel perfumes, of course, share this reputation for excellence and as a result, have become highly sought after at all times of the year by those who like to have a little bit of luxury in their day to day lives.

Best Chanel Perfumes for Winter: Our Top 6
Tending towards clean smells with surprisingly complex scent profiles, Chanel perfumes are luxurious but remain modern and in touch with current trends. This is just one of the reasons why Chanel perfumes have stood the test of time and continually out-perform newer brands.
Chanel has a huge portfolio of diverse scents suited to various situations and every season. With that said, here are that 6 best Chanel perfumes for winter that stood out above the rest, often with surprising twists!
1. Chanel No. 5
Review
As luxury fragrances go, Chanel No 5 is iconic and guaranteed to add some elegance and opulence to everyday life. Floral powdery notes of lily of the valley, ylang-ylang and jasmine are supported by warming sandalwood, vanilla and vetiver.
The woody base ensures that this is a long-lasting perfume which hangs in cold air very well (without being overpowering). As such you won't have to worry about constantly reapplying this scent as the day wears on, nor will it let you down when you step out on the town for an evening. Very long-lasting at 5+ hours on skin.
Top Notes:
Aldehydes, Neroli, Peach, Ylang-Ylang, Bergamot
Mid Notes:
Jasmine, Rose, Iris, Lily of the Valley
Base Notes:
Sandalwood, Vetiver, Vanilla, Oakmoss, Patchouli
Price & Reviews
You can check the latest pricing, see customer reviews and shop online at Harvey Nichols:
---
2. Coco Noir
Review
The heavier relation to fragrances such Coco and Coco Mademoiselle, Coco Noir was launched in 2012 and is a more traditional winter perfume than No 5 (and many other Chanel perfumes).
Starting out with a welcoming wave of citrus and floral, it then settles into musky, woody base notes. This fragrance can last all day and, as time progresses, gives way to the lighter fruity notes making this an almost chameleon-esque perfume which changes with the wind.
Coco Noir a warming and luxurious fragrance which can carry you from day to night with ease, and while it is a traditional winter perfume it does just as well on sultry summer nights. Very long-lasting at 5+ hours on skin.
Wearing this perfume to a winter dinner or evening party makes you feel just a little more special. Perhaps it would be a little too much for casual daytime wear.
Top Notes:
Grapefruit, Bergamot, Orange
Mid Notes:
Rose, Peach, Jasmine, Geranium, Narcissus
Base Notes:
Tonka bean, Patchouli, Sandalwood, Vanilla, White musk, Olibanum, Cloves, Benzoin
Price & Reviews
You can check the latest pricing, see customer reviews and shop online at Harrods:
---
3. Coco
Review
Named for the founder of the fashion house, Coco Chanel has become a classic fragrance for women who want to embody elegance and class while still retaining a modern touch.
While classic notes like sandalwood and rose are at the heart of this perfume, there is an oriental twist which makes it perfect for elegant winter evenings around the dinner table. Incredibly long-lasting at 7+ hours on skin.
This is a gorgeous and subtle scent which changes pleasantly as the hours go on. A little bit of the spirit of Coco Chanel exists in each and every bottle, so wear it with pride and enjoy the glamor that it gives.
Top Notes:
Mandarin orange, Peach, Rose, Coriander, Jasmine
Mid Notes:
Cloves, Mimosa, Clover, Orange blossom
Base Notes:
Labdanum, Amber, Civet, Vanilla, Tonka bean, Sandalwood, Opoponax
Price & Reviews
You can check the latest pricing, see customer reviews and shop online at Harrods:
---
4. Allure
Review
Allure is a sparkling, fresh, and clean perfume which evokes playful, feminine, and sexy vibes and, despite being lighter, manages to transition effectively from a daytime perfume into a subtle evening perfume. I would say more suited to daytime winter wear than evening.
A classic fragrance with a gentle, floral twist that is deceptively suited to colder weather because of the durable, woody notes and vanilla which make up its base, Allure is not like the average winter scent.
The lightness of many of the top notes makes it less durable than some other Chanel offerings, but the strong sillage and subtle undertones mean that when it does fade it does so well. Fairly long-lasting at 4+ hours on skin.
Top Notes:
Bergamot, Peach, Peony, Lotus
Mid Notes:
Orange blossom, Magnolia, Rose, Jasmine
Base Notes:
Vetiver, Cedar, Vanilla
Price & Reviews
You can check the latest pricing, see customer reviews and shop online at Harrods:
---
5. Allure Sensuelle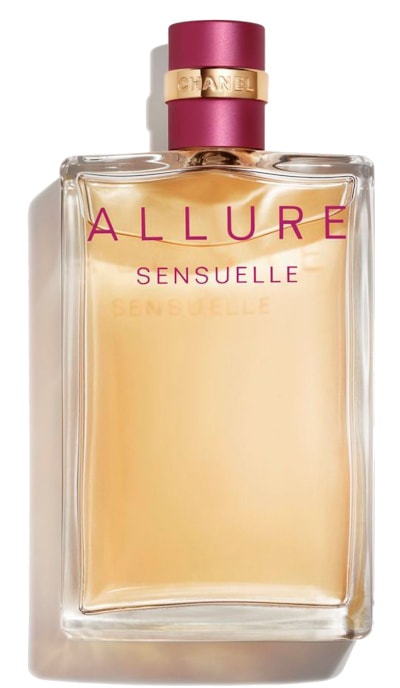 Review
Allure Sensuelle is without a doubt a 'traditional' winter perfume. The warm and spicy notes, however, give way suddenly to dazzling floral and citrusy notes which sparkle and give it a festive feel.
The powdery, feminine notes of iris, for example, are warming and comforting, while pink pepper lifts the whole perfume to a new level with a traditionally masculine scent within a nest of traditionally feminine ingredients and notes.
As a result, the perfume is complex and changes as it fades, but will nonetheless stand the test of time. Allure Sensuelle is an undeniably elegant autun/winter fragrance. Very long-lasting at 6+ hours on skin.
Top Notes:
Patchouli, Pink Pepper, Mandarin orange, Peach, Bergamot
Mid Notes:
Rose, Jasmine, Iris, Dried fruits
Base Notes:
Labdanum, Sandalwood, Spices, Lavender, Vetiver, Amber, Vanilla
Price & Reviews
You can check the latest pricing, see customer reviews and shop online at Harrods:
---
6. Coromandel
Review
Launched in 2016, Coromandel is a truly unique perfume which defies categorisation in many ways. While often classed as a classic 'winter' fragrance because of its musky and smoky base notes, Coromandel is actually very versatile and is just as suited to spring mornings and fall afternoons thanks to its fruity top notes.
Hailed as a 'perfume of art', Coromandel is at once traditional and groundbreaking; by mixing classic and modern ingredients in new and exciting ways, Chanel has produced a perfume which is timeless.
With that said, it is perfectly suited to evening wear, winter evenings in particular, because of its warming and spicy notes. Incredibly durable, with a very generous 6+ hours of longevity.
Top Notes:
Citrus, Neroli, Bitter orange
Mid Notes:
Orris root, Patchouli, Rose, Jasmine
Base Notes:
Amber, Musk, Woody notes, Benzoin, Incense, Olibanum, White chocolate
Price & Reviews
You can check the latest pricing, see customer reviews and shop online at Chanel:

Conclusion
For those not familiar with the ins and outs of perfumery, choosing the right winter perfume can be tricky and many did not make it onto my list (including No.19).
My final choices for the 6 best Chanel perfumes for winter are all perfect examples of how a good winter perfume may not always fall into the mold of a 'traditional' winter perfume. Varying from heavy, musky, and spicy to light, floral, and fresh. These all have complex and fresh scents which stands the test of cold nights.
Above and beyond all else, however, you should choose a perfume that you like; it's you wearing it, after all, and so only your opinion matters. At the end of the day, it's all about how the perfume makes you feel and if enjoy wearing it. The perfume you choose to wear is a very personal thing.
Before you go, I have put together a review of the most elegant perfumes ranging from timeless classics to modern day sophistication that I think you will enjoy.
Discover Your Perfect Fragrance
Please take a moment to browse through my hand-picked collection of exquisite perfumes.

There may just be the perfect fragrance waiting there for you!



Further Reading
Below are some additional articles from Viora London's blog. We write articles on a number of interesting lifestyle topics such as fragrance, beauty, designer handbags, luxury accessories and more.