From designer scarves and fancy handbags to couture garments and perfumes, Hermés has it all. The best Hermés Twilly perfumes blend youthful floral aromas with an intriguing hit of spice to add a little mystery.
Every Hermés Twilly scent is a statement piece and a tribute to true femininity, confidence and free spirit. It's like the invisible link that connects every Hermés girl to their independent outlook on life.

Best Hermés Twilly Perfumes
The best Hermés Twilly perfumes captivate any room with their youthful charisma, charm, and sparkle. Next up is my review of 3 stunning Twilly perfumes that should never be ignored.
1. Twilly d'Hermès Eau de Parfum
Review
Twilly d'Hermès Eau de Parfum is an oriental spicy fragrance launched in 2017. This original scent was composed by the perfumer Christine Nagel, inspired by young women facing life challenges and building lifepaths of their own.
The opening of this perfume is juicy citrus ginger. This distinctive aroma, softly lingering in the air, soon falls into an embrace of tuberose flower. Charismatic and fresh, the bouquet is warmed by the exotic sweetness of sandalwood.
The dry down is a soft and heavenly composition of white florals sprinkled with ginger and woody notes. It has a slight soapiness to it, which is very discreet, a reminiscence of a luxurious spa type of scent.
I found that Twilly d'Hermès Eau de Parfum is a luxurious everyday scent. It's heavier on the ginger than Eau Ginger (reviewed next), and I really love it for that.
Top Notes:
Ginger, Citrus
Mid Notes:
Tuberose, Jasmine, Orange Blossom
Base Notes:
Sandalwood, Vanilla
Seasons & Longevity
Suitable for spring, summer and autumn days, this playful, energetic fragrance is pretty versatile. It can be worn anywhere from shopping trips to lunches, dinners or dates.
Twilly d'Hermès Eau de Parfum is pretty long-lasting with good sillage and projection, giving around 6+ hours of enjoyable wear.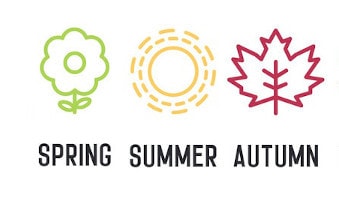 Benefits & Drawbacks
| | |
| --- | --- |
| Pros | A pretty scent that gets lots of compliments |
| Cons | Maybe too much ginger for some |
2. Twilly d'Hermès Eau Ginger Eau de Parfum
Review
Twilly d'Hermès Eau Ginger Eau de Parfum is an intriguing spicy woody/floral scent. Launched in 2021, it was created by perfumer Christine Nagel.
Its bright opening fills the air with the dazzling odour of spiced white peony. Light, airy and fresh, it is soon joined by a sweet candied ginger heart.
Upon dry-down, cedar creeps in to inject its smooth woody spice, giving the fragrance stability of what could have been too floral.
The perfume dries to a delightful and clean floral scent with a touch of woody notes. Sadly, at this point, the ginger note is almost gone. Nevertheless, the dry-down is pretty.
I feel if you are looking for an uplifting and cheerful scent, Twilly d'Hermès Eau Ginger Eau de Parfum can be a good choice. Easy to wear and suitable for various occasions, it will see you through a day with ease.
Top Notes:
Peony
Mid Notes:
Candied Ginger
Base Notes:
Cedar
Seasons & Longevity
Gentle and elegant, this peony fragrance is perfect for spring and summer days. Its vibrant, fresh aroma will suit family lunches, afternoon teas or picnics.
Moderate projection and longevity will give generous 4+ hours of wear.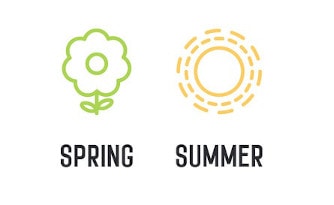 Benefits & Drawbacks
| | |
| --- | --- |
| Pros | Elegant spring/summer floral scent |
| Cons | The ginger note is too soft |
3. Twilly d'Hermès Eau Poivrée Eau de Parfum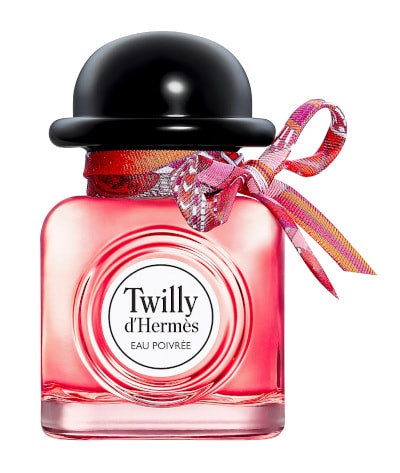 Review
The most intriguing scent of all three in my opinion is Twilly d'Hermès Eau Poivrée Eau de Parfum, launched in 2019. This spicy woody floral scent was created by the talented Hermès perfumer Christine Nagel.
The opening is punchy, and the pink pepper is really potent here. It may feel slightly overwhelming at first, but the rose eventually blooms, injecting the composition with its smooth floral persona.
Earthy patchouli in the base brings a musky spice, providing an intriguing amount of depth to the fragrance. Wow!
Twilly d'Hermès Eau Poivrée Eau de Parfum dries to a quite unusual blend of musky pepper rose scent, which I absolutely adore!
Eau Poivrée is not a blind-buy fragrance, but if you love experimenting and crave a spicy kick, give this perfume a try! I can promise you will not get disappointed 🙂
Top Notes:
Pink Pepper
Mid Notes:
Rose
Base Notes:
Patchouli
Seasons & Longevity
I feel this scent is more suitable for colder months of autumn/winter and perfect for various occasions, including lunches, dinner dates or parties.
This perfume provides 6+ hours of longevity and decent sillage and projection.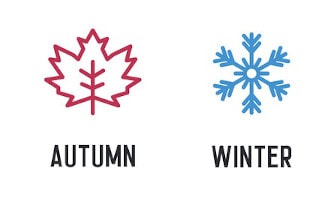 Benefits & Drawbacks
| | |
| --- | --- |
| Pros | Feminine and floral yet beautifully spiced |
| Cons | Not a blind buy due to the pepper |

Our Top Pick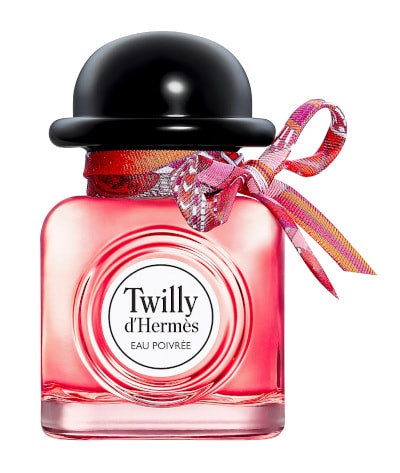 Twilly d'Hermès Eau Poivrée Eau de Parfum
Twilly d'Hermès Eau Poivrée Eau de Parfum is my top pick. Pink pepper coated rose is absolutely beautiful, and the musky/earthy patchouli is quite simply the icing on the cake.
Our Twilly Perfume Video Review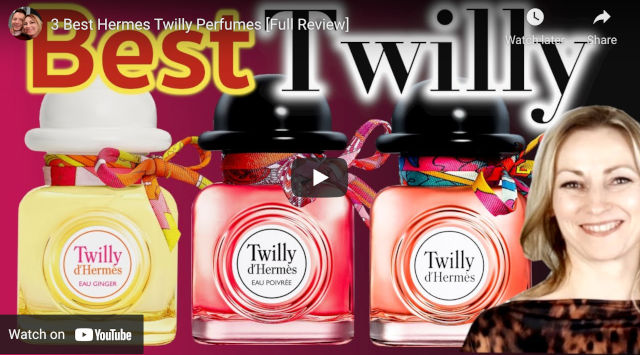 Conclusion
The Hermés Twilly collection of perfumes is a real treat. Each scent is nicely blended, performs well and smells expensive. I also adore their bottles, all wearing cute little bowler hats and fancy bows!
Each fragrance will stand out on your dresser and could also make a thoughtful gift. I would say, of the 3 fragrances here, Twilly d'Hermès Eau de Parfum is the nearest to a blind buy for a gift.
Since 1837, the Hermés brand has stayed true to its core values of quality over quantity, sustainability and renewable materials. The brand is respectful of people and nature, constantly seeking better solutions to help to reduce their impact on the environment.

Further Reading
Below are some additional articles from Viora London's blog. We write articles on a number of interesting lifestyle topics such as fragrance, beauty, luxury accessories and more.
Ingrid is an avid perfume collector, fragrance writer & reviewer, fragrance Youtuber and Friend member of the British Society of Perfumers who has worked in the fashion industry for over 30 years.