It may not have escaped your attention that many perfumers are launching 'intense' perfume versions of original favourites. They are enhancing their original fragrances with new accents that make for a more intense experience.
Intense varieties of perfumes allow perfumers' to take trusted and well-known favourites to new levels. By reworking them into new combinations that have even more substance and the ability to take us with them on an olfactory adventure. The best intense perfumes can even increase the joy we feel from the perfumes we already love.
What Does 'Intense' Perfume Mean?
There are a number of different interpretations in the perfume industry, however it appears 'Intense' means that the scent is stronger and more prominent.
In most cases, the best intense perfumes have been born from the original to evolve into a more intense experience than the original perfume. Some fragrances have been reworked entirely to produce an after-dark version or even a new scent entirely.
What Is The Difference Between The 'Standard' And 'Intense' Version?
In some cases, the difference can include a higher concentration of the perfume oil. However, the main difference lies in combining a wider variety of different notes. The fragrance is reworked so that the scent is richer and more complicated, increasing its longevity and amplifying certain notes so that they smell stronger and become more obvious.
Does The Intense Version Last Longer?
In most cases the intense versions last longer overall as the reworking of fragrance can mean that some notes are more developed than before. A more complex variety of base notes allows the perfume to perform for longer. Top notes give way to more elaborate deep notes that will carry on the merry dance.
They will certainly last longer than eau de toilette versions of the original and may even outperform the original eau de parfum. Some intense versions have migrated from the original eau de parfum to parfum.
Does The Intense Version Contain More Parfum?
Intense versions are only available as eau de parfum or parfum which means they will definitely contain more parfum than the eau de toilette versions of the original. In some cases, they may be more highly concentrated than eau de parfum versions of the original which would mean they could contain more parfum.
For the most part the intense versions do not necessarily contain more parfum. However they will usually contain a more lingering variety of base notes for additional intensity.
Does The Intense Version Contain Different Notes?
While the intense versions contain many of the same notes of the original, they are combined with a wider variety of different fragrances that work together for different effects. This makes for a more intricate perfume that is both instantly arresting and able to last longer on the skin.

Top 10 Best Intense Perfumes
Coming up next are the top 10 best intense perfumes that we feel are certainly worth a place in your perfume collection. Each contains similar notes to the original version, but have been reworked for a more powerful and alluring overall experience.
1. Joy Intense by Dior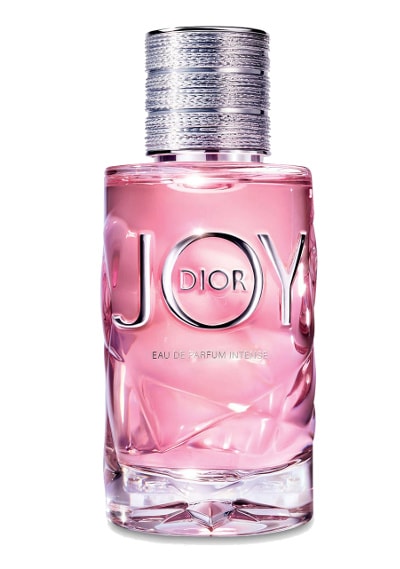 Joy Intense captures the feeling of happiness in a bottle. A soft and gentle combination of citrus scents and woody musks makes this a cheerful fragrance which is as charming as it is alluring.

The mixture of different fragrances is rich and complicated, but they work together to create an overall sense of lightness and energy which lasts all day. It is a floral scent which takes the jasmine and neroli notes of the original J'Adore and adds some richer, more complicated notes like jasmine grandiflorum to intensify its power.

Although rich with woody musks, the freshness of Joy Intense means it is also suitable as a day perfume and would be perfect for a celebration like a wedding as it is soft enough for morning festivities as well as the energy for an evening party.

Joy is designed by Francois Demachy who aimed to create a multi-faceted scent that would include a rich combination of a multitude of different notes that combine to create one harmonious accent of brightness and life.

The bottle is simple yet classic with its delicate pink colour and smooth roundness that suggests peace and feminine delight. Its bejewelled cap suggests a touch of elegance and classic wealth which gives it a certain allure.

Top Notes:
Citrus and neroli

Mid Notes:
Centifolia rose and jasmine grandiflorum

Base Notes:
Vanilla, sandalwood and patchouli


Available at Amazon


2. Coco Mademoiselle Intense by Chanel

This heady, powerful perfume takes some of the key notes of the original Coco and adds some more complex fragrances to create a richer, deeper version.

The sensuous combination of tonka bean, jasmine and patchouli is still obvious but the intense version is warmed with amber and vanilla to create an indulgent background on which lighter citrus and floral scents can dance. The notes of patchouli are also far stronger and more indulgent than the original version.

Citrus top notes make this perfume just as suitable for day-wear as for nighttime as the combination of fragrances make it as versatile as it is recognisable. Most women seem to see Coco Mademoiselle as an autumn or winter perfume although it can also be worn in spring.

Coco Mademoiselle Intense is the creation of Olivier Polge whose father, Jacques Polge, developed the original Coco Mademoiselle. It is fitting that Olivier should be the perfumer to rework the magic of his father and both are well noted Chanel perfumers. The bottle is very similar to the original version with its accustomed squareness and clean, straight lines.

Top Notes:
Sicilian orange, Calabrian bergamot and lemon

Mid Notes:
Jasmine, rose and fruity notes

Base Notes:
Patchouli, tonka bean, labdanum, Madagascan vanilla and white musk


Available at Amazon


3. Olympea Intense by Paco Rabanne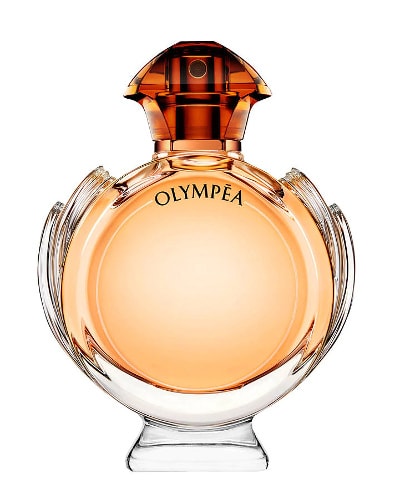 Olympea is an intoxicating blend of amber and salty vanilla that suggests feminine power and strength combined with human bravery and longing. It would take a strong perfume to live up to its name and this fragrance is certainly deep enough to suggest the fire of the gods.

Flowery top notes give way to a rich base of the three main notes which work together well, while each are deep enough to command their own stage. Floral and fruity top notes are reinforced by a salty vanilla that speaks to the heart and has an overwhelming feeling of femininity and power.

Olympea is powerful and sensuous and makes for a perfect evening perfume, adding warmth and texture to cool winter nights and autumn soirees.

The stunning bottle of Olympea is reminiscent of an Olympic medal with the leaves of the wreath adorning the sides of the round, golden face of the bottle. Shaped like a laurel crown to remind us of the Invictus spirit. Olympea Intense is the masterpiece of Loc Dong, Anne Flippo and Dominique Ropion.

Top Notes:
grapefruit flower, orange blossom

Mid Notes:
White Pepper, Salty Vanilla

Base Notes:
Amber, Cedarwood


Available at John Lewis & Partners


4. Burberry Her Intense by Burberry


Burberry Her is a delicious blend of fruity and floral top notes with an intoxicating base of jasmine. It is designed to capture the essence of city girl power and is a potent after-dark perfume that is both bold and alluring.

It is said to be based on life in London and is a gourmand perfume in that it combines fragrances that appeal to our sense of taste as well as smell. Burberry Her is a fantastic perfume for evening wear at all times of the year.

The bottle has crisp clear lines and an asymmetrical cap that captures the vitality of London as well as its boldness. The look is enhanced by the colour that changes from light to dark as it reaches to the top.

It was launched in 2019 and designed by Francis Kirkdjian as a more powerful version of the original that was released a couple of years before as the pillar of the new Burberry fragrances under its new director.

Top Notes:
Red fruits and blackberry

Mid Notes:
Jasmine and violet

Base Notes:
Benzoin and cedarwood


Available at John Lewis & Partners


5. Mon Guerlain Intense by Guerlain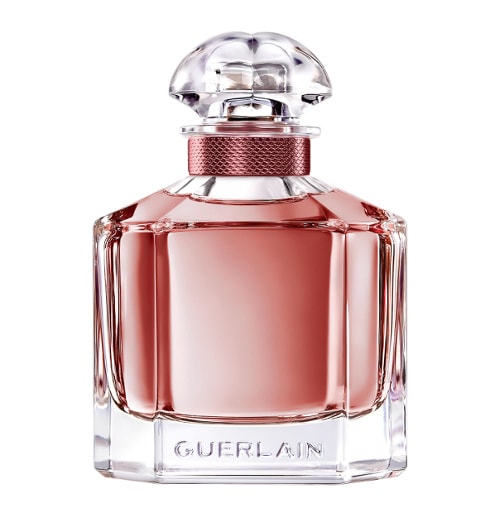 Designed to represent the feminine energy of Angelina Jolie, this perfume is a complex blend of a variety of intricate and daring fragrances that convey the multi-faceted personality of a modern, strong woman.

The heart of the fragrance is gentle and warming vanilla that is complimented and contrasted with gentle fruit and floral notes based on an alluring foundation of potent musk and patchouli. It is as stunning and refreshing as it is warm and velvety.

Mon Guerlain can be worn at any time, day or night, as although potent and vibrant it has enough variety to be very flexible and can convey the personality of modern day women whatever the event.

The bottle defines a richness and vitality in the deep, romantic dark pink colour embossed by a glittering ring and a cap shaped like a treasured gem.

It is based on the original bottle design of Guerlain from 1908 and its quadrilobe shape that combines feminine curves with dashing straight lines. The perfume was created by Thierry Wasser and Delphine Jelk.

Top Notes:
Mandarin, bergamot and lavender

Mid Notes:
Sambac jasmine, Tahitensis vanilla and vanilla tincture

Base Notes:
White musk, patchouli and sandalwood


Available at John Lewis & Partners


6. La Vie Est Belle Intense by Lancome

La Vie Est Belle is a sensuous blend based on the essence of Julia Roberts and designed by three of France's leading perfumers. It is a more potent version of the original which uses the sensual charm of tuberose with gourmand flavours to create an explosion of the senses. Floral scents mix with fruity and nutty flavours that can almost be tasted as well as smelled to create a truly gourmand perfume that will last for many hours.

La Vie Est Belle is both a day and evening perfume as it is able to adjust to almost any occasion. Most women prefer to wear it during winter or autumn when its warm, almost creamy effect can be fully appreciated.

The beautiful and romantic bottle is a deep, inspiring pink and combines feminine curves and domes with straight, strong lines. The charming silver ribbon at the top captures everything that is feminine and fun. It was designed as the result of combined work from three different perfumers including Dominique Ropion, Olivier Polge and Anne Flippo.

Top Notes:
Pear, bergamot, blackcurrant bud and pink pepper

Mid Notes:
Jasmine sambac ,tuberose, hazelnut accord and Iris

Base Notes:
Tonka bean, patchouli and gourmand accord


Available at John Lewis & Partners


7. Black Opium Intense by Yves Saint Laurent

The original Opium itself is powerful and intense, and this reworking is every bit as heady and magnetic as you would expect from its name. Coffee fragrances mix with blue absinthe to create an addictive and powerful scent that brings out an inner power all of its own.

The face of the perfume, Zoe Kravitz, represents everything that a strong woman stands for and all that is conveyed in this deep and sensual perfume.

It is fearless, bold and unstoppable with a powerful understanding of its own seductive strength.
Black opium is very much an evening perfume best suited to winter celebrations and chilly autumn evenings. It has the glitz and sparkle needed to see in the New Year or add to Christmas festivities.

Black Opium comes in a delicious purple and navy bottle, bedecked with glittery stars that are as appealing as the perfume itself. It was created by the expert perfumery skills of a combined force of four well known French perfumers, Nathalie Lorson, Olivier Cresp, Honorie Blanc and Marie Salamagne.

Top Notes:
Blue absinthe, boysenberry

Mid Notes:
Sambac jasmine, black coffee and orange blossom

Base Notes:
Liquorice, vanilla and sandalwood


Available at John Lewis & Partners


8. Dark Amber & Ginger Lily Intense by Jo Malone


Jo Malone is an expert in fragrance layering and her intense version of this classic favourite adds deeper notes for an even more enriching experience.

The richness of dark amber is enhanced with rare Kyara wood from the traditional Japanese incense ceremony of Khodo to create a depth and exotic flavour that is missing in the original. Ginger and black cardamom create a vibrancy and richness to an overall calming perfume that is relaxing and intricately delicate.

Dark Amber and Ginger Lily Intense is versatile enough to be worn both during the evening or the day. The heady fragrances of amber and orchid make it sensuous enough for an evening perfume and many women prefer to wear it during autumn or winter as its rich, textual fragrances and woody Kyara are ideal for relaxing evenings.

It is relaxing enough to be worn during the day, especially for people who like to wear strong perfumes.
The dashing black bottle is sultry and mysterious and its tall rectangular frame give it the air of a handsome stranger. The modest white Jo Malone label place it clearly in the Jo Malone family while its clean lines convey a crisp freshness.

Top Notes:
Black cardamom, pink pepper and ginger

Mid Notes:
Black orchid, water lily, rose and jasmine

Base Notes:
Kyara incense, amber, patchouli, leather and sandalwood


Available at John Lewis & Partners


9. Gucci Guilty Intense, by Gucci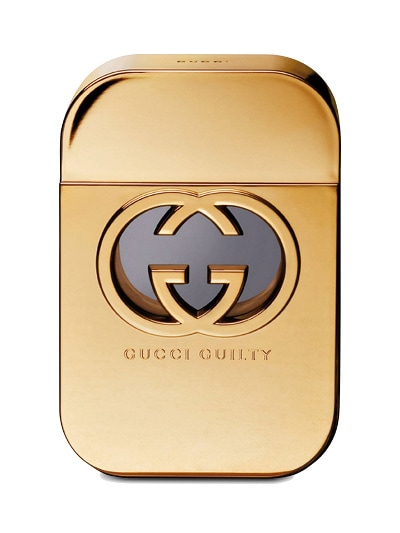 Gucci Guilty is overwhelmingly seductive and the hallmark patchouli scent of the original is exalted by a combination of fragrances that dance together for a magnetising effect.

Mandarin top notes seize your attention at first then give way to a romantic and powdery lilac and heliotrope which is girly and romantic before the sensual amber takes over with its flamboyant warmth and richness. It is an addictive and intoxicating fragrance that keeps you on your toes with new surprises, each one more sensual than the last.

This sexy and daring perfume is perfect for evening wear especially during autumn or winter. It is very long-lasting and can be great for an event that is likely to take you into the early hours.

Gucci Guilty Intense comes in a golden bottle that looks like an ingot with an intertwined double G emblem. The bottle looks almost like a compact case or jewellery box and we can only glimpse the dark liquid behind the lettering that adds to its mystique.

Top Notes:
Mandarin orange and pink pepper

Mid Notes:
Lilac, violet and heliotrope

Base Notes:
Patchouli and amber


Available at Amazon


10. Tiffany Intense by Tiffany & Co


Tiffany Intense is simpler than many other intense versions without losing any of its expected potency. It retains the delicate floral tones of the original but wraps these in a warmer notes through intense amber and the sweet, vanilla hue of benzoin.

The rich notes of iris butter are still there and are enhanced by the velvety balminess of the deeper notes. Overwhelmingly feminine and romantic, it is an enticing perfume that is both gentle and rich with a deliciously fresh fragrance.

The rich amber notes make this perfume suitable for evening wear but it is still fresh and crisp enough to make for a gorgeous daytime perfume. Many women prefer to wear this in the colder months as its sweet scent is reminiscent of lost summer evenings but I think it is also a good perfume to wear during spring as it carries a feeling of optimism and hope.

The striking pale blue bottle continues the theme of optimism and blue skies while the crisp clear lines and crystalline effect are both mesmerising and beautiful, The perfume was created by Daniela Andrier and the bottle's silver collar indicates the well known silver Tiffany trademark.

Top Notes:
Pink peppercorn

Mid Notes:
Iris

Base Notes:
Benzoin and amber


Available at John Lewis & Partners

Key Intense Take-Away's
After sampling and reviewing some of the best intense perfumes available, I discovered that I am drawn to fragrances where I was not so struck on the original fragrance.
So it's well worth trying an intense version of a perfume even if you don't really like the original as the newly reinterpreted version might be surprisingly appealing. For example, I love Joy Intense far, far more than the original version.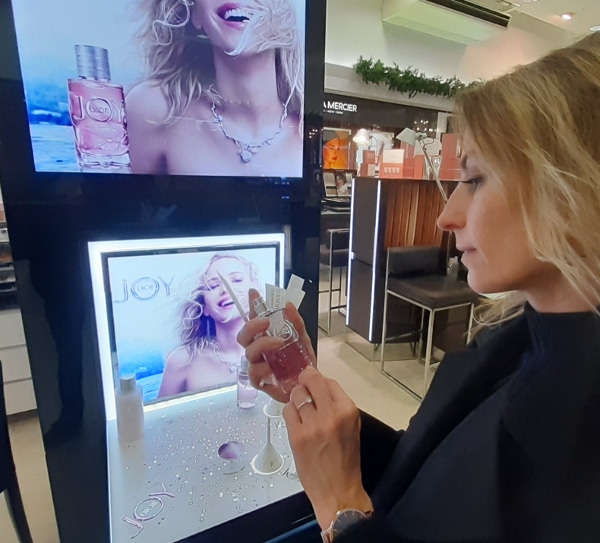 Intense versions are not for everyone as some people may find the new combination is too far a journey from their original favourite. As with all new perfumes, you need to test it carefully by wearing the perfume for a few hours to see how it reacts with the unique chemicals of your own skin.
As more and more different perfumes and intense varieties come onto the market, it becomes more tempting to add just another one to the perfume shelf. Even if you've found your signature scent, you never know when an even better gem will come your way.
Intense Perfumes Layer Incredibly Well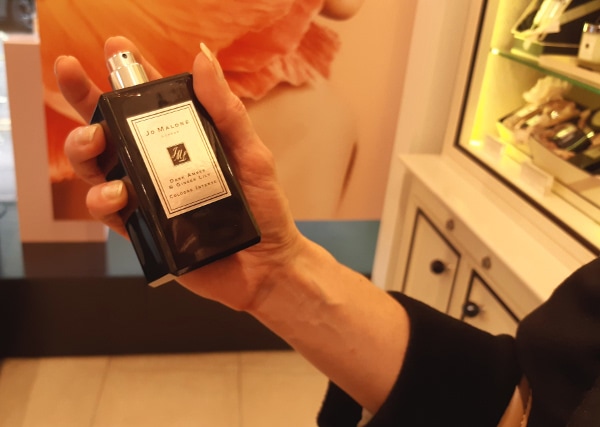 As individuals, many of us often experiment with perfume layering in order to create a combination that is unique and allows different notes to dance together and give way to one another so that our fragrances become a journey from instantly attractive top notes to deep and sensuous base notes.
Related Post: How To Layer Perfumes Like A Pro
I feel using some of the best intense perfumes made layering more striking. Jo Malone's Dark Amber & Ginger Lily Intense is perfect for layering with others in the collection such as London Oud & Bergamot Cologne Intense.
While each of these intense perfumes contain many of the notes of their original predecessors, it is clear to see that powerful base notes have been added to deepen or amplify the effects. In most cases, the intense perfumes make for wonderful after-dark versions where the original lighter fragrance might have been more suitable for day-wear. If you are truly hooked on a particular favourite, you might like to combine the original during the day and move onto the intense version for the evening to add extra facets to your perfume wardrobe.
As we are increasingly inspired by the heady perfumes of the Middle East, stronger and more potent perfumes are being developed. They have the ability to combine a wider variety of notes for a more complex and intricate perfume that is both longer lasting and more alluring than ever before. Adding depth to well known perfumes can make them more flexible and more suitable to wear during the evening as well as the day.
This makes for a richer and deeper experience so that perfume becomes more than just a smell and can even begin to take on a life of its very own. By revamping some of our favourite perfumes, perfumers are able to update their fragrances without losing their original appeal. This can help to broaden the variety of our perfumes and add new dimensions.
Closing Thoughts
It is easy to see how wearing the same perfume all the time can become a little boring but, thanks to intense versions, it is now possible to wear your favourite more often without seeming repetitive. Anyone who practices perfume layering might be glad to allow the professionals to do the job for them as intense versions help to add a new flavour without losing the best features of the original. Best of all, they also last even longer than before.
Once you have found your signature scent it can be tempting to stick with it forever but not every fragrance is suitable for all occasions. This is especially true if you tend to favour a subtle perfume that is really only suitable for daytime or summer.
The intense version can be your go-to fragrance for a stronger effect when you need to add a little more mystique. Intense versions are a fantastic opportunity to keep your favourite fragrance for longer as you can stick to the same notes while enjoying a deeper backdrop of wider scents. Wearing intense perfumes is a little like adding more colour to your painting, the picture is the same but intensified with more vibrant surroundings.