Oriental fragrances are renowned for their abundance of exotic warming notes, such as herbs, spices, musks, resins and wood. The best oriental perfumes offer sultry, rich, and enticing aromas gathered from every distant corner of the globe.
With so many different scent 'types' available these days, searching for that perfect fragrance can sometimes feel almost impossible. In today's article, we will review 10 of the best oriental perfumes for women.
Let's briefly review the main oriental scent families before we begin our oriental journey of discovery. There are four common subgroups known among the oriental fragrance family:
Types of Oriental Scents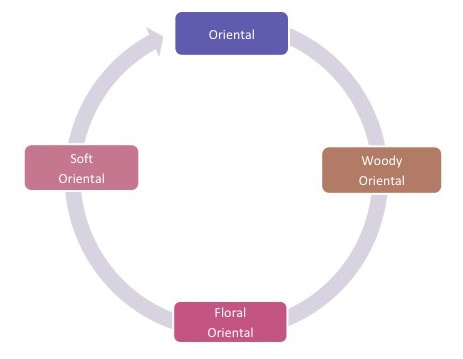 Floral Oriental
The floral-oriental subgroup of fragrances frequently contains soft, floral, powdery notes such as gardenia or tuberose that are and mixed with spicy notes such as cardamom and nutmeg.
Soft Oriental
The soft-oriental subgroup of fragrances is less intense than the standard oriental category, although still exude sophisticated, sultry notes. Soft oriental fragrances will use milder spices such as cinnamon and clove with warming tones of amber.
Oriental
The oriental subgroup (sometimes referred to as oriental-vanilla) consists of sweeter, warmer perfume notes such as vanilla, almonds, caramel, chocolate or honey. Oriental perfumes are based on more harmonious aromas, composed of exotic resins, woody notes, flowers and spices.
Oriental Woody
The oriental woody subgroup contains earthy, dried accords of woods, such as sandalwood or cedarwood mixed with patchouli or vetiver and sweet, spicy notes.

10 Best Oriental Perfumes For Women
Here are 10 of the best oriental perfumes for women that deserve your complete attention. Some are floral, others woodier or vanilla-based. Each belongs to the oriental fragrance family tree and are unashamedly sensual.
1. La Nuit Trésor À La Folie Eau de Parfum – LANCOME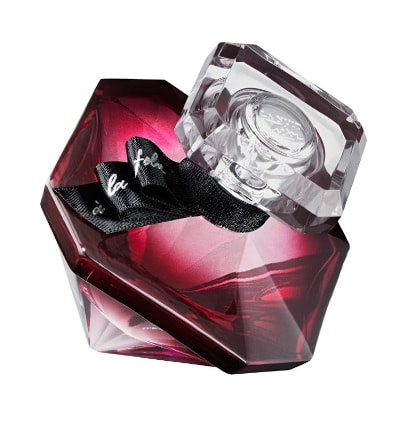 Type:
Review:
The new addition to La Nuit Trésor collection released in 2018 is this gorgeous A La Follie Eau de Parfum from Lancome Perfume house.
Composed by noses Christophe Raynaud, Amandine Marie and Honorine Blanc, La Nuit Trésor À La Folie Eau de Parfum is an interpretation of love, telling the story of this unique, unconditional feeling.
This sexy, smoky vanilla fragrance opens with a fresh succulence of bergamot, red current and pear, gently spiced up with the notes of pink pepper. It then leads to the fragrant floral heart of violet, jasmine and peony blending in nicely with balsamic, nutty aromas of the base. Powerful, enticing rose scent dances beautifully with sweet, sensuous vanilla, creating an addictive, deep warmth.
The jewel-like bottle, in the shape of a perfectly cut ruby, decorated with a black ribbon, is destined to become the star of the show in your fragrance collection.
One application is enough to last the evening, and the scent will stay unchanged throughout the entire wear. Suitable for a colder season the perfume can be worn at any time of day.
Beauty to perfection, this luxurious La Nuit Trésor À La Folie Eau de Parfum will give everything you need. Complementing and surrounding with a rich, opulent aroma.
Top Notes:
Pink Pepper, Bergamot, Pear, Red Currant
Mid Notes:
Damask Rose, Jasmine, Peony, Violet
Base Notes:
Bourbon Vanilla, Benzoin, Tonka Bean, Patchouli, Woody Notes, Ambroxan, Nutmeg
Price & Reviews
You can check the latest pricing, see customer reviews and shop online at Lancome:
2. L'interdit Eau de Parfum – GIVENCHY
Type:

Review:
One of the earliest fragrances from the Givenchy house, L'interdit was first introduced back in 1957 and dedicated to the most remarkable actress and designer's life long muse Audrey Hepburn.
Praising the femininity this new 2018 version of L'Interdit Eau de Parfum is an invitation to experience the sensation of life with no rules, to free and empower yourself.
A bold scented, floral-woody fragrance, opening with fresh aromas of bergamot and juicy pear, is soon overtaken by dominant white florals in the heart notes. This sweet, joyful composition slowly finds its way to the bodily notes of patchouli and vetiver, exalted in the dark notes of musky woodiness.
This elegant, aromatic statement piece however intense, is not too heavy or overpowering and works really well as all year round fragrance. Perfect for either day or evening, L'Interdit Eau de Parfum has the longevity of almost 6 hours on skin and day or two on clothes.
Simple, clean line bottle, nestling a soft pink colour liquid, is topped with a translucent cap featuring fashion house logo around its neck.
Absolutely chic and modern, this incredible scent is like an intense brightness shining its mysterious notes, flirtatiously enticing into the depths of the forbidden.
Top Notes:
Bergamot, Pear
Mid Notes:
Orange Blossom, Jasmine, Tuberose
Base Notes:
Patchouli, Vetiver, Vanilla, Ambroxan
Price & Reviews
You can check the latest pricing, see customer reviews and shop online at John Lewis & Partners:
3. Le Gemme Reali Rubinia Eau de Parfum – BVLGARI
Type:

Review
A part of Bvlgari's Le Gemme collection, Rubinia Eau de Parfum is inspired by the most expressive of the gemstones, a magnificent ruby.
This exclusive fragrance released back in 2018 is a symbol of the power of passion, attraction and luxury. The perfumer Alberto Morillas transformed the strength and energy of this famous gemstone into a unique perfume, creating a beautifully intense aroma.
A dominating heart note of red sandalwood in this full of passion, woody fragrance, reveals its feminine side by creating an illusion of elegance and lightness.
The citrusy mandarin, the opening of the perfume, dazzles with all its glory surrounded by the fresh sweetness of orange blossom and jasmine. Enveloping essence of copaiba wood submerges zesty aromas, gently soothing all down with its creamy tones. Sophisticated powdery notes in the base of this fragrance uplift the whole pallet to its moreish heights.
Suitable for a colder, fresher time of year, Rubinia Eau de Parfum is incredibly lasting and would be perfect for evening wear.
This exciting, alluring scent nestles inside this striking bottle topped with a gold-colour cap, featuring a glowing, deep red glass decorating to the top.
From the exciting woods to vivacious perfume, this fragrance is an excellent choice for any oriental-woody scent lovers, filling with feminine passion and intensity.
Top Notes:
Sicilian Mandarin
Mid Notes:
Sandalwood, Copaiba Balm, Jasmine, Orange Blossom
Base Notes:
Tonka Bean, Saffron, Vanilla, Violet, Agarwood
Price & Reviews
You can check the latest pricing, see customer reviews and shop online at Bulgari:
4. Fever Eau de Parfum – JIMMY CHOO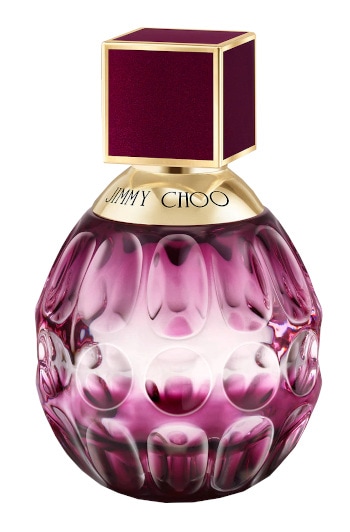 Type:
Review
The new Fever Eau de Parfum launched in August 2018, is an exciting addition to the brand's signature collection started back in 2011.
Created by perfumers Natalie Lorson and Honorine Blanc, the fragrance delivers a unique, potent composition that entices passion and glitz.
An oriental-floral scent delivers complex and bold appearance, an opiate distinction between floral and gourmand.
Dark, hot, fruity and playful, Jimmy Choo Fever first hits with deliciously fresh notes of lychee, plum and grapefruit. Followed by the dazzling notes of vanilla orchid, jasmine and heliotrope the composition is finally pulled together into a warming embrace of the base notes.
Roasted almond and tonka bean bridge the gap between light, airy aroma and more profound, sexy odour, when powdery notes of sandalwood and benzoin settle the pallet into this vibrant bouquet of sublime temptation.
Due to its full-bodied and contrasting blend, Fever Eau de Parfum is excellent for both autumn and winter. And with the longevity for up to 6 hours this hypnotic fragrance can be enjoyed all day long.
An adorable, intense plum colour bottle beautifully radiates the fragrance through its compound design, playful inviting to the depths of this seductive glamour.
Top Notes:
Black Plum Nectar, Lychee, Grapefruit
Mid Notes:
Heliotrope, Vanilla Orchid, Jasmine
Base Notes:
Roasted Tonka Bean, Benzoin, Sandalwood
Price & Reviews
You can check the latest pricing, see customer reviews and shop online at John Lewis & Partners:
5. Olympea Legend Eau de Parfum – PACO RABANNE
Type:

Review
2019 release, the oriental-floral Olympea Legend Eau de Parfum by Paco Rabanne is a new fragrance created by the nose Loc Dong.
Strong and powerful, like the greatest goddess at the top of her climax, this glistening aroma, so intense and addictive, reverence the excitement of adventure and the taste of triumph.
The beautiful flower in the middle of the burning desert, Olympia Legend Eau de Parfum opens with sweet, spicy notes of salty plum and apricot. Surrounded by intense floral and sultry creamy notes, the fragrance is taken to a level when the contradicting aromas become one, creating harmonious unison.
A desert flower blossom intertwined with amber sands and ginger flower, unwraps its fresh succulent scent, creating an opulent, crisp, sunny aroma. The saltiness of plum mixed with powdery vanilla and musky tonka bean makes this divine, indulgent scent so beautifully addictive.
Round shaped bottle, dressed up in a copper laurel leaves crown, celebrates the victory, glorifying this potent elixir.
Very long projection makes this fragrance more suitable for colder seasons, and perfect for either evening or day time.
Taste the adventure and treat yourself to this luxurious, radiant perfume. Unveil your blazing inner powers and transform into a goddess of the night!
Top Notes:
Apricot, Salty Plum
Mid Notes:
Ginger Flower, Desert Palm Flower Blossom
Base Notes:
Vanilla & Tonka Bean Absolute, Amber Sand
Price & Reviews
You can check the latest pricing, see customer reviews and shop online at John Lewis & Partners:
6. Knot Absolue Eau de Parfum – BOTTEGA VENETA
Type:

Review
Knot Absolue Eau de Parfum is a newer version of the brand's first-ever fragrance Knot Eau de Parfum. Introduced in 2018 the oriental-floral perfume is more intense than the original, containing a selection of vibrant, bodily notes, that have more alluring sophisticated appeal.
Named after the iconic Bottega Veneta clutch bag, Knot Absolute Eau de Parfum is blended with the finest raw ingredients. This represents exceptional quality and dedication of the craftsmanship.
Masterfully created from top to base, it envelops with delicious syrupy head notes of heliotrope and neroli. The floral heart containing lavender and jasmine is intensified by the pretentious aromas of myrrh and opoponax, warming up and adding a touch of an opulent sweetness to the pallet.
Rich, strong and long-lasting, Knot Absolue Eau de Parfum is not pretentious or over-powering. Surrounding with an incredibly intense indulgence of moreish florals, it makes ideal for those sunny autumn afternoons.
This luxurious oriental fragrance nestles inside skillfully finished bottle, featuring a hand-finished knot metal cap.
It's like driving a cabriolet during early morning hours when the roads are empty and sprinkled with the fallen leaves. When the sunbeams poke their heads through the trees, gently kissing your face, and the entire world seems perfect and complete.
Top Notes:
Heliotrope, Neroli
Mid Notes:
Lavender, Jasmine
Base Notes:
Myrrh, Opoponax
Price & Reviews
You can check the latest pricing, see customer reviews and shop online at John Lewis & Partners:
7. Coromandel Eau de Parfum – CHANEL
Type:

Review
Described as a perfume of art, Coromandel Eau de Parfum is a fantastic oriental fragrance, captivating with its intensely fragrant, exotic charm. Launched in 2016, this scent is yet another triumphant creation of Jacques Polge's, a former Head Perfumer at Les Parfums Chanel.
Reflecting the precious Asian flower Coromandel, the screens of which lined the walls of Gabrielle Chanel's apartment in Paris, this classy, elegant scent is so quintessential Chanel.
The opening of fresh, juicy notes of citruses and neroli leads to this mesmerising flowerbed of patchouli, rose and jasmine. This lovingly sweet, warm and elegant aroma slowly blends into the soft darkness of seductive woods, resins and musk, creating an intensely aromatic bouquet. The gourmand white chocolate note plays a comforting role in this enchanting blend, making the most mysterious exotic aura.
The Oriental-woody Coromandel Eau de Parfum is like a luxurious blanket you can wrap in on a sunny but crisp winter's morning. Powerful and rich, but comforting and sexy at the same time.
This versatile, powdery fragrance will settle down after a few hours but will remain close to skin all day long.
Presented in a simple, clean glass bottle, this chic and most indulging scent is like a warm hug, forever classic. A timeless perfume of art.
Top Notes:
Bitter Orange, Neroli, Citruses
Mid Notes:
Orris Root, Patchouli, Rose, Jasmine
Base Notes:
Amber, Benzoin, Incense, Woody Notes, Olibanum, Musk, White Chocolate
Price & Reviews
You can check the latest pricing, see customer reviews and shop online at John Lewis & Partners:
8. Shalimar Souffle Intense Eau de Parfum – GUERLAIN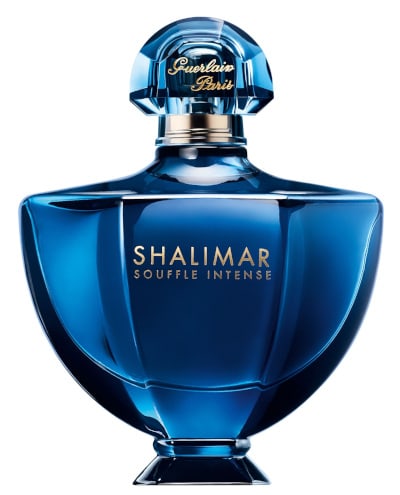 Type:

Review
A precious jewel from the East, Shalimar Souffle Intense Eau de Parfum is a sensuous, seductive fragrance made to perfection.
The very first Shalimar fragrance, years ago created by Jacques Guerlain, tells a beautiful story. A deep, knowing no boundaries love between Indian emperor Shah Jahan and his wife, princess Muntaz Mahal was what inspired the birth of this astonishing scent.
Thierry Wasser, a creator of Shalimar Souffle Eau de Parfum, resurrected this legendary fragrance. Empowering its delightfully charming depths, it took it to the new, opulent heights of limitless passion and desire.
From the mouthwatering bed of citruses, the scent immediately turns into a wonderfully fragrant heart of florals, opening an impossibly gentle aroma of orange blossom and jasmine sambac. The gourmand waves of vanilla add an irresistible sweetness to the blend, enveloping into a warm depths of benzoin, amber and musk.
Incredibly long-lasting Shalimar Souffle Eau de Parfum cosily nestles inside this magnificent, striking blue glass bottle. Becoming more vibrant and distinctively more profound as the day unfolds.
It will softly wrap you into its fluffy base, soothing and comforting throughout a cold winter's time. Wear it like a jewel, cherishing every magnificent moment of this empowering aroma.
Top Notes:
Lemon Mandarin Orange, Bergamot
Mid Notes:
Orange Blossom, Jasmine Sambac
Base Notes:
White Musk, Madagascar Vanilla, Tahitian Vanilla, Benzoin, Amber
Price & Reviews
You can check the latest pricing, see customer reviews and shop online at Selfridges:
9. Black Opium Intense Eau de Parfum – YSL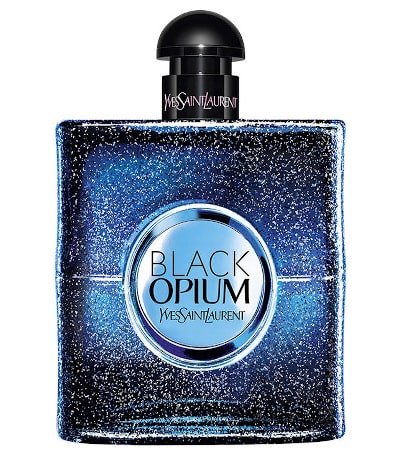 Type:
Review
A mysterious fragrance, iconic and timeless the Black Opium Intense Eau de Parfum portrays a strong, independent woman, unstoppable, intuitive and passionate. She listens to her heart and follows her desires, opening doors to the new and exciting.
Launched at the beginning of 2019, the new edition of Black Opium, evokes with its secret powers, filling up with energy and inviting to the mysterious depths of tantalising desires.
The dark, sensual fragrance opens with an inspiring whiff of blue absinthe paired with the juicy sweetness of boysenberry. On the way to the perfume heart, the captivating head aromas meet succulent notes of jasmine and orange blossom, softly enlighting with their sensual sweetness.
The base note of aromatic liquorice dances beautifully with the warm spiciness of sandalwood and creamy vanilla. The alluring scent of black coffee evokes the scent, allowing this vivaciously fragrant bouquet to take a centre-stage.
Magnetic autumn, winter scent comes presented inside bran's signature bottle, glimmering in a luxurious, luminous blue light. Exceptionally long-lasting, this intense seductive perfume will complement the elegance of your evening outfit, comforting and empowering throughout the night.
Turn off the lights, give it a spritz and let this daring elixir of darkness to take over, evoking the thrilling powers of the sensuality.
Top Notes:
Blue Absinthe, Boysenberry
Mid Notes:
Jasmine Sambac, Orange Blossom
Base Notes:
Coffee, Liquorice, Sandalwood, Vanilla
Price & Reviews
You can check the latest pricing, see customer reviews and shop online at John Lewis & Partners:
10. Sweetie Aoud Eau de Parfum – ROJA PARFUMS
Type:

Review
Inspired by Middle Eastern delicacies from the finest patisserie shops, Roja Dove had an urge to create something new and completely different. A resemblance of the mouthwatering bakes and delicious deserts that would bring back memories of this lush, flavourful satisfaction.
The Sweetie Aoud Eau de Parfum from Roja's Tutti Frutti collection is a delightfully adorable interpretation of their classic Aoud fragrance.
An unusual archaic Aoud note used in this gourmand creation deploy a unique, aromatic pallet, producing an astonishingly modern scent, too tempting to be resisted.
Deliciously tasty, the alluring fragrance opens with a slightly bitter, aromatic herbal note of artemisia mixed with citrusy scent of bergamot. Not long after the queen of flowers, Rose de Mai herself steps in, bringing in a whiff of powdery notes, soothing and calming the pallet.
The heart of the perfume is then warmed with delightful, spicy base accords of woody notes, aoud, cardamon, and cumin nestling in a cloud of leathery notes of frankincense, cysts and labdanum.
Presented inside a striking chunky glass bottle, decorated in Swarovski crystals, this winter, autumn perfume has longevity for up to 8 hours.
Perfect for any time of day, sweet and scrumptious scent, will take you back in time to a sunny summer's morning enjoying a nice cup of coffee with a tasty slice of freshly baked patisserie.
Top Notes:
Bergamot, Artemisia
Mid Notes:
Rose de Mai, Cistus
Base Notes:
Cardamom, Cumin, Gurjum, Cypriol, Patchouli, Cedarwood, Guaiacwood, Juniper, Amyris, Aoud, Patisserie Accord, Frankincense, Labdanum
Price & Reviews
You can check the latest pricing, see customer reviews and shop online at Selfridges:

Conclusion
Due to their intense, warming, seductive sexy notes, oriental fragrances are a common choice when it comes to evening wear. Long-lasting and deep-scented, they are more suitable for colder weather, which makes this heady, gourmand fragrance lighter and less 'shouty'.
The oriental family fragrances, packed with sweet, exotic aromas, evoke mystery, surrounding with alluring luxury and grace. The best oriental perfumes are eye-opening scents, of which no serious perfume collection is imaginable.
Before you go, I have put together a review of the most elegant perfumes ranging from timeless classics to modern-day sophistication that I think you will enjoy.

Further Reading
Below are some additional articles from Viora London's blog. We write articles on a number of interesting lifestyle topics such as fragrance, beauty, designer handbags, luxury accessories and more.