I have been using Thierry Mugler perfumes for a number of years and simply adore them. Their unusual take on fragrance, from the exciting candy-sweetness of Angel Sucree to the sultry green/herbal experience of Mystic Aromatic certainly generate compliments.
The best Thierry Mugler perfumes for summer demand attention. Immersing yourself in one or more of these beautiful Mugler perfumes should be high on your summer fragrance to-do list.
Thierry Mugler: The Man
Sadly passing away on 23rd Jan 2022, Thierry Mugler was a well-known French photographer, fashion designer, and fragrance lover. His incredibly distinctive style and talent have been widely recognised since the 1980s. His legacy will retain an incredibly strong authority in the fashion world.
Entering the perfume world in the 1990s, Angel Eau de Parfum quickly became a global phenomenon, well known for its chic, alluring, Oriental scent. The original Angel was instigated by the Fifi Awards Hall of Fame back in 2007 and is still one of the top-selling fragrances worldwide.

10 Best Thierry Mugler Perfumes for Summer
Here are what I feel are the 10 best Thierry Mugler perfumes for summer. Each of these special fragrances envelope the wearer in sumptuous florals, fruits that light woody notes for those divine warmer months.
1. AURA Eau De Parfum
Review
Launched in 2017, Aura Mugler Eau de Parfum is a vibrant blend of wild freshness with a touch of simple sensuality. Created by four noses Daphne Bugey, Amandine Clerc-Marie, Christophe Raynaud, Marie Salamagne this aromatic fragrance pulls together three characteristic hearts of sweet, woody and sour.
The signature note of this fragrance is rhubarb leaf which leads the way to a sweet and slightly smoky fragrance, fruitiness and refreshing greens. Orange blossom gives this perfume an intensity, and the combination of vanilla and woody notes create a smooth and silky texture within the blend.
Oriental Aura Mugler Eau de Parfum is an energy bomb in a bottle. Cram packed with exciting addictive notes, poised to unveil its character and vibe to the wearers.
This sensual fragrance is perfect for those sunny spring/summer days, thanks to refreshing green and citrusy notes. I would choose this for either a daytime or evening wear.
The perfume is pretty-long lasting and will stay on the skin for up to 4+ hours.
The heart-shaped bottle cut out like a gemstone in a gorgeous rich green. Said to represent hope, life and harmony between the body and the soul.
Top Notes:
Rhubarb leaf, Bergamot
Mid Notes:
Orange blossom, Green notes, Ylang-Ylang, Pear
Base Notes:
Vanilla, Woody notes, Amberwood, Sandalwood, Coumarin
Price & Reviews
You can check the latest pricing, see customer reviews and shop online at Amazon:
2. ANGEL Eau Sucree EDT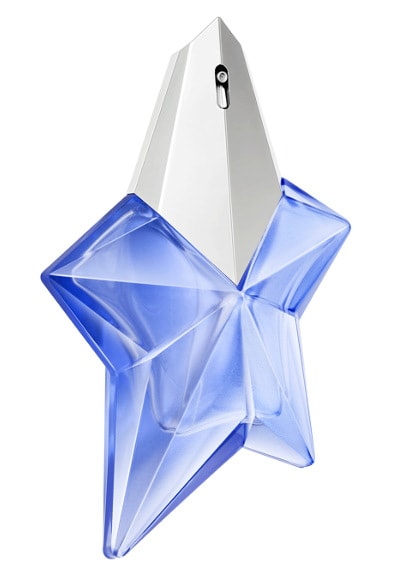 Review
Angel Eau Sucree is based on the original Angel fragrance. This delicious summer scent was created by renowned perfumer Dorothee Piot, who is celebrating a gourmand satisfaction in this blend. It combines the freshness of summer fruits and delightful notes of irresistible sweets.
Based on refreshing citrusy and fruity notes, this alluring, flirty fragrance opens with sharp and juicy berry sorbet and citrus fruit. Caramel & meringue appear in the mid, plus a mixture of sweet vanilla and patchouli in the base.
The subtle aroma will take you back to those childhood days full of memories of confectionery treats.
As you may already have guessed, this berry and fruit-based Angel Eau de Sucree is perfect summer fragrance. If you prefer it can be worn in late spring or early autumn. However, I find this more of a warm-season scent.
Wear it during a day when you are off to work, or out and about. Even select Angel Eau Sucree for a night out and enjoy its embracing, vibrant sweetness.
Long-lasting perfume, which will stay on for a good chunk of a day, approximately 4-5 hours.
The star-shaped bottle is decorated in a glittery soft blue coating. Topped with a distinctive silver top and comes packaged inside blue and silver striped box reminding of an old confectionery packaging.
Top Notes:
Citrus, red berries, sorbet
Mid Notes:
Caramel, meringue
Base Notes:
Patchouli, vanilla
Price & Reviews
You can check the latest pricing, see customer reviews and shop online at Amazon:
3. ALIEN FUSION Eau De Parfum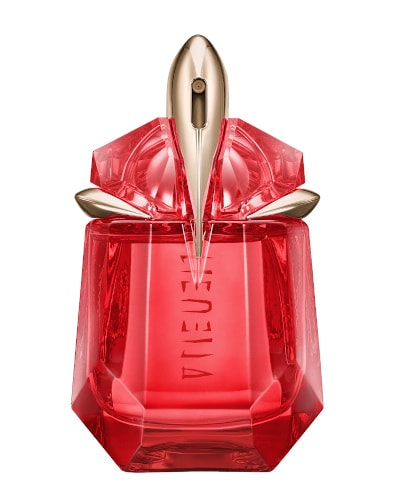 Review
Launched in 2019, this oriental floral perfume by Thierry Mugler is an exciting and powerful fragrance for woman. Encapsulating a rare transcendent phenomenon of the sun meeting the moon in the middle of the desert.
Created by noses Fanny Bal and Dominique Ropion, Alien Fusion Eau de Parfum is a sensual, mystical fragrance. A talisman containing a unique blend of spicy-sweet notes.
White amber, vanilla, ginger and tuberose create a warm, vivacious scent. Orange blossom and ginger adding a kick of freshness and spice. Feminine and sensual this fragrance is remarkably charming and elegant.
As you would expect, Alien Fusion is a spring/summer fragrance, which would be best worn during a day.
The longevity is moderate to long-lasting, meaning you will need to re-apply this perfume after 3-4 hours. But will last longer on clothing.
The bottle is an iconic Alien Talisman shape in the most vibrant, bright burnt orange colour, very intense and striking.
Check out our review of 7 Out-of-this-World Alien Perfumes.
Top Notes:
Cinnamon, Ginger
Mid Notes:
Tuberose, Orange blossom
Base Notes:
Vanilla, White Amber
Price & Reviews
You can check the latest pricing, see customer reviews and shop online at Amazon:
4. ALIEN FLORA FUTURA Eau De Toilette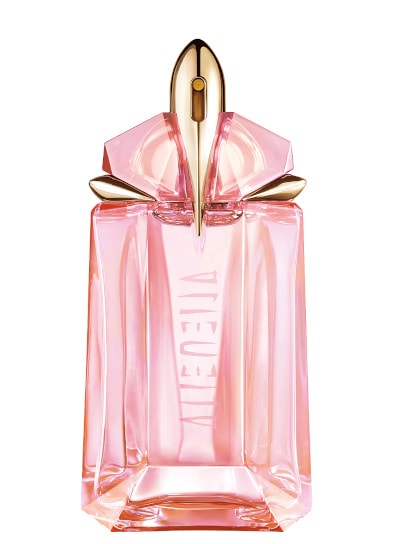 Review
Alien Flora Futura EDT by Thierry Mugler is a bright and optimistic fragrance for women. A celebration of the uniqueness and beauty that comes from within all of us. Launched in 2018 this fragrance is a powdery composition of crisp and fresh floral-woody aromas.
Buddha wood, also known as an Australian Desert Rosewood, is a signature note of this perfume. It has a deep aroma bringing smokiness and the rosy tones to this blend. Unique, sparkling scent of night-blooming cactus flower is in the middle. Blending nicely with sandalwood and white amber in the base.
This distinctive, refreshing fragrance manifests a feeling of beauty and individuality The blooming flower is a symbol of birth and light.
The perfume is perfect for day-time and is an ideal fragrance to wear around spring or summer months.
It is a very fresh scent which has moderate longevity, so will need reapplying after 3-4 hours.
The delicate soft orange-pink colour bottle is very feminine. Resembling the time of day when the light escapes through the darkness.
Top Notes:
Buddha Wood, Citron
Mid Notes:
Night Blooming Cereus
Base Notes:
Sandalwood, White Amber
Price & Reviews
You can check the latest pricing, see customer reviews and shop online at Amazon:
5. ALIEN EXTRAORDINAIRE Eau De Toilette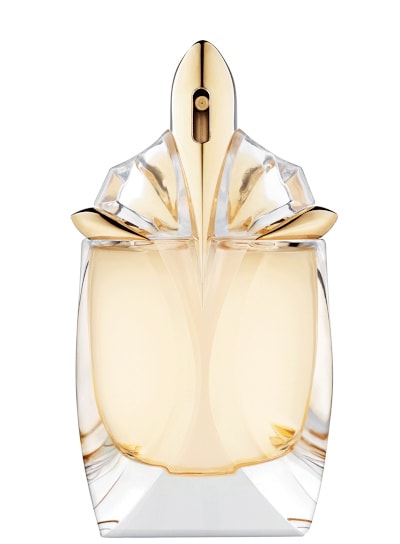 Review
This latest version of the original fragrance Alien Eau Extraordinaire EDP was created by Dominique Ropion and Veronique Nyberg. Launched in 2014 this fragrance is a bouquet full of warm, radiant power, encapsulating positive thinking and harmonious life.
Delicate floral aromas provide a significant freshness to this perfume. Tunisian neroli dances beautifully in a combination with bergamot and tea, creating an incredible, mind-blowing citrus and floral explosion.
Tiara flower and heliotrope in the mid notes add gentle exotic scent which is warmed with deep, seductive notes of white amber in the base.
This very characteristic and charismatic essence represents the feeling of serenity and happiness, a positive and optimistic message to all women.
Warming and gentle, this scent will fill you with joy and satisfaction. A perfect companion on those warm summer days. A unique, sensual aroma will see you through the most part of your day or evening.
The bottle shape is a similar style to the iconic Mugler perfume bottles, resembling a rock crystal. It has a clear heavy base and is curvier than its predecessors, beautifully complimenting a light golden colour liquid with icy crystal details of the bottle.
Top Notes:
Bergamot, Orange, Lime, Tunisian Neroli, Tea
Mid Notes:
Tiare Flower, Heliotrope, Ylang-Ylang, Pepper, Orange Blossom
Base Notes:
White Amber, Cashmeran, Vanilla, White Musk, Sandalwood
Price & Reviews
You can check the latest pricing, see customer reviews and shop online at Amazon:
6. ALIEN MIRAGE Eau De Toilette
Review
A recent fragrance from Thierry Mugler is a February 2020 release of Alien Mirage Eau de Toilette. This limited-edition fragrance is an execution of the original Angel and Alien Man, the pairing of which was the idea of the concept to a dazzling mirage.
An aromatic, floral-woody Alien Mirage Eau de Toilette is a declaration of a female imagination and strength. The light, refreshing scent is a combination of floral spiciness – an extraordinary revelation of rich aromas.
The head mineral notes enhanced with a spicy pink pepper are highlighted with sparkling lotus and syringa flower notes. Followed with a rich and warming pallet of Hinoki wood and white amber in the base.
Due to its fresh notes, this fragrance is more suitable for daytime, perhaps until early evening due to the mild woody base. Perfect for Spring and Summer.
The longevity of Alien Mirage is fairly good, and will last 5+ hours without replying. Pretty good for an EDT!
Presented in the iconic, jewellery-like shaped Alien talisman bottle. Beautifully reflects the blue liquid, which dances in the light.
Top Notes:
Mineral notes, Pink pepper
Mid Notes:
Lotus, Syringa
Base Notes:
Hinoki Wood, White Amber
Price & Reviews
You can check the latest pricing, see customer reviews and shop online at John Lewis:
7. AURA MUGLER SENSUELLE Eau De Parfum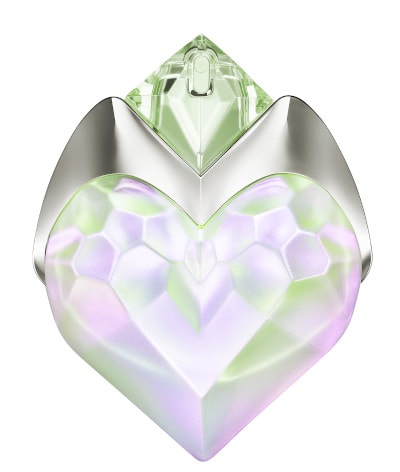 Review
Discover a new Aura Mugler's Sensuelle! Launched in 2019 the new Eau de Parfum by Thierry Mugler is a refined feminine, floral, musky, oriental fragrance for the sensual women.
An unexpected combination of fresh flowers and green leaves is what hits first when you smell this fragrance. Creamy gardenia flower is replaced a zesty orange blossom from the original Aura. This blends in beautifully with cinnamon leaf and green notes.
White Musk and Sandalwood in the base create powerful, silky, irresistible warmth. Soft, gourmand aroma is more floral and fresh than the original version and is very sexy and easy to wear. This green, carnal fragrance will evoke your senses, bringing up memories of an enjoyable, kind feeling.
For me personally, this fragrance reminds of the stormy summer's day in the forest, when the air fills up with this fresh scent evaporating from the wet grass, trees and bushes.
This spring/summer scent is more of daytime wear and has good longevity – will stay on the skin for up to 6 hours and much longer on your clothes.
The heart-shaped bottle is a true piece of art, with pink and green colours dancing beautifully together.
Top Notes:
Gardenia, Cinnamon leaf
Mid Notes:
Green notes
Base Notes:
Sandalwood, White musk
Price & Reviews
You can check the latest pricing, see customer reviews and shop online at Amazon:
8. Womanity Eau De Parfum
Review
Womanity Eau de Parfum by Thierry Mugler represents a celebration of women's power. It encapsulates the unity, positivity, devotion and kindness, the invisible bond that connects women of all generations.
Released in 2010 the Womanity was created by noses Mane and Alexis Dadier and is reflecting a combination of conflicting elements of the past.
Creation of this fragrance was challenging work which involved extracting natural aromas from the Fig tree using a new (at the time) molecular process.
Featuring fig as the main note, this fragrance opens with sweet and juicy aromas. Very contrasting but harmonious at the same time this astonishing perfume has an interesting, unique scent. The extract of the wood and leaves of the fig tree gives a savoury twist to this fragrance. Caviar adds more salty sophistication to the blend.
Definitely a summer perfume. Both fresh and fruity with a hint of saltiness that comes from a soft summer sea breeze.
More daytime fragrance than an evening one, with great longevity of 6+ hours.
The Art Deco style refillable perfume bottle in soft pink colour comes decorated with interesting gothic design metal cap in chains.
Top Notes:
Fresh Fig
Mid Notes:
Caviar
Base Notes:
Fig tree, Fig Leaf, Woody Notes
Price & Reviews
You can check the latest pricing, see customer reviews and shop online at Amazon:
9. Mystic Aromatic (Les Exceptions)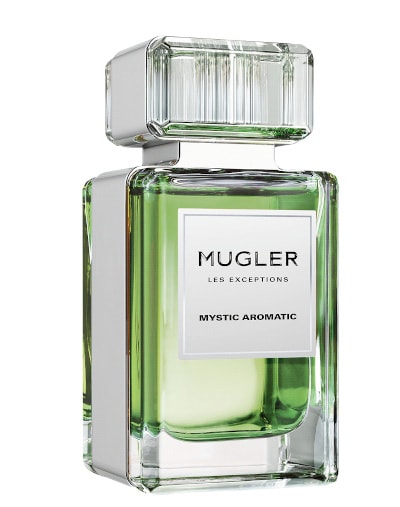 Review
Thierry Mugler's Mystique Aromatic Les Exceptions is a stunning composition of green leaves and spices. Revitalising and full of energy this intense aromatic scent is a creation of nose Jean-Christophe Herault. As a world-renowned perfumer, Herault has worked with brands such as Balenciaga, Chopard and Paco Rabanne to name the few.
Released in 2018, Mystique Aromatic is inspired by Mugler himself, who went against traditionalism braking old rules in order to create the unexpected.
A powerful explosion of crushed green leaves mixed in with a selection of herbs such as thyme, basil, sage and oregano. These exude a very bold, deep botanical aroma of freshness and spiciness. The warmth from Peru Balsam compliments the green bitterness.
Stylish and unique yet very elegant. This artistic fragrance should delight even the most exceptional tastes.
Best worn over spring and summertime, the Mystique Aromatic Les Exceptions will transport you to the fragrant gardens of Southern France.
Medium to long-lasting this unique perfume is suitable for both day and evening wear.
Specially designed for Les Exceptions collection the bottle. Clean lines decorated in silver metal, with Art Deco style design representing an architectural elegance of the Mugler House.
Top Notes:
Thyme, Oregano
Mid Notes:
Peru Balsam
Base Notes:
Clary Sage, Basil
Price & Reviews
You can check the latest pricing, see customer reviews and shop online at Mugler:
10. Oriental Extreme (Les Exceptions)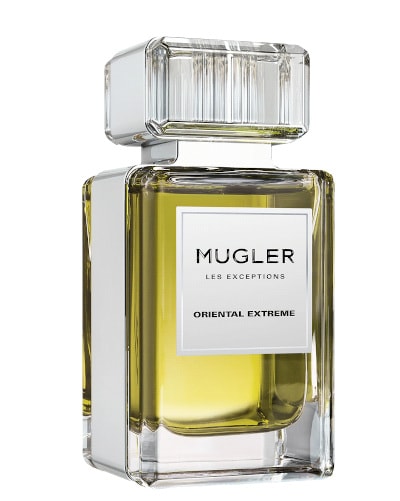 Review
Another incredible fragrance from the Les Exceptions range is Mugler Oriental Extreme Eau de Parfum, a declaration of the womanhood of the universe.
Created by the nose Pierre Aulas, the fragrance surprises with an unusual ingredient mix you wouldn't normally expect to discover.
Charmingly delightful, the fragrance is a bold interpretation of oriental aromas. Bringing in an extraordinary, contrasting blend, but at the same time keeping the luxurious richness of the classic notes.
Opens with green notes and the soft creamy aromas of sandalwood and vanilla. Unexpected is the carrot seed extract which provided an earthy-sweet, woody aroma.
Mugler Oriental Extreme Eau de Parfum is an all year round, any time of day fragrance. Although I find it more suitable for the warmer seasons due to its refreshing earthy and sweet aromas, hence why it's landed on my top Mugler summer fragrance list.
The longevity for this perfume is up to 6 hours thanks to woody base notes.
This beautiful perfume comes presented in the Art-deco style clear glass bottle, beautifully decorated in silver metal around the edges.
Top Notes:
Green basil
Mid Notes:
Carrot seed extract
Base Notes:
Sandalwood, Vanilla
Price & Reviews
You can check the latest pricing, see customer reviews and shop online at Harrods:

Conclusion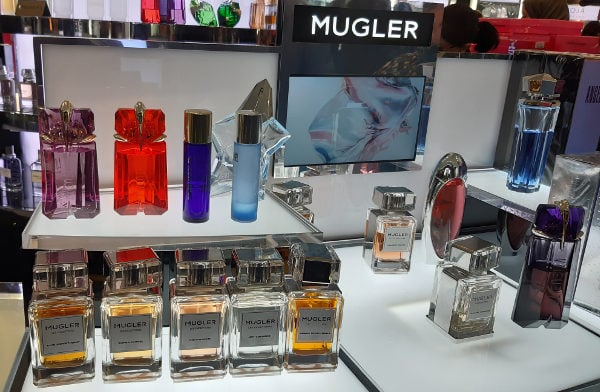 Well, that wraps it up for the best Thierry Mugler perfumes for summer. To date, Thierry Mugler has released over 129 fragrances for both men and women. With the help of a number of famous perfumers he worked closely with throughout the decades, Mugler has created a distinctive, gourmand scents that are widely recognised.
Related: 10 Best Guerlain Perfumes For Summer
Continuously developing and researching, the Mugler brand combines old and new, with a deep belief that long-established tradition can be transformed into modern designs.
Before you go, I have put together a review of the most elegant perfumes ranging from timeless classics to modern-day sophistication that I think you will enjoy.

Further Reading
Below are some additional articles from Viora London's blog. We write articles on a number of interesting lifestyle topics such as fragrance, beauty, designer handbags, luxury accessories and more.