Neroli is becoming a popular note in many fragrances that are noted for their lightness and summery feel. The ardent orange fragrance is unquestionably sunny and warm and calls to mind long summer afternoons filled with balmy, heady sweetness.
At the same time, there is a robustness to the fragrance that is almost spicy which underpins the delicate orange with a charming power.
Women's Perfume With Neroli
Below are 10 of the best women's perfume with Neroli that we will review fully today. Are all worthy contenders for a place in your perfume collection.
Tom Ford Private Blend Neroli
Hermes Eau de Neroli Dore
CREED Neroli Sauvage
Jo Malone London Basil & Neroli
Le Labo Neroli 36
Atelier Cologne Grand Néroli
Dolce & Gabbana Velvet Sublime
Mizensir White Neroli
Frederic Malle Cologne Indélébile
Chloé Love Story
Neroli Overview
As an essential oil, neroli has many uses. Famed for its balance, it is used to soothe and treat conditions such as stress. It is a popular mood enhancer which is unsurprising given the bright cheerfulness of its orange and citrus fragrance.
The name Neroli is derived from an Italian princess of Neroli who so loved the scent she bathed her gloves in it. As a result, neroli became a popular perfume that was highly sought after in the 17th century.
What Is Neroli?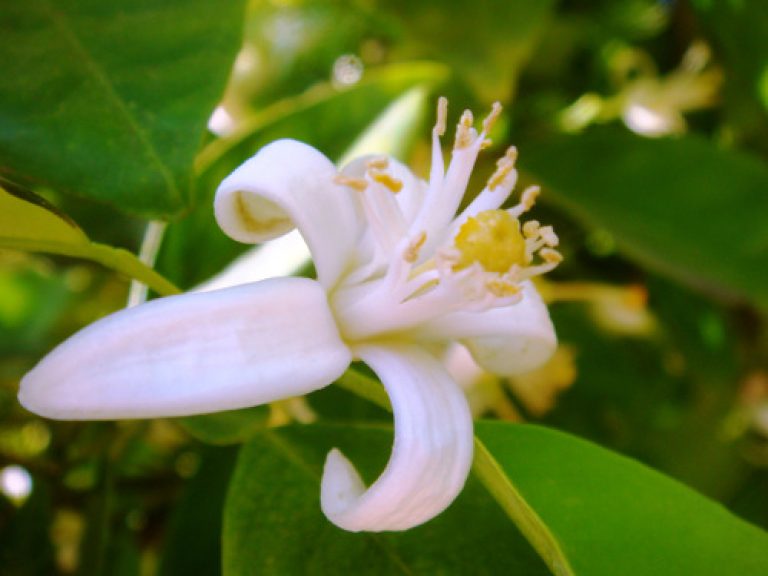 Neroli is taken from the bitter orange tree. It is derived from the blossoms or flowers of the plant and extracted using steam distillation to produce neroli oil. As an essential oil, neroli has many uses as well as perfumery.
Neroli is different from orange blossom, even though it is extracted from the same part of the plant, because the extraction process is different. Neroli has a sweet, rich, citrus scent with tones of spice while orange blossom is generally sweeter and more floral. Neroli is also said to be one of the secret ingredients in the drink coca-cola.
Where Is Neroli Grown?
The bitter orange tree that neroli oil is made from is mostly grown in North Africa with large plantations in Tunisia and Morocco. It flowers in summer months and the blossoms are collected for distillation to create neroli essential oil. One of the reasons why neroli is particularly expensive is because each pound of neroli takes over one thousand blossoms to make.
In addition, the blossoms can't be collected for the first five years so setting up a neroli plantation takes extensive planning. Bitter orange trees are also grown in the Mediterranean, especially in Italy and France, and they are now common in Florida and other states in South America.
What Does Neroli Smell Like?
Neroli is a unique scent that is most noted for its balance between bitterness and sweetness. It is pungent, rich, and fragrant with a strong citrus scent that is at once spicy and floral. The citrus scent is closely related to orange blossom but it is also more metallic and spicy with tones of honey.
What Scents Go Well With Neroli?
As a base note, neroli blends well with a wide range of fragrances, largely since it can come across as both floral and spicy and different scents will bring out different facets in the fragrance.
Woody fragrances such as sandalwood or cedarwood help to bring out its floral nature while florals such as rose and jasmine help to create a fresh and spring-like scent. It also goes well with lavender or other fruit scents such as lemon or juniper.

10 Best Women's Perfumes With Neroli
While neroli can be used on its own as an essential oil where its balanced fragrance is said to be especially soothing, it is becoming more popular in perfume where it acts as a base note to a wide range of light and refreshing scents. Here are the best women's perfume with Neroli as a prominent fragrance note.
1. Tom Ford Private Blend Neroli Portofino

This gorgeous fragrance is a unisex perfume available for men and women with citrus overtones and a light, refreshing scent. It is a sensuous blend of fruits and florals which creates an elegant and sweet fragrance reminiscent of summer sunshine.

The citrus scent of neroli is accentuated by other fruit fragrances including African orange flower, mandarin and lemon against a musky base of amber. Overall, the fragrance is complex and modern with a romantic and sophisticated air.

Neroli Portofino is a perfect scent for summer where its light airiness makes it a flexible fragrance that can be worn both during the day or as the perfect companion for long, dreamy soirees.

Tom Ford is renown for his confidence and bravery in blending unusual combinations and his reinvention of the traditional eau de cologne is no different. He has created a contemporary feel which smells different on men and women: subtle and always there, but not brash or overwhelming.

The bottle is a classic square design in a deep ocean blue that hints at summer and reflects the perfume's coolness. Blended by Rodrigo Flores-Roux, Tom Ford's portofino range is popular with many celebrities including Ellie-Goulding and Iman.

Top Notes
Mandarin orange, bergamot, lemon, lavender, myrtle, rosemary and bitter orange

Mid Notes
Neroli, jasmine, African orange flower, pittosporum

Base Notes
Amber, ambrette, angelica


Available at Seldridges:
2. Hermes Eau de Neroli Dore

Hermes Eau de Neroli Dore Eau de Cologne is an indulgent fantasy of orange uses far more neroli than most perfumes to create a sort of homage to its rich and warm scent. The fragrance is a simple combination of three notes (neroli, orange blossom and saffron) that all work together to create a citrus celebration that envelopes you in its gentle heat.

This dramatic neroli fragrance makes a great scent for both men and women and can be a superb choice for sunny summer days as it emits a delightful, joyous feeling. It would also be a good accompaniment for heady summer evenings where its fruitiness would add a feeling of lively frivolity.

The bright orange box is as warn and striking as the scent, giving this perfume a character of its very own. The designer is Jean-Claude Ellen and it is said that Hermes Eau de Neroli takes half of the neroli created in Tunisia and Morocco to produce and that it is hand distilled by the designer himself.

Top Notes
Orange Blossom

Mid Notes
Neroli

Base Notes
Saffron


Available at John Lewis & Partners


3. CREED Neroli Sauvage


CREED Neroli Sauvage Eau de Parfum is a fresh and vibrant perfume that is is both relaxing and elegant. Drawing on the crisp citrus of neroli, grapefruit and lemon supported by musky and inviting ambergris. It is fresh and young, suitable for both men and women.

The delicious combination of zesty fruit and soothing ambergris makes this a delicate and subtle perfume suitable for spring and summer days where it gives a boost of energy, reminiscent of carefree summer fun. It is suitable for both men and women and has a buoyancy that is inviting and enticing.

Olivier Creed designed this fun and fresh fragrance that was launched as long ago as 1994 and continues to excite. The bottle has crisp, clean lines with a cheerful yellow label as you might expect from such an uplifting fragrance.

It's sturdy cap and flask-like shape makes it look like a bottle that could be washed up on a beach while the elegant design of the name with its recognisable criss-cross design gives it a touch of familiar elegance.

Top Notes
Bergamot and grapefruit

Mid Notes
Neroli and lemon verbena

Base Notes
Ambergris


Available at Harrods


4. Jo Malone London Basil & Neroli

Jo Malone London Basil & Neroli Cologne combines crisp and herby basil to fruity floral neroli to create a flirty, romantic scent that is said to encapsulate the spirit of London in the summer. The base of musk adds a sense of warmth and lingering calm to the energy of citrus and playful flowers that helps to create a delicate blend that is at once fun and classy.

Basil and Neroli Cologne is a great unisex fragrance that can be worn by both men and women. It makes a great perfume for daytime, especially during spring and summer months.
Anne Flipo designed this lovely, fresh perfume that was launched in 2016.

It adds a fresh and green element to the Jo Malone family and, just like the others, can be layered by mixing with other Jo Malone combinations for a rich and unique blend.

Top Notes
Basil

Mid Notes
Neroli

Base Notes
White musk and Vetiver


Available at Selfridges


5. Le Labo Neroli 36

Le Labo Neroli 36 is a delicate balance between powerful, rich sensuality and fresh, spiky fruitiness.

This sunny floral scent is vibrant and exciting with the gentle flowers of rose and jasmine to create a romantic floral backdrop to the fun crispiness of orange and neroli. Gourmet tonka bean and vanilla add a sweet indulgence to this complicated and clever perfume.

Perfect for daytime wear during summer or spring, this gorgeous green fragrance evokes a sense of casual style and fresh crispiness. It could also be worn into the evening for summer soirees. Wearing Le Labo Neroli reminds you of balmy Mediterranean afternoons, soaking up the sun in a stylish yacht club.

Le Labo Neroli comes in an interesting bottle with a label that looks like it might have been printed by a pharmacy. It resembles a medicinal potion and, with its soothing florals and invigorating green scents, it could be seen as something of a tonic. The perfume is designed by Daphne Bugey.

Top Notes
Aldehydes, orange blossom, mandarin orange

Mid Notes
Jasmine and rose

Base Notes
Tonka bean, vanilla and musk


Available at John Lewis & Partners


6. Atelier Cologne Grand Néroli

Atelier Cologne Grand Néroli Cologne Absolue is an intoxicating fragrance that unites warm scents from the Middle East and the Mediterranean to create an exciting perfume that transports you to long days of Italian summer sun.

Warm amber, vanilla and musk combine to create a sensational olfactory stage on which the fabulous fragrances of orange and neroli can perform an exciting dance.

This is a complex perfue where each layer takes the stage before another set of notes arrive, creating a lingering scent of warmth that continues to excite. Neroli deserves its special mention in the title as with each layer, whether the green scent of moss or the sweet fragrance of amber, neroli is always present, making this one of the longer-lasting neroli based perfumes available.

This bright and exciting fragrance is perfect for sunny days but it has the depth that also makes it suitable for evening wear if required, especially during summertime. It is a perfect unisex fragrance that smells quite different on men and women.

The bottle is a subtle, curvy rectangle with a chic purple lid that houses the warm, golden liquid like sunshine in a bottle. Designed by Cecile Krakower, it is an elegant and energetic scent that seems to constantly move.

Top Notes
Moroccan neroli, lemon, bergamot, petitgrain

Mid Notes
Galbanum, oakmoss, birch leaf

Base Notes
Cedarwood, vanilla, musk


Available at Harrods


7. Dolce & Gabbana Velvet Sublime

Dolce & Gabbana Velvet Sublime combines neroli with other fresh citruses like orange blossom and mandarin to create a crisp and sunny fragrance. Its delightful warmth creates a blast of energy and the floral hues of neroli add a sense of flirty romance and depth.
As a unisex fragrance, Velvet Sublime smells differently on men and women. Floral tones seem to come to the fore more predominantly with women whereas men seem to emphasise the crisp, zesty citrus and warm spicy undertones of neroli.

The orange scent makes it a fragrance that speaks of sunny afternoons, best worn during day time in spring and summer.

The box itself exudes elegance with its black velvet finish and the golden liquid is set off by a classy engraved plaque which gives the perfume a vintage designer feel. Velvet Sublime was designed by Rodrigo Flores-Roux.

Top/Mid Notes
Sicilian Mandarin, neroli, orange blossom


Available at Harrods


8. Mizensir White Neroli

Mizensir White Neroli Eau de Parfum is an elegant and classy unisex perfume that has a distinct scent that is both memorable and addictive. Fresh citrus zest is reinforced by the neroli in combination with bergamot and orange blossom but white musk and frankincense give it a depth and warmth that is both sensuous and intoxicating.

White Neroli is a perfect daytime perfume for men and women to wear during the day in spring and summer. It can also be worn into the evening and could be a perfect perfume for an event like a summer wedding which might slip gently into a hot, balmy evening.

The design of this bottle is exquisitely elegant with its elaborate, embossed gold label and sophisticated golden lid. The square, crisp lines convey elegance and reflect the freshness of the perfume. Mizensir was designed by Alberto Morillas and launched in 2015.

Top Notes
Tunisian neroli and Calabrian bergamot

Mid Notes
Orange blossom

Base notes
White musk and incense


Available at Harrods


9. Frederic Malle Cologne Indélébile

Frederic Malle Cologne Indélébile Eau de Parfum uses
Neroli to blend with musk to create an appealing and sensuous perfume in this eau de parfum by Frederic Malle.

It is surprisingly long-lasting and an intriguing scent that perfectly balances seduction with a lighter sense of freedom. The warmth and endurance of the musk give the orange fragrance a strong foundation that lets it play effervescently with an invitingly bright, zesty spark.

Another citrus scent suitable for both men and women, this perfume is best worn during the day when the sun is shining or to add sparkle to cool, crisp autumn sun. It can be worn at night but its zesty vigour makes it more suitable for the hours before dark.
The bottle for this perfume is undeniably attractive.

Firmly stout and robust, it gives a sense of confidence and grandeur augmented by the classy red-on-black label and shiny black cap. It was designed by Dominique Ropion.

Top Notes
Bergamot and lemon

Mid Notes
Neroli, narcissus and orange blossom

Base Notes
Musk


Available at Selfridges


10. Chloé Love Story

Chloé Love Story Eau de Parfum is overwhelmingly seductive with every note working harmoniously to recreate the thrill and anticipation of young love. The first blast of orange blossom is both refreshing and exciting, appealing to all of the senses with the ardour of new love.

Jasmine follows with a happy fragrance that carries through to a strong and compelling scent of cedarwood. Chloe Love Story is a sensuous and romantic fragrance that balances gentle frivolity with powerful allure.

This fragrance is designed for women and best suited to springtime or summer where it makes the perfect fragrance for daytime. Although the scent is complex and balanced, it has a freedom and lightness best suited to the day.

The bottle is an ingenious design that combines romance with deep love as symbolised by the delicate ribbon and the thick padlock that symbolises lasting commitment and is reminiscent of the love padlocks on Pont des Arcs, the bridge of lovers in Paris.

The box, too, balances pure white lines with romantic gold writing and the adorned with the same fragile yet flirtatious ribbon. It was created by Anne Flipo.

Top Notes
Neroli, pear, lemon, grapefruit, bergamot

Mid Notes
Peach, blackcurrant, rose, stephanotis, orange blossom

Base notes
Patchouli, cedar, musk, cashmirwood


Available at Selfridges

Conclusion
Well, that concludes our best women's perfume with Neroli article. Since neroli is famed for its versatility and ability to blend with a wide range of other fragrances, it is not surprising to see such diversity in how it is used in different perfumes. With strong overtones of freshness and vigour, it stimulates memories of summer sun and Mediterranean vistas which makes it a great addition to floaty perfumes designed for daytime.
Related: 15 Most Popular Perfume Notes
Popular in unisex fragrances, neroli is notable for how it is able to smell differently on men and women. Floral and romantic hues seem to be accentuated more when worn by women while, on men, crisp and zesty orange makes for a clean and dynamic impression.
As a fragrance, neroli brings together the grandeur of tradition and a contemporary freshness that will always be modern. It is easy to see why the Italian princess who gave it her name fell so in love. Few fragrances are quite as memorable or versatile.
Neroli is an unforgettable and unique fragrance that can become addictive once you are hooked. Fortunately, it has become popular enough to be found in a wide variety of different perfumes so you can keep experimenting and finding more combinations that you might love even more than the last.
Before you go, I have put together a review of the most elegant perfumes ranging from timeless classics to modern day sophistication that I think you will enjoy.