Never one to shy away from the limelight, Katy Perry's international success as a singer/songwriter stems from her unique style and vibrant energy. The best Katy Perry perfumes encapsulate the star's femininity and passion with a cocktail of quirky, sweet notes combined with juicy fruits, exotic florals and woods.
The star's incredibly diverse range of hits such as 'I Kissed a Girl', 'Dark Horse' and 'Teenage Dream', has drawn loyal fans of all ages and backgrounds.
That same diversity has spilt over to ensure the Katy Perry fragrance collection has something to dazzle any taste. From sophisticatedly charming to daringly eccentric, Katy Perry perfumes are incredibly confident and alluring.

10 Best Katy Perry Perfumes
Feminine, yet, bold and full of energy, the best Katy Perry perfumes are both exhilarating and captivating. Here are 10 Katy Perry fragrances for your consideration.
1. Katy Perry Indivisible Eau de Parfum
Review
Katy Perry's latest release is the charmingly individual and invigoratingly fresh Indivisible Eau de Parfum. Launched in 2018, this is a re-imagination of her original Indi scent, with a combination of gourmand scents that transport you to faraway beaches and romantic sunsets.
Top notes are a dazzling array of fruity glee with pink pepper, purple plum and a heady scent of rum that is both warming and exhilarating. Sweet vanilla adds a soothing embrace that provides a delicate balance before the evocative heart notes take to the stage.
Sweet coconut, gentle gardenia and delicious Tonka bean whisk you away to a sunny beach with an exotic cocktail in hand. Woody base notes of patchouli and sandalwood with a hint of musk add a richness and a texture that is decidedly crisp and clean.
You can expect 5+ hours before needing to reapply, longer if used over a good body lotion. Sillage and projection are both excellent.
As for when to wear, this feel-good character makes it perfect for summer or autumn. Think lazy afternoons with friends that lead to unexpected nights out, Indivisible is flexible enough to suit a variety of occasions.
The bottle conveys the holiday freshness of this fragrance as the pale turquoise liquid is both tranquil and vibrant, reminiscent of the translucent waters of Caribbean shores. There is something chic and bold in the crisp lines of the tall bottle. It would make a beautiful gift and look fabulous on any modern woman's dressing table.
Overall, Indivisible Eau de Parfum is a boozy vanilla/coconut bomb that puts a smile on your face and a spring in your step.
Top Notes:
Pink Pepper, Purple Plum, Vanilla
Mid Notes:
Coconut, Gardenia, Tonka Bean
Base Notes:
Patchouli, Sandalwood, Musk
Price & Reviews
You can check the latest pricing, see customer reviews and shop online:

2. Katy Perry Indi Eau de Parfum
Review
Launched in 2017, this is the original Katy Perry perfume that placed the singer firmly on the same stage as revered perfumers. Indi Eau de Parfum contains a multitude of musk notes which work together to create a sweet cloud of floaty nostalgia that is warm and enveloping.
The fragrance opens with fruity top notes in oriental plum and Italian bergamot floating on a base of white tea. Heart notes of fresh muguet, cyclamen, and white cedarwood soon reveal themselves for a clean and airy feel. The base of sensual musks combines to create a dreamy, sensuous effect that is not overpowering. Amber sultan and vanilla Tonka add sweetness and depth.
Longevity is excellent as this perfume easily lasts 5+ hours and stays longer on clothing. Sillage is not too overpowering but leaves a clean and crisp projection that is individual.
This perfume is versatile enough to wear day or night all year round. It works particularly well as a daytime perfume, especially in autumn months when its creamy overtones and a subtle hint of coconut give a warming gourmand feel.
The bottle is a simple pillar in pearlescent white with gold accents and contrasting black writing. It looks both classy and bold at the same time, and the box itself with its angled lines adds a modern touch. A textured wooden lid moulded with KP's initials adds a hint of authenticity and contemporary touch.
Overall, Indi Eau de Parfum is a sparkling fragrance with a hint of tonka bean/vanilla sweetness and an enveloping musky warmth that oozes class.
Top Notes:
White Tea, Oriental Plum, Bergamot
Mid Notes:
Fresh Muguet, Cyclamen, Cedar Wood
Base Notes:
Amber Sultan, Vanilla Tonka, Musks
Price & Reviews
You can check the latest pricing, see customer reviews and shop online:

3. Katy Perry Purr Eau de Parfum
Review
Fun and mischievous, Purr Eau de Parfum is a daring fragrance captures the essence of sultry and playful femininity with its youthful fruitiness and gently seductive hues. Launched in 2010, its distinctive bottle and fruity freshness have mass-appeal.
Top notes of delicious peach nectar give this perfume its characteristic fruity body. Forbidden apple and hints of green bamboo create a freshness that is filled with youthful energy. Heart notes of jasmine blossom, pink freesia and Bulgarian rose to create a floral body that is both sweet and inviting. After dry-down, tantalising vanilla orchid provides sparkling energy that gives way to sandalwood and white amber for a clean and powdery finish.
The longevity of 4+ hours can be expected with moderate sillage and projection. The fruity flesh gives way to a gentle and slightly sweet fragrance.
Purr Eau de Parfum is an ideal fragrance for springtime when its fruity vigour goes well with gentle sunshine and casual afternoons. It is sweet and pleasant enough to make a wonderful scent for the office or a late afternoon catch-up and chat with friends.
The statement bottle is definitely one for the dressing table; the metallic lavender cat design with jewelled eyes is quirky and slightly kitsch. Silver accents and a cute heart-shaped bow also help capture the youthful buoyancy of this captivating fragrance.
Overall, Purr Eau de Parfum is a fun and exciting fragrance that will bring out the playful side of any girl. Fresh and exhilarating, it is a feel-good fragrance that can't fail to bring a smile.
Top Notes:
Peach Nectar, Apple, Green Bamboo
Mid Notes:
Jasmine Blossom, Pink Freesia, Bulgarian Rose
Base Notes:
Vanilla Orchid, Sandalwood, White Amber
Price & Reviews
You can check the latest pricing, see customer reviews and shop online:

4. Katy Perry Meow Eau de Parfum
Review
Continuing the feline theme, Perry's second fragrance, Meow Eau de Parfum, was launched in 2011. It is a fun and shamelessly sweet scent that smells like a symphony of candy. It is irresistibly girly, light-hearted and beautifully uplifting.
Begins with fruity florals of tangerine and pear over a bouquet of gardenia and jasmine for a deliciously inviting opening. More floral notes in the heart transport us to a delightful haven of flowers with honeysuckle, lily of the valley and a hint of orange blossom for a tart blast of fresh citrus. After dry-down, a lingering sweetness takes to the stage with a delectable combination of enticing vanilla, amber musk and sandalwood.
Longevity is moderate at 4+ hours, and sillage is initially powerful but soon settles down into a calm, ambient glow of dreamy marshmallow that is inviting and not overpowering.
The sweet, caramel tones of this perfume make it ideal for warm weather though it can really be worn all year round. It works best as a daytime fragrance, and its uplifting notes are suitable for almost any occasion. It would also make a fabulous bedtime perfume as it envelopes you in a mask of delicious, sugar-coated softness.
Another cat-shaped bottle, Meow, is as much an aesthetic joy as it is an olfactory delight. The opaque pale pink bottle is somewhat milky and reminiscent of marshmallow. The dainty kitten head with golden eyes and a flamboyant gold collar is charmingly cute and adorable. The head of the cat comes off to reveal a spray cap which is another quirky touch.
Overall, Meow Eau de Parfum is a delectable gourmand perfume that is a treat for the senses. Reminiscent of a fair or park on a summer's day, whipped cream, sweet marshmallow and a hint of candyfloss make it slightly nostalgic and overwhelmingly enticing. It is a playful and warming perfume with a decidedly youthful appeal.
Top Notes:
Tangerine, Pear, Gardenia
Mid Notes:
Honeysuckle, Lily of the Valley, Orange Blossoms
Base Notes:
Vanilla, Musk Amber, Sandalwood
Price & Reviews
You can check the latest pricing, see customer reviews and shop online:

5. Katy Perry Killer Queen Eau de Parfum
Review
The dazzling Killer Queen Eau de Parfum comes in a striking bottle that conveys maturity and sensuality, breaking away from the girlish charm of Katy Perry's earlier fragrances. The fragrance is a powerful and captivating gourmand delicately balanced between heady fruitiness and alluring florals.
Top notes of dark plum, wild berries and bergamot give a decidedly tempting opening flourish, swiftly exalted by rich florals in red velvet flower, stunning rainbow plumeria and natural jasmine sambac. Base notes of cashmeran and patchouli heart add a touch of punch while delicious liquid praline adds lingering, nutty sweetness.
Slightly spicy and slightly sweet, this is an edgy perfume that stands out from the crowd. It suggests luxury and a seductive gourmand thrill that goes well with cold weather. It is a delicious fragrance for daytime in autumn when the leaves are crisp, and the air is cool.
Longevity is 3+ hours with moderate sillage and projection. The initial blast of sweet fruits projects well to begin with, while woody florals cast a gentler trail after dry-down.
The presentation of Killer Queen is outstanding, and this perfume is worth buying for the bottle alone. Shaped like an amulet or ruby in beautiful cut-glass, the colour fades from a seductive blood-red to a gentle pale pink at the point. Unusually, the amulet is inverted, so it looks more like an elaborate piece of jewellery than a fragrance bottle. It comes with its own golden pedestal that makes it look as though it is sitting on a throne. Finished off with a gorgeous ornate lid shaped like a crown, it has a uniquely regal effect.
Overall, Killer Queen Eau de Parfum is a volatile and multi-faceted fragrance. It shifts from a headily sweet introduction to a seductive and alluring finish that tantalises all the senses.
Top Notes:
Dark Plum, Wild Berries, Bergamot
Mid Notes:
Red Velvet Flower, Rainbow Plumeria, Jasmine Sambac
Base Notes:
Cashmeran, Patchouli Heart Liquid Praline
Price & Reviews
You can check the latest pricing, see customer reviews and shop online:

6. Katy Perry Killer Queen Oh So Sheer Eau de Parfum
Review
Killer Queen Oh So Sheer Eau de Parfum is a limited edition perfume that was only produced for the summer of 2014. It is an airier version of the original Killer Queen and retains a very similar design in appearance. The original DNA is combined with a different array of notes to create a delightfully cheerful scent.
This fragrance opens with forest fruits and plum with the addition of mulberry and blackcurrant for an even juicier, syrupy blend—mouthwatering frangipani dances with freesia and jasmine in the heart. Sweet caramel in the base notes makes for a delicious addition to praline, patchouli and elegant cashmere wood for a sophisticated feel.
Killer Queen Oh So Sheer is a fabulous perfume for daytime as it is so uplifting it can add a spring to your step and chase the clouds away. Its cheerful happiness makes it ideal for spring or summer use. Think enjoying flavoured ice cream beside a harbour as you watch yachts sail out into the distance.
This is a delightful gourmand that is sweet but not overly heavy.
Longevity and sillage are only moderate. You can expect 3+ hours before it becomes a skin scent.
The pretty bottle continues the attractive design of the original, only the colour changes to a soft violet hue that glitters in the sunlight. Like a diamond-cut jewel, lines and edges sparkle and the antique gold crown gives it a sense of majesty and awe.
Overall, this perfume has the same DNA as Killer Queen but is somewhat lighter and sweeter. Scintillatingly gourmand, it appeals to all the senses with a candy sweetness that is tempting and soothing without being saccharine-sweet.
Top Notes:
Forest Fruits, Mulberry, Plum, Blackcurrant
Mid Notes:
Frangipani, Freesia, Celosia, Jasmine
Base Notes:
Caramel, Praline, Patchouli, Cashmere Wood
Price & Reviews
You can check the latest pricing, see customer reviews and shop online:

7. Katy PerryRoyal Revolution Eau de Parfum
Review
The third in the series based on the original Killer Queen, Royal Revolution Eau de Parfum carries on the theme of majesty and royalty. Sweet and enticing but light and airy, it is an irresistible combination of delicate florals that leaves you wanting more.
Top notes are tantalising pink freesia with delectable red pomegranate for a softly feminine but gorgeously enticing opening. Heart notes of balsamic sandalwood, refreshing orange flower and sweet jasmine petals. Base notes include mystical blackthorn and vanilla for a velvety smooth finish.
Royal Revolution Eau de Parfum is a lovely perfume for daytime wear all year round as it is light enough for the office. Its romantic overtones of fruity florals mean it can also make a great evening perfume.
This is a delightful gourmand that is sweet but not overly heavy.
Longevity is 3+ hours before becoming a skin scent. Sillage and projection are moderate.
The beautiful bottle continues the amulet shaped theme, only this time in a deep aqua blue. An ornate silver lid this time conveys a slightly more down to earth, modern impression.
In summary, Royal Revolution Eau de Parfum is a light but sweet floral with crisp undertones that make for a perfect all-round crowd-pleaser. Just wish it lasted longer.
Top Notes:
Freesia, Pomegranate
Mid Notes:
Sandalwood, Orange Flower, Jasmine Petals
Base Notes:
Blackthorn, Vanilla Orchid
Price & Reviews
You can check the latest pricing, see customer reviews and shop online:


8. Katy Perry Mad Love Eau de Parfum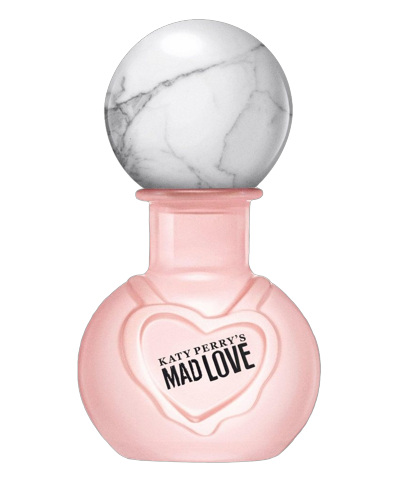 Review
Mad Love Eau de Parfum is a deliciously fruity gourmand perfume that was launched in 2016 to instant appreciation by fans. It is girly and romantic with a hint of seductive musk and coconut to create a slightly exotic feel.
Top notes include a dazzling array of fruits with apple sorbet, mouthwatering strawberry and juicy pink grapefruit. Heart notes bring florals to the fore with fresh peony petals and gorgeous jasmine. After dry-down, seductive sandalwood and musk combine with inviting coconut wood to create a slightly intoxicating effect laced with hints of the Caribbean.
Longevity is pretty good at 4-5 hours and the initial sillage projects well. Regular reapplication keeps the feeling of sunny happiness throughout the day, and it lasts better on clothing or hair.
Mad Love Eau de Parfum is perfect for daywear, especially during sunshine when it feels like you are transported to a relaxing tropical beach. Think white sandy shores and the faraway scent of dreamy candyfloss, it is a sugary soft fragrance like a cloud of creamy icing.
Another bottle to stand out on the dressing table, Mad Love is presented in a soft baby pink round flacon with a decadently cool marble lid shaped like a globe. A raised, slightly twisted heart finishes off the look, and Cupid's arrow folds neatly around the narrow neck of the round bottle.
Overall, Mad Love Eau de Parfum a distinctively girly fragrance that has enough depth to be worn by all ages but conveys a sense of fun, playfulness and carefree abandon. It never fails to bring a smile and is sure to lead to compliments from men and women alike.
Top Notes:
Apple Sorbet, Strawberry, Pink Grapefruit
Mid Notes:
Heart Flower, Peony Petals, Jasmine
Base Notes:
Sandalwood, Musk, Coconut Wood
Price & Reviews
You can check the latest pricing, see customer reviews and shop online:

9. Katy Perry Mad Potion Eau de Parfum
Review
Another beautiful gourmand from the Katy Perry collection, Mad Potion Eau de Parfum is a vanilla sensation that provides comfort and warmth with a mysteriously seductive layer that is intoxicating and inviting.
The fragrance opens with an irresistible vanilla blast thanks to robust Tahitian vanilla orchid complemented by sharp apple musk and sweet white peony. Heart notes continue the vanilla theme with Madagascar bourbon vanilla, whipped musk and dazzling jasmine petals. After dry-down, Mexican vanilla bean and magical musk create a sweet lingering scent with glowing amber for additional appeal.
The instant hit of this wonderfully sweet and enticing fragrance has decent sillage and projection. Still, you will need to reapply often to maintain this effect and overall longevity is only 2-3 hours. Using body lotion before applying will help this beautiful perfume last a little longer.
The combination of soft, whipped marshmallow and lingering musks makes this fragrance a great all-rounder, best worn as a heart-warming scent for colder months. Think relaxing coastal walks after the sun has slipped away, with the far-off scent of woody camp-fires and a gentle ripple of laughter floating on the sea breeze.
Mad Potion is again beautifully presented in a dazzling purple round bottle topped with an enchantingly sparkling translucent globe.
Overall, Mad Potion Eau de Parfum is seductive and edgy with a playful twist and a slightly mysterious air. It suggests a dream-like quality with a mystical edge shrouded in vanilla frosting to delight all the senses.
Top Notes:
Vanilla Orchid, Apple, Musk, White Peony
Mid Notes:
Madagascar Vanilla, Whipped Cream, Musk, Jasmine Petals
Base Notes:
Vanilla Bean Absolute, Musk, Amber
Price & Reviews
You can check the latest pricing, see customer reviews and shop online:

10. Katy Perry Spring Reign Eau de Parfum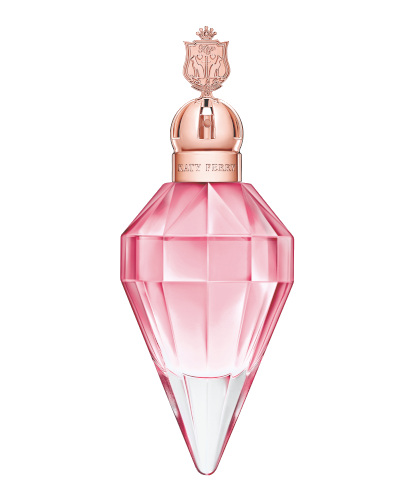 Review
A limited-edition produced in 2015, Spring Reign Eau de Parfum is a romantic floral fragrance that breaks away from its sweeter counterparts and celebrates springtime flowers.
Top notes include playful pink freesia mixed with violet and gorgeous blackcurrant blossom for a hint of fruity summer tones. Heart notes bring florals to the fore with May rose, gardenia and artemisia. After dry-down, cedar and cashmeran create a crisp and powdery effect with creamy benzoin for lingering elegance.
Bright and revitalising with a touch of class, this is a perfect perfume for all ages and works particularly well in the daytime, especially in warmer months. It is a pleasant and enchanting fragrance that is confident and conveys a sense of gentle power. It would be ideal for work or a romantic lunchtime date.
With moderate sillage and longevity, you will want to reapply Spring Reign Eau de Parfum frequently. It lasts well on fabric.
The diamond-shaped bottle continues the Killer Queen theme, only this time in soft rosy pink with a rose-gold lid. It is elegant, feminine, and suggests a hint of chic elegance.
Overall, Spring Reign Eau de Parfum is a feminine and classy oriental floral fragrance with a sultry bae of wood and cashmeran.
Top Notes:
Pink Freesia, Violet, Blackcurrant Blossom
Mid Notes:
May Rose, Gardenia, Artemisia
Base Notes:
Cedar, Cashmeran, Benzoin
Price & Reviews
You can check the latest pricing, see customer reviews and shop online:

So, Which Katy Perry Perfume Smells The Best?
We decided that the best smelling Katy Perry fragrance is Meow Eau de Parfum. The delicious opening of juicy tangerine and sweet pear join a bouquet of white floral heart notes. A sensual base of vanilla and amber add sweet warmth. Longevity is 4+ hours.
Katy Perry Dark Horse Video
Get into the Katy Perry mood with the fantastic Dark Horse official video. I love her dark humour. Go on, you know you want to!
Conclusion
Just like Katy Perry herself, her range of fragrances is multi-faceted and a little surprising. Sometimes unisex, sometimes overwhelmingly girly, the daring and evocative Katy Perry fragrances with the sugary sweetness of the girl next door always delight. With uplifting and bright fragrances with a hint of seduction and playfulness, the Katy Perry collection is an excellent addition to any woman's collection. Don't forget to check out some enticing Britney Spear perfumes too!
The star's confidence comes through in her distinctive range of perfumes that stand out from the crowd while retaining a softer side that is slightly romantic or gently feminine. Her vivacity and boundless energy is a much-loved feature in both her music and her individual range of fragrances.
Before you go, I have put together a review of the most elegant perfumes ranging from timeless classics to modern day sophistication that I think you will enjoy.
Discover Your Perfect Fragrance
Please take a moment to browse through my hand-picked collection of exquisite perfumes.

There may just be the perfect fragrance waiting there for you!



Further Reading
Below are some additional articles from Viora London's blog. We write articles on a number of interesting lifestyle topics such as fragrance, beauty, luxury accessories and more.