To my nose, coffee is one of the most addictive scents in the fragrance world. Beautifully rich and earthy, with a balance of sweet and bitter, the best perfumes with coffee will add something dark and mysterious to your fragrance collection.
Sadly underused in perfumery, coffee is becoming a much-loved addition to fragrance as perfumers introduce this unique and rather decadent aroma into their creations.

Best Perfumes With Coffee Notes
The best perfumes with coffee blend a tempting array of feminine notes with coffee's rich, smooth and seductive aroma. Here are 6 coffee perfumes to discover.
1. Carolina Herrera Good Girl Eau de Parfum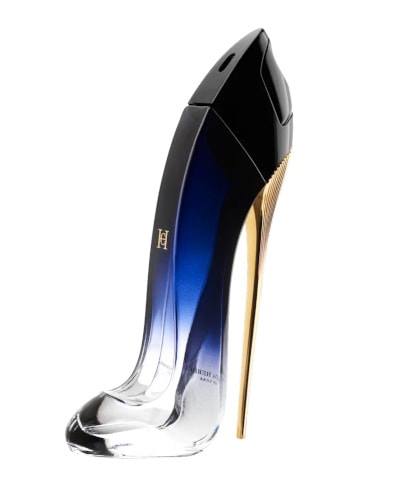 Review
Carolina Herrera's Good Girl Eau de Parfum is the iconic fragrance that captures the sexy boldness of the women of New York City. One of my all-time favourites, its mix of sweet, sharp, and earthy scents is incredibly alluring.
Notes of almond, rich coffee and citrus give Good Girl a sweet and zesty opening that glides into a floral heart of whimsical tuberose, jasmine, and rose.
Tonka bean, cocoa, vanilla, amber, and praline make the dry down very sweet and edible – this is an absolute favourite because of its feminine and alluring vibe.
An ideal evening perfume for autumn/winter and even early spring this fragrance is better in colder weather. The sillage is quite strong, and the blend will give you around 5+ hours of wear from each application.
Also, consider Hugo Boss Alive Eau de Parfum as it is quite similar but without the coffee note (I own both!).
Top Notes:
Almond, Coffee, Citrus
Mid Notes:
Tuberose, Jasmine Sambac, Rose
Base Notes:
Tonka Bean, Cocoa, Praline
Seasons & Longevity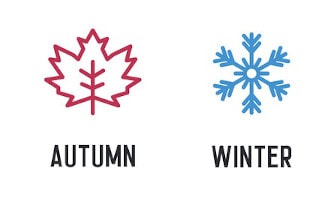 Benefits & Drawbacks
| | |
| --- | --- |
| Pros | Beautiful scent that gets lots of compliments |
| Cons | Not as strong with coffee as others on this list |
2. YSL Black Opium Eau de Parfum Extreme
Review
Few perfumes balance intense and seductive notes quite as well as YSL Black Opium Extreme Eau de Parfum. This scent is perfect for feeling boldly feminine while maintaining a little sweetness.
Juicy notes of pear, cherry, and mandarin give the opening a sweet, tart scent that is wonderfully edible. Orange blossom and jasmine add feminine freshness.
Dry-down is dark and brings plenty of exotic coffee and earthy patchouli. Sweet vanilla and tonka bean close are behind. Heaven in a bottle.
Lasting 4+ hours with moderate projection, this is a wonderfully adaptive perfume that can be worn in winter or autumn and is especially effective at night.
Don't forget to also check out my review of YSL Black Opium Floral Shock Eau de Parfum fragrance.
Top Notes:
Pear, Mandarin, Cherry
Mid Notes:
Orange Blossom, Jasmine
Base Notes:
Black Coffee, Vanilla, Patchouli, Tonka Bean
Seasons & Longevity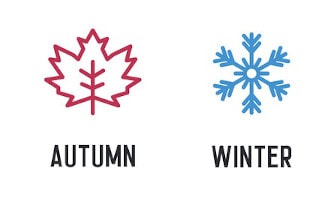 Benefits & Drawbacks
| | |
| --- | --- |
| Pros | Elegant coffee/vanilla scent |
| Cons | Does not project very well after a few hours |
3. Montale Intense Cafe Eau de Parfum
Review
Looking for the warming scent of a sweet mocha? Montale Intense Café Eau de Parfum is just the ticket – I love this scent on cold days when the warming coffee comes into its own.
The opening is almost entirely floral, leading to a heart of intense coffee and beautiful rose petals.
Base notes of vanilla, white musk, and amber really give Intense Café substance and depth. The overall effect is a rich, sweet mocha with a floral kick. Wow!
Intense Café is certainly intense with commanding sillage and immense staying power of 8+ hours. For best effect, wear it on cold autumn/winter nights – you will be surrounded with a warm glow.
Top Notes:
Floral Notes
Mid Notes:
Rose, Coffee
Base Notes:
Vanilla, White Musk, Amber
Seasons & Longevity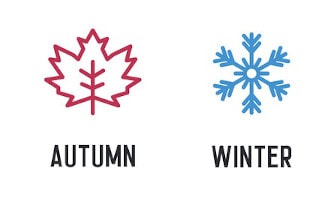 Benefits & Drawbacks
| | |
| --- | --- |
| Pros | Long-lasting pretty coffee and rose scent |
| Cons | May overpower some noses for the first 30 minutes |
4. Dolce & Gabbana The Only One Eau de Parfum
Review
Iconic, sweet, and sensual – The Only One Eau de Parfum is perfect for those who love Black Opium but want something to feel glamorous but not overdo it. (check out my Dolce & Gabbana perfume review)
Notes of bergamot and violet bring powder and sparkle in equal measure but soo mellowed by a heart of smooth coffee, rose, and iris.
The base of caramel, vanilla and patchouli deepens the scent profile. It creates a mature, sophisticated sweetness that brings silk, champagne, and rich, soft leather to my mind.
The sillage is not strong, but it is persistent. Depending on conditions, you can expect between 5+ hours of wear. Leaning towards an autumn/winter scent, The Only One Eau de Parfum also makes a charming fragrance for springtime evenings.
Top Notes:
Bergamot, Violet
Mid Notes:
Coffee, Iris
Base Notes:
Vanilla, Patchouli
Seasons & Longevity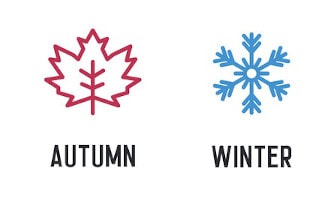 Benefits & Drawbacks
| | |
| --- | --- |
| Pros | Caramel, vanilla and powdery iris work very well |
| Cons | Maybe a little discreet as does not project massively |
5. BOHOBOCO Coffee White Flowers Eau de Parfum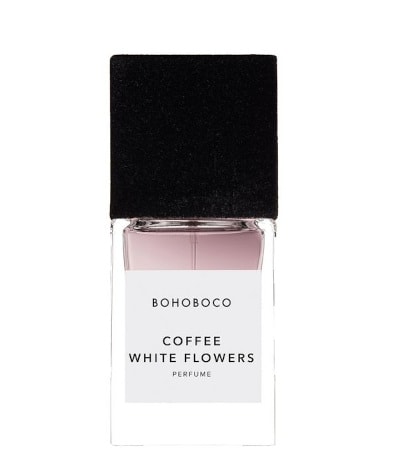 Review
Of all the perfumes on this list, Bohoboco Coffee White Flowers Eau de Parfum is the one that has the most prominent scent of coffee beans. This makes it a slightly more casual yet seductive gourmand coffee fragrance.
The opening of Coffee White Flowers unleashes luscious chocolate, cinnamon, and cloves. Coffee, cacao, and white flowers bloom in the heart, becoming richer, reminiscent of mocha with cinnamon cream.
Upon dry-down, the base notes of rum, leather, and vanilla never really charge to the fore but provide a discreet foundation that supports the overall coffee vibe nicely.
This is a perfect all-day fragrance for autumn/winter when the notes can really bloom and grow. The sillage is strong but not overwhelming – plan for 4+ hours of wear.
Top Notes:
Chocolate, Cinnamon, Cloves
Mid Notes:
Coffee, Cacao, White Flowers
Base Notes:
Vanilla, Rum, Leather
Seasons & Longevity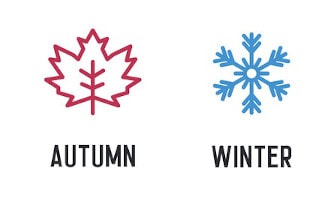 Benefits & Drawbacks
| | |
| --- | --- |
| Pros | Pretty blend of delicate flowers and rich coffee |
| Cons | Not super long-lasting considering the price |
6. Maison Martin Margiela Coffee Break Eau de Parfum
Review
With the complexity and unique fragrance fusions so common in Maison Margiela fragrances, Coffee Break Eau de Parfum is a stunning gourmand scent that turns heads.
The opening of pepper, orange blossom, and patchouli bring a smoky, spicy feel which quickly mellows to a heart of coffee-soaked lavender and vanilla scented tonka bean, reminiscent of decadent tiramisu.
Upon dry-down, base notes of vanilla, cedar, and vetiver remain mainly in the background but help to sustain this delicious scent for longer.
This rich and complex fragrance means has strong initial sillage and projection but soon settles down nicely. Lasts 5+ hours.
This scent is best worn in autumn and winter and acts as a good day to night fragrance. A good balance of casual and/or dressy.
Top Notes:
Pepper, Orange Blossom, Patchouli
Mid Notes:
Lavender, Coffee, Milk, Tonka Bean, Benzoin, Cypriol Oil, Nagarmotha
Base Notes:
Vanilla, Cedar, Vetiver
Seasons & Longevity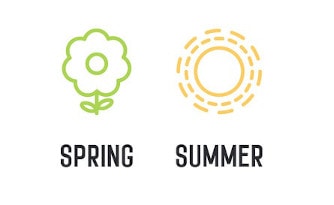 Benefits & Drawbacks
| | |
| --- | --- |
| Pros | Realistic unisex coffee fragrance that performs well |
| Cons | Maybe the lavender makes it less feminine than I would like |

Ingrid's Top Pick
Montale Intense Cafe Eau de Parfum
As a straight-up coffee fragrance, Montale Intense Cafe Eau de Parfum is my overall top pick. Rich coffee and delicate rose are soothed by sweet vanilla and musk. One of the best coffee perfumes available!
Conclusion
Add a gourmand edge to your regular perfume rotation with the rich and dark scent of coffee. These best perfumes with coffee showcase the welcoming darkness of coffee in new and often surprising ways, so don't be afraid to explore.

Further Reading
Below are some additional articles from Viora London's blog. We write articles on a number of interesting lifestyle topics such as fragrance, beauty, luxury accessories and more.