There are few perfumes which truly become cultural phenomenons. Doir's Poison, Chanel's No 5, and Yves Saint Laurant's Opium are some examples of vintage perfumes which have reached this status. Viktor & Rolfs Flowerbomb perfume is one of the youngest perfumes to have reached this iconic status.
With one bought every 3 minutes in the UK alone, I wanted to experience and review the best Flowerbomb perfumes available to see what all the fuss is about.
It has overtaken some of the most iconic fragrances of all time in order to reach its lofty status. This meteoric rise to fame has as much to do with the company and their unique outlook and aesthetic as it does with the sublime scent of the perfume of itself.
Why Is Flowerbomb So Popular?
Since moving into perfume 15 years ago, Viktor & Rolf has revolutionized many of the accepted norms of perfumery. With their fun and playful advertisements and clever ingredient mixes, their perfumes have made previously outdated ingredients like benzoin and musk popular, fresh, and youthful once more.
Who Are Viktor & Rolf?
The Viktor & Rolf brand was founded by Dutch designers Viktor Horsting and Rolf Snoeren in 1993 and began life as a couture fashion house with the aim of challenging existing preconceptions of the divide between art and fashion. Making waves on the runways of the world for some time before they moved into perfumery in 2005.

Best Flowerbomb Perfumes Review
Coming up is my review of the best Flowerbomb perfumes that I personally enjoyed the most. For my testing I sprayed the original Flowerbomb on one wrist, and each of the newer iterations (one at a time) on the other wrist. I then let them settle for 10 minutes and noted the experience. Hope you find this helpful!
1. Flowerbomb Eau de Parfum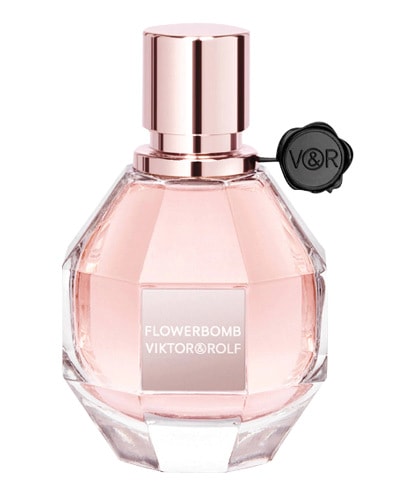 Review
The original scent, Flowerbomb is a fresh and vibrant oriental perfume which was launched in 2005. The result of the combined skill of Olivier Polge, Carlos Benaim, and Domitille Berthier, Flowerbomb is a fresh, tingling scent that has a complex but clean palette. Despite it's light and floral scent, Flowerbomb feels best worn on autumn and winter nights.
The sweet and earthy mingling of bergamot and green tea, which are some of the strongest scents in this mix, really lift the senses and make you feel empowered. The popularity of this perfume makes sense; when something makes you feel so elegant and sexy with just a few sprays, it's only natural that people stick with it.
This is a durable perfume which has a heavy sillage, so you won't need to reapply often (or at all unless you're particularly active), but it may irritate those with sensitive noses and can be overpowering when first sprayed.
Top Notes:
Bergamot, Tea, Osmanthus
Mid Notes:
Jasmine, African Orange Flower, Orchid, Rose, Freesia
Base Notes:
Musk, Patchouli
Price & Reviews
You can check the latest pricing, see customer reviews and shop online at Selfridges:
2. Flowerbomb Bloom
Review
First launched in 2017, Flowerbomb Bloom is a light and airy interpretation of the original Flowerbomb mix that leans into a fruitier scent palette with hints of pomegranate and mandarin while retaining many of the classic floral notes, too. This makes it a feminine and fun perfume which is reminiscent of teenage summers.
As such it should be no surprise that this is a perfect spring and summer day time perfume which really puts a bit of bounce into your step. When you wear Flowerbomb Bloom, it's easy to feel feminine, flirty, and joyful because the scents in it are so fresh and uplifting.
Domitille Bertier was the nose behind this iteration of the iconic perfume, and the bottle, an elongated and delicate version of the original, only reinforces the vibe he has given it.
Like the original perfume, Flowerbomb Bloom is surprisingly longlasting despite its lighter scent mix. However, this perfume doesn't hang quite so heavily in the air as the original.
This is my favourite of the 5 tested today, the fruity/citrus and florals work beautifully with the woody base.
Top Notes:
Pomegranate, Mandarin orange
Mid Notes:
Rose, Jasmine, Freesia
Base Notes:
Woody notes
Price & Reviews
You can check the latest pricing, see customer reviews and shop online at Selfridges:
3. Flowerbomb Nectar
Review
One of the more recent reincarnations of the Flowerbomb brand, Flowerbomb Nectar is a complex and unusual fragrance which mimics the explosive implications of its name with gunpowder accord as its most prominent opening note.
Though it has an intense and aromatic palette, Flowerbomb Nectar also has floral hints to it and a sweet undertone of vanilla which takes the edge off. The result is a luxurious and intense fragrance with an enormous sillage.
With it hanging so heavily in the air, this durable perfume can be overpowering to some people, but it is also an incredibly versatile perfume, There is no single ideal time or season in which to wear this compact and fierce perfume which can be recognised by its squat glass bottle.
As a very smoky perfume, Flowerbomb Nectar energises and makes you feel very powerful and in charge, but it can become sour if you apply it to your skin on top of scented moisturisers. For this reason, applying it to your hair and clothes is often the best choice as it will retain a pure scent and the fabric will soak up some of the smell that would usually hang in the air.
Top Notes:
Gunpowder, Cassis, Bergamot
Mid Notes:
Osmanthus, Jasmine, Orange blossom
Base Notes:
Patchouli, Tonka bean, Vanilla, Benzoin
Price & Reviews
You can check the latest pricing, see customer reviews and shop online at Selfridges:
4. Flowerbomb Extreme
Review
This intense version of the original Flowerbomb perfume was launched by Viktor & Rolf in 2006 as a limited edition and is still ranked amongst many peoples favourite renditions of the original.
Distinguished by its gold bottle, Flowerbomb Extreme shares many oriental notes with the original perfume but is more seductive and sensual thanks to its musky scents like amber and benzoin. A surprisingly androgynous scent, Flowerbomb Extreme still manages to retain feminine undertones, but could easily be a unisex fragrance.
Created by Olivier Polge and Carlos Benaim, this perfume is built around a heart of osmanthus, and has a moderate sillage and durability which make it perfect for evening wear, particularly in winter. This is a perfume that makes you feel really sensual and sexy and powerful (much like the original), but it feels more grown-up and really turns heads when it's worn out.
Top Notes:
Bergamot, Jasmine
Mid Notes:
Osmanthus, Palm leaf, White flowers
Base Notes:
Amber, Patchouli, Benzoin, Vanilla
Price & Reviews
You can check the latest pricing, see customer reviews and shop online at FragranceX:
5. Flowerbomb Midnight
Review
One of the most recent reincarnations of the Flowerbomb legacy, Flowerbomb Midnight is the result of the pooled experience, skills, and noses of Carlos Benaim, Fanny Bal, Dominique Ropion, and Domitille Bertier.
The result is something truly special; a fruity, musky, seductive scent which is as strong as it is subtle. With a surprisingly small pool of ingredients, Flowerbomb Midnight has a clean palette that is reminiscent of the original scent but somehow entirely it's own.
The fruity top notes and sweet undertone makes this a very calming fragrance that makes you feel powerful and in control, and the solid black of the bottle complements this with a strong aesthetic.
A versatile perfume which can really be worn at anytime, Flowerbomb Midnight is best worn during chilly autumnal days when the heavy sillage will be controlled by lower temperatures and the subtler notes of the mix can really shine through.
Top Notes:
Blackcurrant, Pomegranate
Mid Notes:
Peony, Night-blooming jasmine
Base Notes:
Vanilla, Musk
Price & Reviews
You can check the latest pricing, see customer reviews and shop online at John Lewis & Partners:

From Haute-Couture to Pop-Culture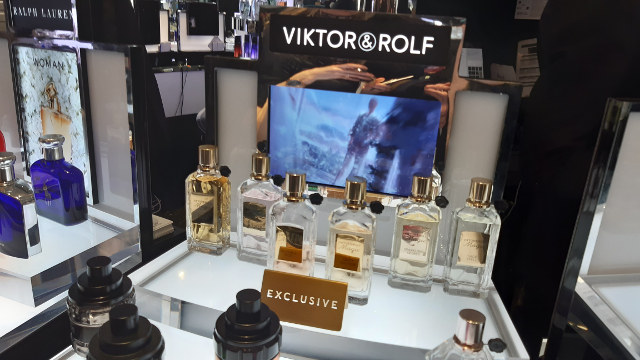 The Viktor & Rolf moved into perfumery in 2005 with the self-proclaimed dream of making a perfume which would "make the world a better place". This was a lofty goal, of course, for a perfume brand, but Viktor & Rolf may have touched on something.
When they deemed beauty the 'great leveller', these fashion giants were tapping into the divide between those who can access luxury fashion, and those who cannot. They saw that skincare, make-up, and most of all perfume can act as a bridge, and allow people of all backgrounds to achieve a little bit of haute-couture luxury without breaking the bank for a single handbag.
After all, most of us won't even touch couture fashion in our lifetimes, but fragrances and beauty products are infinitely more available and accessible. When Flowerbomb first launched it was part statement, part explosion of feminine empowerment, all high-quality ingredients.
Even the name and the design of the bottle are intended to provoke a reaction; the contradictory parts of the name evoke a sense of feminine aggression and power, while the bottle design was intended to be reminiscent of the Pulitzer Prize-winning 'Flower Power' photograph. Over the years, Flowerbomb has had multiple reiterations, each of which has its cult following.
Some people might say that the original is the best, but the truth that the matter of the best Flowerbomb perfumes is all about taste. After all, Viktor & Rolf now have 85 perfumes to their name, over 35 of which are editions or iterations of Flowerbomb.
Conclusion
Flowerbomb Bloom is my recommendation if you don't already own a bottle. Its beautiful. While this review is intended to give you an idea of the best Flowerbomb perfumes on the market, there really is no such thing as a 'bad' iteration of Flowerbomb.
So, when choosing your personal Flowerbomb, why not test a few and think about how they make you feel as well as how they smell on your skin. Leave them to settle for at least 15 minuted to get a better feel for the mid and base notes. After all, beauty products should make you feel elegant and sexy, and confident before they do anything for those around you!
Before you go, I have put together a review of the most elegant perfumes ranging from timeless classics to modern day sophistication that I think you will enjoy.

Further Reading
Below are some additional articles from Viora London's blog. We write articles on a number of interesting lifestyle topics such as fragrance, beauty, designer handbags, luxury accessories and more.