The undisputed champion of luxury blue fragrances, Bleu de Chanel, is an incredibly well-blended contemporary male fragrance line. It is classy, refined, and still remains the king of the compliment.
To create this fresh and energetic male scent, Chanel turned to French perfumer Jacques Polge. Already the nose behind some of the most head-turning Chanel fragrances ever created, Polge was the obvious choice.
Bleu de Chanel Eau de Toilette was launched in 2010. This crowd-pleasing aromatic-woody masterpiece was an instant hit. The seductive Eau de Parfum version was released in 2014, followed by the moodier Parfum version in 2018.

Bleu de Chanel EDT vs EDP vs Parfum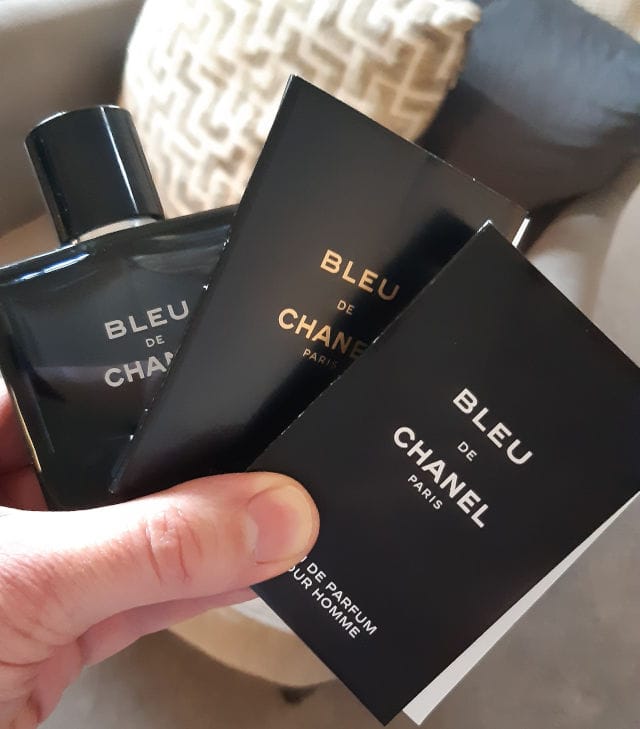 Armed with two official Chanel samples, a full bottle, plus a trip in-store, it's time to compare Bleu de Chanel EDT vs EDP vs Parfum. I will review each fragrance individually and then declare the outright winner.
1. Bleu de Chanel Eau de Toilette
Review
Bleu de Chanel Eau de Toilette is the fragrance that started it all. This ultra-fresh aromatic-woody scent was launched in 2010 and created by Chanel's head perfumer Jacques Polge.
The opening notes are super fresh, with zesty lemon and sharp grapefruit joined by mint and pink pepper. Ginger is most dominant in the heart, supported by nutmeg and jasmine.
Upon dry-down, incense creates a nice smoky bubble and is soon joined by smooth woody notes. Settles to a captivating and refined smoky citrus and woody combo that oozes style.
Also, consider Versace Dylan Blue Pour Homme Eau de Toilette.
Top Notes:
Grapefruit, Lemon, Mint, Pink Pepper
Mid Notes:
Ginger, Nutmeg, Jasmine, Iso E Super
Base Notes:
Incense, Vetiver, Cedar, Sandalwood, Patchouli, Labdanum, White Musk
Seasons & Longevity
As for when to wear, this EDT version is an excellent fragrance for spring/summer and even creeping into autumn. For me personally, it's more of a casual daytime fragrance that will stand up fine to evening wear if needed.
The performance of this EDT is pretty good (I tested the late 2021 batch). You can expect 5+ hours of wear before it fades, with excellent projection for the first 3 hours.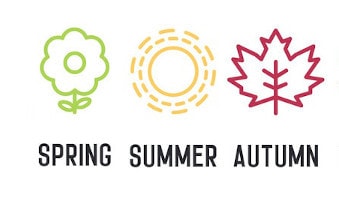 Benefits & Drawbacks
| | |
| --- | --- |
| Pros | Confident, masculine, fresh, and will never go out of style. |
| Cons | Maybe this EDT version is for a younger crowd |
2. Bleu de Chanel Eau de Parfum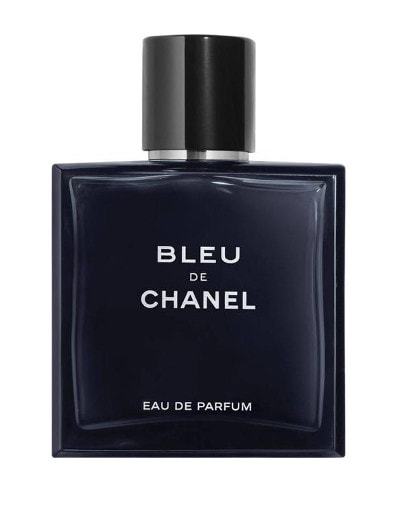 Review
Another Jacques Polge masterpiece launched in 2014, Bleu de Chanel Eau de Parfum swiftly became one of the most iconic Chanel men's fragrances. This EDP version becomes warmer and woodier than its brighter EDT cousin.
Grapefruit and lemon provide a bright and zesty opening, tempered by spicy pink pepper and a cloud of smoky incense. A spiced heart of nutmeg and ginger are lifted by jasmine.
Upon dry-down, incense, amber and woody notes give a more mature and dark base compared to the EDT. Settles to a refined combination of citrus, amber, spice and a touch of smoke.
Top Notes:
Lemon, Grapefruit, Pink Pepper, Bergamot, Coriander, Mint, Aldehydes
Mid Notes:
Melon, Jasmine, Ginger, Nutmeg
Base Notes:
Labdanum, Patchouli, Sandalwood, Cedar, Amber, Incense, Woody
Seasons & Longevity
Bleu De Chanel Eau De Parfum is a versatile all-rounder that can be worn any time, day, night, season. Excellent as a daytime out-and-about fragrance, full-on clubbing, or a sedate Sunday brunch.
I find the EDP version lasts the longest of the three on my skin, so expect 7+ hours with good sillage and projection.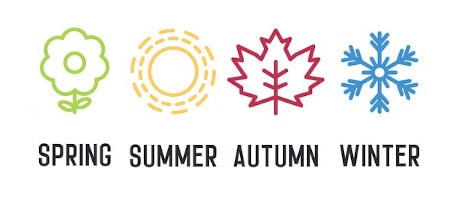 Benefits & Drawbacks
| | |
| --- | --- |
| Pros | The pinnacle of luxury blue masculine fragrance |
| Cons | Perhaps too popular so you will not be the only one wearing it |
3. Bleu de Chanel Parfum
Review
Following in his father's footsteps, Olivier Polge created the aromatic-woody Bleu de Chanel Parfum in 2018, representing a modern twist on the classic Bleu de Chanel DNA.
A bright opening with lemon zest, bergamot and a touch of mint maintains the moreish opening on the EDT and EDP. Things take a detour as masculine florals of lavender and geranium bloom, plus a plash of pineapple.
The dry-down is where the action is. After 30 minutes, this parfum version reveals rich cedar and amberwood with a cheeky kick of smooth tonka bean. Settles to an incredible woody/lavender male scent with bright citrus and a Dior Sauvage vibe about it.
Top Notes:
Lemon Zest, Bergamot, Mint, Artemisia
Mid Notes:
Lavender, Geranium, Green Notes, Pineapple
Base Notes:
Cedar, Sandalwood, Iso E Super, Tonka Bean, Amberwood
Seasons & Longevity
As with the EDT, Bleu de Chanel Parfum is a versatile fragrance that can be worn day or night in any season. For me personally, it leans more towards more formal eveningwear.
This is a solid performer that will keep you smelling fresh and sophisticated for 6+ hours with a decent sized projection bubble and nice sillage trail.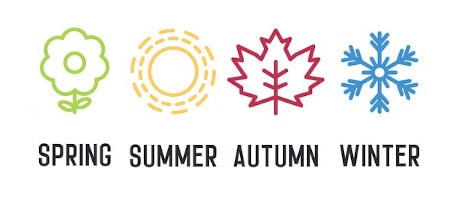 Benefits & Drawbacks
| | |
| --- | --- |
| Pros | Well-balanced blue fragrance with attitude |
| Cons | Maybe a little too heavy on the wood in my opinion |

Andrew's Top Pick
Bleu de Chanel Eau de Parfum
Bleu de Chanel Eau de Parfum is my pick as the best-smelling version of Bleu de Chanel in the collection. The stunning citrus and spice opening becomes more mature and dark thanks to warming amber and smoky incense. Classy
Bleu de Chanel Overview
| Fragrance | Season | Longevity |
| --- | --- | --- |
| Bleu de Chanel EDT | Spring/Summer/Fall | 5+ hours |
| Bleu de Chanel EDP | Any Season | 7+ hours |
| Bleu de Chanel Parfum | Any Season | 6+ hours |
Conclusion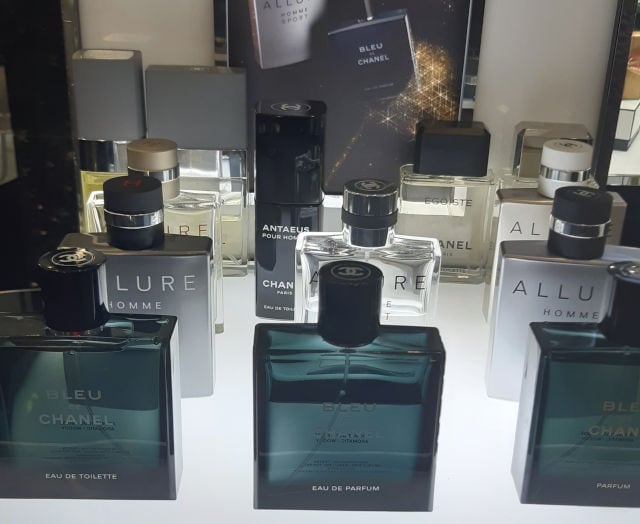 So, there you have it… Bleu de Chanel Eau de Toilette vs Eau de Parfum vs Parfum, tried, tested and compared. If I was going to blind buy or gift, the EDT is great for someone young getting into fragrance, and the EDP is my overall fave. The Parfum version is ideal as a more mature evening scent.
All 3 fragrances are currently available in 50, 100 and 150ml (1.7, 3.4, 5.0 oz) size bottles (I have even seen a 300ml/10.0 oz version of the parfum !). I recommend you try both fragrances in-store (or order samples online) and decide which one you prefer, but do let them dry down for at least 20-30 minutes before making your final decision.
Also Consider…
Before you go… don't forget to check out my fantastic Dior Sauvage EDT vs EDP vs Parfum vs Elixir article.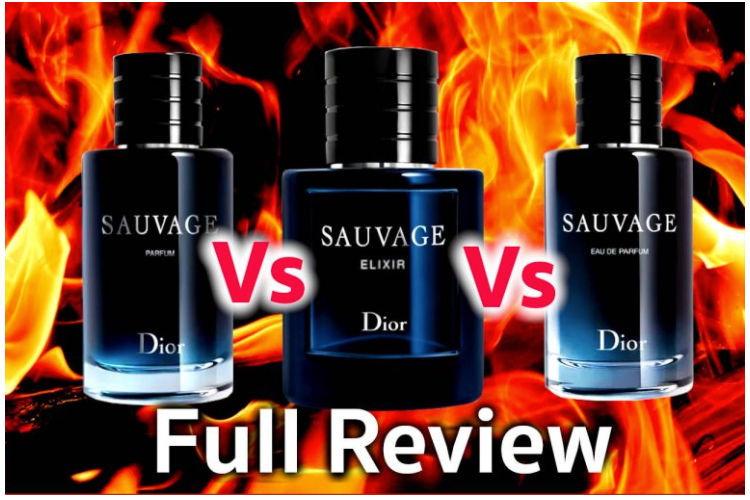 Further Reading
Below are some additional articles from Viora London's blog. We write articles on a number of interesting lifestyle topics such as fragrance, beauty, luxury accessories and more.
Andrew is a fragrance enthusiast, collector, and seasoned writer who has a burning passion for all things fragrance and flavour related. From woody aromatics to green & spicy, I leave no stone unturned in my quest to discover the ultimate scent. Andrew's Full Bio.