With roots dating back to 1872, Clive Christian is a quintessentially English perfume house specialising in luxury fragrances. The best Clive Christian perfumes for women are elegant and refined, shrouding you in an aromatic cloud of mystery.
The Crown Perfumery Company was already an established British business and had been granted the Royal Crown by Queen Victoria as a symbol of excellence. Clive Christian continued this tradition when he purchased and rebranded the company in 1999.
For this review, I hopped on the train with Andrew for a quick trip to Harrods in Knightsbridge, London, to discover the Clive Christian feminine fragrance collection and to select my overall favourite.

Best Clive Christian Perfumes
With expertly blended blossoms, fruits and woods, the best Clive Christian perfumes for women will undoubtedly turn heads. Here are 7 to discover.
1. Crab Apple Blossom
Review
Crab Apple Blossom is a subtly sweet, refreshing, and slightly tart fair-weather fragrance that is elegant and unique. Launched in 2020, wear this beauty, and heads will surely turn!
Citrussy and coastal at first application, Crab Apple Blossom opens with coastal notes of marine bergamot and breezy apple blossom. A heart of rhubarb, mint, and mojito feels uniquely refreshing.
These bright, invigorating notes are underpinned pinned by sandalwood and driftwood – the result is a soothing, sophisticated scent that is effortlessly whimsical.
Top Notes:
Apple Blossom, Marine Bergamot
Mid Notes:
Rhubarb, Mint, Sugar Accord
Base Notes:
Sandalwood, Driftwood
Seasons & Longevity
Crab Apple Blossom is a great daytime scent, perfect for spring and summertime. It creates a holiday-feel bubble with staying power of around 4+ hours.
Want to make a statement? Try layering this fragrance with 1872 for Women for a day-to-night scent with real punch.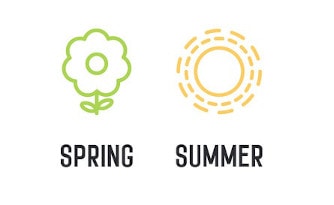 Benefits & Drawbacks
| | |
| --- | --- |
| Pros | A beautiful and unique smelling feminine fragrance |
| Cons | Price vs performance could be better |
2. X Feminine Edition
Review
Sweet, delicate, and fruity, X Feminine Edition is a complex and edible scent that offers a distinctly modern yet feminine aura that exudes youthful femininity.
X Feminine Edition opens with a fruity and green blend that is sweet, juicy, and enticing. Top notes of bergamot, peach, and rhubarb make for a unique opening that is slightly tart with pineapple vibes.
A floral heart of jasmine, orris root, rose, and lily-of-the-valley adds some traditional, feminine lift. Sweet vanilla, resinous cedar, smoky patchouli, and a splash of rum add depth to the base.
Top Notes:
Bergamot, Mandarin, Rhubarb, Peach
Mid Notes:
Jasmine, Rose, Orris, Narcissus, Lily of the Valley, Tuberose
Base Notes:
Cashmere, Cedarwood, Vanilla, Patchouli, Rum
Seasons & Longevity
A great cold weather scent, X Feminine Edition provides very noticeable projection with a long sillage trail. Expect 6+ hours of wear for each application.
I would wear this fragrance for autumn, winter and early spring and feel it's equally wearable day or night. Quite similar to the classic Gucci Rush.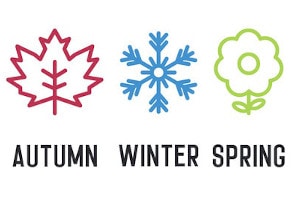 Benefits & Drawbacks
| | |
| --- | --- |
| Pros | A seductive combination of fruits and exotic flowers |
| Cons | Quite powerful at first but soon settles |
3. 1872 Feminine Edition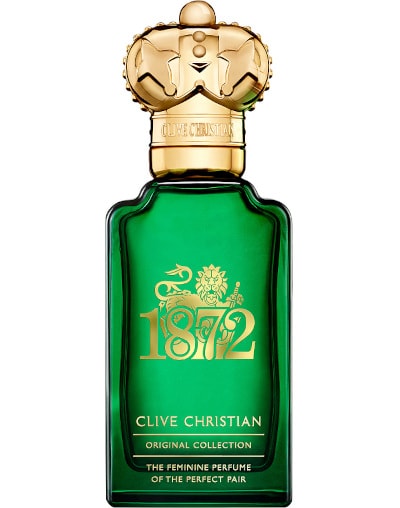 Review
A heritage blend that exudes old-world sensuality,1872 Feminine Edition is the touch of class every woman needs in her collection. This one-of-a-kind blend is made from 20% perfume concentration.
Sweet at first scent, 1872 Feminine Edition opens with bergamot, pineapple and blueberry, smelling similar to Penhaligon's Quercus.
The traditional floral heart includes violet, freesia, rose, orchid, and jasmine notes. Woody and musky notes such as patchouli, sandalwood, musk, and cedar are soon revealed in the base.
Top Notes:
Bergamot, Pineapple, Blueberry
Mid Notes:
Rose de Mai, Osmanthus, Jasmine, Violet, Freesia, Orchid, Lily of the Valley
Base Notes:
Patchouli, Oak Moss, Sandalwood, Cedar Wood, Musk.
Seasons & Longevity
Performance is acceptable but not outstanding considering the price tag. You will manage 4 hours before a top-up is needed, with average sillage and projection.
On paper, this is a spring and summer scent ideal for daytime wear, but I would consider it for autumn, too, for evening events where the subtlety and traditional notes create a sense of intimacy.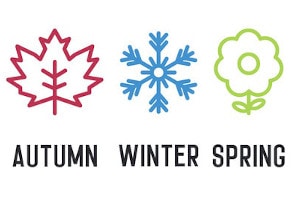 Benefits & Drawbacks
| | |
| --- | --- |
| Pros | A fresh blend of zesty fruits and flowers that's even office-safe |
| Cons | Does not project as well as I would have liked |
4. No1 Feminine Edition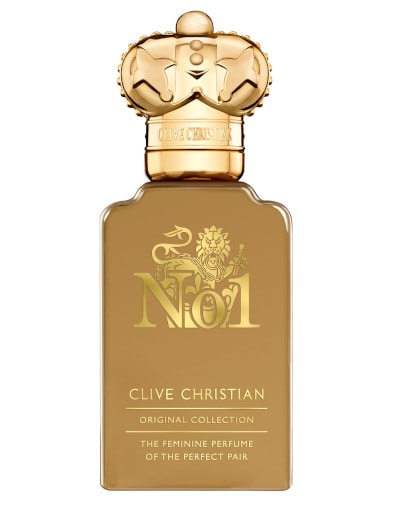 Review
The ultimate splash of luxury, No 1 Feminine Edition, is an opulent blend of exotic flowers, wood and a touch of powder guaranteed to turn heads in every room you enter.
Peach, plum, lemon, and bergamot are met with iris and pimento oil. This vibrant start is mellowed by a floral heart where ylang-ylang and carnation are most prominent, with hints of violet and jasmine.
The traditional woody base has hints of vanilla, musk, tonka bean, and amber that don't really bleed through. Similar to Guerlain Samsara.
Top Notes:
Iris, Mirabelle Plum, White Peach, Bergamot, Lemon, Mandarin, Pimento Oil
Mid Notes:
Jasmine, Carnation, Rose, Ylang-Ylang
Base Notes:
Vanilla, Musk, Amber, Tonka Bean
Seasons & Longevity
Ideal for nighttime wear and formal events, this is an autumnal or winter perfume on paper. However, try wearing it in summer to make a real statement!
Performance is good, and No 1 Feminine Edition will last you 6+ hours with decent sillage and projection throughout.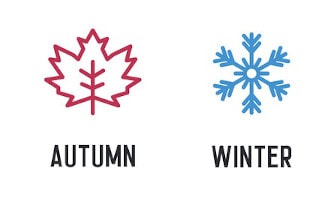 Benefits & Drawbacks
| | |
| --- | --- |
| Pros | A seductive blend of exotic ylang-ylang and powdery woods |
| Cons | Leans slightly mature, so perhaps not for the younger crowd |
5. L Floral Chypre
Review
L for Women is a warming, spicy fragrance with traditionally feminine notes and floral elements. The result is a vibrant and soothing blend that has some similarities with the Chanel Chance collection.
Pink pepper, rhubarb and peach provide a uniquely warm and slightly tart opening, with rose blooming furiously from the heart, exuding powerful, feminine, sensual energy.
Upon dry-down, musky/earthy patchouli is supported by vanilla, leather and a dash of honey to make a smooth, rich base that is almost edible and sweet.
Top Notes:
Pink Pepper, Rhubarb, Peach
Mid Notes:
Orris, Frankincense, Jasmine, Rose
Base Notes:
Honey, Vanilla, Musk, Leather, Patchouli
Seasons & Longevity
I feel this is one of the best any-season perfumes on this list, but it does fare best in cool weather. If you want to wear it in summer, it may be best to do so at night.
This is a reasonably durable scent; expect near day-to-night wear from it in mild weather. Longevity is 5+ hours with solid projection for the first 3 hours, then a small scent bubble thereafter.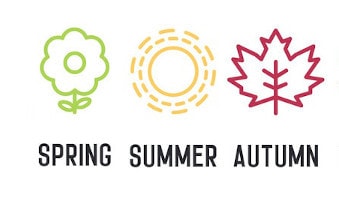 Benefits & Drawbacks
| | |
| --- | --- |
| Pros | A head-turning blend of pepper-sprinkled rose and tart fruits |
| Cons | Maybe too peppery for some noses |
6. VIII Magnolia
Review
VIII Rococo Magnolia is a versatile, fruity-floral scent with traditionally feminine notes blended with contrasting masculine spices. Think rich velvet dresses and chunky biker boots.
The refreshingly tropical, fruity, and green cassis note on the opening is soon joined by a heart of blooming zesty magnolia and rose-smelling sweetpea.
Upon dry-down, sandalwood and oak moss add dry wood notes. Settles to a zesty, fruity/floral feminine fragrance with realistic magnolia petals and a touch of warmth.
Top Notes:
Cassis
Mid Notes:
Magnolia, Sweetpea
Base Notes:
Oakmoss
Seasons & Longevity
I would wear this fragrance during spring, summer and fall and feel it leans more towards being a daytime scent. Think shopping trips, garden parties, lunches with friends.
VIII Rococo Magnolia is a reasonably long-lasting scent that will stay with you for 4-5 hours with moderate sillage and projection of fresh flowers.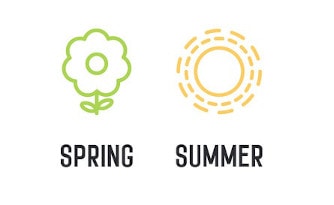 Benefits & Drawbacks
| | |
| --- | --- |
| Pros | A graceful blend of citrusy-smelling flowers and oakmoss that is ideal for daytime wear |
| Cons | More of a daytime-only fragrance |
7. Jump Up And Kiss Me Ecstatic
Review
Launched in 2021, Jump Up and Kiss Me Ecstatic is a white floral fragrance balancing bright, effervescent notes with exotic flowers.
A generous helping of bitter orange gives the opening a spicy yet zesty aroma that's both unique and refreshing. Slightly medicinal-smelling tuberose and exotic ylang-ylang soon become most prominent.
In the base, sandalwood and amber plus hints of tonka bean ensure Jump Up and Kiss Me Ecstatic has a smooth yet slight y sweet foundation that feels mature and elegant.
Top Notes:
Bitter Orange
Mid Notes:
Tuberose, Rose, Orange Flower, Ylang-Ylang, Jasmine
Base Notes:
Sandalwood, Amber, Tonka Bean
Seasons & Longevity
For me, this is an ideal cold weather fragrance with a lot to offer. If you want a head-turning scent for winter and autumnal events, this could be just what you have been looking for.
Projection is moderate but persistent, and the overall scent offers 5-6 hours of wear from each application. This is a perfume that works as hard as you do!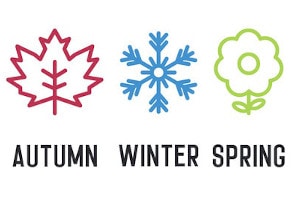 Benefits & Drawbacks
| | |
| --- | --- |
| Pros | An exotic mix of white and yellow floral notes brightened by sweet tonka bean |
| Cons | The tuberose does have a slight medicinal smell that some may not like |

Ingrid's Top Pick
Jump Up And Kiss Me Ecstatic
My top pick Clive Christian perfume is Jump Up And Kiss Me Ecstatic. The combination of tuberose and ylang-ylang pair so well together, plus the hints of powdery wood and sweet vanilla dazzle.
Clive Christian Q&A
Why Are Clive Christian Perfumes So Expensive?
Clive Christian perfumes are expensive due to several reasons; The high quality of the ingredients, the perfume oil concentration is usually high (between 20-25%), and the overall presentation is incredible.
How Long Do Clive Christian Perfumes Last?
Of the 7 Clive Christian perfumes that I researched and tested for this article, the average longevity is approx 5 hours per application.
Are Clive Christian Perfumes Worth It?
I personally have to say yes, Clive Christian perfumes are worth it if you are looking for a fragrance that not many people are wearing. The ingredients are high quality, they smell expensive, plus the presentation of the bottle and outer packaging is excellent.
Conclusion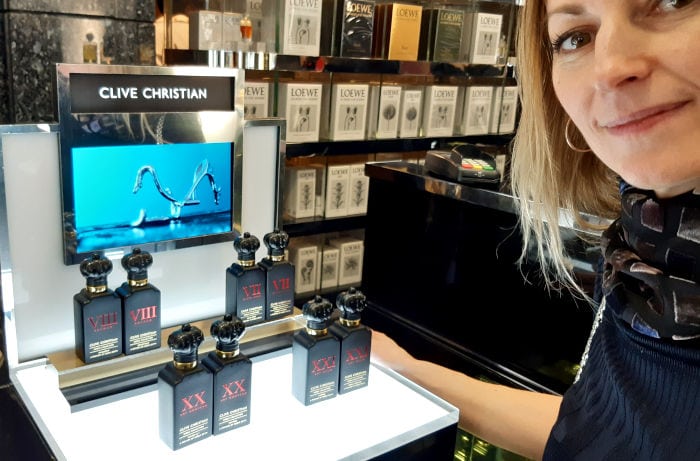 If you are new to the Clive Christian range and need an elegant, feminine scent that will turn heads, these 7 options I've selected are unbeatable!
With prices on average ranging between £250/$300 and £440/$500 for 50ml, the best Clive Christian perfumes for women will put a dent in your bank balance.
These fragrances are ultra high-end, with several consisting of over 100 ingredients and using 20-25% perfume oil concentration for maximum performance of even the lighter notes.

Further Reading
Below are some additional articles from Viora London's blog. We write articles on a number of interesting lifestyle topics such as fragrance, beauty, luxury accessories and more.