American label Tiffany & Co is renowned for exceptionally crafted jewellery, silverware and captivating fragrances. The best Tiffany perfumes are tantalisingly elegant, provocative and refined, adding a sparkle to your day.
The store will, of course, be forever immortalised in the classic movie Breakfast at Tiffany's. Since the opening of their flagship store on Fifth Avenue in Manhattan in 1940, the iconic label is renowned for its glamorous window displays.
Tiffany entered the world of fragrance in 1987 with the launch of their first scent Tiffany Eau de Parfum created by the iconic perfumer, Francois Demachy. To date, the brand has 14 perfumes in their fragrance collection with the latest edition launched in 2019.

6 Best Tiffany Perfumes To Try
The following 6 best Tiffany perfumes are both extravagant and luxurious. We review four current releases and two classics that will whisk you off on an unforgettable fragrance journey of discovery.
1. Tiffany & Co Eau de Parfum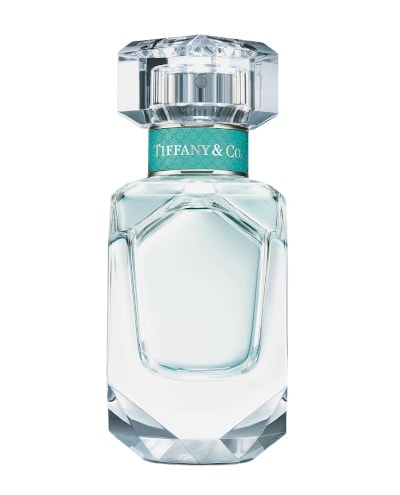 Review
Tiffany & Co Eau de Parfum is a floral-musk fragrance for women launched in 2017. The nose behind the scent is famous perfumer Daniela Andrier, who's passion for gemstones is reflected in this fragrance. The perfume, blended with precious, high-quality ingredients, captures the romance, style and luxury of New York.
The fresh, juicy opening of mandarin, bergamot and lemon fills the air with a wave of uplifting, senses stimulating vibe. This invigorating aroma is shortly mixed with a powdery blend of iris and rose. The nectar-like sweetness coming from the peach note is spiced up by the light woody accent of blackcurrant fruit, giving the composition a delightful fruitiness.
This multifaceted fragrance settles down into a voluptuous nuance of peppery patchouli. It slowly envelopes with a subtle musky accord, creating the intoxicating artisanal scent.
Tiffany & Co Eau de Parfum is absolutely gorgeous for those autumn/winter days and evenings, bringing in style and adding a seductive touch to the wearer. Featuring a decent 5+ hour staying power, the perfume also has a pretty strong projection.
Top Notes:
Mandarin, Bergamot, Lemon
Mid Notes:
Iris, Rose, Blackcurrant, Peach
Base Notes:
Patchouli, Musk
Price & Reviews
You can check the latest pricing, see customer reviews and shop online:
2. Tiffany & Co Intense Eau de Parfum
Review
The oriental floral fragrance Tiffany & Co Intense is a more extravagant version of the brand's signature sister scent. Composed by Daniela Andrier, the Intense Eau de Parfum was released in 2018 and like the original scent, is designed around the iris flower.
Upon the first spritz, this fragrance opens with a sharp, punchy odour of spicy fruits. The juicy sweetness of pear sprinkled with a pinch of pink pepper delivers a bright and cheerful character. The spiciness adds a somewhat nose-tingling warmth which beautifully complements citrusy aroma of crushed mandarin leaves. The enticing heart of iris, rose and jasmine stepping in next, elevates the perfume to the next level.
This powdery, intoxicating bouquet of flowers envelopes with flirtatious opulence and opens the door to a warming depth of the base notes. The soft creaminess of vanilla and cashmeran wood, intensified by the spicy carrot seeds, add a touch of earthiness. Finally, this scent dries to a blissful creaminess of vanilla, enhanced by benzoin and amber notes.
Lavish and beautifully elegant, Tiffany & Co Intense Eau de Parfum is perfect for any time of year, any time of day and any occasion. Long-lasting at 6+ hours, the scent of this luxurious blend has strong sillage and projection that won't go unnoticed.
Top Notes:
Pear, Mandarin lead, Pink Pepper
Mid Notes:
Iris, Rose, Jasmin
Base Notes:
Musk, Benzoin, Cashmeran, Vanilla, Carrot Seeds, Amber
Price & Reviews
You can check the latest pricing, see customer reviews and shop online:
3. Tiffany & Co Sheer Eau de Toilette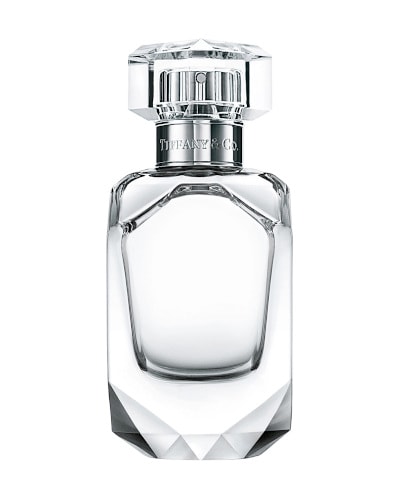 Review
Sheer Eau de Toilette is a fresher and lighter version of the brand's signature fragrance Tiffany & Co Eau de Parfum from 2017. This bright, floral/musky scent was launched at the beginning of 2019. According to its creator Daniela Andrier, the aroma depicts the purest form of a diamond, transforming it to a subtle luxury for the skin.
This elegant scent gently unwraps with fresh, sparkling notes of blackcurrant and mandarin leaf. Later, the citrusy, fruity aroma blends into a beautifully aromatic opening – a light breeze of a soft, uplifting accord.
On the approach of the middle notes, this charming blend is enriched by the captivating bouquet of exotic florals. A subtle delightfulness of rose is overwhelmed by the fragrant character of ylang-ylang, sprinkled with a powdery odour of iris. Eventually, the musky earthiness of the base notes steps in, uniting the composition and producing a subtle floral freshness dipped into a green, musky sweetness.
This well balanced, romantic fragrance is most suited for daytime wear and smells incredible during spring and summer months. Soft and elegant Tiffany Sheer Eau de Toilette has a longevity of 3-4 hours and a soft projecting power, which makes it perfect scent for an office wear or even as a bedtime fragrance.
Top Notes:
Blackcurrant, Mandarin Leaf
Mid Notes:
Ylang-Ylang, Rose
Base Notes:
Iris, Musk
Price & Reviews
You can check the latest pricing, see customer reviews and shop online:
4. Tiffany & Love Eau de Parfum For Her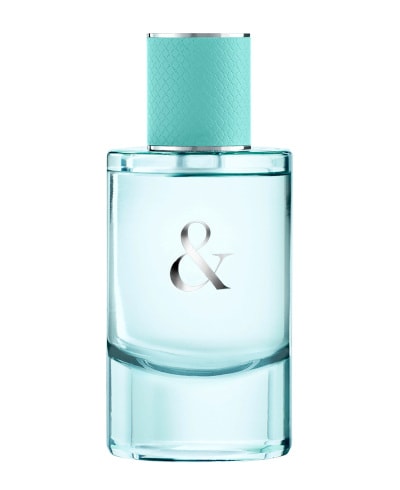 Review
Crafted by perfumers Honorine Blanc and Marie Salamagne, a 2019 release Tiffany & Love Eau de Parfum For Her, delivers a light, aromatic fragrance, sprinkled with a twist of fresh spices. Inspired by the most beautiful feeling on earth, this vibrant scent pays tribute to a modern love.
The fragrance opens with the zesty/sweet combo of grapefruit and blackcurrant, smoothed by basil and anise. Florals of jasmine and tuberose deliver a slightly citrusy floral scent. The earthy odour of vetiver in the base notes brings in a touch of smokiness which is uplifted by the deep woody odour of blue sequoia and a balsamic undertone of cedar.
The fragrance dries down to a green, slightly citrusy, floral scent with hints of smooth, mild bitterness coming from underneath, giving a nice spicy punch.
The blend in Tiffany & Love is just perfect – light, aromatic floral and overall classy scent. Suitable for warm weather, this unique scent can be worn in late spring, summer and during early autumn months. Although the projection is more on the soft side, the saying power is around 5+ hours.
Top Notes:
Blue Basil, Blackcurrant, Grapefruit
Mid Notes:
Neroli, Jasmine, Tuberose Flower
Base Notes:
Blue Sequoia, Vetiver, Cedarwood
Price & Reviews
You can check the latest pricing, see customer reviews and shop online:
5. Tiffany & Co Trueste Eau de Parfum
Review
Trueste Eau de Parfum by Tiffany & Co is a romantic, floral-woody fragrance for women, which was first launched in 1995. This rare to find vintage 90's scent was designed by renowned perfumer Jacques Polge, who created this luxurious fragrance to showcase the elegance, grace and sophisticated side of women.
The scent unfolds with sweet juiciness of blackcurrant and plum. The apricot and peach topping up the opening add more depth and mellow sweetness to it. The delightful bouquet of florals stepping in the mids continues unveiling the composition, injecting it with creamy sweetness balanced by the green balsamic spice of galbanum accord.
The earthy base of precious woods, oakmoss and vanilla, surround the composition with a comforting warmth, delivering an effervescent, sparkling quality to the perfume. On the dry down Trueste unfolds into a dazzling rose-woody fragrance with the added aspect of soft fruit.
This velvety aroma is perfect for cold weather. Wear it during a day or on the nights out and make those heads turn! With an excellent sillage and incredible longevity of 8+ hours, this perfume will require fewer re-applications than many other fragrances.
Top Notes:
Plum, Blackcurrant, Apricot, Peach
Mid Notes:
Rose, Jasmine, Tuberose, Galbanum, Ylang-Ylang, Orris
Base Notes:
Vanilla, Sandalwood, Cedar, Oakmoss, Cedarwood,
Price & Reviews
You can check the latest pricing, see customer reviews and shop online:
6. Tiffany Eau de Parfum
Review
Formulated by perfumer Francois Demachy, the 1987 release of Tiffany Eau de Parfum delivers a delightfully well-rounded floral-woody scent that is sumptuous and feminine.
This scent begins with sparkling blackcurrant bathed in the sweet, citrusy accord of mandarin orange. Exotic ylang-ylang flower in the heart complements the fruits. Jasmine, lily-of-the-valley and orange flower produce a rich, dazzling scent full of mouth-watering freshness. Iris and rose, on the other hand, add a sweet, powdery undertone to the bouquet.
The perfume dries down to a comforting base of sandalwood elevated by the dry, slightly smoky earthiness of vetiver. Warm amber, mixed with a buttery vanilla note, levels the fragrance, creating a beautifully delicate, extravagant scent.
This luxurious vintage Tiffany's elixir is like a sparkling diamond that glimmers in its sophisticated aroma. This exceptionally long-lasting at 7+ hours with a strong projection. An excellent choice for formal nightwear that is suitable for any time of year.
Top Notes:
Blackcurrant, Mandarin Orange
Mid Notes:
Ylang-Ylang, Rose, Orange Flower, Iris, Jasmine, Violet Leaf, Lily-Of-The-Valley
Base Notes:
Sandalwood, Vetiver, Amber, Vanille,
Price & Reviews
You can check the latest pricing, see customer reviews and shop online:

So, Which Tiffany Perfume Smells The Best?
We decided that the best smelling Tiffany fragrance is Tiffany & Co Intense. The opening notes of pear and mandarin-leaf dusted with pink pepper are delightful. A feminine floral heart of powdery iris soon takes centre-stage to dazzle. Finally, a rich base of resin and musk finish things off magnificently. Longevity is 6+ hours.
Official Tiffany Fragrance Promo
Conclusion
Tiffany & Co is the name of everlasting classic, the iconic label loved by millions of fans across the world. The best Tiffany perfumes exude a send of class and effortless glamour like no other.
A journey that began in New York City, 1837, when Charles Lewis Tiffany and his school friend, John B. Young, set up the company and started selling stationery items. They began focusing on jewellery and silverware in 1853, making this an area of their expertise.
Fast-forward over 150 years and the Tiffany & Co brand now works in collaboration with famous, talented designers and perfumers, the company continues their glamorous, full of dazzling diamonds and enchanting scents journey, delivering the joy of elegance and luxury to our doorstep. Also, consider Elizabeth Taylor fragrances with their timeless glamour and unparalleled chic.
Before you go, I have put together a review of the most elegant perfumes ranging from timeless classics to modern day sophistication that I think you will enjoy.

Further Reading
Below are some additional articles from Viora London's blog. We write articles on a number of interesting lifestyle topics such as fragrance, beauty, luxury accessories and more.